Blue Jays Farm System Analysis: There are two power hitting middle infielders in the upper minors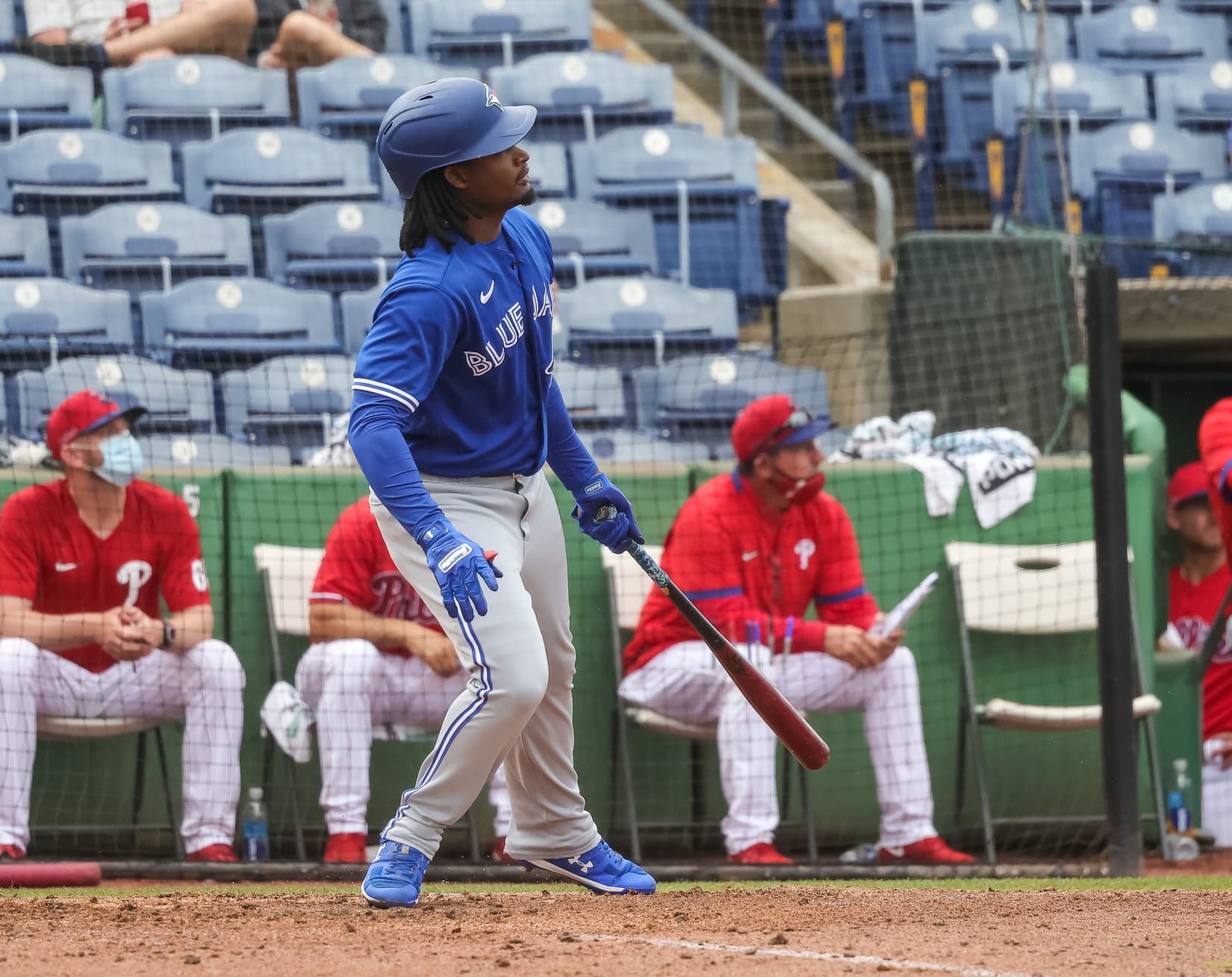 Photo credit:© Mike Watters-USA TODAY Sports
In this article, we'll look at shortstops and second basemen in the Blue Jays farm system.
Like in the corner infield article, I'll start by defining what a middle infielder is for this article. I looked at listed infielders and how many innings they've played at each position. If they are a shortstop/third baseman, such as Orelvis Martinez, I place them in whatever position they've played the most.
Like in the past two articles, we'll start at the top of the minors, and work our way to the Dominican Summer League.
Buffalo Bisons' middle infield depth:
The Buffalo Bisons have four middle infielders on the roster, along with one in the major leagues at the moment. We'll start with
Ernie Clement
, who is having a career year in the minor leagues. He's slashing .329/.411/.524 with six homers in 166 plate appearances, along with a 12 K% and a 3.6 BB%.
Speaking of breakout years, who envisioned
Davis Schneider
being in second place for Blue Jay prospect homers? He's slashing .261/.389/.538 with 14 homers in 244 plate appearances, and has a 16.8 BB% and 23.8 K%  for a 130 wRC+.
Luis De Los Santos
has had a good start to his Triple-A season, as he's slashing .286/.385/.464 with two homers in 65 plate appearances in Buffalo.
Otto López
started the season off cold but is slashing .301/.370/.333 since May 5th. Overall, he has a .248/.312/.295 slash line with no homers in 231 plate appearances. He needs to start hitting extra base hits. Lastly, we have
Tanner Morris
who is salshing .252/.335/.371 with three homers in 179 plate appearances. He's hitting better than he did in Triple-A in 2022, but hasn't reached his 2022 Double-A level stats.
New Hampshire Fisher Cats' middle infield depth:
The New Hampshire Fisher Cats have three middle infielders. Starting with
Orelvis Martinez
, the 21-year-old is slashing .215/.311/.513 with an organization-leading 16 homers in 223 plate appearances. He's also dropped his K% to 20.6%, while his BB% has risen to 11.7%. After a tough start, he's slashing .304/.406/.688 with a 13.5 BB% and a 18 K% in 133 plate appearances since May 10th.
Leo Jimenez
is also having a good start to his Double-A career, slashing .293/.352/.435 with four homers in 162 plate appearances. He's just two shy of his career-high of six, and has a 7.4 BB% and 13.6 K%.
Miguel Hiraldo
recently hit the 7-day IL, but is salshing .273/.323/.420 with four homers in 155 plate appearances. His K% is at an elevated 30.3%, while he's only walked 5.8% of the time. He hasn't found that power stroke that made him a top international free agent.
Vancouver Canadians' middle infield depth:
The Vancouver Canadians have three middle infielders.
Estiven Machado
has been heating up as late, as he's slashing .323/.400/.387 in his last 35 plate appearances. For the season, he's slashing .231/.294/.282 for a 57 wRC+.
Michael Turconi
is having an excellent first full season in the organization, and is slashing .305/.410/.492 in 144 plate appearances. He's hit four homers and has a 14.6 BB% and 23.6 K%. His wRC+ is the third highest in the organization minimum 100 plate appearances.
Josh Kasevich
is another 2022 draftee having a good start to his first full season. He's slashing .302/.378/.346 with a homer in 188 plate appearances.
Dunedin Blue Jays middle infield depth:
The Dunedin Blue Jays have four middle infielders on the roster.
Manuel Beltre
has been the most impressive of the bunch, slashing .233/.335/.340 and hitting a career-high three homers in 177 plate appearances. He's also one of the youngest players in the league, turning 19 years old a few days ago.
Adrian Pinto
is one of the more interesting prospects in the organization, standing at 5'6". He's slashing .247/.402/.289 with a 17.6 BB% and 20 K% in 125 plate appearances. He has yet to hit a homer this season, but hit two with Dunedin last season. He won the Dominican Summer League MVP in 2021.
Rikelbin De Castro
had a rough time last season, but has bounced back this year. He's slashing .232/.329/.377 with a 13.3 BB% and 26.5 K% in 83 plate appearances this season. He's also added a homer.
Jeffrey Wehler
signed with the Jays on June 9th and is slashing .333/.529/.333 in his 17 plate appearances. The 24-year-old may find himself in Vancouver sooner rather than later.
FCL Jays' middle infield depth:
The FCL Blue Jays have three middle infielders on their roster.
Abiezel Ramirez
is a former Rays prospect, and slashed .245/.365/.415 in 63 plate appearances in 63 plate appearances with the Dunedin Blue Jays. He was assigned to the FCL Jays, where the 23-year-old has played well in his nine plate appearances. The highest level he has reached was Double-A last season, where he only had two plate appearances.
Luis Garcia
had a strong first season in the DSL in 2021, but struggled in 2022. So far in 2023, he's slashing .294/.368/.294 with no extra base his, and a 10.5 BB% and 31.6 K%. His numbers are closer to 2021 than 2022.
Martin Gimenez
has a had a strong start to his season, slashing .320/.452/.360 with no homers in 31 plate appearances. Like Garcia, he is repeating the FCL level.
DSL Jays middle infield depth:
The Dominican Summer League Blue Jays have five middle infielders.
Jose Fernandez
has yet to make his season debut, but slashed .192/.333/.269 with a homer in 160 plate appearances with the DSL Jays last season.
Dariel Ramon
signed with the Jays on June 16th and has yet to appear in a professional game.
Adrian Meza
has been the best of the bunch, slashing .152/.349/.182 with a double in 43 plate appearances. While he isn't hitting for average, he has a 23.3 BB% and a 16.3 K%.
Omar Romero
has similar numbers to Meza, slashing .063/.348/.063 in 23 plate appearances. While he only has a single, he has walked six times for a 26.1 BB% and 8.7 K%.
Jarold Montealto
is a shortstop who signed with the Jays in the 2023 international free agency period. He has struggled in his few plate appearances, slashing .083/.154/.333 with a homer in 13 plate appearances for an 8 wRC+.
The state of middle infielders in the organization:
Like with the corner infielders, the Blue Jays like to have versatile players. For example, Davis Schneider has some experience playing left field and third base. Heck, he even started a game at first base the other day.
Their top two home run hitters are both middle infielders, as Schneider has 14 while Orelvis Martinez has 16, but after that, it's Miguel Hiraldo with four four. What they have done well this season is hit for average though.
The state of middle infielders in the organization is okay. A few players have stood out this season, but the Jays could look to add some more depth via the draft this season.
Previously in the series…
---
As always, you can follow me on Twitter and Instagram @Brennan_L_D.
---