Blue Jays' lefty bats are (finally) starting to find their way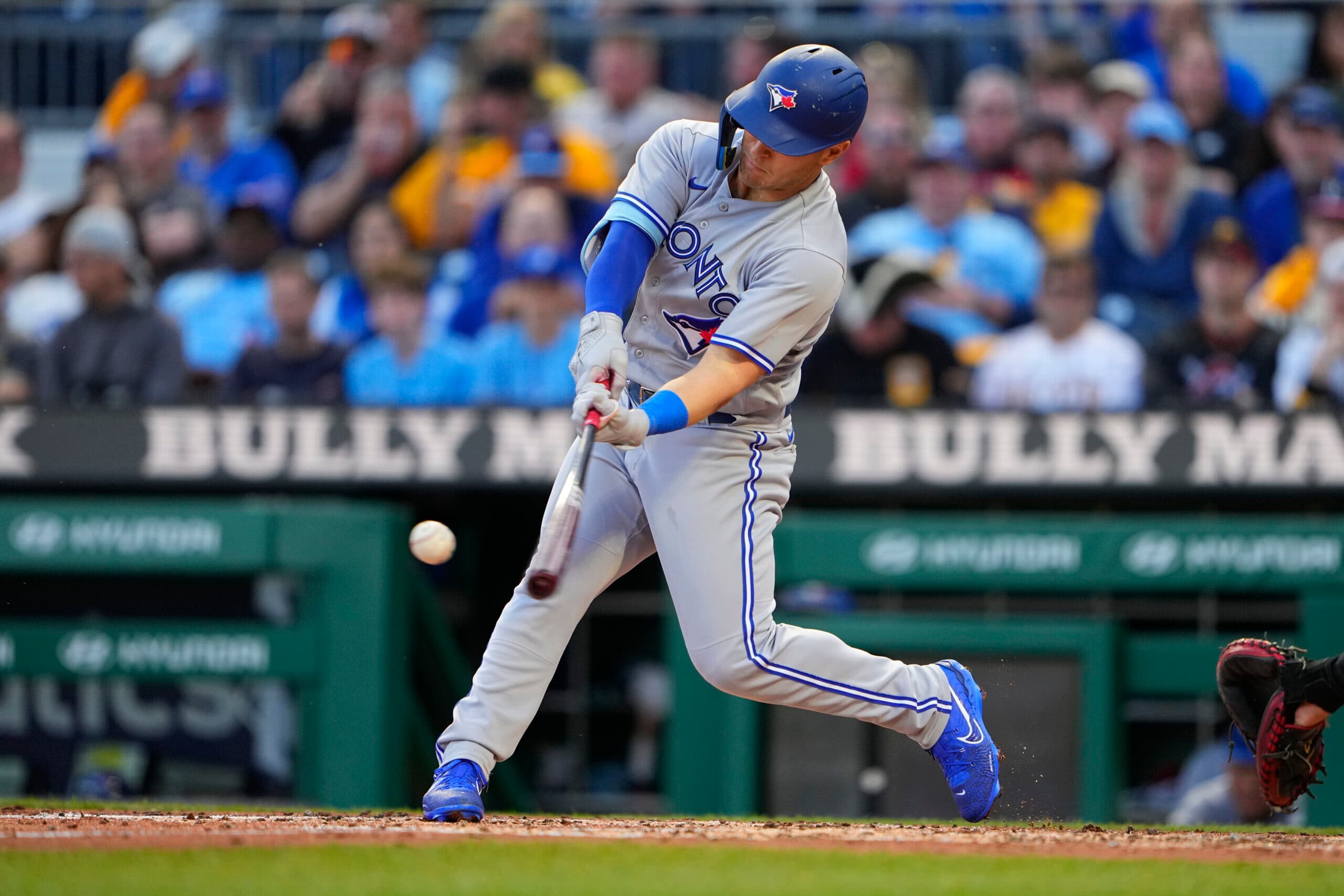 Photo credit:Gregory Fisher-USA TODAY Sports
Lineup balance has been a constant theme through the first month-plus of the 2023 season for the Toronto Blue Jays, who are beginning to witness their off-season blueprint come to fruition.
Toronto's offence – which owned the fewest plate appearances from left-handed hitters in the majors last season – welcomed a trio of lefties over the winter, including Daulton Varsho, Brandon Belt and Kevin Kiermaier. These additions were designed to make a lineup that already featured George Springer, Bo Bichette, Vladimir Guerrero Jr. and Alejandro Kirk tougher to attack.
Heading into the club's current road trip, however, the results largely hadn't arrived from the left side of the plate, causing their talented righties to carry the freight once again, just as they did in 2022.
The Blue Jays' left-handed production sat at the bottom of the leaderboard in almost every category from Opening Day through April 30, ranking 30th in AVG (.194), OBP (.271), wOBA (.263), strikeout rate (30.2 per cent) and tied for last in wRC+ (64), according to
FanGraphs
. They also placed 29th in SLG (.312), as well.
This team was facing a similar dilemma to last season's, at least production-wise, which saw Raimel Tapia and Cavan Biggio struggle as the primary left-handed threats. But the talent level from the left side has vastly improved from a season ago. And with just a little patience, they are quickly proving just that.
Despite enduring a miserable four-game series in Boston last week, which included a series sweep, the Blue Jays received a few encouraging signs from their disappointing outcome versus the Red Sox, namely Varsho's two-homer performance in the middle two games of that set.
It had been a rough stretch up to that point, as Varsho was hitting .194/.292/.296 with a 69 wRC+ across his first 27 contests with Toronto, with his strikeout rate (24.8 per cent) nearly reaching the quarter mark. He needed to find a way to turn things around. So he did.
Coming off an 0-for-5 performance in the series opener at Fenway Park, the former Diamondback finally ditched the toe tap in his swing, opting for a traditional leg kick – something he tried to incorporate during spring training. While it didn't work back then, that subtle change to his offensive mechanics has seemingly been the adjustment he's needed all season.
In the six games since then, Varsho is 11-for-his-last-24 with six extra-base hits and nine RBIs, including a two-run blast during Sunday's finale at PNC Park that rolled into the Allegheny River beyond the left-field wall.
Six games is a tiny sample size, of course, but Varsho's refined process appears to have corrected his pitch-timing woes that opposing teams were exposing with high fastballs. Now, he can catch up to those pitches rather than being late and popping them up over the infield.
Adjusting his stride has also led to additional hard contact, as 11 of Varsho's last 23 batted-ball events have featured an exit velocity of at least 95 m.p.h., resulting in a 47.8 per cent hard-hit rate. Before then, he possessed a 31.1 per cent clip over his first 74 BBEs.
Toronto's original plan was for the 26-year-old lefty to serve as a reliable middle-of-the-order slugger. Instead, he dropped down the lineup card – to as low as seventh at one point – amid his offensive struggles. But now that he's back on track and feeling comfortable, he has returned to his initial position in the order.
As the Blue Jays have seen recently, separating their righties at the top with a power-hitting lefty like Varsho can make a huge difference, especially with Vladdy missing the last two games while managing a sore left wrist.
Guerrero's absence has also been minimized by Belt's mini resurgence, whose bat ignited in Pittsburgh over the weekend, going 5-for-7 with three doubles and two RBIs. He also walked (three times) more than he struck out (twice) over his 10 plate appearances.
We should limit our expectations on Belt, at least in the short term, as this is only a two-game sample size amid just 21 games worth of results on the year. At the same time, however, it's difficult not to feel optimistic for a player who still believes he can recapture his impact form from 2020-21. But so far, his Blue Jays tenure has gotten off to a roller-coaster start.
The 35-year-old was seemingly on the verge of breaking out during Toronto's first homestand, where he went 4-for-10 and thrived on the next road trip, crushing his only home run of the season in New York. But his woes returned not long after, as he struck out in eight of his previous 11 at-bats prior to this recent hot streak.
Belt has reached a high point in creating hard contact, as four of his six barrels in 2023 have come over the last two games, improving his hard-hit (42.1 per cent) and barrel rates (15.8 per cent) to the
57th and 89th percentiles
, respectively. The key, however, to sustaining this run will likely come down to his swing decisions.
While Varsho and Belt have been inconsistent out of the gate, Kiermaier has done the complete opposite, suddenly emerging as an elite No. 9 hitter – if not the best in baseball. He hasn't hit for much power – that isn't his role anyway – but owns a dazzling .284/.340/.442 slash line with a .347 BABIP, .342 wOBA and a 118 wRC+ over 29 games.
Kiermaier's offensive production is also a bonus for the Blue Jays, as their main priority is his elite defence in centre field. The 33-year-old could possess a negative offensive WAR rating – which he doesn't this season – and they would still be satisfied with his overall value.
Even with Biggio – who's hitting .143/.200/.268 with a 27 wRC+ over 19 games this season – being practically dead weight, Toronto's lefty production has been remarkable since May 1, leading the majors in AVG (.365), OBP (.422), SLG (.649), wOBA (.452) and wRC+ (193). They also possess the ninth-lowest strikeout rate (19.3 per cent).
It is no coincidence the Blue Jays swept the Pirates 3-0 while receiving impressive results from Varsho, Belt and Kiermaier this past weekend. The more that trio contributes, the deeper this lineup becomes 1-through-9, positioning it amongst the best in the big leagues.
These past three games were a perfect example of that potential, further cementing how meaningful it is when hitters from both sides of the plate are making an impact.
---