Blue Jays lose 6-2 in first meeting of the season with the Orioles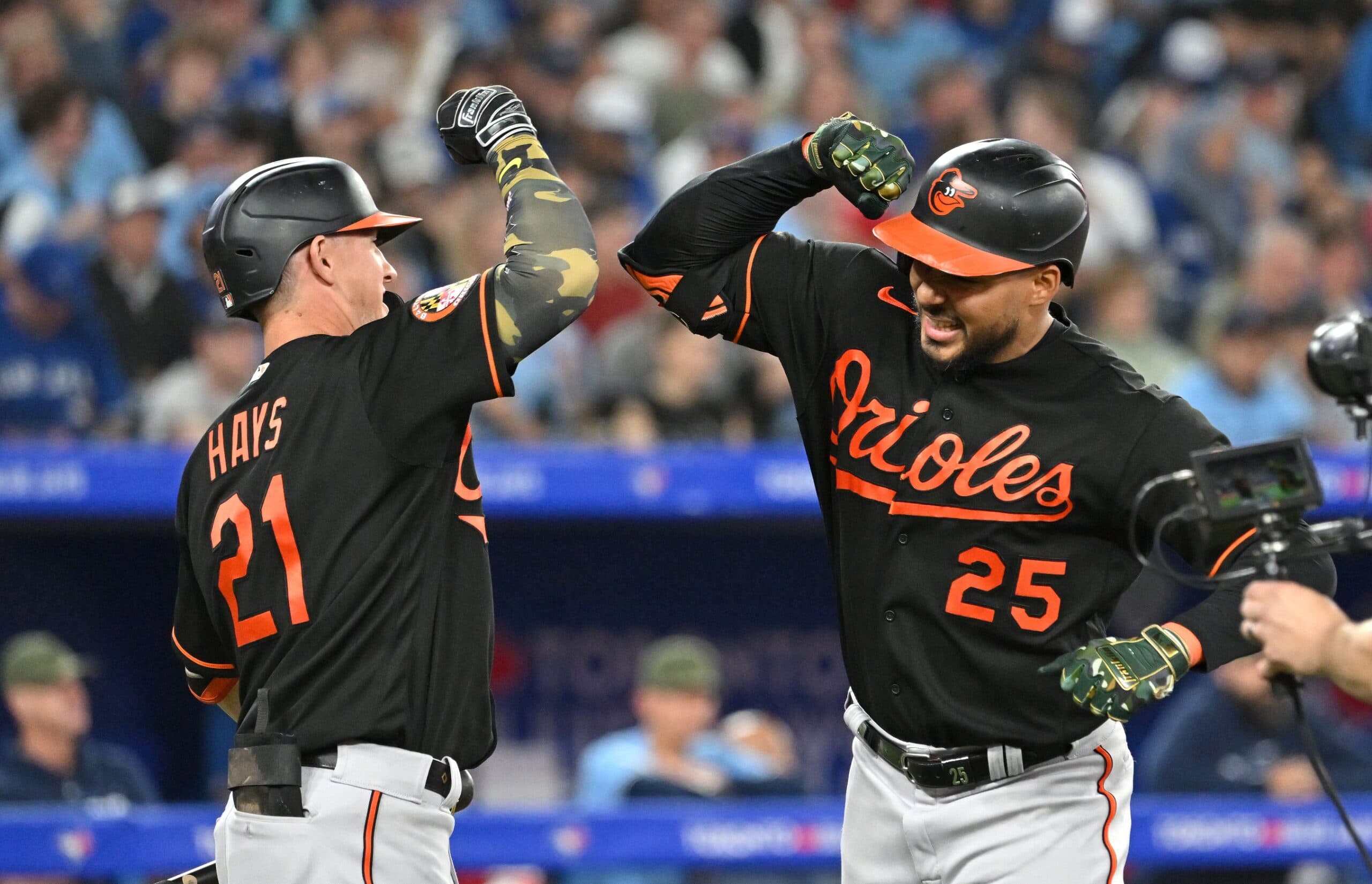 Photo credit:Dan Hamilton-USA TODAY Sports
After losing some ground in the AL East standings by dropping three of four to the New York Yankees, the Blue Jays had an opportunity to shake up the standings tonight in starting a three-game series with the Orioles. The Jays were unable to take advantage at least on Friday night, as the Orioles hit three home runs in a 6-2 win at Rogers Centre.
Toronto was frustratingly bad against Kyle Gibson, but they were able to put an end to Yennier Cano's scoreless innings streak to begin his season. Unfortunately, that kind of thing won't earn you a win or a loss, and Toronto would suffer their fourth loss in five games.
Blue Jays Nation's Player of the Game: Kevin Kiermaier
Kiermaier was 1-for-4 tonight, but his one hit was the first hit allowed from Cano on his changeup. He would eventually come around to score on an RBI groundout from Bo Bichette, serving as the first earned run to cross the plate for Cano this year. Cano had only allowed four hits through 21.2 innings to begin his 2023 campaign.
Kiermaier also had a stand-out defensive play in the 2nd inning, throwing out Ryan McKenna at third base from the outfield. That play didn't start out in the prettiest fashion; Kikuchi tried to pick McKenna off at second base, but his throw was wide of the mark and sailed into center field. McKenna attempted to advance to third on the play, but Kiermaier threw an absolute seed to Matt Chapman at third base to record the out.
Things worth mentioning
Apple TV colour commentator Ryan Spilborghs set a very high bar for Yusei Kikuchi, referring to him as the "Japanese Clayton Kershaw" while Kikuchi was in Japan during the broadcast tonight. Kikuchi laboured through 4.2 innings and 81 pitches, fighting several baserunners, but he still put on a serviceable outing for the Jays tonight. Kikuchi allowed three hits and three runs, but he walked four batters which is the kind of thing we saw him do several times last year.
The three runs allowed by Yusei all came in the 3rd inning, as Kikuchi served up a center-cut 96 mph fastball to Ryan Mountcastle who sent it 419 feet out of the ballpark. It'd be beating a dead horse to say that Mountcastle is a notorious Blue Jays killer, but it's worth mentioning that he now has 15 career home runs versus the Jays in just 43 games. It was also his fourth home run against Kikuchi in his career. I don't think it's crazy to say he will hit another one before this series ends.
Offensively, the Jays were hoping a new series would serve as a good reset for the bats to overcome their recent struggles. Furthermore, the Jays were facing Kyle Gibson, who allowed seven earned runs in five innings against Toronto last September as a member of the Phillies. Getting to Gibson early would be critical, as it would prevent the Jays from having to come from behind against Baltimore's talented group of bullpen arms.
Unfortunately, that did not happen, as Gibson only allowed one run over seven innings tonight. He was relieved in the 8th by Cano, who allowed the aforementioned run to score. After Kiermaier got on base, George Springer doubled to put runners at second and third with no one out. The RISP gods are still not in Toronto's favour, as they only squeezed one run out of that inning. For the game, the Blue Jays left seven runners on base, and went 1-for-7 with RISP.
Toronto used five relievers tonight, and two of them allowed homers. Trevor Richards allowed a solo home run to Anthony Santander in the 6th inning. It was hit off of Richards' changeup, a pitch that Richards had allowed only two home runs on over the last two seasons combined. Erik Swanson would allow a two-run homer from Adam Frazier in the 9th, the second straight outing that Swanson has allowed a home run.
Toronto will look to even the series up tomorrow with Alek Manoah heading to the mound against rookie Grayson Rodriguez.
---