Blue Jays make Big Bullpen Improvement with Small Trade
Photo credit:Yahoo
The Blue Jays bullpen has had an up and down season to say the least. They were great in April, you could argue even the best bullpen in the league,
at least by Win Probability Added
(WPA). Then injuries happened as those key arms in April (Merryweather, Phelps, Borucki) started getting hurt and missing significant amounts of time. In May the Blue Jays
again by WPA
were one of the worst pens in the league. June has been a better month but the late-inning collapses keep coming and as the season goes on those losses become bigger. It's not entirely on the arms in the pen or on Charlie Montoyo. With all the injuries you are asking a lot out of these relievers, many of which were claimed off waivers or called up from AAA, and shouldn't be pitching in high leverage situations.
The Blue Jays finally addressed the need for bullpen help when they
acquired Adam Cimber from the Marlins
yesterday. Cimber has been very good this season with a 2.88 ERA, 3.22 FIP and a 4.86 xFIP. Cimber is a groundball pitcher with a career 54.9% groundball rate. He has yet to give up a home run this season and has allowed just 12 over his career across 170.2 innings.
Cimber keeps the ball in the park because he is basically impossible to square up. He's allowed just three barrels this season per
Baseball Savant
, and his barrel percentage of 2.9% rates among the best in the league. It's difficult to barrel a pitch that moves like this:
That's the sinker if you can even call that, considering the pitch starts going up before it goes down. The sinker gets an absurd 46 inches of vertical drop, and he throws it 30.1% of the time. He throws the sinker exclusively to right-handed batters (he's thrown just one sinker to a lefty this season) running it in on the hands.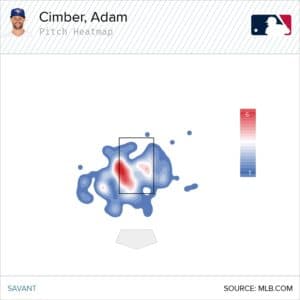 This approach allows Cimber to jam hitters up and induce weak contact despite averaging just 86.8 mph on that sinker. For his career righties have just a .282 wOBA against Cimber with a 62.9% groundball rate.
Cimber as many submarine pitchers do struggle with opposite-handed hitters. That was certainly the case for Cimber, in his first two seasons in the big leagues (2018-2019) lefties hit .315/.413/.589 leading to a 6.98 ERA. In 2020 with the new three-batter minimum rule Cimber couldn't just be a ROOGY anymore, so he adjusted. He started throwing his fastball more and using it against lefties. This season he's thrown his fastball 35.4% of the time, and 26.7% of that has been to left-handed hitters.
Since Cimber releases the ball from such a low point his fastball is like a rise ball. Cimber throws that pitch up to lefties really attacking the upper third of the strike zone.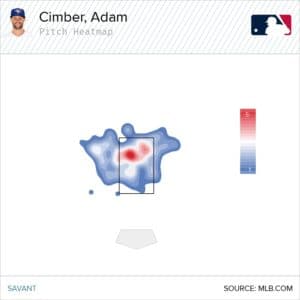 Ever since making this change, Cimber has been great against opposite-handed batters, holding them to a .183/.300/.267 line and a 2.08 ERA over the last two seasons. Now we are only dealing with 17.1 innings pitched and 70 batters faced but this is still a good sign and a big improvement over where Cimber was before.
Cimber's third pitch is his slider. He throws it 34.4% of the time, throwing it to both righties and lefties. The spin of his slider mirrors his sinker and his fastball, while the slider moves in the opposite direction of the sinker, giving Cimber three different pitches that move in three different directions.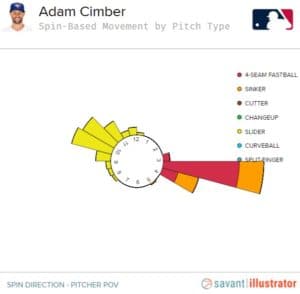 Visually the sinker looks like this.
This pitch here looks like a hanger but Trea Turner has to mindful he's not getting a sinker in on the hands. Turner hits this ball hard but it's on the ground right at the third basemen. The deception in which Cimber throws and the funky upward movement he gets on the ball makes it very difficult for hitters to get the ball in the air. The low velocity gives hitters a chance to react and make contact but not enough where they square the ball up and do damage.
In order for a pitcher like Cimber to have success, he needs to get batters to chase. Throwing in the mid-eighties he can't be filling up the strike zone and hoping for the best. From 2018-2020 Cimber got batters to chase out of the zone 35.5% of the time, per
FanGraphs
, one of the best rates in the league, on par with pitchers like Steven Strasburg and Max Scherzer. This season that has dropped to 28.8%. Hitters are also starting to make more contact when they do chase. The contact is still weak contact so this isn't a major concern. Cimber's first-pitch strike rate and swinging-strike rate are both down at career lows which is a slight red flag. It's only been 34.1 innings so again not a major red flag just something to mindful of.
Cimber should jump right into the back of the Blue Jays bullpen and pitch high leverage innings. He's not just strictly a one-inning reliever either. He's got more than three outs seven times this season. He's a great fit for the Blue Jays in that he can clean up a jam in say the seventh and then come back out and pitch the eighth. Now he probably isn't best suited for a high leverage role and once others get back healthy and hopefully more moves are made Cimber can slide down the depth chart and be an arm used to get some big outs in the middle innings.
For now, though Cimber fills a big hole in the bullpen.