Blue Jays' minor-league arms should have larger impact in majors next season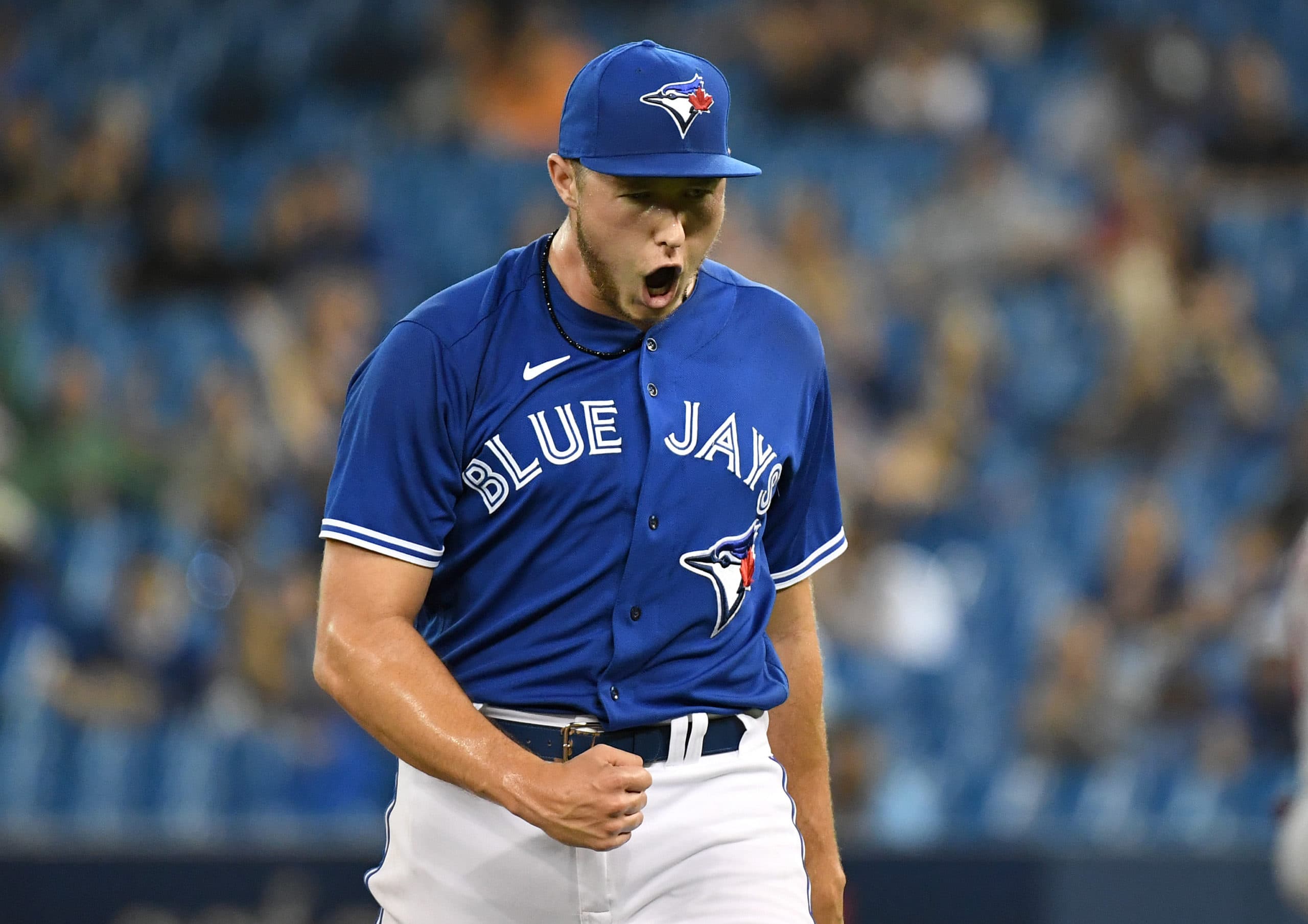 Photo credit:Dan Hamilton-USA TODAY Sports
Under the Mark Shapiro and Ross Atkins regime, the Toronto Blue Jays have excelled at developing young catchers and middle infielders throughout the minor leagues but haven't been nearly as successful on the pitching front, and those struggles hugely impacted their big-league roster in 2022.
After acquiring Kevin Gausman in free agency last off-season, the club's starting rotation was nearly complete and needed just one additional pitcher to round out a talented group that included Gausman, Alek Manoah, José Berríos and Hyun Jin Ryu. In an ideal world, that fifth hurler would've been someone already within the organization, though due to a lack of depth at the triple-A level, that wasn't a realistic outcome.
Nate Pearson – who completed only 45.2 innings the previous season – was the closest MLB-ready arm in the system heading into last season but couldn't be counted on amid his inconsistent workload and prolonged control issues. And neither could Thomas Hatch, who struggled to a 6.75 ERA and a 6.49 FIP across three major-league appearances in 2021.
Thus, forcing the Blue Jays to explore the free-agent market again, hoping to land another impact starter. The only problem, however, is that the owner-imposed lockout prevented them from doing so until closer to the start of spring training.
Toronto's front office continued its search soon after the lockout was lifted last spring, ultimately signing Yusei Kikuchi to a three-year, $36-million contract. And needless to say, that transaction didn't prove worthwhile during the regular season as the 31-year-old finished with a 5.19 ERA, a 5.62 FIP and was worth a career-worst minus-0.7 fWAR over 100.2 innings.
If Pearson, Hatch or someone else emerged as a reliable candidate prior to this past season, perhaps the Kikuchi signing could've been avoided, allowing the franchise to allocate his $10 million AAV elsewhere. But alas, the struggling lefty remains on the books through 2024.
Credit: Stan Szeto-USA TODAY Sports
The Blue Jays' pitching depth – or lack thereof – was also evident in the bullpen as they repeatedly called upon ineffective relievers like Ryan Borucki, Julian Merryweather and Andrew Vasquez early on. And with few appealing minor-league options, along with injuries to Tayler Saucedo and Anthony Kay, Atkins found himself hoping to catch lightning in a bottle by acquiring Sergio Romo and Anthony Banda off the scrapheap.
Neither of them, however, enjoyed much success during their brief tenures with Toronto. And the dire situation got even worse once Ryu underwent Tommy John surgery, sidelining the veteran lefty until at least next July.
Ross Stripling heroically stepped in and thrived in Ryu's absence, preserving the club's playoff hopes. Departing from his multi-inning relief role left a massive void in the bullpen, though, and quickly turned that position into a major liability with Casey Lawrence – who was re-signed to a minor-league deal on Tuesday –  Shaun Anderson, Thomas Hatch and Max Castillo each receiving opportunities to make an impact in the majors.
Mitch White, acquired from the Los Angeles Dodgers last August, joined that group following the trade deadline and spent the remainder of the campaign as both a starter and reliever. The 28-year-old posted a miserable 7.74 ERA over 43 innings post-trade, though the right-hander didn't receive much support from his defence, evidenced by his 3.76 FIP.
As poor as Toronto's history with developing pitchers – both starters and relievers – has been in recent years, that sentiment is beginning to change, and it couldn't be happening at a more opportune time. The 2023 campaign will be pivotal for this franchise, and unlike previous seasons, their minor-league pitching depth will likely become a much larger piece of the puzzle.
A fresh wave of highly-touted prospects is on the way, and most of them – if not all – will be on full display when spring training commences next month. Pearson will headline that group, although he'll be joined by Yosver Zulueta and Hagen Danner – both of which are featured on the 40-man roster. Hayden Juenger, the franchise's
No. 7 top prospect
, will probably make plenty of waves, too.
Zach Pop, a native of Brampton, Ont., is another talented arm likely to garner attention this spring as the 26-year-old enters his first full season with the organization. Barring a bullpen subtraction between now and opening day, the young right-hander is destined to open next season at triple-A Buffalo, though.
Adrian Hernandez, Toronto's No. 24 top prospect, will also be worth monitoring after surviving the Rule 5 Draft earlier this off-season. The 22-year-old still has lots of development ahead of him, but after registering a 20.4 per cent strikeout-to-walk rate difference in 32.2 innings at triple-A last season, there's plenty of room for optimism.
The Blue Jays added to their pool of arms even further before the calendar flipped to 2023, signing right-hander Julian Fernández to a minor-league deal, which is also likely to include an invitation to spring training once official.
Fernández does come with concerns as he earned a 6.63 ERA and a 7.00 FIP through 57 innings at triple-A Albuquerque – Colorado's minor-league affiliate – in 2022, spearheaded by his alarming 2.37 HR/9 and 12.3 per cent walk rate. The 27-year-old produced a 24.9 per cent strikeout rate, though, and owns an explosive high-90s fastball, making him an attractive reclamation project.
In just a year, the Blue Jays organization is shifting from having zero top-end pitchers at the highest minor-league level to featuring an impressive group of Pearson, Pop, Zulueta, Danner, Juenger, Hernandez and Fernández. That's a pretty remarkable feat. And they'll join the likes of Matt Gage, Bowden Francis and Hatch.
What qualities does that first unit share? A 95-m.p.h. fastball or better and at least one dominating swing-and-miss offering – two components that were desperately missed in the Blue Jays' bullpen last season.
Assuming everyone on Toronto's major-league roster begins the regular season healthy, there isn't a clear path to the majors for any of them at the moment. Injuries will eventually pop up, just as they always do each year. But as opposed to last season, if a pitcher requires an IL stint in 2023, that'll likely mean a promotion for one of the franchise's top prospects.
So after witnessing almost every opponent send out an unknown pitcher featuring an electric arsenal last season, the Blue Jays, to their fan base's delight, can now be a part of that conversation moving forward. And this is only the first wave to arrive; there are others in the pipeline, as well.
Ricky Tiedemann is atop that list as the organization's No. 1 top prospect. Though the 20-year-old has only logged one professional campaign, completing 78.2 combined innings across three levels (low-A, high-A, double-A), he has dominated at every stop thus far. His workload will likely be managed once again, but at this rate, chances are he'll make his triple-A debut – and possibly his major league, too – before the end of 2023.
The double-A and high-A levels are also loaded with several additional top pitchers, including Sem Robberse (No. 6 top prospect), Adam Macko (No. 8, acquired in the Teoscar Hernández trade), Dahian Santos (No. 12), CJ Van Eyk (No. 20), Trent Palmer (No. 25), Chad Dallas (No. 28), Eric Pardinho, Trenton Wallace, Jimmy Robbins, Troy Watson and Jimmy Burnette.
Toronto's talent pool doesn't stop there, either, as Brandon Barriera (2022 first-round selection), Irv Carter (No. 23), Anders Tolhurst, Mason Fluharty, T.J. Brock, Connor Cooke and many others are part of another giant wave of hurlers in the lower levels.
In all likelihood, not every player listed above will end up making an impact for the Blue Jays or even debut in the majors with this franchise. That is just the nature of the business. All this depth will help mitigate the need to spend significant resources in free agency on impact pitchers – a luxury the front office hasn't been afforded over the last four off-seasons, including 2022-23.
And if you look around the majors, that is, historically, one of the ways a sustainable winning foundation is built.
---