Blue Jays Minor League Report: Davis Schneider is the first in the organization to hit 20 home runs, Gabriel Martinez hit two homers, and more!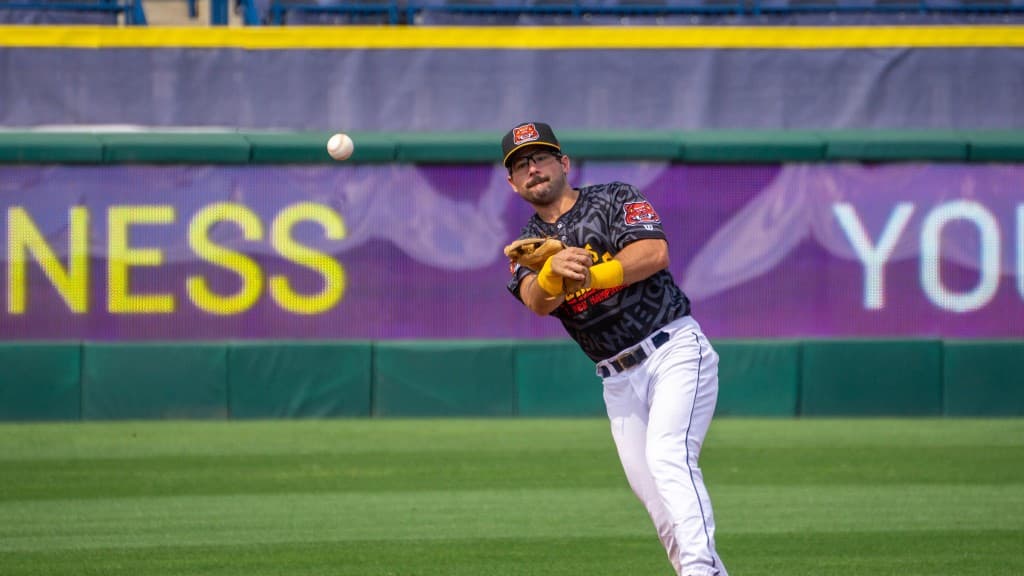 Photo credit:Milb.com
A few teams in the organization continue to roll.
It's the second day of the Blue Jays Minor League Report 4.0, and I hope you enjoy the new formatting! If you missed the article covering games from July 25th, these articles will now basically be a recap of the games.
Triple-A:
The Buffalo Bisons smashed the Scranton/Wilkes-Barre RailRiders 14-2, bringing their overall record to 48-49 and their second half record to 14-8, 0.5 games back of the Iowa Cubs.
With a big score, there's a lot of players to look at. The best of which was
Tanner Morris
, who went 5-5 with three doubles, a single, and his fourth homer of the season. His wRC+ went from 91 prior to the game to 103. Sticking with homers,
Davis Schneider
hit his organization-leading 20th home run of the season. He also added a double and a single with a walk and hit by pitch.
Orelvis Martinez
went 2-5 with four RBIs and a strikeout. All of these RBIs came in his two plate appearances in the third, a single and a double.
Rafael Lantigua
hit his 26th double of the season, going 2-5.
In terms of pitching,
Bowden Francis
was the star of the game, finishing with a line of
4 IP, 3 H, 1 ER, 2 BB, 6 K
, his ERA now sits at 2.88 with a 37.9 K% and a 5.8 BB%.
Double-A:
The New Hampshire Fisher Cats had their chance to beat the Hartford Yard Goats, as they led 6-0 after the fourth. Ultimately, they fell 9-8, bringing their overall record to 42-47, with a second half record of 7-14 (seven games out).
The standout of this game was
Will Robertson
, who went 3-6 with a game-tying single. He also struck out three times.
Rainer Nuñez
has heated up as of late, as he hit his fourth home run of the season and added a single.
Sebastian Espino
was the other home run hitter, also hitting his fourth of the season while also hitting a single.
Andres Sosa
went 2-4 with a walk, hitting his fourth double in Double-A, while
Steward Berroa
also had a multi-hit game.
Sem Robberse
got the start, finishing with a line of
5 IP, 7 H, 4 ER, 2 BB, 8 K.
While it wasn't his best start by any means, the eight strikeouts tied a season high that he set in each of the first two games.
High-A:
The Vancouver Canadians won, because of course they did. After nearly being no-hit the night prior, they beat the Everett AquaSox 7-0. This brings their season record to 57-34 and their overall record to 19-7, not that it really matters at this point after winning the first half.
Gabriel Martinez
easily earned the player of the game on this day, going 3-4 with four RBIs, hitting his seventh and eighth home run of the season, see below.
Josh Kasevich
also hit a home run, which was only his second career home run. He doesn't have a lot of pop in the bat, but man he's a fantastic hitter.
Many players had one hit games, like
Jommer Hernandez
,
Ryan McCarty
,
Cade Doughty
, and
Michael Turconi
. Furthermore,
Adam Macko
had his best start in the Blue Jays organization, going
5 IP, 2 H, 0 ER, 3 BB, 7 K.
Single-A:
The Dunedin Blue Jays may have lost 8-2 to the Tampa Tarpons, but the draftees are on the way. That said, their overall record sits at 42-50, while their second-half record is at 10-16, last in the Florida State League West.
Edward Duran
may have been a player to be named later in the Jordan Groshans trade last season, but he's having an eye-catching season. On Wednesday, he went 2-4 with a strikeout and two RBI, while both hits were doubles. In his last game (July 23rd), he hit only his second career homer. Is the Blue Jays catching factory back?
A few other players had hits in this game, such as
Jaden Rudd
who went 1-3 with a walk,
Roque Salinas
, who went 2-4 with two singles, and
Abiezel Ramirez
, who also had two singles and a walk.
There wasn't a standout pitching performance, so let's talk about those draftees who are starting to make their debuts.
Brennan Orf
and
Bryce Arnold
were the first two, with Orf registering a hit, and Arnold going 0-4, but had two hard hit balls. I'd expect many of their draftees to end up in Dunedin, similar to last season.
DSL Jays:
The DSL Jays completed a game that was suspended, and beat the DSL Yankees 7-2. This technically brought their record to 15-15, but their actual record now sits at 22-15. Suspended games are weird.
Daniel Pérez
continues to be the standout of the 2023 international free agent class, going 2-3 with a double and two RBI in this game.
Adrian Meza
also had a multi-hit game, going 2-3 with an RBI.
David Guzmán
,
Maykel Minoso
,
Faruk De La Cruz
,
Aldo Gaxiola
, and
Jarold Montealto
all had at least one hit in this game, while the last two and Minoso also drew a walk.
Rodolfo Toledano
started this game, and finished with a line of
3 IP, 1 H, 0 ER, 0 BB, 2 K
, while
Raudy Gomez
finished out the last two innings, finishing with a line of
2 IP, 3 H, 2 ER, 1 BB, 2 K.
---
As always, you can follow me on Twitter, Instagram, and Threads @Brennan_L_D.
---