Blue Jays Minor League Report: Nate Pearson has impressed, Damiano Palmegani can't stop getting on base, and more!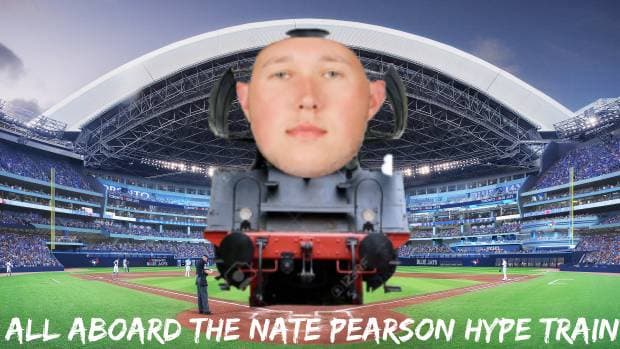 It's been a hot minute since we had our last minor league report.
In this article, we'll look at what has happened the past week for Blue Jays affiliates, three standouts for both position players and pitchers for all four affiliates, and set up what this report will be.
Let's start with the Buffalo Prarie Cows:
Buffalo Bisons week:
This past week, the Blue Jays' Triple-A affiliate went 2-4 against the Rochester Red Wings, winning the first and last game. That doesn't necessarily tell the entire story though. Overall in the series, the Bisons scored 37 runs, including 21 runs in their four losses. Their season record now sits at 6-8.
Let's look at who has impressed in the early season so far.
Players who've impressed:
Nathan Lukes
was recently brought back up to the major leagues, but it's well earned as he's torn up Triple-A pitching. In 29 Triple-A at bats, he's slashing .333/.448/.500 with a homer and a 17.2 BB% and just a 3.4 K%. He's also added six RBIs. Hopefully, Lukes gets an opportunity for a plate appearance in his second tenure with the big league club.
Spencer Horwitz
continues to have one of the best hit tools in the entire organization. This season, the 25-year-old is slashing .268/.412/.390 in 51 plate appearances, much better than his .246/.361/.363 slash line he posted in Triple-A last season. Furthermore, he has continues to show an impressive eye at the plate, as he has a 15.7 BB% and only a 23.5 K%. He has appeared in 12 games this season, playing only one in left field.
Rafael Lantigua
is always a prospect that appears on the backend of my top prospect lists, but he continues to show the ability to hit. He's started his season slashing .323/.389/.452 with four doubles. Moreover, he has a rather low 19.4 K% compared to an 11.1 BB%. His profile reminds me quite a bit of Santiago Espinal.
Nate Pearson
has impressed this season. It's never been about talent, but rather health for the 26-year-old flamethrower. It appears he's added a sharp knuckle curveball, that in my opinion, is his best pitch. That says a lot, as his fastball averages in the high-90s, and has touched 100.8 mph. With the Buffalo Bisons in 2023, he has a 2.84 ERA and a 1.07 FIP in 6.1 innings pitched. While his BB% has been rather high (14.8%), his K% of 51.9% is absolutely insane. If a pitcher in the Blue Jays bullpen gets injured or is DFA'ed, Nate Pearson is probably the guy to take over.
Paul Fry
is another reliever in the Buffalo bullpen who has done quite well so far. With the Bisons, the lefty has a 2.45 ERA and a 2.64 FIP in 7.1 innings pitched. Moreover, he has a solid 24.2 K%, and a 9.1 BB%. He's been pretty useful out of the Prairie Cows bullpen.
Junior
Fernández
is the Fernández they picked up off waivers, not the minor league free agent signing. The 26-year-old has pitched 5.2 innings, and has a 3.18 ERA and 3.06 FIP. He's done a decent job generating strikeouts with his 23.1 K%, and his 7.7 BB% is below average. Fernández is also sitting in the high-90s with his fastball, so that's good stuff.
The upcoming series:
The upcoming week, the Prairie Cows will host the Iowa Cubs in a six-game set. The Cubs have three former pitchers that were once in the Blue Jays organization – Ryan Borucki, Anthony Kay, and Vinny Nittoli.
New Hampshire Fisher Cats' week:
The New Hampshire Water Kitties had a tough week, going 2-4 and only scoring 17 runs over the six-game stretch. Despite that, their record still stands at 5-4, mainly due to a 3-0 sweep in their first series.
Let's look at the players who've contributed to their above .500 stretch.
Players who've impressed:
Steward Berroa
may not be considered a top prospect
in the organization, but he does a ton of things right. So far this season, he's slashing .280/.396/.600 with two homers in 27 plate appearances. In fact, his .896 OPS is the highest for any player on the team, and his two homers rank as the most on the team. He's also stolen three bases and has a 100% success rate. Pretty good start to the season for the 23-year-old outfielder.
Luis De Los Santos
has had a hot start to his season. The 24-year-old shortstop is slashing .267/.313/.467 with a 120 wRC+. His eight RBIs rank tied for third in the Eastern League as well. The only worrisome sign so far for De Los Santos is his high K% of 34.4%, but it usually hovers around 20-24%.
Damiano Palmegiani
was quite aggressively promoted to Double-A, and for good reason. Although he has yet to hit a homer, he has an insane .486 on base percentage in his 35 plate appearances. This is due to a 22.9 BB% (compared to a 17.1 K%), as well as being hit by a pitch three times. He also has six singles. Once the power comes, his .250/.486/.250 slash line is going to get even better somehow.
Ricky Tiedemann
won't be in Double-A for much longer, that is my take of the day. He has only pitched three innings, but he struck out nine of the 11 batters he faced. He's rocking a cool 0 ERA and a -3.07 FIP. Didn't even know that was possible. He also has an insane 81.8 K%. It's obviously only three innings of work, but he's clearly ready for the next level, as he looks like a guy who doesn't want to pitch in the minors anymore.
Sem Robberse
walked, so Ricky Tiedemann could run. The general sense I have from Blue Jays prospect connoisseurs is that the Pitching Dutchman is severely underrated at this point. So far in Double-A, he has a 1.86 ERA and a 2.83 FIP in 9.2 innings pitched. He has an insane 39 K% and a marginally high 12.2 BB%, both of which may return somewhat to normal as the season continues. One interesting note is that Robberse has bulked up this past off-season, which has seen a velocity jump. He didn't necessarily need it as he's *in a Pat Tabler voice* "a pitcher", but the kid has a high floor. He may pitch in Triple-A as a 21-year-old, which is a rather rare feat.
Jimmy Burnette
appears to be the Fisher Cats closer, at least for the early part of the season. The 24-year-old lefty has a 0 ERA and a 0.26 FIP in 3 innings pitched this season. Moreover, he has a 36.4 K% and a 0 BB%. Earlier season stats are radioactive, but if he can keep his walk rate down, being excited about the 24-year-old lefty is understandable.
The upcoming series:
This week, the Fisher Cats will be facing the Yankees Double-A affiliate, the Somerset Patriots. Sem Robberse will start on Tuesday.
The Vancouver Canadians' week:
After missing the entirety of their first series due to rain and a wet pitch, the High-A team made their season debut this past Tuesday.
The only Canadian minor league team (please come back to Ottawa, MiLB) finished the series 4-1 after a postponement on Sunday. Their only loss was a 9-1 beating, before returning the beating winning 10-0 the next day.
Let's look at six players who've impressed so far this season.
Players who've impressed:
Devonte Brown
went undrafted. Every single day, I ask myself "how in the world did not one team take a shot with this guy". As you may know, the 23-year-old outfielder has a 171 wRC+ in 107 plate appearances for the Dunedin Blue Jays in 2022, the highest wRC+ for any player in the organization with 100+ plate appearances. Well, he's back at it this season, as he's slashing .333/.500/1.167 in just eight plate appearance (so very small sample size). In fact, he nearly has as many RBIs (6) as he does plate appearances, mainly due to this grand slam. Keep an eye on this guy, he may be ranked in a Top 30 list soon enough.
Michael Turconi
was drafted in the 15th round of the 2022 draft, and is repeating the High-A level. The 23-year-old middle infielder is slashing .285/.412/.714 with two homers, the most for the Canadians, in 17 plate appearances. He currently has a higher BB% (17.6%) than K% (11.8%), a good sign. Both of his homers were oppo-tacos, meaning he does have some raw power. Further proof is his 15 homers in his final year of college.
Alex De Jesus
had a tough start to his Blue Jays career in 2022. He played mainly with the High-A Canadians, slashing .211/.298/.333 with two homers in 104 plate appearances. Well, his slash line is better this season as it sits at .286/.375/.357. Moreover, his BB% has returned to his usual 12.5%, while his K% has noticeably dropped to 25% so far this series. It's just five games, but it is encouraging.
Chad Dallas
was a 2021 draft pick who didn't do as well as he could have in 2022. He had a 4.60 ERA and a 5.50 FIP in 88 innings pitched, along with a rather low 21.2K% and a high 12.6 BB%. Well, after one start in 2023, he has a 1.80 ERA and a -0.24 FIP in five innings pitched. Moreover, he recorded the most strikeouts in his professional career (11) while walking a single batter. It's also worth noting that his stuff looked significantly better than it did during the 2022 season.
Abdiel Mendoza
was a minor league Rule 5 pick in 2022. Usually with this type of acquisition, you hope that they fill out minor league holes, but Mendoza actually looks quite solid in his few seasons in the organization. Last season with the High-A Canadians, he posted a 2.78 ERA and a 4.44 FIP in 81 innings pitched, along with an 18.7 K% and an 11.4 BB%. This season, he has a 1.29 ERA and a 1.84 FIP in 7 innings pitched. The 24-year-old has a five pitch mix, sweep, slider, changeup, four-seam, and a two-seam.
Connor Cooke
has one of the most wildest slider's I've ever seen watching minor league baseball. It looks like a damn frisbee, but also has a spin rate over 3000 RPM. You can click this link to watch him strikeout Giancarlo Stanton. Pitching in high-leverage out of the bullpen, the 23-year-old has a 0 ERA and a 2.06 FIP in his 1.1 innings of work. He also has an insane 57.1 K% and a rather high BB% of 28.6%, but last season the BB% sat a 7%.
The upcoming series:
The Canadians will head to Everett to take on the Seattle Mariners' affiliate team. Sadly, Everett does not stream games, so there'll be a lack of video in the Canadians section the next two articles will be quite barren. Sad.
The Dunedin Blue Jays' week:
The Baby Jays split their series 3-3 this past week, brining their season record to 4-5.
Like with the other affiliate teams, let's look at which players stood out.
Players who've impressed:
Manuel Beltre
signed for $2,350,000 in the 2021 class, and he has started the 2023 season hot. Prior to landing on the 7-day injured list, Beltre was slashing .500/.579/.563 with an extra base hit in 20 plate appearances. Obviously, small sample size alert, but Beltre has started to trend in the right direction. Hopefully, the injury doesn't keep him out for long.
Sammy Hernandez
is one of the youngest players in the Florida State League, but he's been one of the Dunedin Blue Jays standouts so far in 2023. The 18-year-old is slashing .250/.250/.438 with a 31. K% in his 16 plate appearances, but has already hit a homer, which explains his 97 wRC+. Hernandez also has a 27.3% hard-hit rate, a rather impressive number for how young he is. Moreover, he has a 36% caught stealing percentage, showing off his strong arm.
Tucker Toman
was selected at the end of the second round, 77th overall in 2022. This season with the Single-A Dunedin Blue Jays, he's slashing .300/.405/.433 with three extra base hits. The biggest concern so far is the elevated 37.8 K%, but he has also drawn his fair share of walks with a 13.5 BB%. All in all, he's had a solid start to his professional career.
Kevin Miranda
was signed as an undrafted free agent after the 2022 draft. He originally pitched with LSU Shreveport in the NAIA, and posted a 2.44 ERA in 88.2 innings pitched there in 2022. He has started his professional career off well with the DJays, posting a 0 ERA and a 2.99 FIP in 9 innings pitched. More impressively, he's only given up two hits and walked a single batter in that frame. The 16.7 K% is on the low side, but he has an impressive 54.2 GB%.
Rafael Sanchez
signed with the Blue Jays in May 2022, and has had a quick ascent up the minor league ladder. The 23-year-old righty has started the 2023 season in Single-A, where he  has a 2.45 ERA and a 2.50 FIP in 11 innings pitched What's more impressive is his 34.9 K% and a very low 2.3 BB%, for a K-BB% of 32.6%. I woujldn't be surprised if he moves to High-A some point in the next two months.
Eliander Alcalde
dipped his toes in Single-A last season, but the 19-year-old has started this season with the Dunedin Blue Jays. So far in 7 innings pitched, he has a 1.29 ERA and a 5.05. While his 32 K% is quite impressive, the 16 BB% is quite worrisome. Either way, he's still young and the sample size is small.
The upcoming series:
Next up for the Baby Jays will be the Palm Beach Cardinals, I'll give you three guesses which team they are affiliated to. Their first televised series will be on June 6th, ironically rookie ball will start that day as well.
The plan moving forward:
Moving forward, we'll have minor league recaps every Monday and Thursday. So stay tuned for Thursday's article!
As always, you can follow me on Twitter and Instagram @Brennan_L_D. All baseball savant data can be found on Prospects Live, which you can find here.
---