Blue Jays Minor League Report: Paxton Schultz had a brilliant Triple-A debut, Damiano Palmegiani continued his impressive season, and more!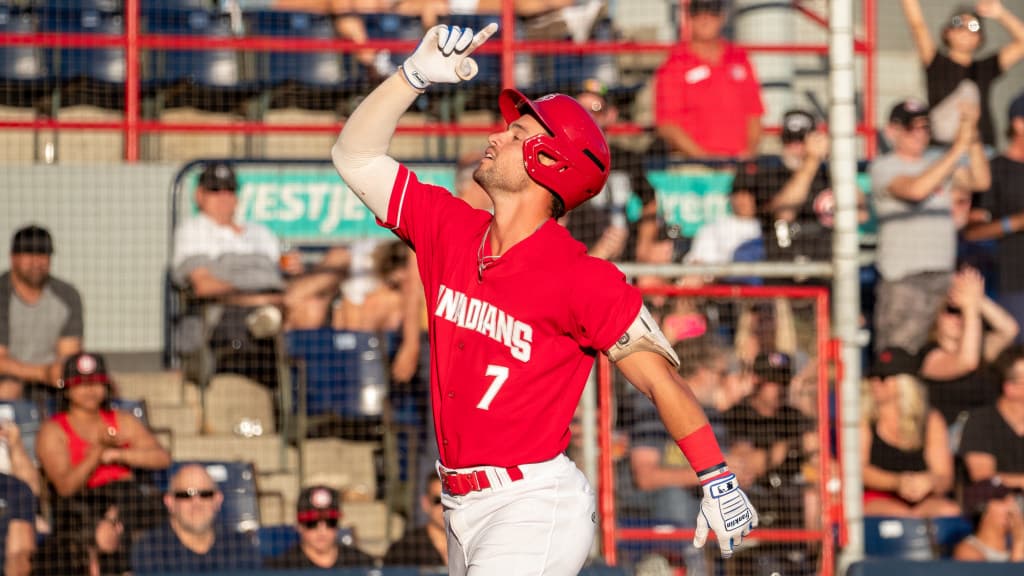 Photo credit:(Mark Steffens - Fotoguy)
There were some debuts, some big nights, and more on Thursday's slate of games.
Like every Minor League Recap v.3, we'll look at each level, the Player of the Game, and 1-3 players worth mentioning.
Triple A:
The Triple-A Buffalo Bisons defeated the Toledo Mud Hens in 10 innings by a score of 5-4. This brings Buffalo's record to 27-33 for the season, and they are 2-1 against the Mud Hens in this series.
The Blue Jays Nation Player of the Game: Paxton Schultz
Paxton Schultz made his well deserved Triple-A debut on Thursday evening, pitching a line of
5 IP, 3 H, 1 ER, 2 BB, 6 K. 
During the game, his fastball sat anywhere from 92 mph to 94 mph, while also throwing a high 80's cutter, a slider, and a changeup, which is his best pitch.
The 25-year-old who was acquired in the Derek Fisher trade to Milwaukee was fantastic with the Double-A Fisher Cats, owning a 3.30 ERA and a 3.10 FIP in 46.1 innings pitched. Moreover, he saw a jump in his K% from 21.6% in 2022 to 27.3% this season.
Keep an eye on him, as he eats innings and has good stuff.
Things worth mentioning:
Otto López
had two hits in four at bats and worked a walk as well. Since May 2nd, he's slashing .301/.371/.320 with 9 RBIs. After a tough start to the season, he's now slashing .243/.307/.287 in 199 plate appearances for the season.
Hagen Danner
came in during the sixth inning after Schultz was lifted, and struck out two in a clean inning of work. His fastball averaged 96-98 mph, while also throwing his 85-88 mph slider. The 10.39 ERA and 8.40 FIP in Triple-A is still high, but this is a step in the right direction.
Davis Schneider
is a player that will continue to appear on the report until he cools off. On Thursday night, he went 1-2 with an RBI and an additional three walks. For the season, Schneider is slashing .261/.380/.523 in 213 plate appearances. He has the second most homers in the organization besides Orelvis Martinez, but also has an incredibly high 15.5 BB%. It's only a matter of time before he makes the big leagues.
Double-A:
The Double-A Fisher Cats defeated the Harrisburg Senators 7-2, moving their season record to 28-24. Moreover, they have won both games they've played against Washington's affiliate team this series.
The Blue Jays Nation Player of the Game: Damiano Palmegiani
Seriously, how isn't this guy a Top 10 prospect in the Blue Jays organization?
On Thursday evening, the 23-year-old right-handed batter went 3-5 with a homer. He was also just a homer shy of the cycle.
For the season, he's slashing .292/.400/.482 with seven homers (third in the organization) with a 13.5 BB% and a 20.5 K%.
A call-up to Buffalo will surely come soon.
Things worth mentioning:
Chad Dallas'
resurgent season continues. On Thursday, the 22-year-old right had a line of
6 IP, 2 H, 1 ER, 1 BB, 5 K
. For the season in Double-A, he has a 2.42 ERA and a 3.76 FIP in 22.1 innings pitched, along with a 22 K% and a 9.9 BB%. Just wait until he starts striking out more batters.
Orelvis Martinez
finally got his batting average over the Mendoza line. This was in large part due to a 2-5 game where he hit two doubles. Despite batting .200 on the dot, he has a 110 wRC+ due to a high 12 BB% and 15 homers in just 192 plate appearances. Triple-A is a possibility in the near future.
Connor Cooke's
ERA is slowly dropping down. On Thursday night, he pitched an inning, striking out three and allowing just a single. Despite the 4.15 ERA and 3.82 FIP, Cooke has an insane 47.2 K% and a rather high BB% of 11.1% in Double-A.
High-A:
The Vancouver Canadians suffered the only defeat the full-season affiliates did on Thursday evening. They fell to the Everett AquaSox 5-4, just failing to rally in the top of the ninth as they did on Wednesday.
The Blue Jays Nation Player of the Game: Peyton Williams
The 6'5, 255 lb first baseman had his first big game as a Vancouver Canadian. He hit two singles and reached on a hit by pitch to reach three of the four times he stepped up to the plate.
The left-handed batter hasn't quite translated the success he had in Single-A to High-A just yet. He's slashing .192/.300/.308 with a 36.7 K% in 30 plate appearances with Vancouver.
There's a good chance he will turn it around soon though.
Things worth mentioning:
Rafael Sánchez
is a pitcher that will climb up the organization ladder pretty fast. The 23-year-old was only signed in May 2022, and has already appeared at every level leading up to High-A. On Thursday, he had a line of
5 IP, 4 H, 2 ER, 1 BB, 6 K.
While the 7.27 ERA remains high, it's a good step in the right direction.
Devonte Brown
hit his fourth homer of the season Thursday night. It's pretty mind boggling how the 23-year-old went undrafted last season, as he tore up Single-A slashing .308/.477/.449 with a 171 wRC+, the highest total for any player in the organization with 100+ plate appearances. He hasn't had the same start to 2023, as he's slashed .234/.286/.402 with four homers in 119 plate appearances, but the raw power is definitely there.
Andres Sosa
was invited to Blue Jays spring training and did alright. Sadly, he missed a large part of the start of the season, only making a comeback towards the end of May. On Thursday's game, he had two hits in the four plate appearances. He's now batting .257/.395/.371 with a homer in 43 plate appearances, along with a 14 BB% and a 9.3 BB%. I love his leadership behind the plate, and it's only a matter of time before the 25-year-old catcher is in Double-A.
Single-A:
The Single-A Dunedin Blue Jays absolutely hammered the Bradenton Marauders 14-3, bring their season record to 27-27. More importantly, they keep their first-half title aspirations alive, even if it's fleeting at this point.
The Blue Jays Nation Player of the Game: Pat Gallagher
The 2022 11th rounder had his first great professional outing, owning a line of
5 IP, 1 H, 1 ER, 1 BB, 8 K
in what was his second start of the season.
For the season, the 22-year-old has a 4.96 ERA and a 4.13 FIP in 16.1 innings pitched. More impressively, however, is his 32.8 K% and 4.7 BB%.
He's not a power pitcher by any means, as his fastball averaged anywhere from 88 mph to 91.6 mph on Thursday, but he's shown an ability to throw it for strikes. He also has a a changeup and a curveball, both of which are solid pitches.
Things worth mentioning:
Alex Amalfi
was an undrafted free agent picked up after the 2022 draft. On Thursday, he had a line of
3 IP, 0 H, 0 ER, 0 BB, 4 K
and has put together a strong season in Dunedin. His season totals sit at a 1.06 ERA and a 3.24 FIP in 17 innings pitched, along with a 28.8 K%.
Tucker Toman
is sort of like Davis Schneider. Until he has a bad game, it's hard not to justify putting him on the report. On Thursday, he went 2-5 with a walk and four RBIs. Surprisingly, none of which were extra base hits.
Jaden Rudd
went 1-4 with a walk in Thursday's game, but he also drove in three RBIs in the evening. His BB% now sits at 17.4% over 178 plate appearances, while he has a good 126 wRC+.
Florida Complex League:
The FCL Blue Jays fell to the FCL Tigers 6-1, and brought their record to 0-3 (spoiler alert: they won Friday afternoon). More importantly, the Jays also had a 2022 draftee making his professional debut.
The Blue Jays Nation Player of the Game: Martin Gimenez
Martin Gimenez has had a solid start to his season. On Thursday, the 19-year-old went 1-2 with a walk and a double, one of the only extra base hits the FCL Jays had.
After a very tough 2022, it's nice to see the young infielder get off to a nice start.
Things worth mentioning:
Gage Stanifer
was selected in the 19th round of the 2022 draft, and made his professional debut on Thursday. He had a line of
4 IP, 5 H, 4 ER, 2 BB, 5 K,
albeit two of those runs came after he had left the game. He has a fastball that has touched 97 mph, and a nasty splitter. Keep an eye on him.
Addison Barger
appeared in his first game since April 28th on Thursday. It's not so much the results that we look at in rehab assignments, but he did draw a walk in one of his three plate appearances. After rising up top prospect lists drastically last season, Barger has had a tough start to his 2023 season, slashing .237/.333/.329 with a homer in 87 plate appearances in Triple-A. It's worth noting he missed time with an elbow injury, so this may have been the cause of his poor start.
Victor Arias
had the other double on Thursday afternoon. Unlike Gimenez, Arias had a successful 2022, slashing .315/.448/.481 with no homers in 67 plate appearances with the Dominican Summer League Blue Jays. This was preceded by a season where he slashed .248/.388/.339 with two homers in 134 plate appearances, also with the DSL Jays in 2021.
Dominican Summer League:
The DSL Blue Jays fell to one of Arizona's DSL teams, 2-1. This brings their record to 1-2.
The Blue Jays Nation Player of the Game: Railin Tejada
The 18-year-old outfielder has had a good start to his 2023 season, hasn't he?
On Thursday, he had two hits, both single, driving in a run for his fourth RBI of the season. It's way too early to look at the stats of the rookie leagues and make concrete assumptions, but it's a good start for an outfielder who only hits .127/314/.235 in 70 plate appearances last season.
Moreover, he's already tied (well, surpassed due to Friday's game) his RBI total of 4 last season.
Things worth mentioning:
Samuel Colmenares
made his professional debut on Thursday with a line of
4 IP, 3 H, 0 ER, 0 BB, 2 K.
Pretty good start for the 18-year-old from Venezuela.
Maykel Minoso
has been in the organization for two seasons now, but he's still only 17-years-old. On Thursday, he had a hit in his four plate appearances. Last season, the catcher hit .161/.333/.161 with a 20.5 BB% and 33.3 K% in 39 plate appearances with the DSL Jays. And yes, he is related to Hall of Famer Minnie Minoso.
Setting up the Minor League report for Saturday:
Both the Florida Complex League Jays and the Dominican Summer League Blue Jays played their Friday games.
The Bisons will start Yosver Zulueta on the mound on Friday, with Danny Jansen behind home plate.
For the New Hampshire Fisher Cats, Trenton Wallace (who I call Big Arm for absolutely no reason), makes his debut at the level.
It hasn't been announced as I write this, but Dahian Santos is expected to start for the Vancouver Canadians, and is having a good season.
Despite the fact that Dunedin plays about an hour out from when I'm writing this, they have yet to announce a starter for the 6:30 PM game. Last week, Pat Gallagher started on Thursday and Kendry Rojas followed him on Friday, so that's my best guess.
As always, you can follow me on Twitter and Instagram @Brennan_L_D.
---