Blue Jays Minor League Report: The Jays had an organizational sweep on Sunday, Davis Schneider hit two home runs, and more!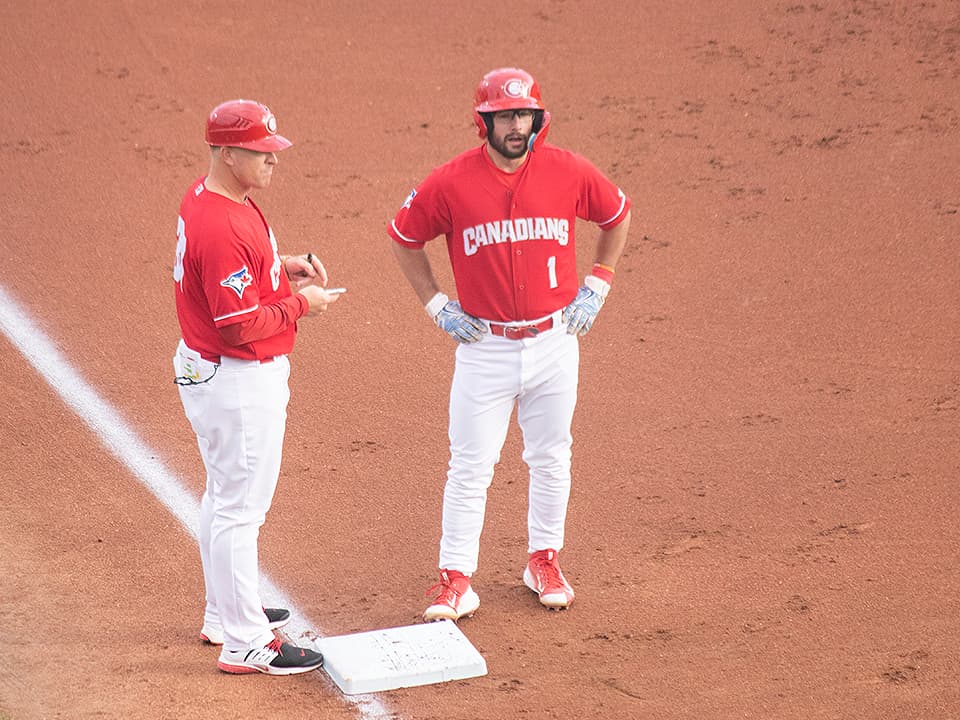 Photo credit:Niall O'Donohoe - CSPlusBaseball
Organization sweep, organization sweep! Get the cake, we have an organization sweep.
This article will differ a bit from the other Minor League reports from the past week. On Sunday, the rookie league teams were off, while the full-season affiliate teams will be off on Monday.
Instead of writing two smaller articles, we'll combine Sunday's games and Monday's games in this article!
We'll also set up the upcoming series for all the full-season affiliates, including where all teams sit in the standings.
Let's start with Triple-A.
Triple-A:
The Triple-A Bisons won on Sunday 12-1, winning the series against the Toledo Mud Hens 4-2. Their record now sits at 29-34. I don't really do honourable mentions in these reports, but Spencer Horwitz went 2-5 with a walk and three RBIs, so he at least deserves a mention somewhere.
The Blue Jays Nation's Player of the Game: Davis Schneider
I'll admit this – I didn't see Davis Schneider becoming one of the best power hitters in the Blue Jays organization. I knew there was some pop in his game, he had 16 homers in 454 plate appearances between High-A, Double-A, and Triple-A last season. I didn't think he'd have 14 in 223 in 2023.
He added two more homers on Sunday, both of which were oppo-tacos. Not just that, but he added his 11th double and a single for good measure.
The 24-year-old second baseman/left fielder is slashing .273/.395/.563 with a 16.1 BB% and a 23.2 K%. His 14 homers are tied for fifth in the International League as well. It may be time to call him up.
Players worth mentioning:
Danny Jansen's
second rehab game was successful. The catcher went 3-5 with a strikeout, hitting two doubles and a single. Hopefully this will be his last rehab game before joining the Blue Jays on Tuesday.
Otto López
is heating up. On Sunday, he went 3-5 with a walk and three RBIs. One of the three singles had a 108 mph exit velocity. There's a sneaky amount of power in his game, even if he only has 17 career homers since 2017.
Hagen Danner
had a line of
1.2 IP, 1 H, 0 ER, 0 BB, 3 K.
His fastball touched 97.2 mph and only generated two swings and misses on 18 pitches. This was his second straight appearance without giving up an earned run.
Double-A:
The Fisher Cats beat the Harrisburg Senators 6-4, winning the series 4-2 and now own a record of 30-26.
The Blue Jays Nation's Player of the Game: Will Robertson
The Fisher Cats were down 3-2 in the top of the seventh before Will Robertson headed to the plate. With one swing of the bat, he gave the Fisher Cats a 6-3 lead with a grand slam. The 25-year-old outfielder went 1-4 with a walk and four RBIs off that one homer.
This was his seventh homer of the season, which ranks fifth most in the organization. He's slashing .197/.306/.408 with a 20.2 K% and a 12.1 BB% in 173 plate appearances.
Players worth mentioning:
Orelvis Martinez
is on the report again, what a shocker. On Sunday afternoon, he went 2-5, both singles, and had two strikeouts. He's now slashing .218/.317/.536 with 16 homers in 209 plate appearances. Furthermore, the 21-year-old's K% stands at a pretty low 21.1 K%, while his BB% sits at 12%. Call him up to Triple-A.
Leo Jimenez
has shown this season why he was once a top 5 Blue Jays prospect. On Sunday, he went 2-5 with two RBIs, both singles. He's slashing .295/.356/.417 with three homers in 146 plate appearances. He has the chops to stick at shortstop as well.
Phil Clarke
went 2-3 at the plate with a walk, both of which were singles. On the season, the 25-year-old catcher is slashing .238/.364/.456 with three homers in just 122 plate appearances This is one less homer than his four in 297 plate appearances in 2022.
High-A:
The only Canadian affiliate team defeated the Everett AquaSox by a score of 10-6. Like both the Bisons and the Fisher Cats, the Vancouver Canadians won this week's series 4-2 as well. Their record now sits at 31-25, the best in the Blue Jays system.
Like Triple-A, a high-scoring game usually has more than just four standouts. Alex De Jesus went 1-5 and knocked in the first run of the game. He's been better as of late. Garrett Spain has taken his game to a whole other level, he went 2-4 today with an RBI and a double.
The Blue Jays Nation's Player of the Game: Dasan Brown
There were quite a few players that hit a home run in the later innings, but Dasan Brown was the only batter with another hit, a single.
The Oakville native has had a tough start to his season, as he's slashing .199/.268/.263 with just two homers in 192 plate appearances.
The 21-year-old had a mini-breakout in the 2022 season, which included him slashing .298/.392/.411 with the Vancouver Canadians. I'm not too sure why he has regressed this season, but he's still young and toolsy, so he'll figure it out.
Sunday was a step in the right direction.
Players worth mentioning:
Michael Turconi
hit his fourth homer of the season on Sunday evening. He went 1-4 with a walk and two RBIs. On the season, he's slashing .308/.409/.510 with a 25.2 K% and a 15 BB% in 127 plate appearances.
Ryan Jennings
made his High-A debut on Sunday, finishing with a line of
4 IP, 3 H, 1 ER, 2 BB, 4 K.
The 23-year-old had a 4.36 ERA and a 3.45 FIP in 33 innings pitched with the Single-A Dunedin Blue Jays prior to the call up. He also had a high 31.7 K% and a 10.1 BB%.
Cade Doughty
was the standout of the 2022 class a few months after the draft, but has struggled in his High-A career. On Sunday, he hit his sixth homer of the season, going 1-5 with two strikeouts and 3 RBIs. This season, he's slashing .231/.328/.423 with six homers in 180 plate appearances. He has a pretty high 30.6 K%, but has been warming up as of late.
Single-A:
The Dunedin Blue Jays defeated the Bradenton Marauders 9-8, allowing seven innings in the bottom of the seventh, but overcoming them in extra innings. They split the series three a piece, and Dunedin's record now sits at 28-29.
The Baby Jays also scored quite a few runs, so I'll give an honourable mention to Irv Carter in this section. He finished with a line of
4.2 IP, 0 H, 0 ER, 4 BB, 2 K. 
The Blue Jays Nation's Player of the Game: Ryan McCarty
Ryan McCarty had a strong series against the Marauders this past week. Coming into the series, he was slashing .223/.321/.357 with an 11.9 BB% and a 22.2 K% for a 92 wRC+. He also only had two homers in those 135 plate appearances.
After decimating Pittsburgh's Single-A team for six games,  The 24-year-old infielder is up to a .248/.331/.467 slash line with
six homers
. His K% jumped to 23.6%, while his BB% dropped to 10.6%, but McCarty had a fantastic week.
This all coincided with the Player of the Game award for Sunday's game, where he went 3-5 with two homers and four RBIs.
Great stuff from the former undrafted Division III player.
Players worth mentioning:
Roque Salinas
was the other big bat on Sunday, as he went 3-5 with three singles. The 20-year-old centre fielder has slowly been raising his slash line, which now sits at .193/.233/.253 in 159 plate appearances.
Leam Mendez
signed a minor league deal on May 29th after starting his professional career with the New York Yankees. The right-handed pitcher made his Dunedin Blue Jays debut, finishing with a line of
1 IP, 0 H, 0 ER, 1 BB, 2 K,
and picking up the save.
Manuel Beltre
celebrated his birthday three days ago, and hit his first home run as a 19-year-old on Sunday afternoon. After a strong start, Beltre has cooled off the past two weeks and is now slashing .237/.340/.326 with a 20.4 K% and a 10.8 BB% in 157 plate appearances.
Florida Complex League:
The FCL Jays fell 7-0 to the FCL Yankees, bringing their record to 1-5.
The Blue Jays Nation's Player of the Game: Luis Garcia
On Monday afternoon, the 19-year-old shortstop went 2-4 with two strikeouts.
He's slashing .268/.302/.293 in 43 plate appearances to start the season between the FCL and Single-A.
Players worth mentioning:
Cristian Feliz
was the only other player to have a hit go for extra bases, although he also struck out three times. He's slashing .235/.316/.647 in 19 plate appearances to start the season.
Dominican Summer Leauge: 
The DSL Jays fell 8-2 to the DSL Arizona Red. This brings their record to 3-3.
The Blue Jays Nation's Player of the Game: Adrian Meza
This is the first time the 2023 international free agent signing has appeared in a report. The shortstop went 2-5 with his first professional double on Monday afternoon.
He's had a slow start to his season, slashing .136/.296/.182 in 27 plate appearances. He does however, have more walks (five) than strikeouts (three).
Players worth mentioning:
Enmanuel Bonilla
is now on a three-game hit streak, as he hit a single on Monday afternoon, going 1-4 with two strikeouts. He's still looking for his first professional extra base hit.
Aneudi Escanio
went 2-4 with two strikeouts on Monday afternoon. The 18-year-old shortstop signed with the Jays during the 2022 class and slashed .188/.270/219 in 74 plate appearances with the DSL Jays last season.
David Guzmán
had another good game on Monday, going 1-3 with a walk and a strikeout. He hit his first professional double as well. Guzmán has been the best performing 2023 international free agent signee.
Setting up for next week's Minor League Reports:
We'll have this section every Monday which will set up the action for next week. On June 25th, both the International League (Triple-A) and the Eastern League (Double-A)'s first half will end. High-A and Single-A are a little more confusing, as High-A finishes its first half in the middle of the series, while I can't find any information on Single-A.
Let's set the stage for who the affiliate teams play, as well as the road ahead for a playoff spot.
Buffalo Bisons' road ahead:
The Buffalo Bisons will take on the Syracuse Mets in Buffalo. I'll let you take a guess who their parent club is. With a 29-34 record, the Bisons have been eliminated from the International League East first half title. 
In fact, the Norfolk Bandits (Baltimore Orioles) have already won it with a 43-19 record. I miss when the Orioles used to be the trash birds of the American League East, now even their Triple-A team has a +125 run differential.
New Hampshire Fisher Cats' road ahead:
The New Hampshire Fisher Cats still have a fighting chance of winning the first half title, as the Portland Sea Dogs have slipped up as of late. There are 12 games remaining in the first half for New Hampshire, with their first series coming against the 28-28 Akron Rubber Ducks.
Their last series of the first half will come against the Somerset Patriots, who are second in the Eastern League Northeast with a 34-22 record. Their chances are slim, but if they somehow win all 12 games, they have a shot as they  trail Portland by 4.5 games.
Vancouver Canadians' road ahead:
New Hampshire may have a fighting chance (albeit slim) to win the first half title, but the Vancouver Canadians are right in the thick of it. The High-A team has a 31-25 record, tied with Colorado's High-A team from Spokane.
The upcoming schedule is actually pretty easy, as they play the awful Hillsboro Hops who have a Northwest League worst 23-34 record, along with a -96 run differential. That's not all, as they play in front of 6,000 fans at Nat Bailey Stadium.
Unlike the upper minors, the second half will end abruptly in the middle of the next series against the Eugene Emeralds. All in all, there are nine games remaining in the Canadians' season, who are tied with another team.
Like with New Hampshire, just keep winning.
Dunedin Blue Jays' road ahead:
I can't find the exact date that the second half will start (I assume it's the same day as High-A), but the Clearwater Threshers are 40-16, no one is catching them.
The 28-29 Dunedin Blue Jays will face off at home against the Lakeland Flying Tigers, before wrapping up their first half against Clearwater.
Thankfully, it won't be
too
long before the Baby Jays are back on MiLB.tv, as they face off away against the St. Sluice Mets starting June 28th. Their last televised series will be a three-game set against the Bradenton Marauders starting July 14th.
Hopefully, the new draftees that Dunedin receives will help them push for a second half title, as they were able to do in the second half of 2022.
As always, you can follow me on Twitter and Instagram @Brennan_L_D.
---