Blue Jays Nation 2022 Mid-Season Prospect Countdown: 10-1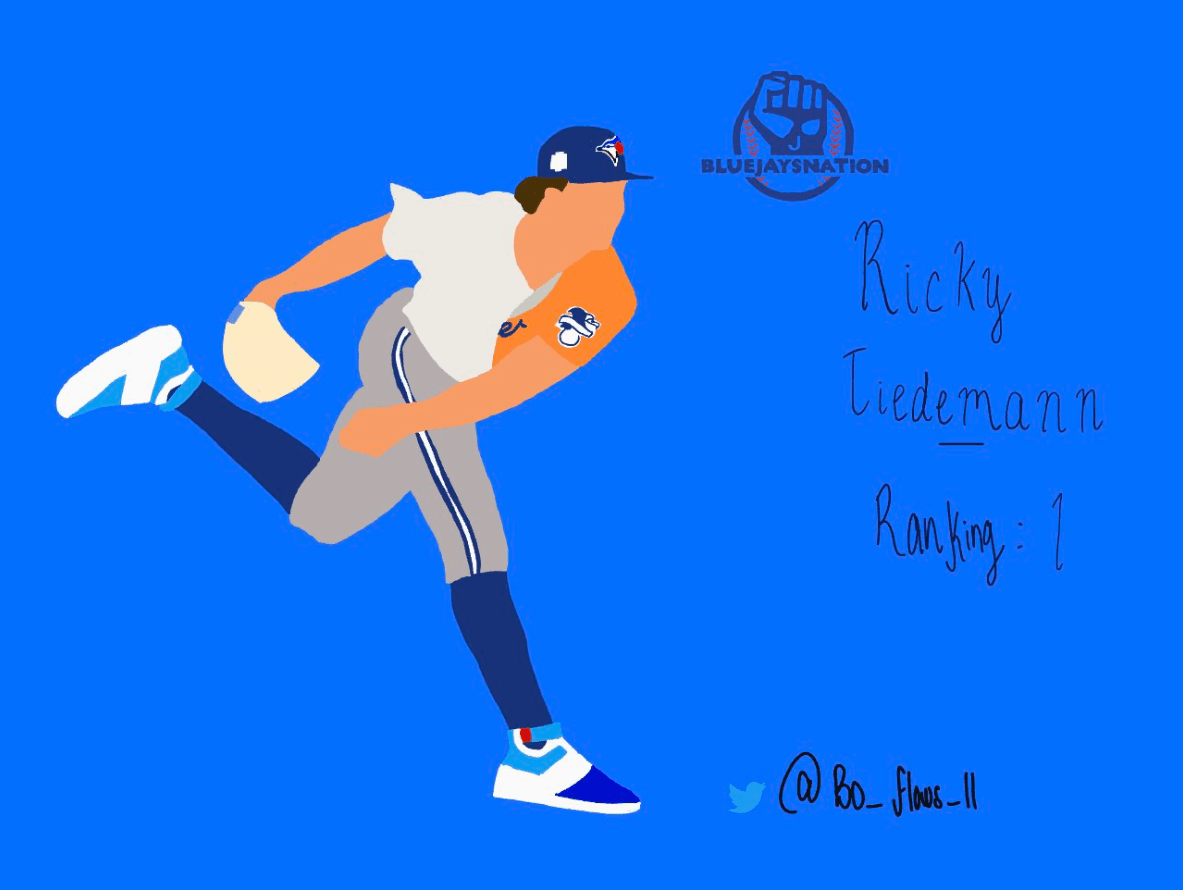 The last article in the series, featuring players ranked 10th to 1st!
Here are all the other articles and if you want to do the countdown the right way, you can click the article title below to read them first.
As in each of those articles, I'll be using clips of players in High A, Double A, and Triple A throughout the series of articles. For players in Dunedin,
I'll be using exit velocities numbers,
pitching velocity as well as clips from the three series on MiLB TV.
For players in the Rookie Leagues (Florida Complex League and Dominican Summer League), we'll strictly be using the season numbers. Furthermore, the year is done for those individuals.
Also, the most important aspect to me when evaluating players is their statistics, as it quantifies what players do with the tools. Afterward, their ceiling/floor is important, while proximity to the MLB matters for some, especially closer to 60.
Starting with our tenth best prospect.
#10 Yosver Zulueta:
This one may be surprising to you, but while I think Yosver Zulueta could be a mid-rotation starter or a high-leverage reliever, there are some issues that push me away from placing him higher up in this article.
Signed in 2019, Zulueta missed 2020 due to COVID (and Tommy John) and 2021 due to an ACL tear.
The 24-year-old started his first full professional season with the Dunedin Blue Jays, posting a 3 ERA and a 1.41 FIP in 12 innings pitched. He had an incredibly high 45.1 K% in those 12 innings while limiting walks to 5.9%.
He was promoted to High A Vancouver, where he posted a 3.80 ERA and 3.37 FIP in 23.2 innings pitched. Zulueta's K% dropped to 30.4, while his BB% increased to 10.8, a worrisome sign as he started to pitch against players his age.
Zulueta continued to rise up the levels of the minor leagues, as he pitched 10.1 innings with the Double A Fisher Cats. He has posted a 4.35 ERA and 4.76 FIP, while owning a 32.7 K%, and most worrisome of all, a 20.4 BB%. He's only -0.6 years younger than the average pitcher in the league, and other than the high K%, he hasn't really stood out statistically.
The high walk rate I believe is because Zulueta hasn't really pitched since 2019 due to injury, so the command will be the last thing to return. With that being said, Zulueta has an incredibly high ceiling.
The 24-year-old righty hits 100 mph with ease, and his slider and changeup are plus pitches. Not just that, but his curveball has become a reliable get-me-over-strike pitch. Before hitting the 7-day IL, it appeared that the Blue Jays were looking to make him a reliever, but I believe that he has the ceiling to be a very good starting pitcher.
Brennan's grades:
Fastball: 70
Slider: 60
Changeup: 55
Curveball: 50
Control: 40
Overall: 55
#9 Gabriel Martinez:
Gabriel Martinez is one of the biggest risers from the Pre-2022 top prospects list. 
With the Florida Complex League Blue Jays in 2021, he didn't hit a homer but slashed .330/.448/.410 in 125 with a wRC+ of 140. He also had a 16.8 BB% and a 14.4 K%. The only two home runs he hit came as a 16-year-old in the DOSL in 2019.
So while I was very high on his hit tool, the lack of apparent power was concerning. This has obviously changed, as he hit 11 home runs in 264 plate appearances with the Dunedin Blue Jays. He slashed .288/.348/.483 with a 17 K% and an 8.3 BB% for a wRC+ of 136.
Martinez received a deserved promotion to the Vancouver Canadians, where he's slashing .355/.437/.565 in 71 plate appearances. He's added an additional two homers while owning an 11.27 BB% and a 19.72 K%.
Per Exit Vel'O'Clock data, G. Martinez had an average exit velocity of 86.22 mph, which is the fifth highest for the 2022 Dunedin Blue Jays. His hard hit percentage sits at 31.40%, which also sits as the fifth highest for the Low A team. His maximum exit velocity with the DJays sits at 108.8 mph.
The right-handed batter is the best pure outfielder the Blue Jays have in the organization, and he's tracking well to play one of the corner outfields in two or three years. However, he'll be Rule 5 eligible at the end of the season, meaning he'll need to be added to the 40-man roster unless the Jays want to risk him getting picked.
Brennan's grades:
Hit: 60
Game Power: 45
Raw Power: 50
Run: 50
Field: 55
Arm: 55
Overall: 55
#8 Tucker Toman:
The sample size is small, but Tucker Toman had a solid start to his professional career.
The 18-year-old was placed with the FCL Jays, where he slashed .289/.391/.368 with no homers and three extra base hits in 46 plate appearances. Toman had a 26.1 K% and a 15.2 BB% in the short span.
Interestingly, he played 35 innings at shortstop, even though his defensive home may be third base or a corner outfield position.
A switch hitter, Toman achieves better exit velocities from the left side but gets barrels from either side. At 6'1, 190 lb, there's still room to grow into his frame and add more power.
#7 Sem Robberse:
Before the meteoric rise of Ricky Tiedemann in 2022, there was Sem Robberse, who ranked as Blue Jays Nation's 5th best prospect heading into the season.
Last season, Robberse pitched as a 19-year-old in High A, where he posted a 5.23 ERA and 5.20 FIP in 31 innings pitched. He had a 19.3 K% and 12 BB%, but again, the Dutchman was very young for the level.
He repeated the level posting a much better 3.12 ERA and 3.85 FIP in 86.2 innings pitched with the Vancouver Canadians. He also had an improved 21.8 K%, while his BB% dropped to 6.7.
Robberse earned a promotion to Double A New Hampshire, where he's posted a 5.40 ERA and 7.01 FIP in 10 innings pitched. The 20-year-old has a 12.5 BB% and a 10 K% in that brief time. With all that being said, he'll repeat the level and adjust to the batters, just like how he did in High A Vancouver this season.
According to Pipeline, Robberse averaged as high as 93-95 mph last season but has dropped to low 90s since then. Robberse also throws a curveball (his second best pitch), a slider, and a changeup.
Brennan's grades:
Fastball: 55
Curveball: 60
Slider: 50
Changeup: 50
Overall: 55
#6 Brandon Barriera:
The last 2022 draftee in this series, Brandon Barriera was selected with the 23rd overall pick in the 2022 draft. Like Toman, there's not a lot of statistics to expand on, but I can tell you he sits in the low 90s with his fastball, which has also touched 96 mph. The lefty also features a slider (which is already a plus pitch) and a changeup that could develop into a plus pitch.
While he doesn't have a ton of projection left as he stands 6'2, 180 lb, his stuff is nasty according to pretty much all scouting sites. Furthermore, there have been some comparisons to Ricky Tiedemann (who'll we get to), but Barriera is more athletic.
Just like Tiedemann, Barriera will be working at the state-of-the-art complex to improve his pitching. Could we see a rise just like Tiedemann in 2022? One could dream.
#5 Otto Lopez:
At one point, Lopez ranked my 18th best prospect, but he's on some type of heater that reminded me of why I ranked him above Jordan Groshans heading into the season. He is now my fifth best prospect.
From April 23rd to June 12th, Lopez slashed .189/.289/.295 with a homer and a 10.5 BB% and 14.7 K% in 143 plate appearances for a wRC+ of 59. As I write this, he has increased his slash line to .302/.380/.438 with three homers, an 11.74 BB%, a 19.22 K%, and a wRC+ around 120.
Since July 15th, he's batting a stupidly insane .423/.472/.568 in 123 plate appearances. Yes, it may be a heater, but in fairness, he spent the start of the season injured and took a while to get into game shape.
It also helps he's in the midst of a 20-game hit streak, where he's had multi-hit games in 12 of those 20 games. In fact, since July 15th, he's been held hitless just twice.
Lopez offers so much to an MLB team, that I'm honestly surprised the Jays haven't given him more opportunities when he's been with the team. He's 13/18 in stolen base attempts, he's solid defensively, and he has played all but catcher, pitcher, and first base in his professional career. 
Brennan's grades:
Hit: 60
Game Power: 35
Raw Power: 40
Run: 60
Field: 55
Arm: 50
Overall: 55
#4 Spencer Horwitz:
If you've ever read my work before, you know that I am a big Spencer Horwitz guy. After a 27-game hitting streak with the Vancouver Canadians in 2021, he had become one of my favourite prospects to watch.
The 24-year-old started the 2022 season with the Double A New Hampshire Fisher Cats. In 281 plate appearances, he posted a .297/.413/.517 slash line with 10 homers. He also had a 15.3 BB% and 19.2 K% for a wRC+ of 154 with the team.
He was promoted to Triple A Buffalo, where he has slashed .269/.380/.388 with two homers in 158 plate appearances. With the Bisons, Horwitz has a 14.56 BB% and a 22.15 K%.
While he isn't hitting as well as he had been with the Fisher Cats, he's slowly adjusting to the level and has been much better after some rest due to injury. With his ability to take a walk, as well as his ability to go the other way (38.9% of his hit go the opposite way), he is one of the best hitters in the Blue Jays organization.
The first baseman has seen reps in left field this season, playing a combined 154 innings or 18 games at the position. This may be the only way that Horwitz makes the Jays, as the team has one of the best first basemen in the league.
Brennan's grades:
Hit: 65
Game Power: 50
Raw Power: 55
Run: 40
Field: 40
Arm: 45
Overall: 55
#3 Orelvis Martinez:
The second Martinez on this list, O. Martinez is one of the best power-hitting prospects in the league. This season as a 20-year-old in New Hampshire, he's slashing .199/.277/.455 with 28 home runs in 436 plate appearances. He also has a 7.57 BB% and 29.36 K%.
While his K% is on the high side, it's important to remember that Martinez is just a 20-year-old in Double A, way below the average age for the level. Not just that, but his power alone justifies having such a high strikeout rate.
It's possible that Martinez repeats the level to continue to work on his pitch detection, but it's more likely that he starts the 2023 season as a 21-year-old in Triple A.
Brennan's grades:
Hit: 45
Game Power: 55
Raw Power: 65
Run: 40
Field: 50
Arm: 55
Overall: 55
#2 Gabriel Moreno:
There's a chance you skipped down this far to see
why
the consensus number one pick, Gabriel Moreno, only ranks as my second-best prospect. To get it out of the way quickly, it's due to the drop in power this season (along with the best prospect's rapid ascent up the ranks).
With the Buffalo Bisons, the catcher is slashing .321/.394/.421 in 249 plate appearances, with a 9.24 BB% and a 16.06 K%. However, he has only hit two home runs with the Bisons this season. 
That is concerning because last season in 145 plate appearances, Moreno hit eight with the New Hampshire Fisher Cats, before a hit-by-pitch to his thumb essentially ended his season.
Defensively, there are aspects to his games that need improvement. His framing isn't bad, but it's lacking for Moreno to be considered a great defensive catcher. With the Jays this season, he had a 44.3% strike rate, which essentially converts borderline pitches into strikes. For context, Alejandro Kirk is one of the better framing catchers and he has a 49.4% strike rate, so this is something Moreno needs to improve on.
Another area of concern is the rise in passed balls this season. In 253.1 innings caught with the Fisher Cats in 2021, he allowed just one passed ball. In 396.2 innings caught with Buffalo, that number has risen to five. Granted, he allowed 11 in 461.1 innings with Lansing back in 2019, so there has been a clear improvement over the past two seasons.
On the other hand, Moreno's arm is something special. There have been 43 stolen base attempts on the 22-year-old catcher in Triple A, and he's thrown out 41.86% of them, a pretty darn spectacular number. This is due to his incredible athleticism, which allows him to have some of the best pop time.
Out of 77 catchers that have had five attempts to throw base stealers, Moreno has a pop time of 1.91, which is just .01 seconds behind Sean Murphy and Christian Bethancourt, who tied for third. With the Jays, he was able to throw out five of 14 would-be base stealers, for a solid CS% of 35.71%.
His athleticism also allows him to do some unexpected things as a catcher. With the Bisons, Moreno has been successful seven of eight times in his stolen base attempts. Would Moreno be able to throw out Moreno on the base paths? I have no idea.
Brennan's grades:

Hit: 65
Game Power: 50
Raw Power: 55
Run: 50
Field: 50
Arm: 60
Overall: 60
#1 Ricky Tiedemann:
I've said this before, but did you know that Tiedemann
nearly
didn't make my Pre-2022 list? While I thought he was a solid prospect, I wanted to him face harder competition than he faced in junior college.
The then 19-year-old had that opportunity, joining the Dunedin Blue Jays to start the season. With them, he had a 1.80 ERA and 2.06 FIP in 30 innings pitched. He had an outstanding 44.5 K% and a highish 11.8 BB%. Despite only being 19 years old, Tiedemann needed to be promoted.
With the High A Vancouver Canadians (still as a 19-year-old), he had a 2.39 ERA and 2.92 FIP in 37.2 innings pitched. His K% dropped to 36%, still a fantastic number, while his BB% actually dropped to a good 8%.
However, this doesn't tell the whole story. In his first five starts with the Canadians, Tiedemann posted an incredible 0.38 ERA and 1.72 FIP in 23.2 innings pitched. This also saw him have a 38.9 K% and a 5.6 BB%, which is mind-blowing how well he adjusted to the level. Granted, his numbers over his next three starts weren't great before he was promoted again.
Yes, as a 19-year-old, Ricky Tiedemann made his debut with the Double A New Hampshire Fisher Cats. In his 11 innings pitched, he has posted a 2.45 ERA and 2.22 ERA. Despite facing much more experienced batters, he has a 34.1 K% and 9.8 BB%, while also getting a ground ball percentage of 61.9%.
For the second time this season, Tiedemann has been added to the Development List. This is likely because the Jays want to limit his innings in his first professional season. With only two more series' left in 2022, it's possible that Tiedemann doesn't pitch again this season. However, it is a season to remember as he's really become the best Jays prospect.
Tiedemann sits in the mid-90s but has hit as high as 98 mph. He also features a circle changeup as well as a slider, all three of which are plus pitches.
Brennan's grades:
Fastball: 60
Changeup: 60
Slider: 55
Control: 55
Overall: 60
A note:
This series was a lot of hard work, so I really hope you've appreciated it. What do you think was the most surprising ranking? What did you think of the artwork for the header picture? What do you want me to improve on when the end-of-season prospect list comes up? Let me know on Twitter @Brennan_L_D.
In the off-season, I'll likely be doing an individual prospect list as I did before the start of the season (Pre-2022 prospect countdown). I would definitely like to do more than 20 this season, but what do you feel is an adequate number? 30? 40? 50?
Furthermore, if you liked all those clips in the article, you should definitely give me a follow, as I post clips of minor leaguers every single night. It's really the second part of my job, so a follow would be greatly appreciated. Also give @Bo_Flows_11 a follow on Twitter, as he provided the sick artwork for all the headers in the series.
Thanks again so much for reading, I hope you've enjoyed this series.
---