Blue Jays Nation 2022 Mid-Season Prospect Countdown: 40-31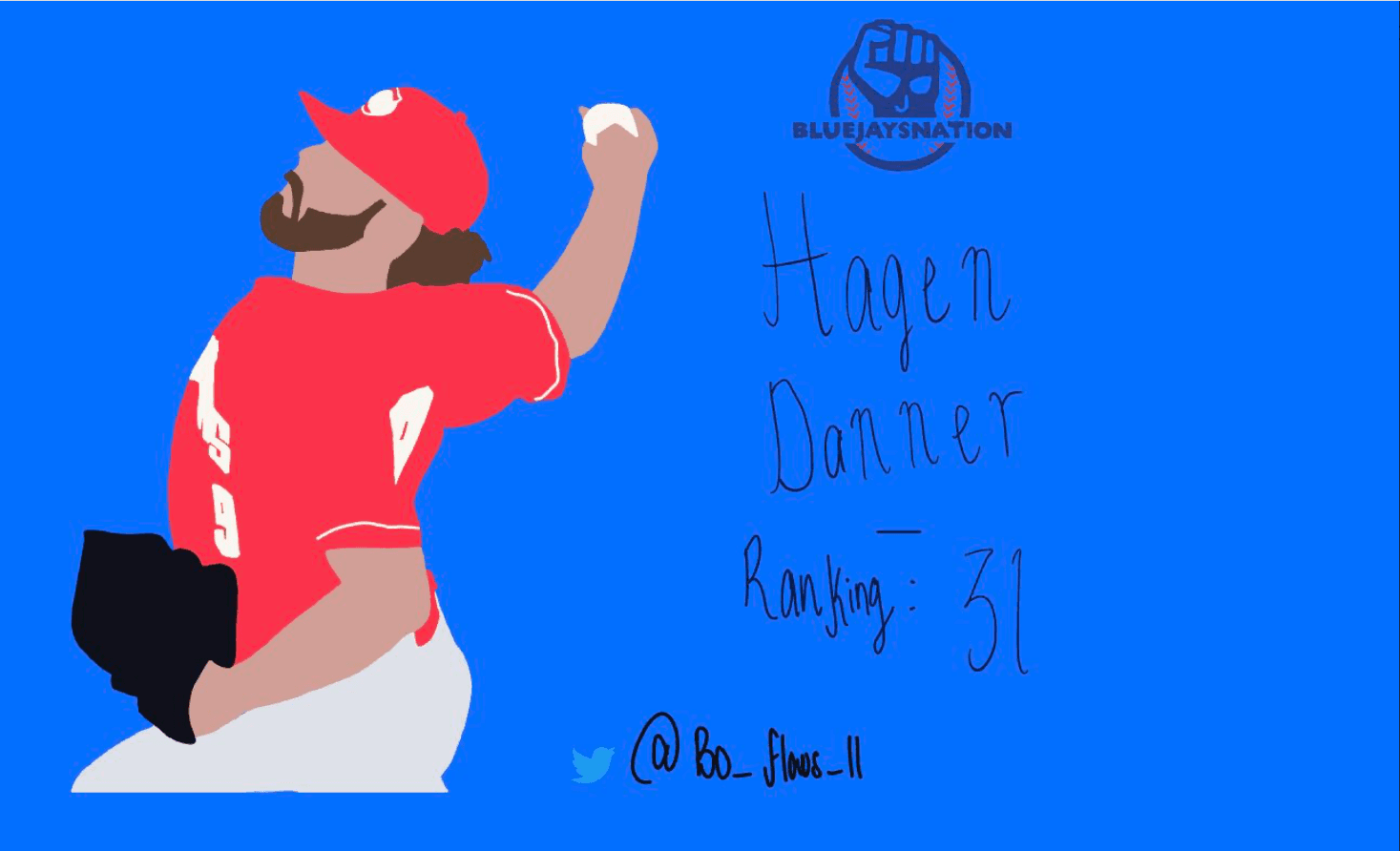 Photo credit:@Bo_Flows_11
We're starting to get into players in the upper minors who could fill the Blue Jays bench, as well as back-end starters and high-leverage relievers!
If you missed the past three articles and want to do the countdown the right way, you can click the article title below.
As in each of those articles, I'll be using clips of players in High A, Double A, and Triple A throughout the series of articles. For players in Dunedin, I'll be using exit velocities numbers, pitching velocity as well as clips from the three series on MiLB TV.
For players in the Rookie Leagues (Florida Complex League and Dominican Summer League), we'll strictly be using the season numbers. Furthermore, the year is done for those individuals.
Also, the most important aspect to me when evaluating players is their statistics, as it quantifies what players do with the tools. Afterward, their ceiling/floor is important, while proximity to the MLB matters for some, especially closer to 60.
Starting off with arguably the most improved prospect:
#40 Alejandro Melean:
If I had to give a "most improved prospect" award, Alejandro would be on the shortlist.
Last season in Low A Dunedin, the then 20-year-old posted a 5.29 ERA and 5.15 FIP in 63 innings pitched. The righty had a good 25.6 K%, but an elevated 10.2 BB%. He had better numbers after a promotion to High A Vancouver, posting a 4.74 ERA and 4.66 FIP in 19 innings pitched, where he had a 19.1 K% and 6.7 BB%.
Now 21 years old, Melean started 2022 with the Vancouver Canadians, where he really caught the eye. He posted an ERA of 1.69 and a FIP of 3.20 in 32 innings pitched. He had a career-high 28 K% and a career-low 6.4 BB%.
After a promotion to New Hampshire, he's had mixed results, where he's posted a 4.19 ERA and 5.54 FIP in 19.1 innings pitched. Melean has a 17.7 K% and an 11.4 BB%, but it's important to remember that Melean is rather young for the level. According to Baseball Reference, he is -3.6 years younger than the average pitcher in Double A.
In the off-season, Melean added strength which has helped increase his velocity. Aside from a four-seam fastball, Melean has a developing slider that has shown promise and could end up being a plus pitch in the future. He also has a nasty changeup, which has been described to me as "one of the best changeups in the organization".
Brennan's grades:
Fastball: 50
Changeup: 55
Slider: 45
Control: 40
Overall: 40
#39 Yhoangel Aponte:
Aponte was originally my 10th ranked prospect, more so due to trades that occured, but that doesn't mean I'm not high on the 18-year-old!
Last season in the Dominican Summer League (DOSL), the then 17-year-old Aponte posted a .240/.393/.357 slash line with a 15.3 BB% and 27 K% in 163 plate appearances. This was good enough to give him a 122 wRC+.
The 18-year-old's move stateside wasn't as good, as he slashed .212/.291/.329 with three homers, but a 29.1 K% and a 7.9 BB% for a wRC+ of 77. The addition of a little bit of pop was quite a surprise, however.
Although he still remains one of the most intriguing outfield prospects in the Blue Jays organization, he'll need to have a bounce-back season at Low A next season.
#38 Luis Quiñones:
Drafted in the 34th round of the 2019 draft, the 25-year-old has been successful in his three professional seasons.
Quiñones
has hit a little bit of a wall in Double A, as he posted a 5.20 ERA and 4.53 FIP in 36.1 innings pitched last season. His 31.5 K% was quite impressive, even if he had a 16 BB%.
He's shown improvement this season with the Fisher Cats, as he's posted a 4.96 ERA and 4.77 FIP in 52.2 innings pitched. While his numbers don't quite stand out (his K% dropped to 27.7),
Quiñones has the pure stuff that could translate into success. The next step is to drop that walk rate.
Quiñones throws a four-seam fastball, which sits anywhere between 90-94 mph, a curveball, a slider, and his best pitch, a splitter. Here are his grades for each.
Brennan's grades:
Fastball: 50
Splitter: 55
Slider: 45
Curveball: 45
Control: 35
Overall: 40
#37 Zach Britton:
If I told you that the Jays have ANOTHER catcher with a rather high ceiling, would you believe me?
Zach Britton was selected in the 5th round of the 2020 draft and has been incredibly impressive in 2022.
The 23-year-old catcher started the season with the Vancouver Canadians, posting a .239/.390/.441 slash line with seven homers in 236 plate appearances. What's more, is that he had an insane 17.4 BB%, but a rather high 29.7 K% for a wRC+ of 137. Despite being a catcher, Britton was 10/12 in stolen bases for the High A Canadians.
Britton was promoted to New Hampshire, where he has slashed .250/.348/.550 with three homers in 46 plate appearances. He has a 13 BB% and a dropped K% of 21.7 for a wRC+ of 140.
On top of playing catcher, Britton has spent time in the corner outfields, but according to him, he is a catcher.
Britton has some serious pop in his game from a position where it comes secondary. Interestingly, with the 2021 Dunedin Blue Jays, he had a hard hit percentage of 38.41%, which only Zac Cook and Orelvis Martinez could say they beat. He also had an average exit velocity of 86.7 mph, just below the major league average.
Defensively, he frames from the bottom up and calls a good game. The only glaring hole in his catching is throwing out runners, as runners were successful 71/77 in stolen base attempts last season. This season, they are 40/44, which is actually a better percentage.
Britton has only caught two games in New Hampshire while playing five games in left field.
Brennan's grades:
Hit: 45
Game Power: 50
Raw Power: 55
Run: 45
Arm: 35
Field: 40
Overall: 40
#36 Jimmy Robbins:
Drafted in the 20th round in 2019, the lefty is another example of the Jays finding quality prospects pretty late in the draft.
He missed all of 2021 due to Tommy John and started the 2022 season with the Dunedin Blue Jays. The 24-year-old lefty only spent 17.1 innings there, posting a 1.36 ERA and 2.74 FIP with a 35.6 K%.
Robbins was off to Vancouver, where he posted a 3.82 ERA and 4.20 FIP in 35.1 innings pitched. He had an impressive 29.7 K%, while his BB% dropped from 12.3 in Dunedin to 11 in Vancouver. The most impressive of these games is when he struck out 11 batters in just five innings of work. He then got a well-deserved promotion to the New Hampshire Fisher Cats.
On Sunday, August 21st, he made his Double A debut, pitching four scoreless innings, allowing three hits while striking out three and only walking one.
The 24-year-old has a four-pitch mix, a fastball, a cutter, a slider, and a changeup. Robbins averages 91-93 mph on his fastballs but hit 95 mph earlier in the spring. His slider is a big sweep with some late break, and his changeup sits in the mid 80s.
With how quickly he has risen up the ranks of the minor leagues, it wouldn't surprise me if he starts the 2023 season in Buffalo.
In fact, there's a possibility that he gets a shot in the Blue Jays bullpen as soon as next season, depending on how he does and the health of the big league team. However, he certainly has the stuff to start.
Brennan's grades:
Four-seam fastball: 50
Slider: 55
Changeup: 45
Cutter: 45
Control: 40
Overall: 40
#35 Dasan Brown:
The second Canadian-born player on this list, the 20-year-old is one of the most "toolsy" players that made the Top 60 list.
Last season was the worst of his professional career, as he slashed .212/.310/.323 with four homers in 226 plate appearances with the Dunedin Blue Jays. A big red flag to his game was his 31.8 K%, which helped contribute to his low wRC+ of 79.
However, the 20-year-old has had a great bounce-back season. He repeated Low A, slashing .279/.369/.450 with four homers in just 162 plate appearances. Brown's 27.8 K% was still rather high, but he paired it nicely with a 10.5 BB%.

He also had an Isolated Power (ISO)  of .171, which is considered above average according to Fangraphs. Essentially, ISO just measures the raw power a player has. The more fly balls you hit, the higher it becomes.
As for his batted ball data, his average velocity of 82.79 mph was the lowest amongst the six position players promoted from Dunedin to Vancouver, but he still had a hard hit percentage of 30.85%, which actually ranks fourth in that group.
Looking at his batted ball data last season, there was only a 1.3 mph increase in his average exit velocity. However, his hard hit percentage in 2021 sat at just 19.49%, which is a massive jump.
Dasan was promoted to High A Vancouver, where he's slashing .275/.357/.373 with a homer in 115 plate appearances. The Canadian, Canadian also has a 33 K%, but the 20-year-old is pretty young for the level, so expect this to normalize once he repeats the level next season.
Brown has impressive speed, as he's 20/27 in stolen base attempts. It also allows him to track down balls hit to centre field.
Brennan's grades:
Hit: 45
Game Power: 40
Raw Power: 50
Speed: 70
Field: 50
Arm: 50
Overall: 40
#34 Brandon Eisert:
The Jays have gone from having very little bullpen depth, to having so much bullpen depth that Zach Pop has to play in the minors for another week.
However, not many people know of the name "Brandon Eisert", but he's definitely a lefty you should be keeping an eye on.
Selected in the 18th round of the 2019 draft, the 24-year-old reliever has put up some incredible numbers with the Buffalo Bisons. In 48 innings pitched, he has a 2.94 ERA and a 3.02 FIP. Not just that, but he also has a 31.6 K% and a 7.3 BB%, terrific splits.
While I was writing this article, he had given up two runs (not earned) for the first time since July 13th, or 14.1 innings pitched. In his last 15.1 innings pitched, he has 18 strikeouts, one hit by pitch, no walks, no earned runs (two runs), and 14 hits. Incredible.
The thing is, he's not a flame thrower either. His average velocity for the fastball sits at just 91 mph, while he also throws a deceptive changeup and a sweeping slider.
Fastball: 50
Changeup: 55
Slider: 50
Control: 50
Overall: 40
#33 C.J Van Eyk:
Van Eyk was selected in the second round of the 2020 draft.
Last season, the righty had a 5.83 ERA and 4.55 FIP to go along with a 28.3 K% and a 11 BB% in 90.1 innings pitched with the Canadians.
As for his stuff, Van Eyk throws a low 90s fastball, a curveball, a slider/cutter, and a changeup. Per pipeline, he was one of the most talented arms in the 2020 draft class, so he definitely gets a spot on this list despite not pitching this season.
Unfortunately, he pitched at a time when Vancouver didn't stream home games, so there's no way I can add strikeout threads, nor add my own grades.
#32 Davis Schneider:
Sometimes, I do an "ask me about prospects" tweet on Twitter. One of the most popular questions is "Who is the most underrated Blue Jays prospect". At one point, I had said Addison Barger, but now I believe it's Davis Schenider.
Schneider was drafted in the 28th round in the 2017 draft out of high school and put together some solid seasons at levels where he had more than 100 plate appearances.
However, 2022 has been his breakout year. As a 23-year-old in High A, he slashed .229/.354/.459 with eight homers in 189 plate appearances. His 15.3 BB% was impressive, but he had a fairly high 26.5 K%. Overall, he had a wRC+ of 127, which is pretty darn good. 
However, he was slightly older than the average position player in the league. The utility player has actually
gotten better
since his promotion to New Hampshire.
He's slashing .277/.363/.504 with five homers in 135 plate appearances. His K% has dropped to 23, while his BB% is still at a very good 11.1. This has led to an improved 135 wRC+, but he has also appeared on my radar. I assume other sites will follow suit at the end of the season if he keeps it up.
Defensively, Schneider plays all over the field, spending time at third base, second base, and left and right field. He has quick hands and a good arm that'll play at the positions listed above.
Brennan's grades:
Hit: 50
Game Power: 50
Raw Power: 50
Speed: 45
Field: 45
Arm: 50
Overall: 40
#31 Hagen Danner:
Although he has dropped from my pre-season ranking spot of 18th, it's certainly not due to play. The 23-year-old converted pitcher posted a 2.02 ERA and 3.61 FIP in 35.2 innings with the Canadians. Despite only playing professionally as a catcher, Danner can hit 100 mph of the rubber, while his slider has a nice sweep to it. Here's a thread from last season.
The Jays are so high on him that they added him to the 40-man roster to protect him from the rule 5 draft. Sadly, he has only pitched 3.2 innings this season, before an injury ended his season prematurely.
He should be ready to go for next season.
Brennan's grades:
Fastball: 60
Slider: 55
Control: 45
Overall: 40
What's next:
The last three articles will be released in the next six days, possibly once every two days. Also watch out for Hagen Danner and Jimmy Robbins, because both of these guys have a shot at making the bullpen at some point in 2023.
As always, you can follow me on Twitter @Brennan_L_D. Throughout this article, I used clips from MiLB TV (so credit to them), but I do this six nights a week, so if you like it, definitely look me up on Twitter! Also look up @Bo_Flows_11 on Twitter, as he made the sick header picture.
---