Blue Jays Nation 2022 Mid-Season Prospect Countdown: The Players Who Just Missed The Top 60 List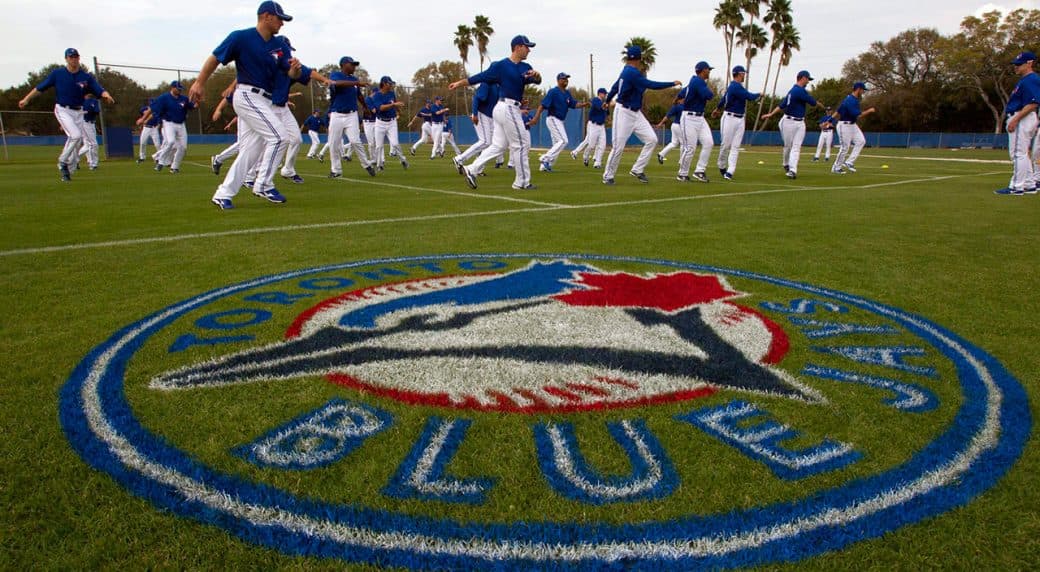 It's that time of year when prospects sites are updating their rankings, and BJN is no different!
At the beginning of the season, we released 20 articles featuring 20 players, as well as a two "ones to watch".
For the mid-season update, we'll be doing a top 60 in six articles. Not just that, but this article will be focusing on the players that just missed out for various reasons, such as age relative to the league they play in, or they're underperforming.
At the end of the day, these articles are to inform you of players that you may not have known about in the Blue Jays system. There won't be any 2022 draftees on the "ones that missed" out list, but you can read about them here. 
Unlike the preseason articles, I'll also be giving my own scouting report on players if they're in High A, Double A or Triple A. For A ball and the two rookie league teams, we'll be relying on statistics from the 2022 season.
Zac Cook:
Zac Cook is a 24-year-old outfielder currently with the New Hampshire Fisher Cats. He signed with the Blue Jays as an undrafted free agent in 2020 and has risen to be Toronto's 31st best prospect according to Fangraphs.
Cook's 2022 stats:
This season, the 24-year-old is slashing .189/.315/.378 in 299 plate appearances. The outfielder has one of the highest home run totals in the Blue Jays organization at 13.
He has a 7 BB% and a 38.8 K%, the latter is what holds him back from making the Top 60 list, but the power potential gives him a nod on this list.
Brennan's scouting report:
Cook's has bat speed and the strength to leave that part. Off-speed pitches (particularly down and away sliders) pose an issue. He doesn't hit for average, but he still gets on base as he crowds the plate.
While he has average speed, he has the range to cover centre field. Cook also has the arm strength to play in the corner outfields.
Brennan's grades:
What he has to do to get to the next level:
To progress his game further, Cook will have to drop his K% down quite a bit, as pitching only gets tough the higher he moves up. If he can do that, there's a chance he could become a fifth outfielder on a team, as his defense is average to above average.
Tyler Keenan:
Tyler Keenan was selected 107th overall in the 2020 MLB draft by the Seattle Mariners. He was traded to the Blue Jays for reliever Ryan Borucki on June 5th, 2022. The 23-year-old first baseman/third baseman was ranked as Seattle's 29th best prospect in 2021, per Fangraphs.
Keenan's 2022 stats:
Prior to the trade with the Jays, Keenan slashed .250/.349/.391 with three homers. He had a rather high 27.4 K% but was able to take a walk as his 11.3 BB% was solid. He had a 115 wRC+ in those 106 plate appearances in High A.
He joined the rival Vancouver Canadians and slashed .300/.357/.500 in 56 plate appearances. Keenan added a home run and had a 23.2 K% and an 8.9 BB% for a wRC+ of 138.
The 23-year-old was promoted to Double A New Hampshire, walking in his first plate appearances. Sadly, he missed a couple of weeks due to an injury. He returned on August 6th and has yet to get his first hit at the level in 12 plate appearances.
Brennan's scouting report:
Keenan's selectiveness at the plate is a double-edged sword. While he can take a walk, he also takes quite a few pitches for strikes, leading to pitcher counts. Keenan has an ability to fight pitches off, which prolongs the bat, but he stands to be more aggressive in this regard.
He's a pull hitter, but Keenan can shoot the ball the other way if the pitch is outside while still barreling the ball. The 23-year-old has both gap power and home run power in his 6'4, 250 lb frame.
Throughout his 437 plate appearances in the minors, he only has 10 homers, which is a worrying sign relative to his frame.
Keenan has the arm to play third base, but there are concerns about his longevity at the position. There's a good chance his future defensive home is strictly at first base, especially with his slow speed.
Brennan's grades:
What he has to do to get to the next level:
To progress to the next level, Keenan needs to start barrelling the balls and start hitting homers. The 23-year-old also needs to be more aggressive at the plate, as his selectiveness hinders his ability to work the count in his favour.
Estiven Machado:
Despite only having one professional plate appearance prior to 2022, the 19-year-old started his first full season with the Dunedin Blue Jays. Per Fangraphs, he is ranked as the Blue Jays 18th best prospect.
Machado's 2022:
In his first full professional season, the middle infielder is slashing .266/.336/.347 with 18 extra-base hits, none of which are homers. He has a 24.1 K% and an 8.7 BB% for a wRC+ of 100. He missed all of 2021 with an injury, as well as the 2020 COVID season, so there's still tons of room for improvement.
Brennan's scouting report:
This is a sample size of about four games, so keep that in mind.
Machado is a sound defender at both shortstop and second base. Machado has no issues throwing on the run accurately. He also communicates effectively, which is a good sign for a 19-year-old.
Machado has produced exit velocities of over 100 mph on occasion, but he has yet to hit a professional home run. At 5'10, 170 lb, there's not a ton of room to add power, meaning he'll have to continue to develop his hit tool.
Brennan's grades:
What he has to do to progress to the next level:
It's unlikely he will hit a ton of home runs in his professional career, so it's important for Machado to continue to develop his hit tool. If he can do that while continuing to improve his defensive ability, there would be a spot for him on a major league team further on down the road.
Luis Torres:
Unlike the other three players ahead of him, there won't be a scouting report on the 17-year-old left-handed pitcher. He was signed out of Venezuela this past January.
Torres' 2022:
This season, the 17-year-old has a 1.78 ERA and 3.69 FIP in 25.1 innings pitched. He has mainly pitched as a bulk reliever, sometimes getting nearly four innings.
According to Fangraphs, he has a 28.4 K% and an 11.8 BB%.
If Torres can continue to pitch well, he's certainly one to keep an eye on as he moves up the ranks.
Connor Cooke:
Sticking with relievers, we have a 22-year-old righty, Connor Cooke. He was selected in the 10th round of the 2021 draft and has pitched the majority of the season with the Dunedin Blue Jays.
Cooke's 2022:
With the Dunedin Blue Jays, Cooke posted a 4.86 ERA and 2.98 FIP in 46.1 innings pitched. He started eight of his 14 games and had a rather high K% of 32 while limiting the BB% to 7.1%.
He was promoted to High A Vancouver at the start of August where he's been their closer in the two games he's appeared in. He currently has a 0 ERA and 0.53 FIP in 2.2 innings pitched. His K% currently sits at 50, while he hasn't walked anyone.
Cooke's scouting report:
Unfortunately due to MiLB tv constraints, I am unable to go back and watch the games he has pitched in. So here we'll rely on Baseball Savant data and clips from the three games he played in.
Per Savant Data, Cooke features a five-pitch mix. A four-seamer that averaged 92.7 mph on a July 15th game. His max velocity from that game was 94.6.
He also throws a slider, a changeup, a sinker, and a curveball.
Furthermore, the strikeout thread below is from his most recent save with the Canadians. This one includes a wicked slider.
As he progresses in the minor leagues, I will be able to get more information out there. However, I like his makeup (fastball/slider) and he's certainly one to watch.
Michael Dominguez:
The 21-year-old righty was drafted in the 15th round of the 2019 MLB draft and is the only starter on this list.
Dominguez's 2022:
He started the season with Low A Dunedin, where he posted a 5.82 ERA and 4.22 FIP in 51 innings pitched. However, he had a promising 29.1 K% and an 8.4 BB% with the Jays.
He was promoted to High A Vancouver, where he has posted a 1.50 ERA and 1.86 FIP in 6 innings pitched. His 33.3 K% is rather impressive, while his 8.3 BB% has stayed relatively the same.
Dominguez's scouting report:
Like with Cooke, I am unable to access prior games from MiLB TV, so we'll be using statcast as well as clips from games he's pitched in.
According to Baseball Savant, Dominguez has a three-pitch mix, a slider, a changeup, and a four-seamer. The velocity on his fastball sat at an average of 91.1 mph in his last Dunedin start but managed to hit 93.6 mph.
In his first start with Vancouver, he ran into some issues with his command which led to quite a few base runners in the third inning. However, he dialed it in during his second start, pitching three innings and registering six strikeouts before the game was suspended. Below is his strikeout thread from that night.
Interestingly enough, Dominguez will be taking the mound on Wednesday (when this will be up), so if you haven't already, purchase MiLB tv! It's usually worth it.
Honourable mentions:
As this article approaches 1,800 words, I can't include everyone that I wished to.
Three players have dropped from the Top 20 list. Here they are:
Vinny Capra:
He's off the list due to his age (26) and missing a large part of the season. He's still an option for a September call-up, as he's versatile and on the 40-man roster.
Sebastian Espino:
I had mentioned in his individual article that there were a lot of possibilities for the 22-year-old. His power is legit (10 homers), but his 45 K% takes him off the Top prospects list. He was added to the development list and has played better in the past week, so there's still hope!
Kyle Johnston:
The 26-year-old reliever has regressed quite a bit. If age didn't take him off the list, his 5.52 ERA and 4.57 FIP in 44 innings pitched would have. There's still a lot of time to figure it out, but for now, he's not on my list.
There are also some other notable players that missed the list for one reason or another. Keep an eye on these guys, even if I just mention them in passing.
1B/3B John Aiello: Good hitter, will shoot the ball the opposite way. He missed the list due to his age (25) relative to the level he plays at (AA). However, a 134 wRC+ with an 11 BB% deserves mention.
C/1B Faruk De La Cruz: Dominican Summer League guy who had a hot start, but has cooled off. Keep an eye on him
OF Cam Eden: Great speed, solid defender, has raw power, but has a 79 wRC+ and a 35.9 K%.
OF Glenn Santiago: Had an average exit velcoity of 84.90 mph with the Vancouver Canadians. Really like his swing, but a 80 wRC+ with a 26.5 K% made him miss out on the list.
OF Will Robertson: Robertson has a lot of power, and plays a position of need for the Jays while batting left handed. But his last two seasons have been an 88 and 93 wRC+ season.
2B/3B Luis Garcia: Had an insane first month or so in the DOSL in 2021, but has cooled off considerably since then. Does a solid job drawing a walk.
2B/3B/OF Marcos De La Rosa: I meant to put him on the list outright, but I didn't save the spreadsheet and didn't realize it until after. Has six homers in the FCL as a 20-year-old, which it pretty impressive pop. His 33.3 K% is worrisome, and he only has a batting average of .209, but he's a player to watch if that power translates to higher levels.
OF Steward Berroa: One of the only players that can challenge Chavez Young's fun grade of 80. He has a 107 wRC+ in High A as a 23-year-old, but has 40 steals in 47 attempts, with six homers. His season has ended due to a broken thumb suffered while returning to first on a pickoff.
C Victor Mesia: I'm split on the 19-year-old catcher. He had done well in the Florida Complex league the past two seasons, registering a 123 wRC+ and 124 wRC+, but it hasn't translated to Low A yet. He has one of the lowest average exit velocities, as well as the lowest hard hit percentage.
RHP Rafael Sanchez: The now 23-year-old did well in the Dominican Summer League, but was well above the average age. In his 12 innings pitched with the FCL Jays, he has a 3 ERA, 2.33 FIP and a 23.5 K% and 3.9 BB% in 12 innings pitched. I'd expect the Cuban born player to move up the ranks quickly.
LHP Naswell Paulino: The 22-year-old lefty has moved to the bullpen full time. Despite sitting in the low 90s, his fastball has great spin, and when he buries his slider, he's unhittable. A 5.11 ERA and 5.03 FIP in 75.2 innings pitched isn't the best result, but over his last month or so, he has a 2.45 ERA and 4.12 FIP in 18.1 innings pitched. More impressively is his increased K%, which sits at 33.3%.
RHP Keiner Leon: I originally had him in here, then edited him out for some reason. The 18-year-old has already debuted in Low A. As a reliever in the FCL, he posted a 4.58 ERA and 2.66 FIP in 19.2 innings pitched. Solid 24.2 K% and 7.7 BB%, meaning he's a reliever to watch.
LHP Braden Scott: The result don't stand out for the 24-year-old reliever, but I've liked what I've seen from the lefty.  He has a 29.9 K% this season in New Hampshire, and hit 7 strikeouts in two consecutive games.
RHP Nick Fraze: It always seems like the 24-year-old righty is on the bubble, but I think he has the ceiling of a backend of the rotation starter. His 4.85 ERA and 4.08 FIP doesn't stand out, but he avoids free passes with a 3.6 BB%, and strikes out a fair share with a 21.3 K%. He hasn't pitched since late June.
RHP Bowden Francis: Although he's technically not a prospect, I'd like to include Francis here. His 6.72 ERA and 6.42 FIP isn't great, but since July 6th, he's been one of the better relievers in the Bisons bullpen. He's rocking a 2.96 ERA and 2.37 FIP in 24.1 innings pitched. More impressively is his 36.2 K%R and 7.6 BB%, all on a .370 BABIP (he's been unlucky). Definitely a reliever to keep an eye on.
Either way, the Jays have some exciting prospects on the way, and I'll be starting the Top 60 list shortly!
As always, you can follow me on Twitter @Brennan_L_D. I'm going camping come Friday, so I'll likely be starting the list when I return on Wednesday. It will be six articles focusing on 10 players each.
---