Blue Jays Nation's 2023 Farm System All-Star Team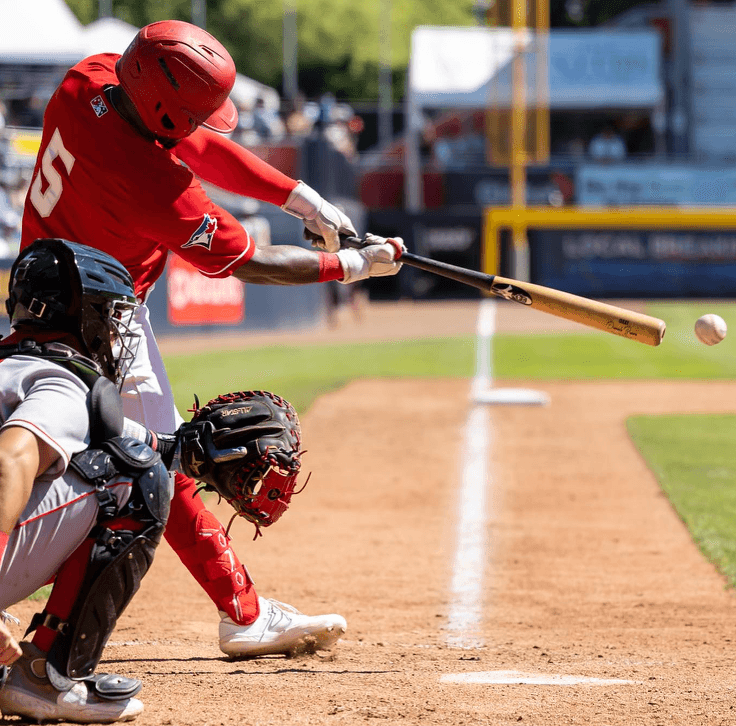 The minor league season has sadly wrapped up.
However, we can now reflect on some of the best players in the organization by looking at the organization's all-stars.
We'll go position by position, starting with the all-star catcher.
Catcher: Edward Duran
At one point, the Blue Jays were churning out high-ceiling catching prospects left and right, but that has stopped over the past few seasons with Alejandro Kirk graduating and Gabriel Moreno being traded.
The best-hitting catcher this season was Edward Duran, who spent time between the Florida Complex League and Single-A. The 19-year-old slashed .315/.422/.417 with two home runs in 154 plate appearances. He also had a higher BB% (15.6%) than K% (13%).
Duran was the player to be named later in the Miami trade at the 2022 deadline. What a great pickup.
First base: Spencer Horwitz
Of course 70-grade Horwitz is a Blue Jays org all-star. In Triple-A, the 25-year-old first baseman/left fielder slashed .337/.450/.495 with 10 homers for a 144 wRC+. Like Duran, he had a higher BB% (16.1%) than K% (14.9%).
Called up in September, Horwitz is slashing .256/.341/.385 with a 9.1 BB% and a 27.3 K% in 44 plate appearances, along with a home run.
He will likely play a bigger role on the 2024 Blue Jays, as he is the direct replacement for Brandon Belt.
Second base: Davis Schneider
Babe Schneider has taken baseball by storm in 2023. Although he only spent four months in the minors this season, he was just fantastic.
With the Buffalo Bisons, he slashed .275/.416/.553 with 21 homers in just 392 plate appearances for a 142 wRC+. He struck out 21.9% of the time, while walking 18.4% of the time, which is pretty insane.
He continued to demolish the ball upon his promotion to the big leagues, as he's slashing .270/.400/.595 with eight homers in 135 plate appearances. Big league pitchers have been striking him out at a much higher clip, 30.4% of the time, but he's maintained his great eye with a 14.8 BB%.
After 135 plate appearances, he has a 173 wRC+, and this is
after
his 0-30 streak, where he's still hitting the ball really well.
Shortstop: Ernie Clement
If you're noticing a trend here, there are a lot of Buffalo guys on this list. Now, a reason for that is because the International League is definitely a hitters league, but a lot of Toronto's best prospects are in the upper minors.
Unlike the other three players we've looked at so far, Clement is no longer a prospect, as the 27-year-old has been a professional since 2017 and has 364 plate appearances in the big leagues.
With the Bisons, Clement slashed .348/.401/.544 with a career-high 11 homers, which actually was more than he hit in his five minor league seasons combined. Furthermore, he has a solid 8.1 BB% and a crazy 5 K%.
Clement also helped the big league team in 2023, slashing .380/.385/.500 with a homer in 52 plate appearances. He had a 1.9 BB% and a 7.7 K% for a 144 wRC+.
Third base: Damiano Palmegiani
Somehow, the third baseman/first baseman isn't considered a Top 10 Blue Jays prospect, even though he should be.
Between Double-A and Triple-A, the 23-year-old slashed .258/.368/.483 with a 13.2 BB% and a 27.4 K%. Palmegiani finished the season with 23 home runs, second most in the Blue Jays organization (Schneider technically hit more).
He'll be heading to Arizona to play in the Arizona Fall League.
Utility: Rafael Lantigua
"Hey Rafael, where do you play on the field?"
The 25-year-old utility player broke onto the scene in 2023, slashing .305/.425/.469 with 12 homers in 578 plate appearances. Moreover, he had an incredibly high 17 BB% and an 18.5 BB% for a 131 wRC+.
Lantigua, who quite literally has played every position except for pitcher, catcher, and first base, is Rule 5 eligible this season and will be exposed if the Jays don't add him to the 40-man roster.
They probably should do that.
Designated hitter: Orelvis Martinez
I didn't really know where to put Martinez in terms of his position because he played multiple, but he was absolutely an all-star this season.
Between Double-A and Triple-A, Martinez slashed .246/.343/.501 with 28 home runs in 533 plate appearances. Moreover, his K% dropped to 23.3%, while his BB% rose to 12.6%.
With Matt Chapman likely departing after the season ends, the 21-year-old Martinez may be in line to take over third base in the not-so-distant future. 
Left Field: Alan Roden
Finally, a prospect who didn't play in Triple-A this season.
Alan Roden was drafted in the third round of the 2022 draft, and played his first full professional season in 2023, quickly becoming a top 10 Blue Jays prospect.
Between High-A and Double-A, Roden slashed .317/.430/.459 with 10 homers in 532 plate appearances for a 149 wRC+.
If you've noticed a trend, there are a lot of guys on here with high walk rates and low strikeout rates, and Roden is no different, as he had a 12.8 BB% and a 12 K%.
The 2024 season will be a big one for the 23-year-old, as he'll likely start the season with Buffalo.
Centre Field: Enmanuel Bonilla
The Blue Jays don't have a lot of centre-field prospects, but their 2023 International Free Agent signing Enmanuel Bonilla had a good debut season.
With the Dominican Summer League Blue Jays, the 17-year-old slashed .307/.407/.429 with three homers in 226 plate appearances. He also had an 11.9 BB% and a 24.3 K%.
Interestingly, he only failed to reach base in two of the 50 games he played in. It wouldn't be surprising if he moves stateside next season and plays for the Florida Complex League Jays.
Right Field: Devonte Brown
How was Devonte Brown not drafted?
Between High-A and Double-A, the 23-year-old outfielder slashed .237/.354/.454 with 18 homers in 413 plate appearances. There's some swing and miss in his game as he had a 29.5 K%, but he also walked 14.5% of the time, which is quite solid.
It's likely that Brown will repeat Double-A to start the season, with a mid-season call-up to Triple-A Buffalo very possible if he performs well.
Right-handed starting pitcher: Chad Dallas
Moving on to pitchers, we have a pitcher with some of the grossest stuff in the organization.
Between High-A and Double-A, Dallas had a 3.65 ERA and a 4.08 FIP in 123.1 innings pitched, the most of any minor league in the Blue Jays system. Moreover, he had a 27.9 K% and a 9.5 BB%.
The 23-year-old righty will likely start in Double-A next season, but it seems like Triple-A will be in his future soon.
Left-handed starting pitcher: Ricky Tiedemann
The best Blue Jays prospect is a no-doubter to be on this list. Between the Florida Complex League, Single-A, Double-A, and Triple-A, Tiedemann had a 3.68 ERa and a 1.68 FIP in 44 innings pitched, but that's not why he was special in 2023.
Tiedemann posted the best K% in the organization, as it stood at 44.1%. While he walked more batters than he did last season (12.4% of them), Tiedemann's 31.7 K-BB% was the best of any pitcher in the organization.
He'll be heading to the Arizona Fall League with Damiano Palmegiani and a few other players.
Right-handed reliever: Connor Cooke
Would you be surprised if I told you that Connor Cooke was second in the organization in K-BB%? This season, Cooke had a 31 K%, with a 40.6 K% and a 9.6 BB%.
Overall, the 23-year-old who was selected in the 10th round of the 2021 draft had a 4.06 ERA and a 2.71 FIP in 44.1 innings pitched between High-A, Double-A, and Triple-A.
Good stuff.
Left-handed reliever: Ian Churchill
Out of any pitcher with 30 innings pitched, Churchill's 0.89 ERA was the lowest. To match that, he had a 3.41 FIP in 40.2 innings pitched.
Although Churchill doesn't throw very hard, he had a 31.5 K% and a 15.2 BB% between Single-A and Double-A this season.
The 24-year-old who was selected in the 10th round of the 2022 draft will be challenged in the upper minors next season, but there's a lot to like about the left-handed pitcher.
Wrap up:
It was a fun minor league season which saw the Vancouver Canadians win the Northwest League throne. On top of that, the Buffalo Bisons were competitive all season and the Fisher Cats had their moments in the first half.
---
As always, you can follow me on Twitter, Instagram, and Threads @Brennan_L_D.
---