Blue Jays Nation's 2023 Preseason Top 50: #16 Rainer Núñez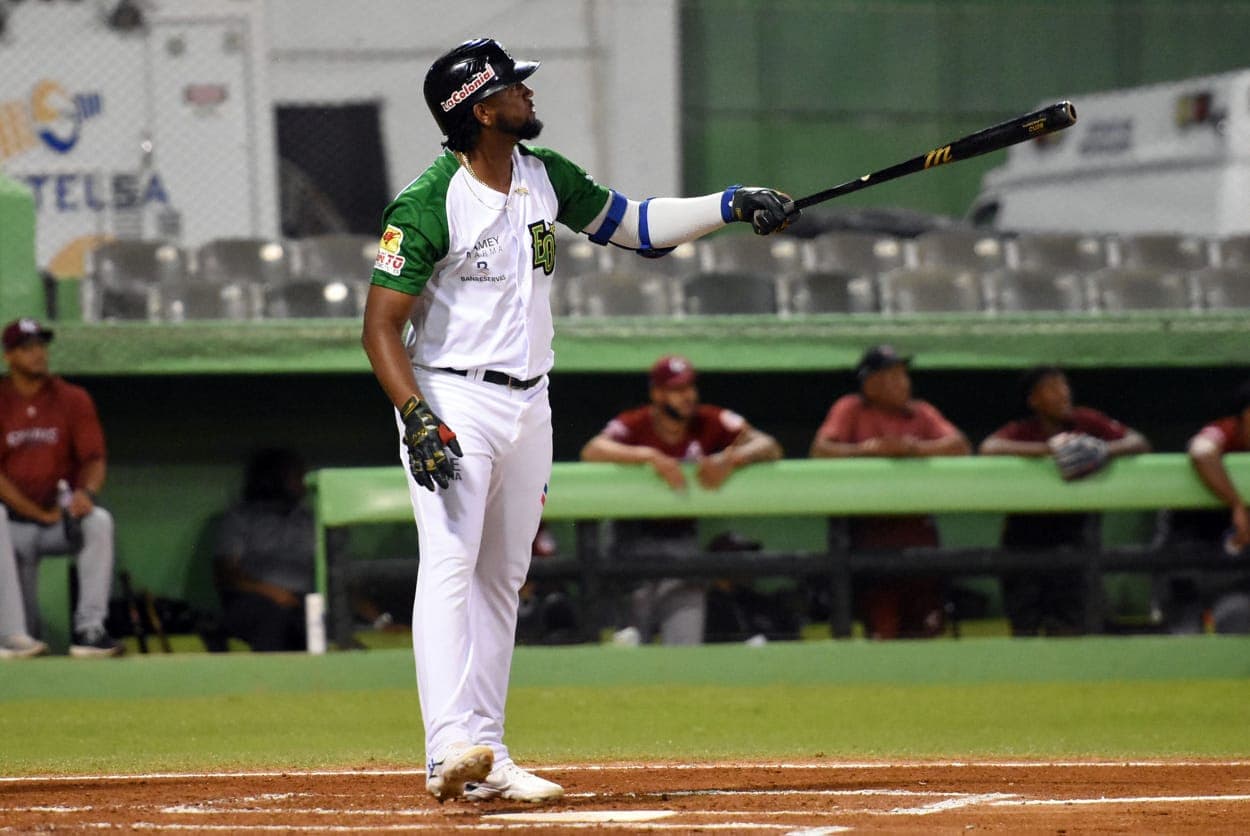 If you've been reading Blue Jays Nation's content throughout the off-season,
Rainer Núñez's name should be familiar to you.
The 22-year-old first baseman recently won the Rookie of The Year in the Dominican Winter League and is one of the fastest-rising position players in the Jays farm system.
Here are my scouting criteria to determine the list.
Brennan's criteria:
Instead of writing this out every time I did for the mid-season Top 60, I'll copy and paste my criteria for how I rank and scout these players.
There are many factors that determine a top prospect. The eye test is the biggest driver in determining a top prospect, but proximity to the majors, ceiling, and floor is also important. Moreover, statistics are another key ingredient, as everything works together to give you numbers.
As for the grades, it's important to remember that they are relative to the league in which they play. A kid from Dunedin is not going to have a 50-grade hit tool if he were placed in the big leagues. But relative to the league in which he plays, a .300 hitter is eligible to have that grade.
For these prospects, I'll be reviewing their background, numbers in the minors, pitch mix (if they're a pitcher), and giving a scouting report (if feasible, rookie league guys are difficult).
Rainer Núñez career so far:
Rainer Núñez was signed by the Blue Jays during the 2017 international free agency period.
He spent his first season with the Dominican Summer League Blue Jays, slashing .247/298/328 with two homers in 272 plate appearances for an 84 wRC+. His 2019 (with the stateside rookie league team), he slashed .173/.248/.286 with three homers in 153 plate appearances for a 55 wRC+.
He had a much better 2021, slashing .274/.370/.484 with five homers in 146 plate appearances with the Florida Complex League Blue Jays. There he had a 13.7 BB% (a career-high) and a pretty impressive 15.1 K%, along with a .210 ISO (isolated power). He finished with a 128 wRC+, and earned a late season promotion to the Low-A Dunedin Blue Jays.
The 2022 season was a breakout year for Núñez. Starting with the Low-A Dunedin Blue Jays, he slashed .299/.328;/.482 with 15 homers in 384 plate appearances. Shockingly, his BB% dropped to 3.6%, while his 21.4 K% was alright. He finished with a 126 wRC+ before his promotion to High-A Vancouver, and eventually won the Florida State League batting title.
With the High-A Vancouver Canadians, he slashed .321/.379/.491 with four homers in 116 plate appearances. Moreover, his BB% jumped to 8.6%, while his K% stayed relatively the same at 23.3%. The 22-year-old first baseman finished with a 140 wRC+ at the level.
I'd be remiss not to include his incredibly successful (ongoing) tenure with the Estrellas de Oriente. Drafted in the 4th round of the Dominican Winter League (LIDOM) draft,
Núñez continued his fantastic 2022, winning the LIDOM Rookie of The Year. He slashed .263/.303/.445 with seven homers, which led the league (again, as a then-21-year-old rookie). He beat out prospects such as Elly De La Cruz and Jerar Encarnación for the award.
Scouting report:
Long bodied, muscular legs and a powerful upper half,

Núñez has plenty of raw power, both from strength and excellent bat speed. On top of being able to potentially hit 20-30 home runs a season, he can also the ability to hit for average as he's a line drive hitter. He'll end up playing first base or designated hitter in his career, as he's an average fielder at the position with a solid arm. However, he's a below-average runner with some swing-and-miss in his game.
Grades:
Hit: 55
Power: 55
Run: 35
Arm: 45
Field: 50
Overall: 45
Where he'll start in 2023:
It's likely that
Núñez will start the 2023 season repeating the level in High-A Vancouver, before a potential promotion to Double-A New Hampshire depending on performance. To take his game to the next level, Núñez will need to continue to hit for power and average, while increasing his walk rate.
What's next:
It's been a while since we looked at a 2022 draftee, but we'll be looking at one of them tomorrow, so stay tuned!
In case you missed it:
As always, you can follow me on Twitter and Instagram @Brennan_L_D.
---