Blue Jays Nation's 2023 Preseason Top 50: #22 Davis Schneider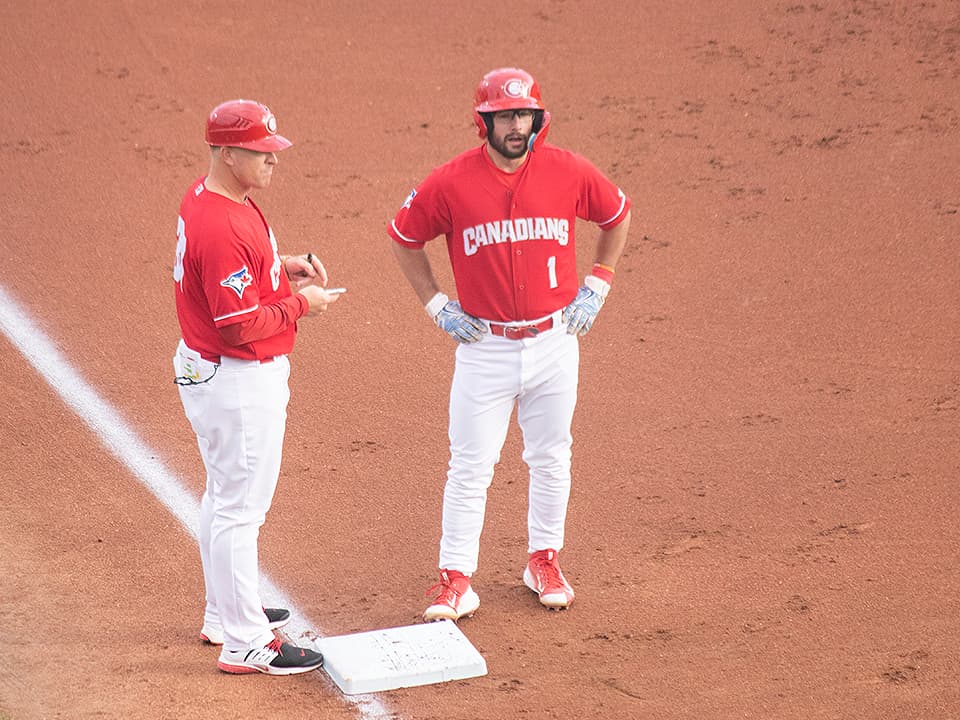 Photo credit:Niall O'Donohoe - CSPlusBaseball
In today's article, we'll look at one of the quickest risers in the Blue Jays system, Davis Schneider!
The 23-year-old had a fantastic 2022 season and really put himself on my radar. He jumped up three levels, and put himself in a position to potentially get a call-up as soon as the 2023 season.
Here is my scouting criteria.
Brennan's criteria:
Instead of writing this out every time I did for the mid-season Top 60, I'll copy and paste my criteria for how I rank and scout these players.
There are many factors that determine a top prospect. The eye test is the biggest driver in determining a top prospect, but proximity to the majors, ceiling, and floor is also important. Moreover, statistics are another key ingredient, as everything works together to give you numbers.
As for the grades, it's important to remember that these grades are relative to the league in which they play at. A kid from Dunedin is not going to have a 50-grade hit tool if he were placed in the big leagues. But relative to the league in which he plays, a .300 hitter is eligible to have that grade.
For these prospects, I'll be reviewing their background, numbers in the minors, pitch mix (if they're a pitcher), and giving a scouting report (if feasible, rookie league guys are difficult).
Davis Schneider's career so far:
Selected in the 28th round of the 2017 draft, Schneider has spent six years in the Blue Jays organization, with his breakout coming in 2022.
In his first season, he slashed .238/.371/.393 with four homers in 210 plate appearances with a Blue Jays rookie league team, with an equal 17.1 BB% and K% for a 123 wRC+. In 2018, he played with the rookie advanced Blue Jays, slashing .233/.350/.376 with three homers in 161 plate appearances. While his 13.7 BB% was still high, his K% increased to 29.2%.
He spent 2019 with the rookie advanced Blue Jays, as well as Short-A Vancouver (both leagues are defunct now), where he slashed .263/.347/.446 with six homers in 216 plate appearances. Between the two levels, he had a 26.4 K% and a 10.2 BB%.
Like all other minor leaguers, Schneider missed the 2020 season. The 23-year-old also happened to miss a large part of the 2021 season, as he only had 179 plate appearances in High-A Vancouver. There, he slashed .231/.348/.476 with 9 homers in an incredibly short amount of time. He had a career-high 33 K% but had a pretty impressive 14.5 BB%.
That leaves us with 2022, his breakout season. The right-handed utility man started the season with the Vancouver Canadians, slashing .229/.354/.459 with eight homers in just 189 plate appearances. His K% improved to 26.5%, while his BB% actually jumped to 15.3%. Schneider finished with a 127 wRC+ at this level and stole six bases in seven attempts.
He was promptly promoted to Double-A New Hampshire, where he slashed .283/.368/.476 with six home runs in 190 plate appearances. His K% continued to decrease as it sat at 24.2%, while his BB% of 11.6% was still relatively high. His performance at Double-A was the best at ny level, posting a 131 wRC+ and he stole 10 of 10 bases.
Double-A couldn't contain Schneider, as he was promoted to Triple-A Buffalo. There he slashed .233/.387/.400 with two homers in 75 plate appearances. While his K% jumped slightly to 26.7%, he had an incredible 18.7 BB% in that short stretch. In his brief time in Buffalo, Schneider had a 118 wRC+ and stole one base in two attempts.
Scouting report:
Slender, muscular build with powerful legs and broad shoulders. Schneider has quick bat speed and a tendency to hit line drives, which allows him to hit for a high average. Despite his smaller stature, Schneider can get a hold of balls with raw power and quick bat speed. He's an above-average runner with a tenacious work ethic. Average arm and is a solid fielder in both left field and second base. There's a little bit of swing and miss in his game, and he doesn't have much projection left.
Grades:
Hit: 50
Power: 50
Run: 55
Arm: 45
Field: 50
Overall: 45
Where he'll start in 2023:
Like with all prospects that have reached Triple-A, Schneider will start the season with the Buffalo Bisons. It'll be important for him to build off his breakout 2022 season, by continuing to hit for power (he had 16 on the year), hit for average (had a .253 average at all levels), take walks, and continue to lower the strikeout rate.
It's a matter of when, not if with Schneider, and he'll continue to improve due to his fantastic work ethic. He has a shot at making the Blue Jays team before the end of the 2024 season.
What's next:
We'll have a prospect on the 40-man roster on Tuesday morning, who had a great 2021, but tapered off in 2022. This prospect did develop some power though, so stay tuned!
In case you missed it:
As always, you can follow me on Twitter and Instagram @Brennan_L_D.
---