Blue Jays Nation's 2023 Preseason Top 50: Prospects #35-31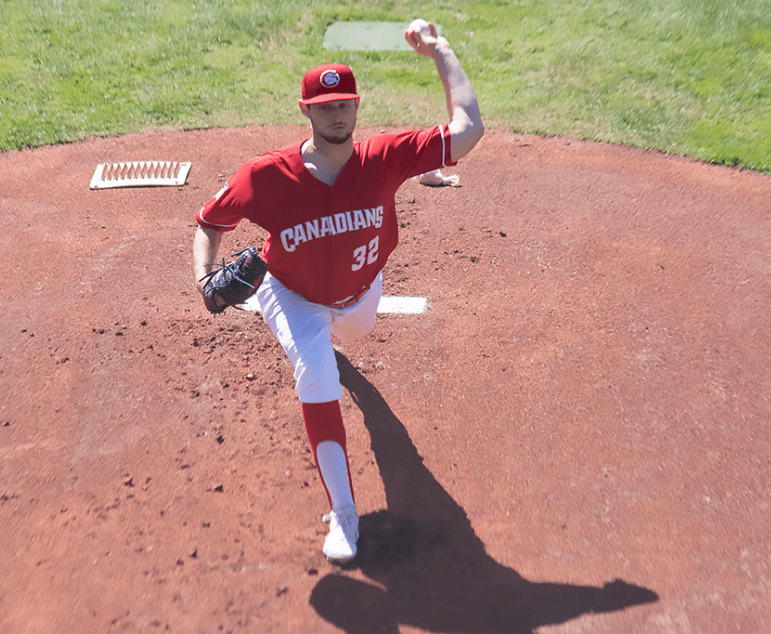 Photo credit:Niall O'Donohoe - CsPlusBaseball
Why not start off your hump day with another Blue Jays Nation's Top 50 prospect list?
Today we have some interesting pitchers who may end up in the bullpen, as well as a prospect who may make a Gabriel Martinez-Esque ascent, and a young shortstop who very well could stick at the position.
If you missed the article for prospects 50-46, 45-41, or 40-36, you can read the articles in the link below.
Let's look at my criteria for ranking and scouting before we look at prospects 35-31.
Brennan's criteria:
Instead of writing this out every time I did for the mid-season Top 60, I'll copy and paste my criteria for how I rank and scout these players.
There are many factors that determine a top prospect. The eye test is the biggest driver in determining a top prospect, but proximity to the majors, ceiling, and floor is also important. Moreover, statistics are another key ingredient, as everything works together to give you numbers.
As for the grades, it's important to remember that these grades are relative to the league in which they play at. A kid from Dunedin is not going to have a 50-grade hit tool if he were placed in the big leagues. But relative to the league in which he plays, a .300 hitter is eligible to have that grade.
For these prospects, I'll be going over their background, numbers in the minors, pitch mix (if they're a pitcher), and giving a scouting report (if feasible, rookie league guys are difficult).
#35 Robert Robertis:
The 20-year-old Robert Robertis was signed out of Venezuela in the 2019 international free agency period and spent time in the Florida Complex League, Low-A, and Double-A in 2022.
He spent most of his season with the FCL Blue Jays, slashing .290.353/.402 with no homers in 119 plate appearances, and a 9.2 BB% and 20.2 K%. He spent only 20 plate appearances with the Low-A Dunedin Blue Jays, slashing just .150/.150/.150 with three singles, no walks, and a 25 K%. 
In September, he was a replacement player when he was called up to the Fisher Cats, but his star shined bright. He slashed .294/.294/.706 with two home runs in 17 plate appearances, as a 19-year-old in Double-A  He's continued to hit well in the Venezuelan Winter League
Scouting report:
Compact build with built legs and a slim upper half, Robertis has just barely tapped into his raw power, as he still has some projection left in his frame. Could hit for both average and power in the future. Batting from the left side, he features a high leg kick, a fluid swing, and excellent bat speed. Some swing and miss in his game. He is an average runner and plays the outfield well with his athleticism.
Grades:
Hit: 50
Power: 45
Run: 40
Field: 50
Arm: 45
Overall: 40
Where he'll start in 2023:
It's hard to peg where Robert x2 will start in 2023. The logical answer before September onward was Low-A Dunedin, but the emergence of his power tool, and his ability to adjust to Double-A hitters leads me to believe that a High-A Vancouver Canadians placement is possible. It really depends on his spring training, but he will have a Gabriel Martinez-Esque rise in 2023. 
#34 Trenton Wallace:
The 23-year-old left-handed starter was drafted in the 11th round of the 2021 draft and spent his first full season between Low-A Dunedin and High-A Vancouver.
Between the two levels, he had a 2.36 ERA and a 34.2 K% in 80 innings pitched. He also had a combined 14.7 K%, but most of those walks came in Vancouver as he had an 18 BB% in 39.1 innings at the level.
Wallace has a four-pitch mix, a fastball that sits low 90s and has touched 94.1 mph and had a 39 whiff % in Low-A. He features a changeup, curveball, and a wipeout slider, which had a 40 whiff % in Dunedin.
Scouting report:
Wiry frame with long limbs, there is projectability remaining. Wallace has a funky delivery as he's a left-handed sidearmer with a large arm circle, which gives him incredible deception. Paired with his unusual delivery, Wallace's wipeout slider has plenty of sweep with downward action. His changeup has two variations, with one having a glove side fade and the other with a significant drop. His fastball has a sinking action, while his curveball is tight. Control can be lost from time to time.
Grades:
Fastball: 55
Slider: 60
Changeup: 45
Curveball: 45
Control: 40
Overall: 40
Where he'll start in 2023:
It's possible he'll start the 2023 season in Double-A New Hampshire, but I believe it's more likely that he'll start the season with the High-A Canadians. Wallace still has some work to do to progress to the next level, such as cutting down the high BB% he had at that level, but his mix gives him a ceiling of a back end of the rotation starter or a medium leverage reliever.
#33 Manuel Beltre:
The 18-year-old shortstop was signed out of the Dominican Republic in the 2021 international free agency period, and spent a large part of the season with the FCL Jays, before a late-season promotion to Low-A Dunedin.
Beltre slashed .250/.357/.339 with two homers in 228 plate appearances in the two levels combined. He also had a 19.3 K% and a 10.1 BB%, solid rates for a contact hitter. 
What the scouts say about him:
Unfortunately, Beltre is the second prospect on our list whom I can't write a scouting report on, but we'll look at what other scouts are saying, courtesy of MLB Pipeline. Here's a snippet of his bio: 
"Many within the [Blue Jays organization] view Beltre as a potential 'culture driver' given his natural leadership abilities and charismatic personality at such a young age."
Beltre is a leader and is always working hard, and everything in the snippet above is absolutely true whenever I've interacted with him. He's a sound defender and will stick at either shortstop or third base, and there's still room for projection.
MLB Pipeline Grades:
Hit: 50
Power: 45
Run: 55
Arm: 55
Field: 50
Overall: 45
Where he'll start in 2023:
It's likely that Beltre will start the 2023 season with the Dunedin Blue Jays. He's showing promising signs with strong defense and a high contact rate, but there's been a noticeable lack of power. Thankfully, he's still young and that could develop as he continues to grow older.
#32 Kendry Rojas:
The 20-year-old left-handed reliever signed in the 2020 international free agency period and spent all but one inning with the Low-A Dunedin Blue Jays.
In 39.2 innings pitched, he had a 4.08 ERA and 3.19 FIP, with a 24.7 K% and a 10.9 BB%, an increase from his 5.7 BB% in 2021.
Rojas has a fastball that sits in the low 90s, but has touched 94.2 mph. He also features a slider which had a 36 whiff%, as well as a changeup.
Scouting report:
Compact build with a muscular lower half and slim torso, Rojas has room for projection, He pitches from a 3/4 release point. His slider is his best pitch, with great shape and sweeping action. His fastball sinks and locates it well at the bottom of the zone. The changeup has a late glove side fade, with very little velocity separation between it and his fastball. Control and command have taken a hit, but there's still projection left in his frame.
Grades:
Fastball: 50
Slider: 55
Changeup: 50
Control: 40
Overall: 40
Where he'll start in 2023:
It's likely that Rojas will start the 2023 season with the High-A Vancouver Canadians. To take it to the next level, he'll need to find the control and command he did in the 2021 season, as well as potentially add some velocity to his fastball to separate it from the changeup.
#31 Hagen Danner:
Danner, 24 years old, was selected in the second round of the 2017 draft as a catcher, but later converted to a relief pitcher during the pandemic.
He missed all but 3.2 innings in 2022 but posted a 2.02 ERA and 3.61 FIP in 35.2 innings pitched in 2021, which was the first time he had pitched since his draft year. It also saw him strike out 29.4% of batters while walking only 8.8%, a pretty impressive number considering his lack of professional pitching experience.
To make up for a lost development year, the Jays sent him to the Arizona Fall League. There, he pitched 7.2 innings with a 3.52 ERA and a 28.6 K%, while only walking one batter for a 3.6 BB%.
Danner features a high-90s fastball, which could tick up in the future, as well as a hard slider that sits in the high-80s, and a get-me-over curveball which is developing.
Scouting report:
Muscular build, long body, nice hair, and mustache with some room for projection. Danner has an overhand release point and a large circle arm action, unusual for a former catcher. His fastball is his pitch as he can rear up and blow it by batters with some high velocity and extra movement. Danner's hard slider is his best secondary as it generates a ton of whiffs with its heavy downward movement. His get curve is a good pitch that throws batters off the harder pitches in his arsenal. Good control of pitches, especially since he's a converted catcher.
Grades:
Fastball: 65
Slider: 55
Curveball: 45
Control: 50
Overall: 40
Where he'll start in 2023:
The right-handed pitcher is on the Blue Jays 40-man roster, so there's a chance he'll get a shot with the Blue Jays at some point next season. They may send him to Double-A New Hampshire, but may be aggressive and start him with the Triple-A Buffalo Bisons. It's tough to say, but Danner may factor into the Blue Jays bullpen as soon as next season.
What's next:
Thursday's article will be the last of the multiple prospect articles, which makes my life easier! It'll feature a split of three pitchers and two position players, like today's article.
Take a stab at who it'll be!
As always, you can follow me on Twitter and Instagram @Brennan_L_D. Big shout out to Niall O'Donohoe, creator of csplusbaseball.ca for the heading photo. You can follow him on Twitter @csplusbaseball, and he's a must follow. If I'm ever confused by a pitchers pitch mix, it's the first place I look as he interviews a bunch of Vancouver Canadians prospects. 
---