Blue Jays Nation's 2023 Preseason Top 50: Prospects #50-46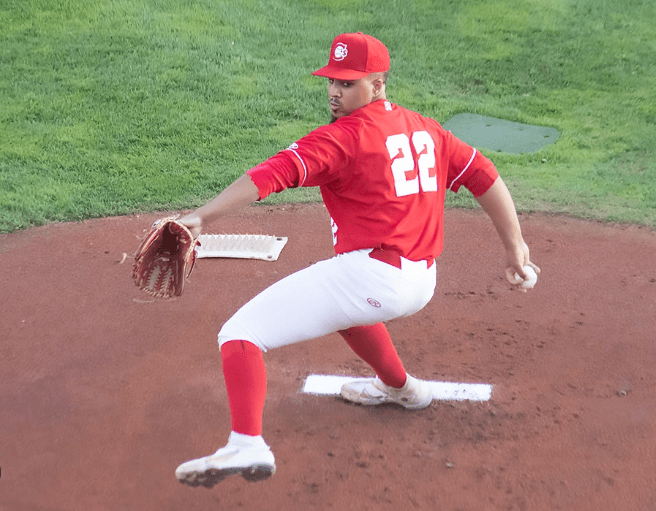 Photo credit:Niall O'Donohoe/CsPlusBaseball
It's that time of the season when top prospect lists come out, and Blue Jays Nation is no different.
I ran a poll on Twitter, allowing followers to decide if I do a Top 30 or Top 50, with significant interest in both options. While the Top 30 won, we've decided a Top 50 in 30 articles would be best.
So for the first five articles in January (better known as #BJNProspectSZN) we'll be doing five prospects per article, starting with prospects ranking 50–46.
There are many factors that determine a top prospect. The eye test is the biggest driver in determining a top prospect, but proximity to the majors, ceiling, and floor are also important. Moreover, statistics are another key ingredient, as it is everything working together to give you numbers.
As for the grades, it's important to remember that they are relative to the league in which they play. A kid from Dunedin is not going to have a 50-grade hit tool if he were placed in the big leagues. But relative to the league in which he plays, a .300 hitter is eligible to have that grade.
For these prospects, I'll be going over their background, numbers in the minors, pitch mix (if they're a pitcher), and giving a scouting report (if feasible, rookie league guys are difficult).
Without further ado, here are the five prospects in this article.
#50 Yondrei Rojas:
The 20-year-old righty was signed in the 2021 international free agency period and has spent two seasons with the Blue Jays.
In 2022, the then 19-year-old posted a 4.89 ERA in 46 innings pitched, with only two appearances as a starter. He had a  23 K% and a 6.4 BB%, which isn't great, but good enough.
What's more interesting is his stuff, as he features a fastball, slider, and changeup mix. Despite only standing at 5'10, 180 lb, Rojas was touching 95.8 mph, which is quite impressive. He averaged 92-93 mph on his fastball as well, and his slider had an average spin rate of 2341 RPM.
Scouting report:
Muscular build with broad shoulders, Rojas still has projectability which could increase his velocity. His sweeping slider is an average pitch which could become a plus pitch. His changeup is a plus pitch with nasty glove-side fade, while his fastball is also a plus pitch. As he gets older, he'll have more experience with pitch sequencing which could help generate more whiffs.
Grades:
Fastball: 50
Changeup: 45
Slider: 45
Control: 40
Overall: 35
Where he'll start in 2023:
Rojas finished the season with the Low-A Dunedin Blue Jays, which is likely where he'll begin in 2023. He had a couple of opportunities to start in 2022, but it's to be seen if the Jays see him as a starter or a reliever.
#49 Rafael Lantigua:
The 24-year-old utility player was signed in the International Free Agency in 2016, and spent his sixth season in the Blue Jays organization.
He spent the majority of the season with the Double-A New Hampshire Fisher Cats, amassing a .268/.345/.402 slash line with five home runs in 369 plate appearances. He also had an impressive 10.1 BB% and 19 K% for a 107 wRC+. He was sent to Triple-A Buffalo late in the year, where he slashed .286/.346/.373 with two home runs in 179 plate appearances for a 94 wRC+.
Lantigua struggled on the base paths in 2022, successfully stealing 15 bases, but being thrown out 12 times. He has the speed to steal bases but needs to improve his decision-making.
The 24-year-old is also versatile, playing all over the diamond in 2022, which includes second base, shortstop, third base, left field, and centre field.
Scouting report:
Lantigua has a small, muscular frame with little projection. He has quick bat speed which allows him to hit the ball anywhere in the zone and allows him to hit the occasional home run. Lantigua hits his fair share of ground balls, but is a quick runner which allows him to beat them out. His base running decisions are questionable, and he has the ceiling of a utility player at the major league level.
Grades:
Hit: 50
Power: 40
Run: 45
Arm: 50
Field: 50
Overall: 35
Where he'll start in 2023:
Lantigua finished the 2022 season with the Buffalo Bisons, so it's likely he'll start there as well. The Triple-A team has a log-jam of players with his profile, so playing time could have been difficult to find for him if he didn't play five positions.
#48 Chavez Young:
The 25-year-old Bahamian outfielder was selected in the 39th round of the 2016 MLB draft.
Although Young was injured for a large portion of the 2022 season, he had a successful first season at the Triple-A level, despite what the statistics may tell us. With the bat, he slashed .234/.331/.350 with five homers in 248 plate appearances. He also had a 12.1 BB% and a 23.4 K% for a wRC+ of 86, down from his 109 in 2021 with the Double-A Fisher Cats.
Young excels defensively, as he's one of the best centre fielders in the Jays organization, including in the big leagues. He also has a ton of speed that he also uses on the base paths, stealing 20 of 21 bases he attempted in 2022.
Scouting report:
Muscular build with broad shoulders and defined legs, Young is a switch hitter who hits for a higher average when batting left-handed, but has more power batting right-handed. What he lacks in the bat, he makes up for with his speed and his defense. Young's jump in the outfield is fantastic, and he has the ability to track down balls that are slicing away due to his insane range and speed.
Grades:
Hit: 45
Power: 40
Run: 70
Arm: 65
Field: 70
Overall: 35
Where he'll start in 2023:
Like Lantigua, Young will start the 2023 season with the Triple-A Buffalo Bisons. Depending on the health of the big league roster, it's possible that Young gets a shot with the Blue Jays as his defense is quite valuable. He'll increase his chances if he can hit as he did in 2021.
#47 Luis Meza:
Sadly, Luis Meza is the first guy in the Top 50 who doesn't have a scouting report written by me. 
The 18-year-old catcher was signed in the 2022 international free agency for $2,050,000, and was one of the top catchers available in that class.
His first year in pro ball was a bit of a struggle. Playing in the Dominican Winter League (so take it with a grain of salt), Meza slashed .229/.267/.292 with no homers in 101 plate appearances. He had a 5 BB% and 18.8 K% for a 54 wRC+. He was able to shoot the ball the other way (39 pull percentage and opposite field percentage), and 41.9% of his batted balls were flyballs. If he could add power, that is a good building block for a 50 hit/50 power tool player.
What the scouts say:
Paraphrasing from MLB Pipeline's report for the 2022 mid-season update, Meza is a  strong defender with a high baseball IQ. Despite only standing at 5';10, his frame will allow him to add more muscle to hit for more.
MLB Pipeline's grades:
Hit: 50
Power: 50
Run: 45
Arm: 50
Field: 50
Overall: 40
Where he'll start in 2023:
It's rare that a prospect will repeat the level in the Dominican Winter League, it's even more rare if that player is a Top 30 prospect according to Pipeline. He'll likely move stateside and play in the Florida Complex League in 2023.
#46 Michael Dominguez:
Selected in the 15th round of the 2019 draft, right-handed pitcher Michael Dominguez broke out in his first full season.
The 22-year-old had a 5.02 ERA in 80.2 innings pitched between Low-A Dunedin and High-A Vancouver, which also saw him have a 29.7 K% and an 8.9 BB% as a starter, quite impressive if you ask me.
Dominguez gets plenty of swings and misses
As for his stuff, Dominguez features a fastball that sits low 90's, but has touched 94.6 mph. He also features a sweeping slider, and a changeup.
Scouting report:
Stocky build, but with power lower half, Dominguez sits 5'10, 175 lb with not a lot of room for projection remaining. He has a short circle arm action, and releases the ball from a 3/4 release point. Dominguez sits in the low 90s with his fastball, but his slider has an average spin rate of 2621 and is a plus offering and had a 45 whiff % in Dunedin. His changeup also generates a ton of whiff with late vertical break and misses plenty of bats.
Grades:
Fastball: 45
Changeup: 55
Slider: 60
Control: 40
Overall: 35
Where he'll start 2023:
It's likely that the 22-year-old right-hander will start the 2023 season with the High-A Vancouver Canadians, but he may end the season with the Double-A New Hampshire Fisher Cats. Look for him to improve upon his swing and miss off-speed stuff.
What's next:
This was a good blend of prospects. We had some high-minor guys and some low-minor guys. We had some pitchers, but also some position players. The same cannot be said for the next article in the series (45-41), as it'll be pitcher-heavy. Stay tuned for that on Monday morning!
As always, you can follow me on Twitter and Instagram @Brennan_L_D. All the prospect clips are posted to my account each day during the 2023 season, so I'm definitely a must-follow in my (biased) opinion! Also give Niall O'Donohoe a follow as well @Csplusbaseball. He took the photograph of the header, and he does great work at csplusbaseball.com.
---