Blue Jays Nation's Mid-Season Prospect Countdown – No. 1: Ricky Tiedemann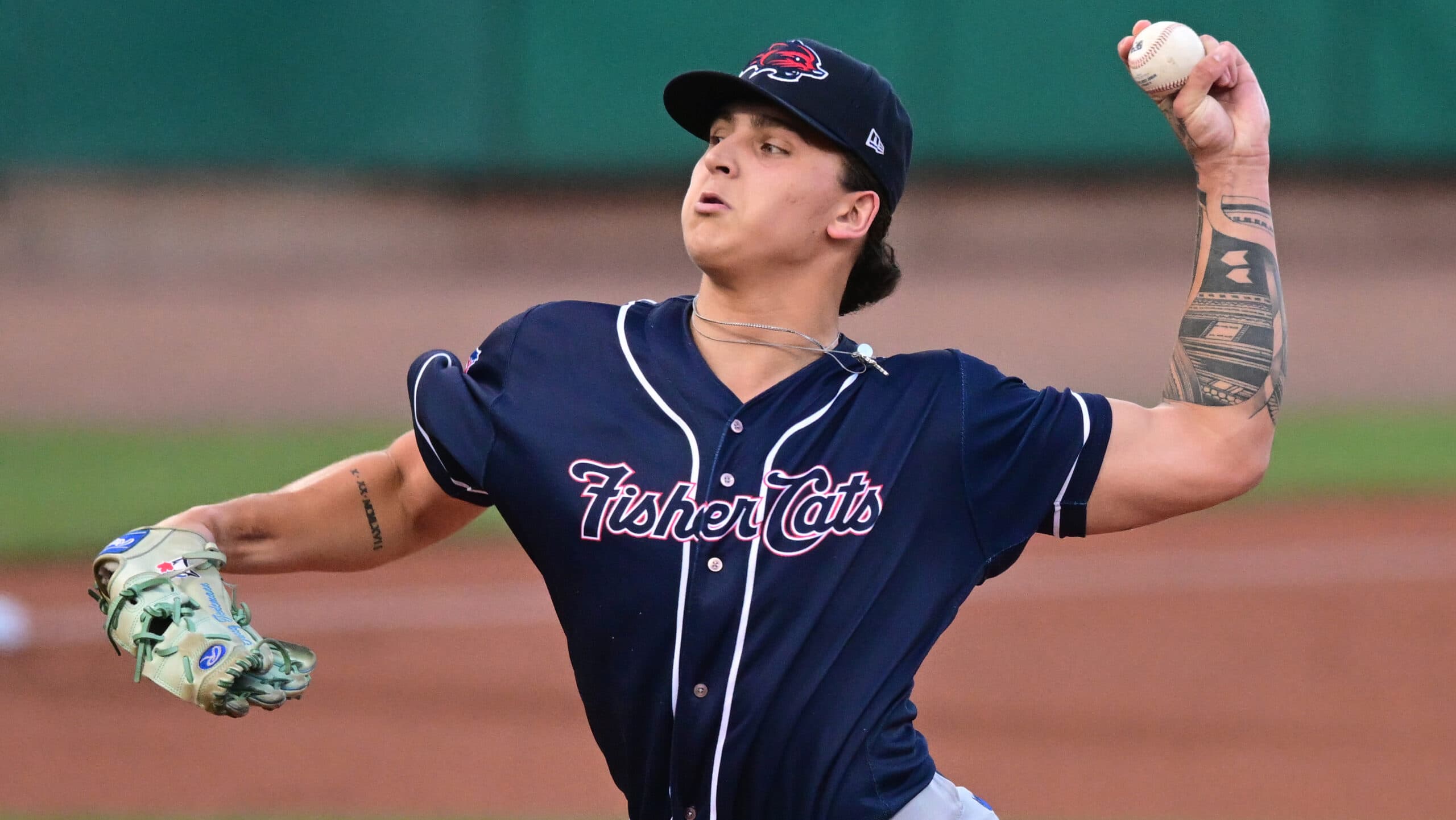 Everybody knew who was going to be at the top of this list. 
Just a quick recap of the mid-season list: We'll look at the player's stats, my observations, and finally other publications (Prospects Live, MLB Pipeline, Baseball America)' scouting reports.
Let's take a look at the 21-year-old left-handed pitcher.
Getting to know Ricky Tiedemann…
Position: Starting Pitcher
Throws: Left
Born: August 18, 2002
Acquired: 3rd round, 2021 draft (Blue Jays)
Current Team: Double-A New Hampshire
Previous Ranking: 1
The Blue Jays don't have a lot in terms of Top 100 prospects, but Tiedemann is one of the best left-handed pitching prospects in the game right now. With the Double-A New Hampshire Fisher Cats, he has a 4.50 ERA and a 1.47 FIP. Not just that, but he has a fantastic 40.6 K% and a 12.8 BB% in 30 innings pitched at the level.
Tiedemann broke onto the scene in 2022, posting a 2.17 ERA in 78.2 innings pitched in Single-A, High-A, and Double-A. He amassed a 38.9 K% and a 9.6 BB% at the three levels and earned a spot on the Top 100 list.
So, what makes Tiedemann ace potential? Well, he's a left-handed pitcher who can hit a tick under 100 mph with the fastball that has some sink. The downward movement has allowed Tiedemann to keep the ball on the ground, as he has only given up three homers in 116.2 professional innings (with two of them coming in the same game).
Somehow, the fastball isn't even his best pitch, as that designation goes to his mid-80s changeup that has a lot of tumble and arm-side fade. Add in a sweeping slider that can be thrown to both lefties and righties, and you have a left-handed pitcher with ace potential.
Now, there are some concerns about Tiedemann. Like with all flame-throwers, there is concern about health due to just how hard he throws. In fact, he missed over two months with a left bicep injury. Furthermore, after showing solid control and command in 2022, Tiedemann has struggled to throw the ball over the plate consistently, walking 12.8% of batters in Double-A.
Tiedemann was set to compete for a big league spot this season but suffered a bicep injury setback. It has been reported by Eric Treuden of Jays Journal that he'll make his last Double-A start on Friday night, before proceeding to Triple-A.
Next year will be a big season for Tiedemann, as he'll likely start the year in Buffalo and compete for a spot in the rotation at some point. It's likely that Tiedemann will head to the Arizona Fall League to get some innings under his belt, another area of concern for the young left-handed pitcher.
Thanks for reading…
Writing 50 different top prospect articles was one of the more difficult things that I've done for Blue Jays Nation, yet one of the most rewarding. Thanks again for reading all of them, as it was a blast!
---
In case you missed it…
---
As always, you can follow me on Twitter, Instagram, and Threads @Brennan_L_D.
---