Blue Jays Nation's Mid-Season Prospect Countdown – No. 11: Juaron Watts-Brown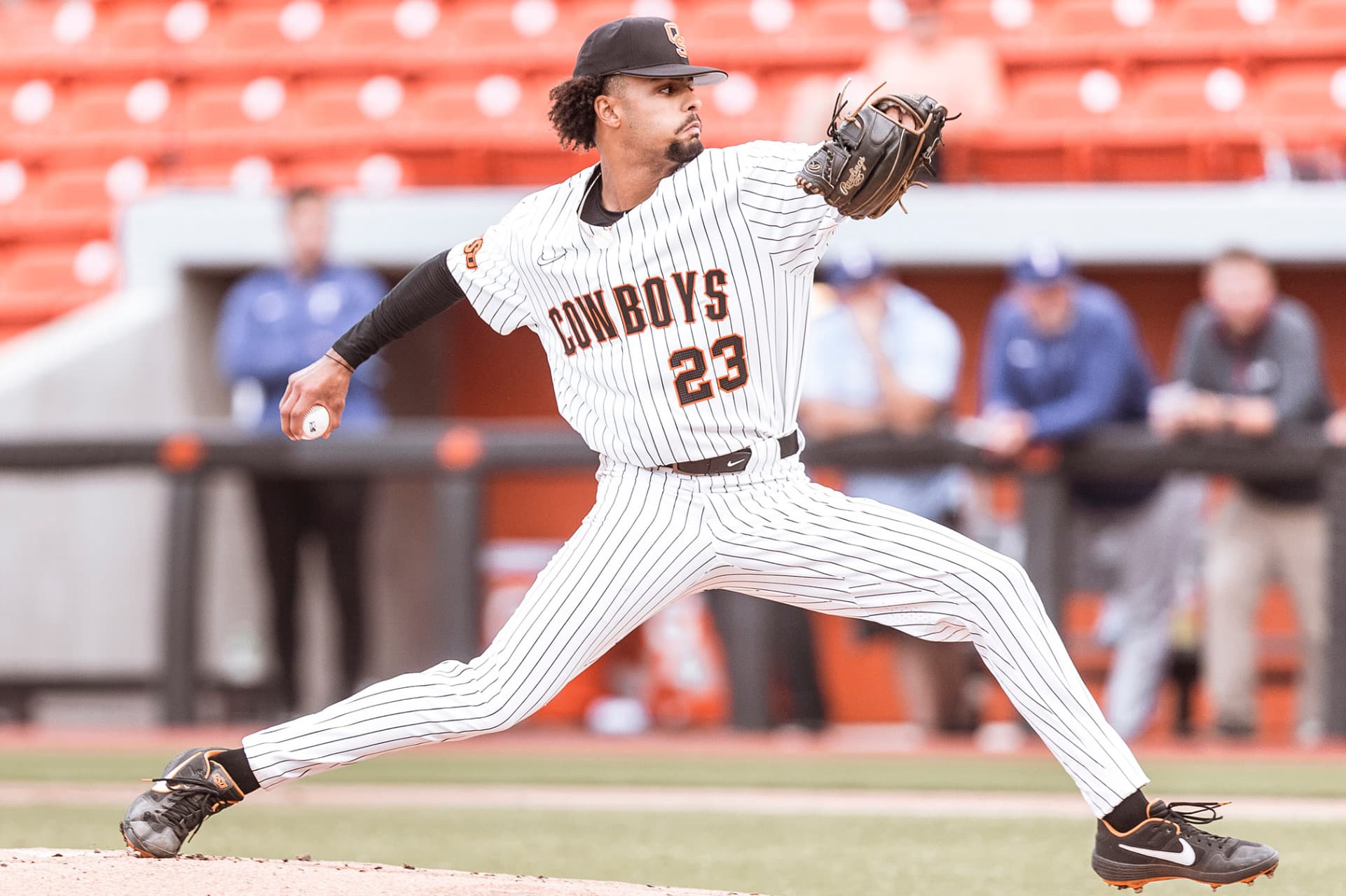 Photo credit:okstate.com
This article's prospect has yet to pitch at the professional level but he'll be an interesting name to follow next season. 
Just a quick recap of the mid-season list: We'll look at the player's stats, my observations, and finally other publications (Prospects Live, MLB Pipeline, Baseball America)' scouting reports.
Let's look at 2023 third-rounder, Juaron Watts-Brown.
Getting to know Juaron Watts-Brown…
Position: Starting Pitcher
Throws: Right
Born: February 23, 2002
Acquired: 3rd round, 2023 draft (Blue Jays)
Current Team: No Team
Previous Ranking: Not ranked
The 21-year-old right-handed pitcher has yet to make his professional debut,, but spent two seasons pitching in the NCAA.
He started his collegiate career with California State University at Long Beach, posting a 3.68 ERA in 73.1 innings pitched, along with a 37.4 K% and a 9.8 BB%. This generated interest from bigger schools, such as Oklahoma State University, which Watts-Brown transferred to for the 2023 season.
Watts-Brown didn't have a great season statistically, as he posted a 5.03 ERA in 82.1 innings pitched, along with a 37.8 K% and a 12.8 BB% in his first season with a Big 12 team. However, his profile is still incredibly intriguing.
The third-rounder has a fastball that sits in the low-90s but has touched 96 with some decent run. However, it also was hit harder than his other pitches according to MLB Pipeline. Watts-Brown's best pitch is his mid-80s slider that can generate whiffs anywhere it's thrown. The 21-year-old also features a curveball with a big break, along with a changeup with fade and tumble, according to MLB Pipeline.
Once he hits the professional ranks, he could benefit from adding more velocity and will need to control and command his pitches. There's certainly a risk of becoming a reliever, but he was taken in the third round for a reason, and that's because his ceiling is so high.
Next up:
In the next article, we'll look at a prospect who has fallen quite a bit but is so young that the Jays must be patient with him.
---
In case you missed it…
---
As always, you can follow me on Twitter, Instagram, and Threads @Brennan_L_D.
---