Blue Jays Nation's Mid-Season Prospect Countdown – No. 19: Jace Bohrofen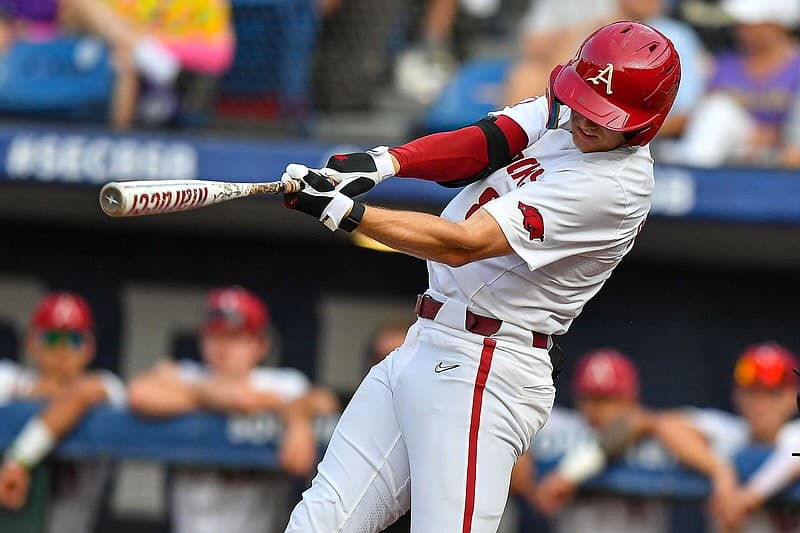 Photo credit:WA Democrat-Gazette/Hank Layton
Jace Bohrofen has not only been one of the best Blue Jays draftees from the 2023 class, but he's been one of the best draftees, period.
Just a quick recap of the mid-season list: We'll look at the player's stats, my observations, and finally other publications (Prospects Live, MLB Pipeline, Baseball America)' scouting reports.
Let's take a look at Bohrofen's fantastic start.
Getting to know Jace Bohrofen…
Position: Outfielder
Bats: Left
Born: October 19, 2001
Acquired: 6th round, 2023 draft (Blue Jays)
Current Team: Single-A Dunedin
Previous Ranking: Not ranked
After two mixed seasons in college, Bohrofen broke out in his junior year with the University of Arkansas, slashing .318/.436/.612 with 16 homers in 267 plate appearances. This led to the Blue Jays selecting him with the 184th overall pick.
So how has the 21-year-old done in his first season in the organization? Nothing short of tremendous. Post-draft, he started with the Florida Complex League Blue Jays, where he slashed .267/.450/.467 with a homer in 20 plate appearances. Good right?
Well his tenure with the Single-A Dunedin Blue Jays has been even better, as he's slashing .341/.491/.750 with FIVE homers in 57 plate appearances, along with a 22.8 K% and a 15.8 BB% for a 217 wRC+.
In terms of OPS leaders, his combined 1.159 on base + slugging percentage ranks as the second highest for 2023 draftees with 50+ plate appearances. His six home runs also ranks tied for the second most by any 2023 draftee.
Bohrofen ranks as MLB Pipeline's 21st best Blue Jays' prospect. According to his bio, he has a sound swing and has improved at making contact the past few seasons. He has plus raw power (I mean, six homers), and it's started to come naturally. He has high exit velocities, but there's some swing and miss in his game, even if he's walked more than struck out in Single-A.
As for his other tools, he's an average runner and an average defender in the corner outfields.
Bohrofen is still multiple seasons away from making the big leagues, but he'll be an interesting prospect to watch develop over the next few seasons.
Next up:
In the next article, we'll look at a 2022 draftee who also had a great start to his professional career after being drafted.
---
In case you missed it…
---
As always, you can follow me on Twitter, Instagram, and Threads @Brennan_L_D.
---