Blue Jays Nation's Mid-Season Prospect Countdown – No. 28: Adrian Pinto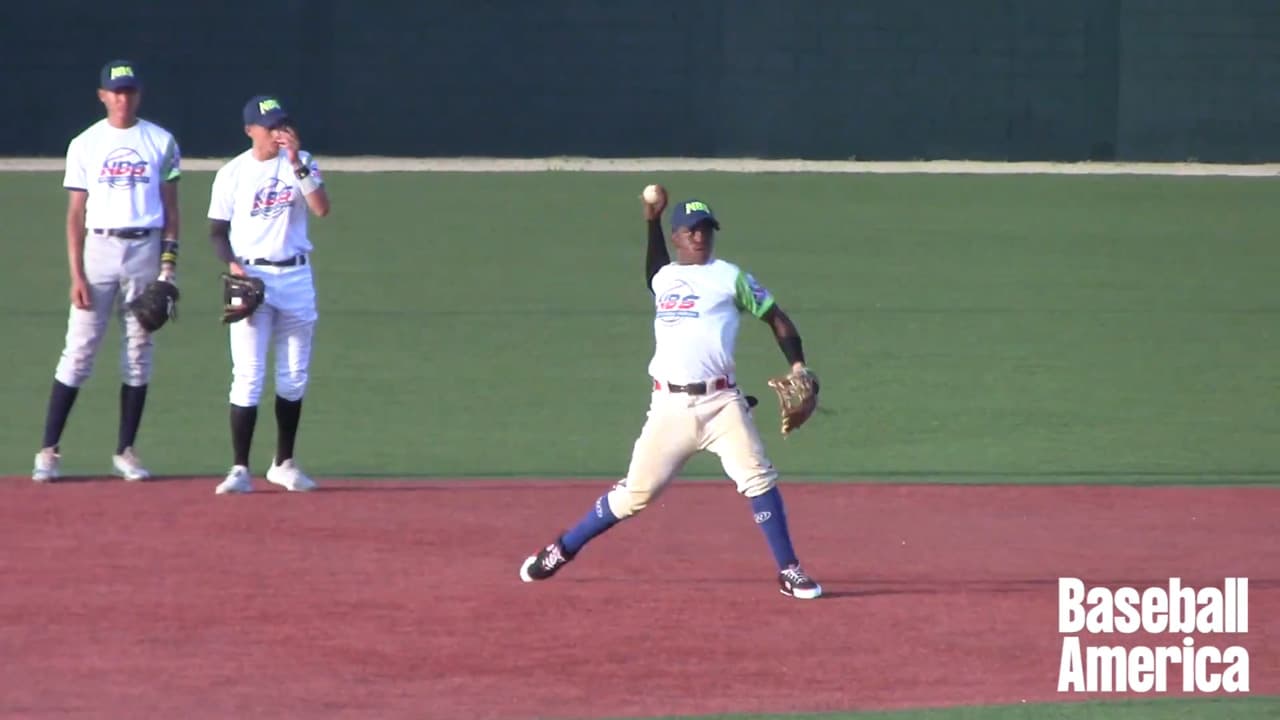 Photo credit:Baseball America
This prospect may be short, but he's still one of the more intriguing prospects in the system.
Just a quick recap of the mid-season list: We'll look at the player's stats, my observations, and finally other publications (Prospects Live, MLB Pipeline, Baseball America)' scouting reports.
Today we'll look at Adrian Pinto!
Getting to know Adrian Pinto…
Position: Second base/Shortstop/Centre Field
Bats: Right
Born: September 22, 2002
Acquired: Trade with the Colorado Rockies
Current Team: Single-A Dunedin (injured list)
Previous Ranking: 18
Before the start of the 2022 season, the Blue Jays traded Randal Grichuk and cash to the Colorado Rockies in exchange for Raimel Tapia and a prospect named Adrian Pinto. In 2021, Pinto won the Dominican Summer League MVP, as he slashed .360/.486/.543 with a 17 BB% and an 8 K% in 224 plate appearances, along with three homers, and was 41/49 in stolen base attempts.
The 5'6 utility player started his career off with the Single-A Dunedin Blue Jays, where he slashed .242/.375/.363 with two homers in 194 plate appearances, along with a 12.4 BB% and a 16.5 K%. Sadly, his 2022 was injury filled, and he missed a large portion of that season.
It was the same trend for the 20-year-old in 2023. When healthy, he played great, as he slashed .260/.413/.300 with no homers in 129 plate appearances, along with a 17.8 BB% and a 19.4 K% (12/16 in stolen base attempts). However, he has appeared in a game since mid-July.
Standing in at only 5'6", 156 lbs, Pinto doesn't have much in terms of power. He has the ability to get a hold of one every now and then, but he's a hit-over-power guy. Not just that, but Pinto has the ability to draw a walk and steal a base, so he'll be a valuable leadoff batter as he works his way up the minors.
Defensively, he's athletic which will allow him to play around the field. So far in his young career, he's played shortstop (with good instincts), second base, and centre field, where his speed allows him to track down balls with ease.
The biggest thing for Pinto is to remain healthy. The 20-year-old has some intriguing tools which could lead to him becoming a utility player, but registering less than 400 plate appearances the last two seasons has hurt his development a bit. It'll be interesting to see where Pinto starts the 2024 season. Pinto will be Rule 5 eligible at the end of the year, but the Jays shouldn't be too worried about him being selected.
Next Up:
In the next article, we'll cover a prospect who has some of the best raw power in the organization, so stay tuned!
---
In case you missed it…
---
As always, you can follow me on Twitter, Instagram, and Threads @Brennan_L_D.
---