Blue Jays Nation's Mid-Season Prospect Countdown – No. 33: Dasan Brown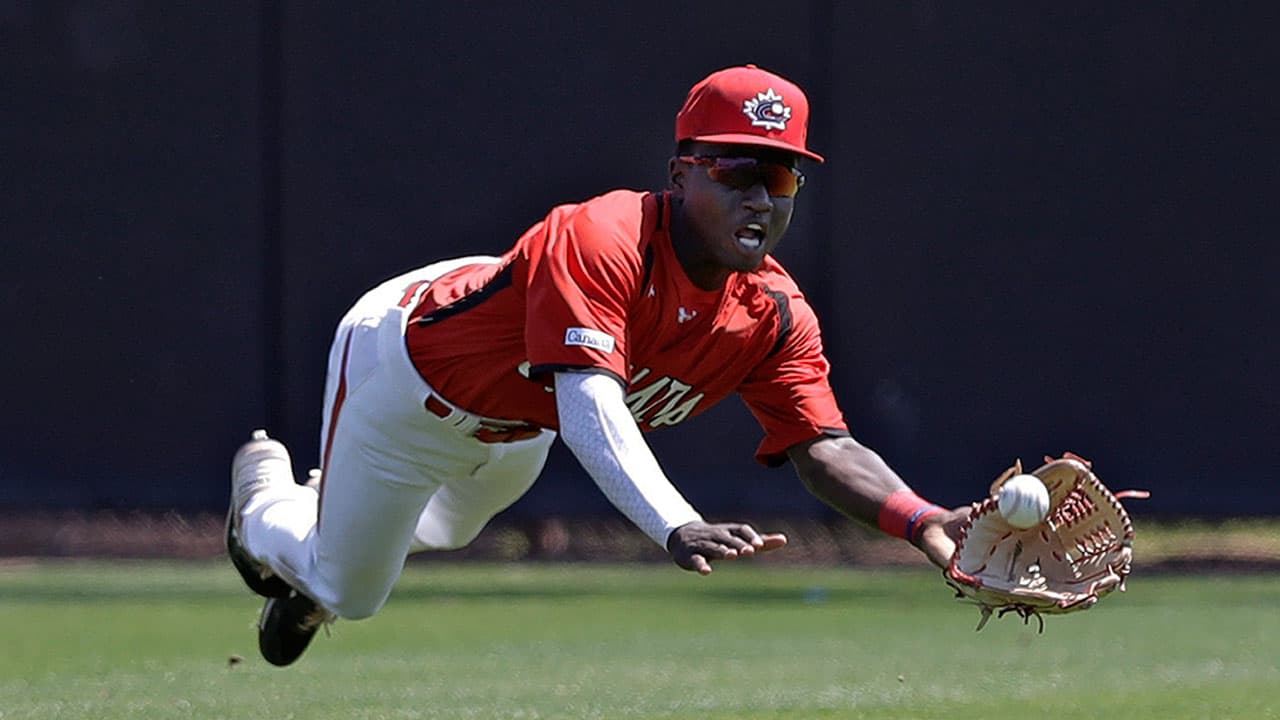 Photo credit:Chris O'Meara/AP
Is there a more intriguing "if this guy can figure it out" prospect in the Blue Jays organization?
Just a quick recap of the mid-season list: We'll look at the player's stats, my observations, and finally other publications (Prospects Live, MLB Pipeline, Baseball America)' scouting reports.
In this article, we'll look at the very toolsy Dasan Brown.
Getting to know Dasan Brown…
Position: Centre Field
Bats: Right
Born: September 25, 2001
Acquired: 3rd round, 2019 draft (Blue Jays)
Current Team: High-A Vancouver
Previous Ranking: 27
After a breakout season in 2022, Brown has struggled in his repeat season in High-A. With the Vancouver Canadians, he's slashing .228/.316/.355 with seven homers in 408 plate appearances, along with an 8.8 BB% and a 24 K% for an 80 wRC+.
Brown spent the 2022 season with the Dunedin Blue Jays and the Canadians. With the Single-A team, he slashed .279/.369/.450 with four homers in 162 plate appearances, along with a 10.5 BB% and a 27.8 K%. With the Canadians, he slashed .298/.392/.411 with two homers in 176 plate appearances, along with an 8 BB% and a 28.4 K% for a 130 wRC+. However, Fangraphs doesn't include the three home runs he hit in the three playoff games the Canadians played in.
Despite being in the organization for five seasons now, Brown is still only 21 years old, meaning that there is still time to figure it out. Last season, he showed the ability to hit for average, as he batted .283 in 260 plate appearances. He also showed improved power, hitting nine total home runs if you were to include the playoff homers.
On top of that, Brown has 80-grade speed, as he's stolen 24 bases in 34 attempts this season, but may need to improve his decision-making when stealing bases. His speed also helps him track down balls in centre field while also having an above-average arm.
He showed glimpses of what he could be in 2022, but he'll need to make adjustments to his game as he makes it to the upper minors. The strikeout rate has dropped in 2023, but it's still a bit too high. Moreover, he has the speed, but the base stealing instinct still needs work.
With that being said, if Brown can figure it all out, the sky is the limit for the Canadian-born outfielder.
Next up…
In the next article, we'll look at one of the best pure hitters in the organization.
---
In case you missed it…
---
As always, you can follow me on Twitter, Instagram, and Threads @Brennan_L_D.
---