Blue Jays Nation's Mid-Season Prospect Countdown – No. 48: Michael Dominguez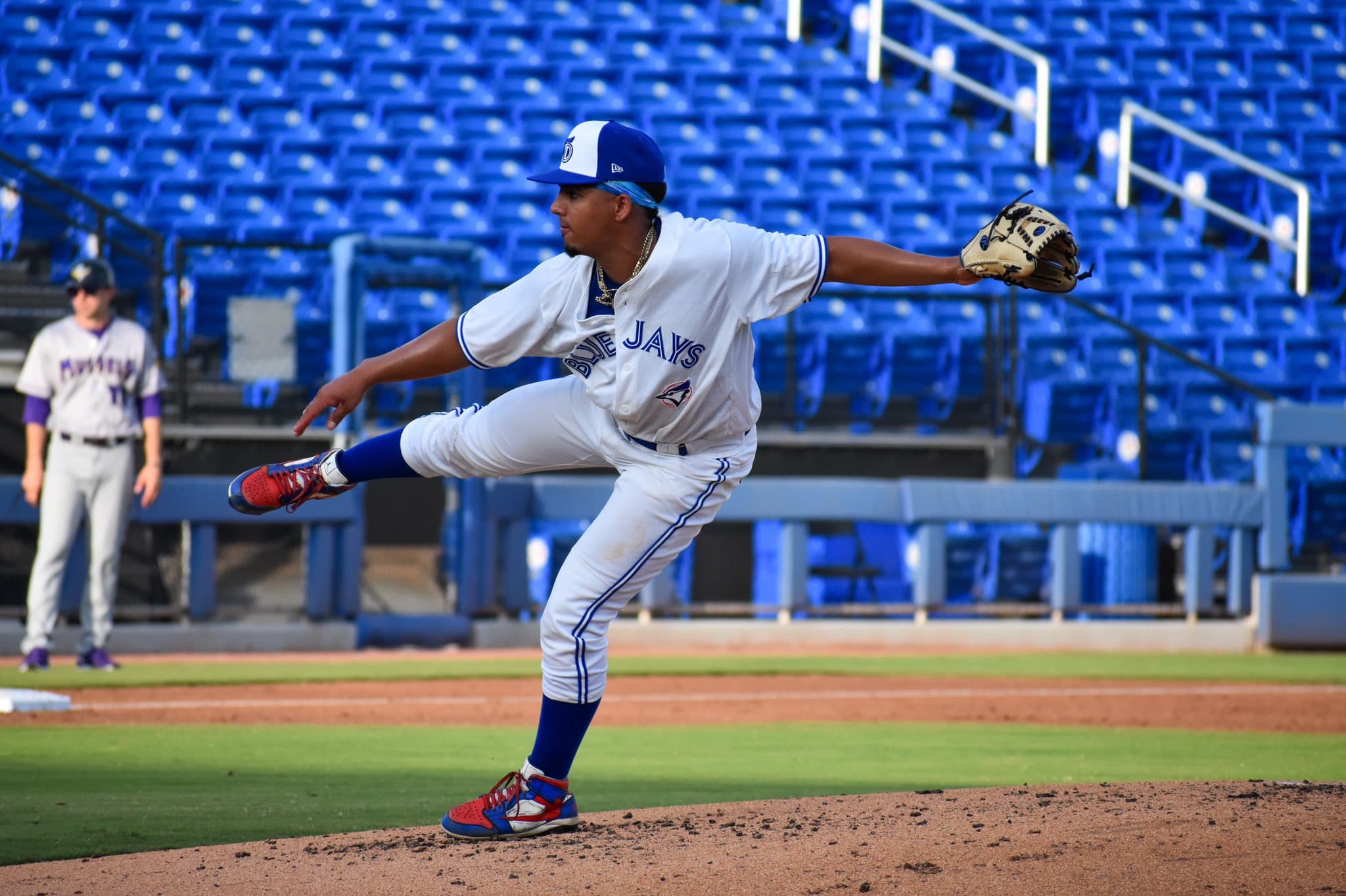 Today we'll look at a nasty starting pitcher for the Blue Jays Nation's Mid-Season Top 50 list!
In case you've missed the first few articles, the mid-season list differs from the pre-season list, as I simply don't have the time to watch hours of video to write a report on players. So in these articles, we'll look at stats, my observations, and scouting reports from publications such as Prospects Live, Baseball America, and MLB Pipeline if available.
In this article, we'll look at Michael Dominguez.
Getting to know Michael Dominguez…
Position: Starting Pitcher
Throws: Right
Born: August 17, 2000
Drafted: 15th round, 2019 draft (Blue Jays)
Current Team: Double-A New Hampshire
Previous Ranking: 46
The 22-year-old starter was selected with the 447th overall pick (15th round) in the 2019 draft out of high school. He's had a solid season at the High-A level, where he has a 3.65 ERA and a 4.98 FIP in 66.2 innings pitched. Moreover, he has an impressive 28 K% and a 17.4 BB%.
While the command has been an issue for him in 2023, his previous high in BB% was just 10.5%, usually sitting around 8-9%. So it's safe to say this is a bit of an anomaly for the Virginia native.
Dominguez was recently promoted to Double-A, but repeated the High-A level. Last season with the Vancouver Canadians, he had a 3.64 ERA and a 4.07 FIP in 29.2 innings pitched, along with a 30.9 K% and a 9.8 BB%. So the penchant for striking out batters is certainly there.
What makes Dominguez so intriguing? Well, he has a nasty slider that has some nasty movement. On top of that, he also throws a harder cutter which yeah, is pretty darn good as you can see above.. Not just that, but it has a unique shape which generates a ton of swing and miss (45 whiff% in Dunedin last season). In fact, I gave that pitch a 60 grade in the pre-season report.
Dominguez's changeup is also a solid offering as it has some late vertical break, using it mainly against left-handed batters. His fastball is the worst of the three pitches as it sits in the low-90s and has touched a tick under 95 mph, although it looks pretty good here.
His ceiling is likely that of a back-end starter, especially if he gets his command and control back in the future. However, his slider/changeup/fastball mix would also fit nicely in a bullpen, which could see a jump in fastball velocity as well.
Next up…
We'll be sticking with pitchers in the next article, as we'll look at a pitcher who transitioned from a starter to a bulk reliever role in 2023.
In case you missed it…
---
As always, you can follow me on Twitter and Instagram @Brennan_L_D.
---