Blue Jays Notes: Bo Bichette could return Friday, Sportsnet broadcast critical of John Schneider's lineup decisions, and more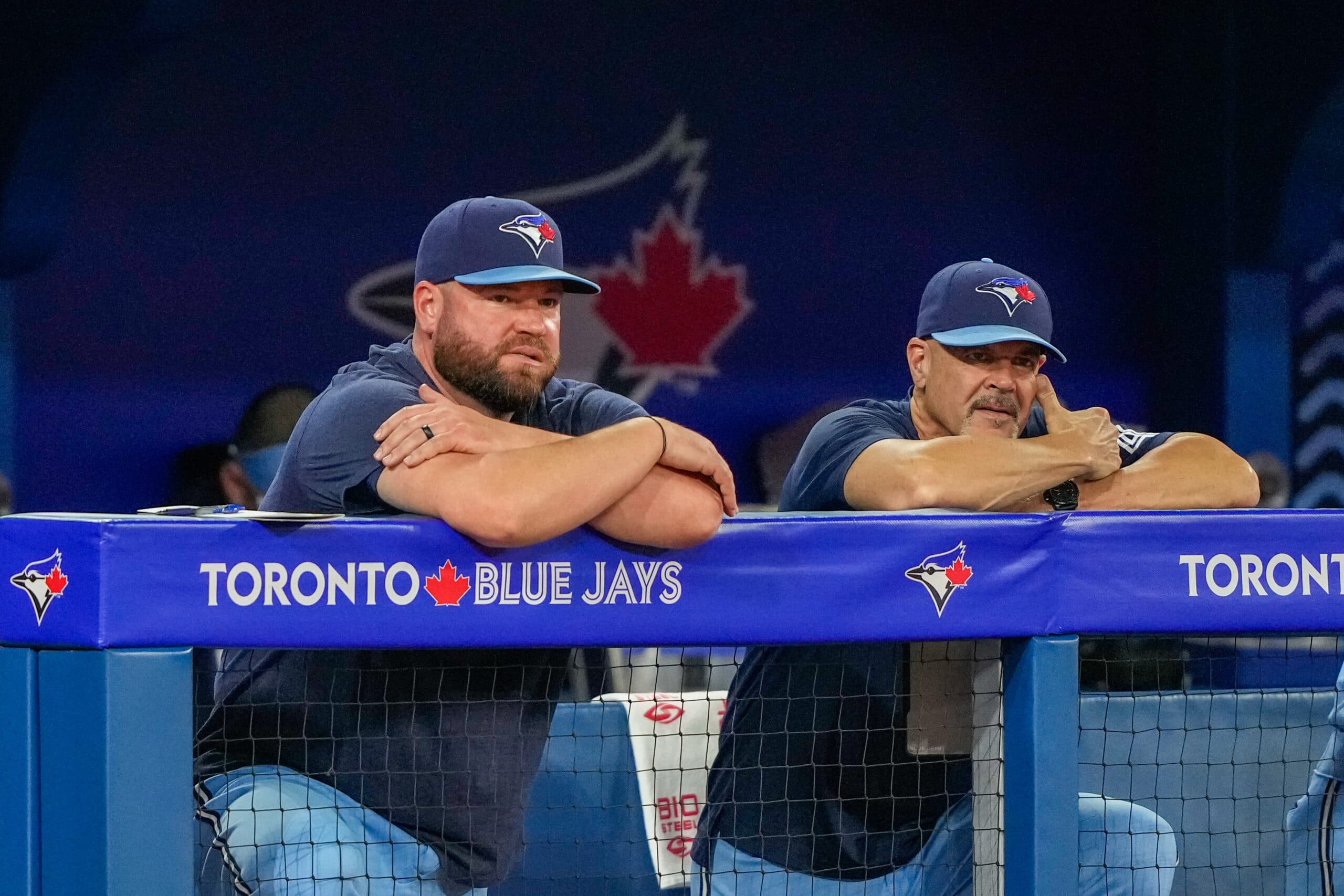 Photo credit:Kevin Sousa-USA TODAY Sports
The Blue Jays are eyeing a sweep of the A's on Wednesday afternoon but it hasn't been the stress-free week in Oakland many were hoping for.
Toronto edged out a 6-5 win in extra innings in the series opener on Monday and then finally broke out of a 0-0 deadlock in the seventh inning of Tuesday's game with a six-run rally. It was nice to see the bats wake up after watching Ken Waldichuk lower his ERA from 5.92 to 5.63 over six scoreless.
They don't ask how, they only ask how many, right? Well, not always.
Following Monday's extra-innings win, Sportsnet analysts Jamie Campbell and Caleb Joseph were critical of John Schneider's decision to keep Davis Schneider out of the starting lineup. The rationale from the Blue Jays came down to matchups and analytics while Joseph argued that the team needs to play their hottest hitter.
"Given what [Davis Schneider] has done at the plate lately, how do you leave him out of the lineup?" Campbell asked.

"The matchup I want is my hottest and best hitter playing period against any pitcher," Joseph replied. "The dude has mashed, he has come up and hit and hit and hit and he's made adjustments. When the league started to pitch up to him, he made the adjustment starting to hit that pitch."
Schneider, the 28th-round pick of the Blue Jays from the 2017 draft, has been one of the biggest stories on the Blue Jays this season. The 24-year-old came up from Triple-A Buffalo in early August and has had one of the best starts to a career in Major League Baseball history with a batting average of .381 and an OPS of 1.310 after 19 games.
Also part of this story has been his playing time. Schneider went 9-for-13 with two homers during his first series against the Red Sox but cooled off and went 0-for-9 when the Blue Jays played in Cleveland. After that, Schneider started in just two games over the next two weeks while the Blue Jays played the Cubs, Phillies, Reds, and Orioles.
Schneider drew back into the lineup after a listless home loss to the Guardians and went 3-for-3 with a home run in the first inning. Since then, he's played every day with the exception of the opener in Oakland and has gone 10-for-30 with two home runs and five doubles.
The book on Schneider is that he
struggles with fastballs up high
and the data is telling the Blue Jays to shield him from pitchers who can elevate with good velocity. But considering Schneider has consistently managed to rake when playing each game in the absence of Bo Bichette and Matt Chapman regardless of who's throwing the ball, it seems that the aforementioned shielding isn't really necessary.
At this stage in the season, the Blue Jays should probably be riding whatever hot hand they have rather than worrying too much about matchups. They have lighting in a bottle with Schneider and they might have left some of that magic on the bench during those two weeks trying to craft perfect situations for him.
Bo Bichette could return from the Injured List as early as Friday
Speaking of Bichette, Arden Zwelling reported on Wednesday that the shortstop could return to the Blue Jays as early as Friday. Bichette was placed on the 10-day Injured List with a quad strain retroactive to August 28, so he's nearly eligible to be activated.
Ernie Clement has done well at short in Bichette's absence. He's played sound defensively and has gone 11-for-28 with a home run and five runs driven in. The Blue Jays have also benefitted from Santiago Espinal stepping up with Bichette on the IL. He's gone 9-for-16 with some clutch RBIs over the past week.
Chris Bassitt matches a club record held by Roger Clemens
The star of the game for the Blue Jays on Tuesday in their 7-1 over the A's was Chris Bassitt, who allowed only one earned run over eight innings against his former team.
It was the second consecutive start in which Bassitt has gone eight innings and he now sits sixth in all of baseball with 173 1/3 innings pitched this season. Bassitt now leads the American League with 14 wins, one ahead of New York Yankees ace Gerrit Cole.
Another interesting note from MLB.com…
"The right-hander notched his ninth start of at least six scoreless innings, the most in the Majors this season and tied with Roger Clemens (1997) for the most such starts in a single season in franchise history."
---