Blue Jays Phillies recap – Orelvis Martinez is showing similarities to Vlad Jr. when he was a prospect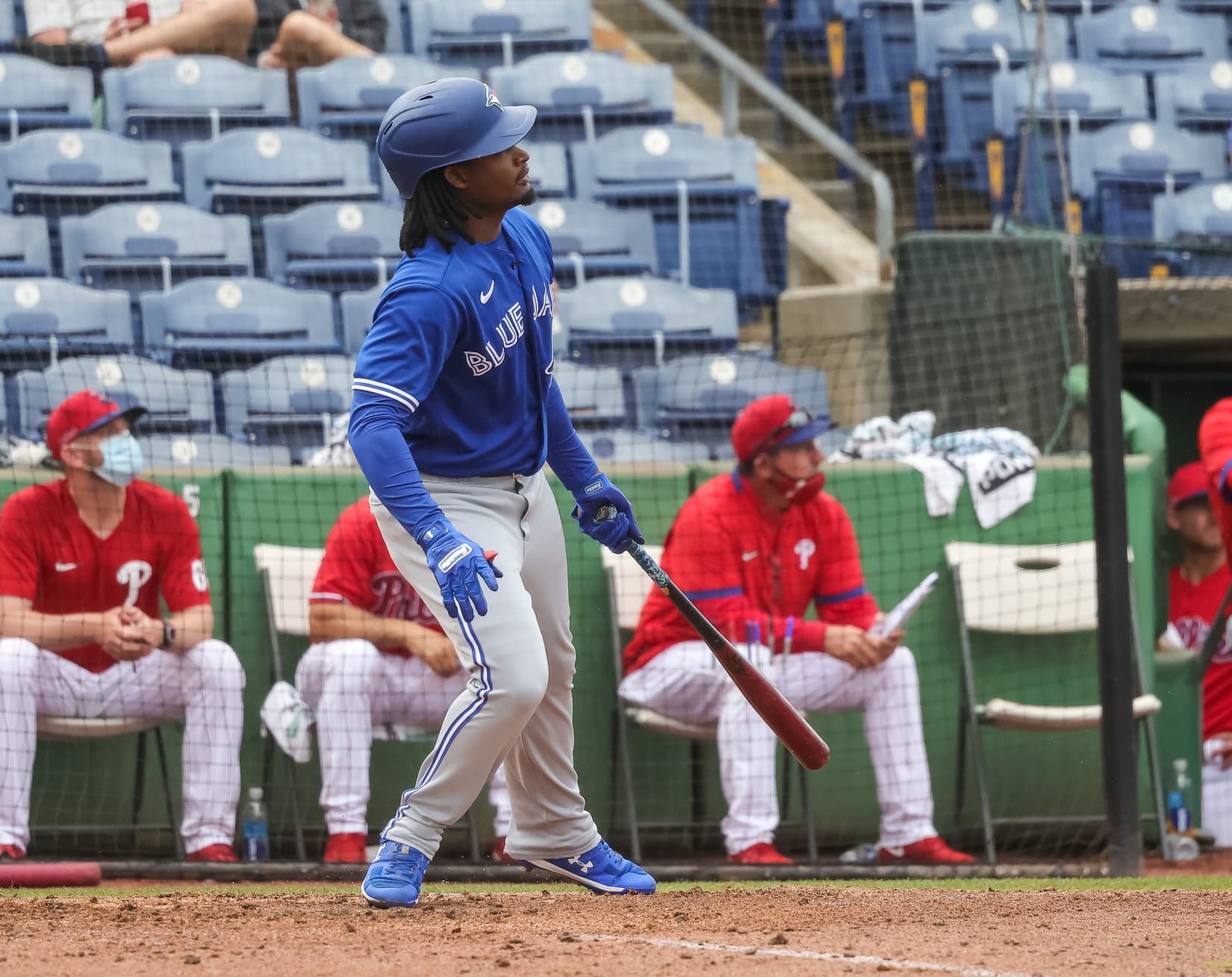 Photo credit:© Mike Watters-USA TODAY Sports
The Jays and the Phillies played on Saturday afternoon, with the Phillies winning by the score of 3-2. Thankfully, Spring Training is more about what we see, rather than results, and we saw a lot of positive signs.
My editor said if anything
notable
happens, I can write about it. So here are some notable things that happened.
Orelvis Martinez, potentially generational:
I said something on Twitter that got me roasted quite hard. I called Orelvis Martinez (and Gabriel Moreno) generational. 
While I'll take a step back and say these two prospects are
potentially
generational, you can see my enthusiasm. The 20-year-old Orelvis Martinez, who had never seen a pitcher above High A, went deep off of Aaron Nola.
Keep in mind that Aaron Nola is a pretty darn good pitcher, as he finished as a Cy Young nominee in 2018 and got votes in 2020. The fact that a 20-year-old who missed a year of development in 2020 went deep of a big league pitcher is pretty damn impressive. It had an exit velocity of over 105 mph.
The two aspects of his game that are holding Orelvis Martinez back from being generational are his defense (we'll get to that) and his high chase rate. This includes the off-speed stuff and even changeups. To me, the home run wasn't the most impressive part of his at bat, it was the ability to take a tough pitch.
He also made a pretty nice defensive snag on a single, which would have gone for extra bases if not for the play. In 208 innings between Low and High A, Orelvis committed 6 errors at third base. In his 550 innings at short, he committed 20. The 20-year-old is expected come the 2024 season, a year after Chapman's contract is done. I think we know where Orelvis Martinez should be playing.
To me, Orelvis reminds me of Vladimir Guerrero Jr when he was coming up. In fact, even Vlad sees the similarities with their swings and as we know, Vlad has a pretty darn good swing.
They both played third base and both had power to the moon. Vlad had (and has) a better eye at the plate and was the better overall hitter, but in my opinion, Martinez could be the best Jays prospect since Vlad Jr.
Speaking of Vlad:
Before the lockout ended, I mentioned that I would not get a haircut until Vlad Jr hit a home run. Now, I got a haircut shortly after the lockout ended, solely for the expensive meme. As my fellow BJN writer, Brendon Kuhn, broke the Springer signing in a barbershop. 
Had I not got it then,  I'd be driving to the local barber shop and getting it right after the game. On an 0-2 count, Vlad absolutely smashed a ball nearly over the concourse in left field. He's about to hit 70.
It's only spring training, but there are signs of how good this team could be for years.
As always, you can follow me on Twitter @Brennan_L_D. If you like prospects, I should be covering them once a week come the start of the minor league season, so stay tuned!