Blue Jays Pitchers got Roughed up, but the Minor League Starters had a Great Day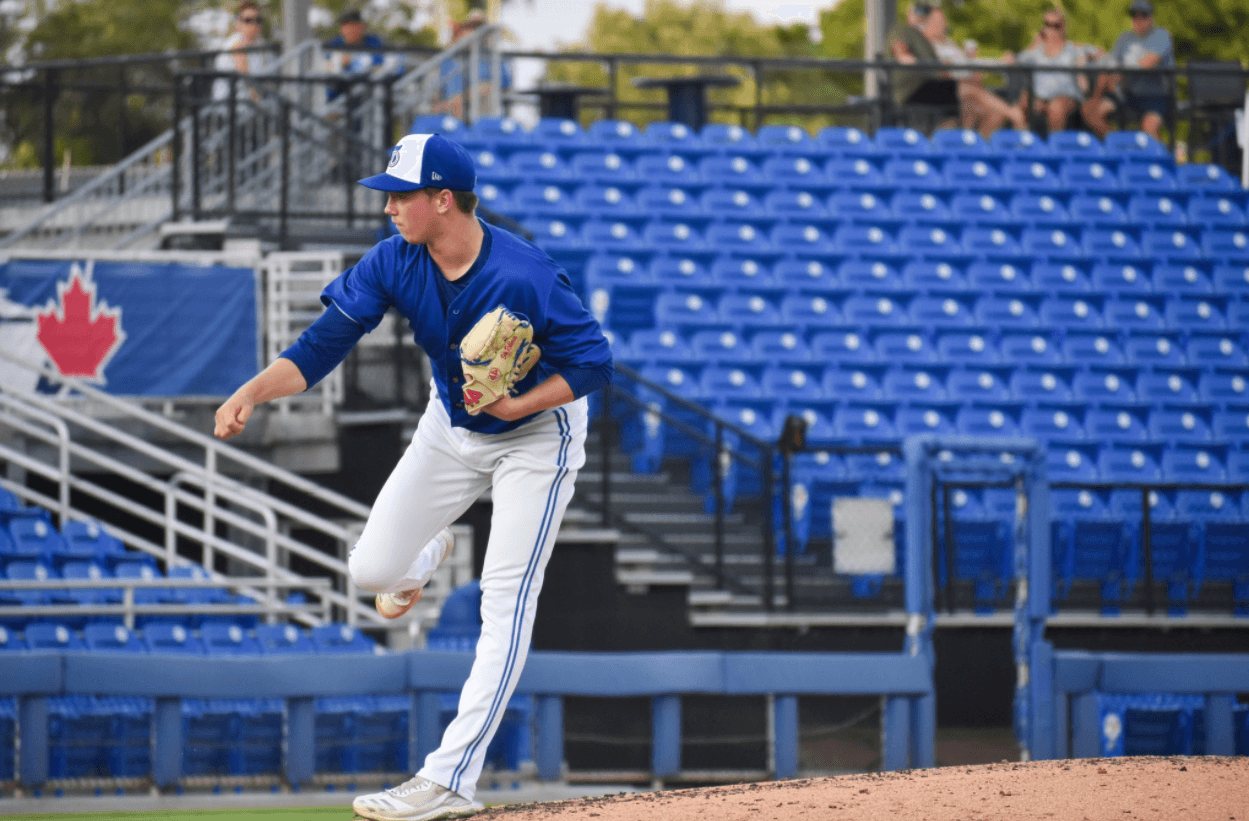 Let's be real, the game on Sunday sucked. That's not to say that there weren't some positives in the Blue Jays organization.
Pitching let the team down against the Rangers. However, there were five minor league pitchers, all but one a starter, who had fantastic days. 
In fact, at one point if you had combined the stat line of the three starters from Triple A, Double A and Low A, their line would have read
10 IP, 0 H, 0 ER, 3 BB, 21 K
Nick Allgeyer:
Starting with the highest level, Nick Allgeyer had himself a fine day with Buffalo. The 26-year-old had a line of
5 IP, 2 H, 1 ER, 1 BB and 7 K
. Allgeyer had a no-hitter heading into the fourth inning before a sharp single ended that bid.
In the fifth, he gave up a homer, the only hard contact he allowed all game. Although he pitched himself a nice game, he was given a no decision as the Bisons offense only scored two.
If there are injuries to pitchers in the starting rotation, there's a good chance that Allgeyer or Bowden Francis (who pitched Saturday) would be the first minor league starters to be called up.
Allgeyer is a pitcher to keep an eye on, because he
could
be a back-end of the rotation starter.
The leftie's season ERA sits at 0.82.
Hayden Juenger:
Hayden Juenger is a 21-year-old right handed pitcher. There's a chance you've never heard of him, as he was recently drafted in the 2021 MLB draft. In 2021, he pitched in relief in all 20 innings he pitched in. Juenger had a solid 2.70 ERA in 2021, but his 34 strikeouts to 4 walks was incredible.
Pitching for the Double A New Hampshire Fisher Cats, Juenger had a successful first outing, with a line of
3 IP, 0 H, 0 ER, 1 BB, 7 K,
which is a promising sign for a player that didn't make my top 20 list. 
Out of his 121.2 innings pitched, or 72 games, between college and professional ball, he had only started three of those as an 18-year-old at Missouri State. I'm interested to see if the Jays plan to stretch Juenger out, but I liked what I saw from him on Sunday.
Juenger's season ERA sits at 0.
Paxton Schultz:
Sticking with Double A, Paxton Schultz took over for Juenger. Paxton was slated to start, but I guess the Fisher Cats wanted Juenger to pitch first time through the order. Despite that surprise, Paxton had a successful afternoon with the line of
4 IP, 2 H, 0 ER, 0 BB, 5 K. 
He didn't particularly stand out with the Vancouver Canadians of High A in 2021, but this is a solid start for the 24-year-old righty.
Like Juenger, Schultz's season ERA sits at 0.
Sem Robberse:
Moving on to High A, the Jays #5 prospect (according to me) pitched a solid game for the Vancouver Canadians. The Dutchman's line was
5 IP, 6 H, 3 R (2 ER), 0 BB, 3 K.
After finishing 2021 with the Canadians, the 20-year-old has an opportunity to potentially reach Double A this season. In fact, Robberse has already shown improvement, as his BB/9 with Vancouver sat at 5.23 last season.
This was a good first start for the young pitcher, as
Robberse's season ERA now sits at 3.60.
Rafael Ohashi:
I excluded him from my "pitching prospects that didn't make the list", but today's performance definitely put his name on my radar. The 19-year-old had a line of
4 IP, 0 H, 0 ER, 2 BB, 10 K,
which is pure domination.
Between Rookie Ball and Low A last season, Ohashi pitched 36.2 innings with a 5.40 ERA.  While he had a nice K/9 of 12.27, his BB/9 of 7.61 was quite worrisome. So the fact he only walked two batters while dominating pretty much everyone else is an encouraging sign.
As he didn't allow a run,
Ohashi's ERA is still at 0.
Losing isn't fun, but the minor league starters did well:
Overall, the Jays don't have top tier pitching prospects. So it's a great sign that some prospects are trying to fill that role. Hopefully this cheers you up a little bit after a subpar performance against the Rangers.
If you enjoy more minor league content, I'll be doing a wrap up tomorrow about players of note. Furthermore, each night do a quick recap on Twitter about each of the games, so check that out!
As always, you can follow me on Twitter @Brennan_L_D. It was 6-3 when I went to get my car, when I checked the score again, it was 7-6. Then 12-6. Not a fun day, but thankfully there are 159 more games that the Jays can win.
---