Blue Jays, Position by Position: Infielders, and how to use that depth to use in a trade to improve elsewhere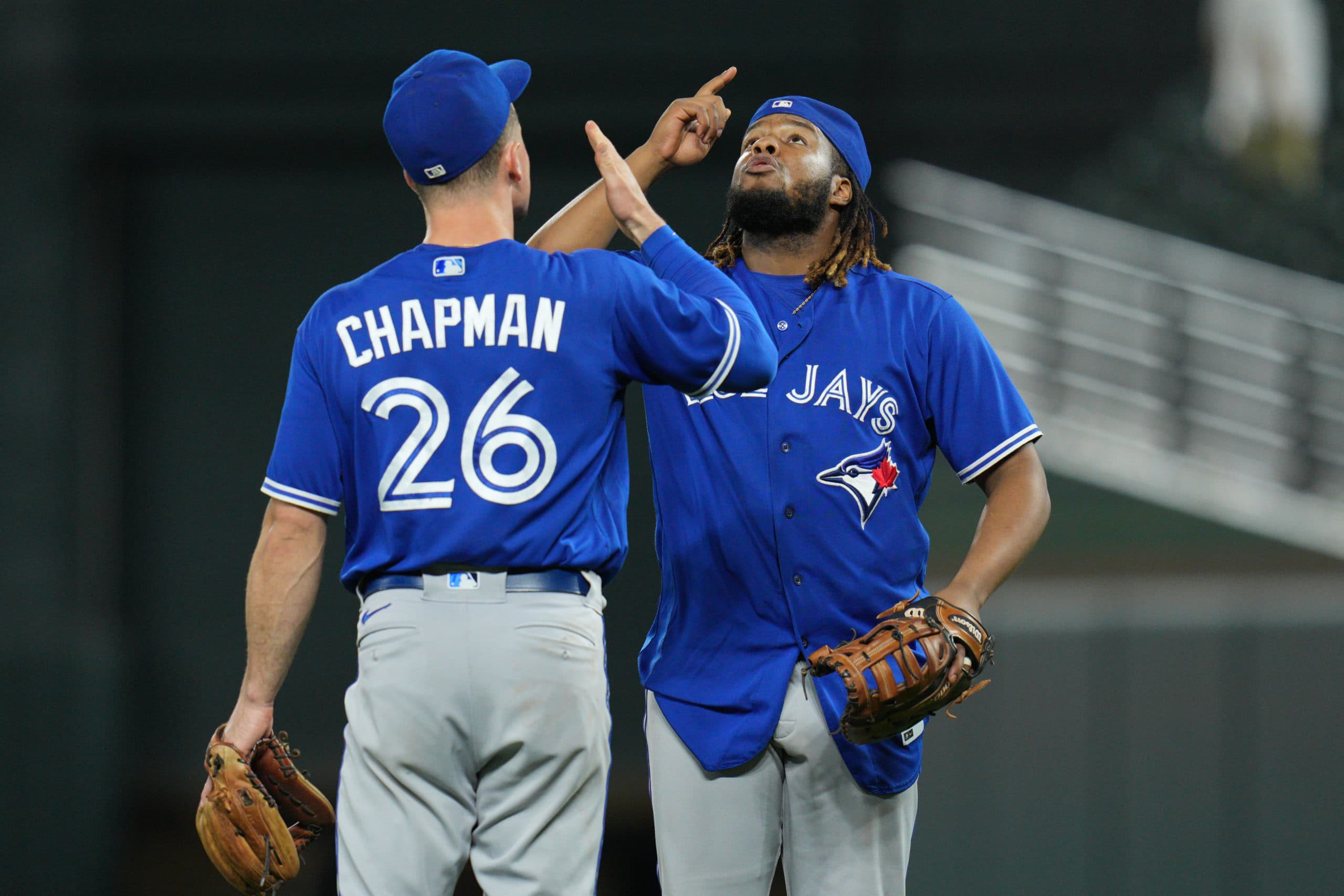 Photo credit:Jessica Rapfogel-USA TODAY Sports
I don't think it's a stretch to say that the Jays have one of the better infields in the MLB.
What makes them special? Well, there are two Blue Jays that have been nominated for a gold glove award, as well as one in the "utility" play position. Not just that, but one of the Jays' second basemen may end up finishing fourth in the award.
And that's just looking at defense. Most of the Jays' infielders also provide a ton of value with the bat as well. We'll look at the everyday starters, then the utility players, before diving into prospects for each of the positions. At the end, I'll give you my thoughts on what may happen as we head into 2023.
How did the Blue Jays infielders do in 2022:
First off, we'll look at the everyday players in the infield. This includes Vladimir Guerrero Jr., Santiago Espinal, Bo Bichette, and Matt Chapman.
Vladimir Guerrero Jr.
Guerrero, who I'll refer to as "Vlad" in this article, was one of the best hitters on the Jays this season. The 23-year-old slashed .274/.339/.480 with 32 homers in 706 plate appearances. He had a below-average 16.4 K%, but tied his career low in BB% at 8.2%. Vlad finished with a 132 wRC+, tied with George Springer for the Jays (sorry Jansen, you didn't qualify).
As good as his season was, Vlad declined from his 2021 self. Playing the first half of the season in minor league ballparks, Vlad slashed .311/.401/.601 with 48 homers in 698 plate appearances. His 12.3 BB% was well above his career high of 8.9% he set in his rookie season. His K% also sat at 15.8%, below his 2022 percentage for that number.
Unlike in 2021, Guerrero will likely not finish as a Most Valuable Player candidate, but that doesn't mean he doesn't have a chance at silverware.
Vlad had a 3 Defensive Runs Saved and -4 Outs Above Average at first base this season. While it's nearly impossible to use those metrics for a first baseman, Guerrero was nominated for the American League Gold Glove at first base.
Santiago Espinal:
Espinal was the player that could have gotten a Gold Glove nomination but just missed out, which I think was the right decision.
The 27-year-old infielder slashed .267/.322/.370 with seven homers in 491 plate appearances. A contact hitter, Espinal only had a 13.8 K% and a solid 7.3 BB%, all for a wRC+ of 99. Espinal only had an 86 wRC+ in 363 plate appearances against right-handed pitching in 2022.
However, he had 137 wRC+ against lefties in his 128 plate appearances, while owning a batting average over .300. It would seem reasonable to me if Espinal stays with the Jays, he could be used in a platoon against left-handed pitching.
Overall, his 99 wRC+ is ever so slightly below average, but once you factor in he's your ninth hitter
and
he has well above average defense, you can see why he had a 2.3 fWAR.
His 4 DRS ranked sixth amongst qualified second basemen in the league, and fifth amongst American League second basemen. In terms of DRS, he trailed Andres Gimenez (16), Marcus Semien (13), Gleyber Torres (9), and Jonathan Schoop (8). 
However, his 10 OAA ranked third amongst second basemen, trailing just Schoop (who had an absurd 27 OAA) and Andres Gimenez (12 OAA). Semien had an 8 OAA, so it's understandable why he got the vote over Espinal, but that doesn't mean that Espinal's defense isn't… Espicinal (exceptional).
Bo Bichette:
If you had to find the one guy that doesn't provide Gold Glove defense… sadly it's Bo Bichette. However, his bat alone makes him a fantastic player.
Although he struggled with consistency up until late August, Bichette finished the season slashing .290/.333/.469 with a 5.9 BB% and a 22.2 K% in 697 plate appearances. This led to a wRC+ of 129, the highest in his career since his rookie season in 2019 (in a much larger sample size).
The next step Bichette has to take with the bat is consistency. On August 20th, he was slashing .256/.295/.420 with 17 homers in 511 plate appearances. That led to a 103 wRC+, which is slightly above average, and not what you'd expect from a guy who was nominated for a silver slugger in 2021.
Side note, that just puts into perspective just how insane he was to finish the season. From August 21st to the final day of the regular season, Bichette slashed .386/.435/.608 with seven homers in 186 plate appearances. That was good enough for a 200 wRC+, which likely isn't sustainable over a full season, but if not for Bichette appearing in September, the Jays may not have made the playoffs.
Bichette also needs to take a step defensively in 2023. To put it simply, his -16 DRS and -7 OAA were quite terrible, along with a -15.4 UZR, stemming from errors. Thankfully, it seems like it is more of an internal clock issue, as he's rushing his throws and making errors. Over time with more experience, these problems should iron out.
Matt Chapman:
Sticking with the defense to interlude into the stats, Chapman's Gold Glove nomination may have been one of reputation, just like Sean Murphy's was for the Gold Glove at catcher.
We'll start with the bat though, as Chapman slashed .229/.324/.433 in 621 plate appearances. He had 27 homers (the same as last season), but dropped his K% from 32.5% to 27.4%. Chapman also drew his fair share of walks, finishing with an 11 BB%, the second highest in his career, but down from his 12.9 BB% in 2021. Overall, Chapman rebounded nicely with his bat, and that was reflected in his 4.1 fWAR.
What I find most interesting is how Chapman's defensive stats didn't quite love him in 2022. Chapman had 2 DRS and 1 OAA, which tied for a career low set in 2020. However, he only played 304.1 innings at third that season (both DRS and OAA are counting stats), and he also needed hip surgery at the end of the year.
Was his drop in DRS and OAA due to a drop in range? Was it due to the lack of foul ground at Rogers Centre? Was it mental? Was it the turf? I have no idea, but his DRS of 10 in 2021 dropped significantly, and so to did his 17 OAA in the season prior.
Whatever it is, hopefully he can combine both the bat and the defense and have an even better season in the final year of his deal.
Cavan Biggio:
Now moving on to the utility players who are also infielders, and first up we have Cavan Biggio. If you're a long-time reader of mine, you probably know my thoughts on Biggio. While I like him and like what he offers, he's a super utility player to me, and shouldn't be an everyday starter.
With the bat, he slashed .202/.318/.350 with a 12.5 BB% and a 28.1 K% in 303 plate appearances, good enough for a 97 wRC+. Despite his below-average numbers, he did post a 1.3 fWAR, which is quite nice. Biggio could be used as the lefty bat in a platoon, as he had a 103 wRC+ against righties in 2022, which is above average.
While his bat leaves some to be desired, especially since his rookie and sophomore seasons, Biggio has filled the super-utility role to perfection. In 2022, he played a second base (0 DRS, 7 OAA), first base (2 DRS, 0 OAA), right field (0 DRS, 1 OAA), and left field (0 DRS, 0 OAA). He also played some third base on the final day when it didn't matter, but I only include that so I can highlight this amazing prediction.
So while I find it hard to believe that Biggio will find his 2019 and 2020 form, I still believe he provides a ton of value with his ability to defend four different positions pretty well. Not just that, but he stepped in at first base so that Guerrero could DH, and sort of became the regular backup defender at the position.
Whit Merrifield:
Looking at his overall numbers in 2022, he wasn't that great. He slashed .250/.298/.375 with 11 homers in 550 plate appearances. Merrifield had a 1.5 fWAR, below his 3 fWAR from the season previous.
If we just look at his tenure with the Jays, another story emerges. With Toronto, Merrifield slashed .281/.323/.446 with five homers in 130 plate appearances. With the Royals, he had a 0.7 fWAR in 420 plate appearances, but that rose to a 0.8 fWAR in much fewer opportunities for it to be higher. Furthermore, Merrifield had a 119 wRC+ with the Jays.
Like Biggio, Merrifield also plays his fair share of positions as well. He's a natural second baseman (-4 DRS, 3 OAA), but has played first base (0 DRS, 0 OAA), left field (0 DRS, 0 OAA), right field (-1 DRS, 1 OAA), and centre field (-2 DRS, 1 OAA).
When they traded for him in early August, it was likely to fill in at centre field and right field, as Springer's health was in question. However, by the end of the season, Whit became the everyday second baseman due to Espinal's injury and his performance.
If the Jays can get the 119 wRC+ Merrifield as a utility player/platoon option at second base, this offense is going to get even better.
Prospects at each position:
Now let's rattle off the readiest prospects at each position, as well as some honorable mentions. I won't include utility players here, but quite a few of these guys play multiple positions, which I'll denote in their section.
First base:
Realistically, prospects at first base are sort of blocked unless they play a second position, which a few do.
Spencer Horwitz: 
The readiest Jays prospect at first base, the 24-year-old first baseman slashed .297/413/.517 in 281 plate appearances with the New Hampshire Fisher Cats. He hit ten homers and posted a 155 wRC+ in that short span, which also saw him walk 15.3% of the time while striking out 19.2% of the time.
Upon his promotion to Triple A, he slashed .246/.361/.363 with two homers in 202 plate appearances. His BB% sat at 14.9%, while his K% sat at 20.3%, for a wRC+ of 101. It's my assumption (and purely an assumption) that Horwitz was playing injured.
 At one point, his thumb was acting up and he missed about a week before returning. He also finished the season on the injured list and has joined a Dominican Winter League team, despite being Rule 5 eligible in December.
When he's on, he has one of the best hit tools in the entire organization, and he also has raw power. The Jays have played him in left field, where he doesn't look out of place.
Rainer Nunez:
The first baseman absolutely smacks the ball. He was the only Dunedin Blue Jay with an exit velocity topping 110 mph, which he did five times. He also won the Low A batting title and was quite impressive upon his promotion to Vancouver. Interestingly, the 21-year-old first baseman is teammates with Spencer Horwitz in LIDOM. Nunez is also Rule 5 eligible in December.
LJ Talley:
The 25-year-old had a sneaky good season in Triple A. He slashed .285/.350/.437 with eight homers and a K% of 19.2% and a BB% of 7.9%. He also finished the season on a tear, slashing .292/.353/.491 with an 18.7 K% and 7.2 BB% in his final 235 plate appearances, which was good enough for a 121 wRC+. Talley also played some second base and third base. He's Rule 5 eligible, but keep an eye on him.
Second base:
The Jays have a thing for taking second basemen, and converting them to play multiple positions. They did this with former Blue Jay prospect,Samad Taylor, but they've also done it with these prospects…
Otto Lopez:
Starting with the most ready prospect, Lopez slashed .297/.378/.416 in 391 plate appearances in Triple A Buffalo. He was also able to draw walks with a 10.5 BB% and limited strikeouts with a 15.6 K%. He didn't hit for a ton of power (only hitting three homers), but Lopez is one of the best hitting prospect in the Jays organization.
In his career, Lopez has played all over the field, but only played at shortstop, left field, centre field and second base in 2022.
Davis Schneider: 
Next to a shortstop we'll cover soon, Schneider had the most rapid ascent in the organization in 2022. With Vancouver, he slashed .229/.354/.459 with eight homers and a 15.3 BB% and 26.5 K% in 189 plate appearances. In Double A, he slashed .283/.368/.476 with six homers and an 11.6 BB% and 24.2 K% in 190 plate appearances.
Upon his promotion to Triple A, he slashed .233/.387/.400 with two homers and an 18.7 BB% and a 26.7 K% in 75 plate appearances. Schneider has a great eye at the plate, has pop, and can steal a few bases. Overall, just a very exciting rise for the 23-year-old.
Schneider mainly played second base and left field in 2022, but had a few innings at third base and right field.
Shortstop:
There's a shortstop in Triple A that I believe has a chance to make the MLB roster in 2022. He has risen to be a top prospect in the Jay organization with a fantastic 2022.
Addison Barger:
In 292 plate appearances with High A Vancouver, he slashed .300/.366/.558 with 14 homers and an 8.5 BB% and a 26 K%. He was promoted to Double A New Hampshire, slashing .313/.384/.528 with nine homers and a 9.1 BB% and 25.3 K% in 198 plate appearances.
He didn't slow down in Triple A Buffalo, slashing .355/.444/.677 with three homers, a 13.9 BB% and K% in 36 plate appearances. His lowest wRC+ was a 147 in Double A. Just a fantastic season from the 22-year-old.
I truly do believe the shorstop/third baseman may start his 2023 season on the big league team, depending on how he does in spring training.
Honourable mentions go to Vinny Capra and Rafael Lantigua.
Third base:

As mentioned in Chapman's section, 2023 will be Chapman's final season under contract with the Jays. While he may re-sign, it's not out of the question that he walks. If that's the case, who do the Jays have waiting in the wings to replace him?
Orelvis Martinez:
You know the story of Martinez. The 20-year-old in Double A only slashed .203/.286/.446 with a 96 wRC+ in 492 plate appearances. However, Martinez also hit 30 homers, the second most in all of Double A. Although he's played significant time at shortstop, he figures to play at third, which he certainly has the arm for.
The soon to be 21-year-old is Rule 5 eligible and will definitely be added, as his power tool is just so damn impressive. It's likely he starts his 2023 in Triple A.
Damiano Palmegiani:
Palmegiani is another prospect that raised his stock significantly in 2022. In Low A, he slashed .256/.351/.508 with 11 homers in 228 plate appearances. Despite hitting for power (141 wRC+),  Palmegiani had a solid 20.6 K% and a 10.1 BB% in Low A.
The 22-year-old was promoted to High A, where he slashed .224/.335/.443 with 13 homers in 272 plate appearances. His BB% rose to 11.4%, while his K% sat at 22.1%, solid numbers.
The third baseman/first baseman has an impressive swing and tons of raw power. It's possible he starts his 2023 season with Double A New Hampshire.
What could happen:
The question is, what could the Jays do with their infield to make it better? It's not a hot take to say that Chapman, Bichette and Guerrero have their places on the roster secured. I also think the Jays will use Merrifield as their primary second baseman. So what happens to Cavan Biggio or Santiago Espinal?
I don't think it's impossible that one of the two players are traded this off season. Both have enough value to bring back a solid reliever, while both are replaceable. Otto Lopez, Spencer Horwitz, and Addison Barger could easily fill in if one of Espinal or Biggio are traded.
The second base depth is one of the Blue Jays strengths heading into the off season, and it's not out of the question to see them use that depth to improve other aspects of their team.
Either way, the Jays may come into 2023 with one of the best infields in the league!
As always, you can follow me on Twitter @Brennan_L_D.
---