Blue Jays Rehab Recap: Mitch White struggled again, Adam Cimber pitched a clean inning, and more!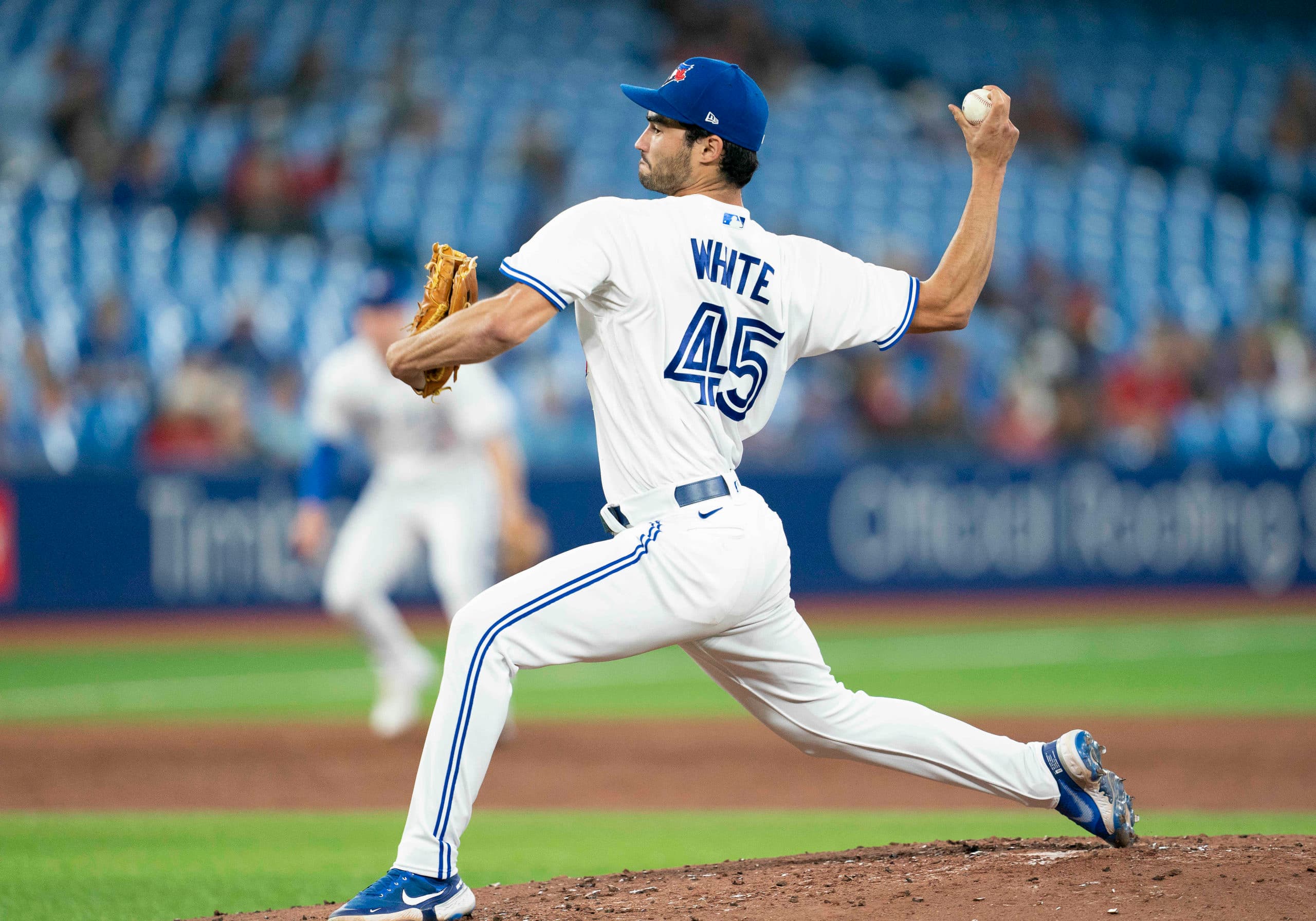 Photo credit:Nick Turchiaro-USA TODAY Sports
There's some good, and some bad in this article.
The Jays currently have two minor leaguers rehabbing with the Buffalo Bisons, while a pitcher who hasn't pitched since October 1st, 2021 returned to action. We also had a Blue Jays debut from a 2022 draftee, and although it's not a rehab assignment, it's worth mentioning in this article.
We'll start with the good news, as you can tell I'm somewhat of an optimist.
Adam Cimber pitched a scoreless inning:
On May 16th, the 32-year-old submarine pitcher appeared in his second game of his rehab assignment. Overall, he finished with a line of
1 IP, 1 H, 0 ER, 0 BB, 1 K.
As you can imagine, he did not throw very hard at all, averaging 86.9 mph on the fastball. Funnily enough, that was 2.3 mph faster than his major league average for the season.
As for his swing and miss data, he generated a single whiff on four total swings with his fastball, while generating a swing and miss on three total swings with the slider. The one swing he had on the sinker generated an exit velocity of 103.4 mph.
I'm not sure if this rhomboid injury is a phantom injury, but if we can get 2022 Cimber, or even better, post-trade 2021 Cimber, that'll be a huge boost to the bullpen.
Mitch White struggles once again:
Adam Cimber's appearance was great, Mitch White's… not so much.
Walter's cousin had a line of
4 IP, 4 H, 5 ER, 4 BB, 3 K, 1 HR
on Tuesday evening. It started off rough, with all five of those runs being allowed in the third inning. A lineout, a walk, a single, a groundout, a walk, a single, and a home run quickly put five runs on the board, and the Bisons' lead evaporated.
His next three innings were pretty clean, with a single walk being the only base runner. Furthermore, he struck out the side in the sixth inning. However, he hit another rough patch in the seventh inning, walking his fourth batter of the game, and then allowing a double.
Despite leaving the game with runners on the corners and no outs, Jackson Rees struck out two and a runner was out trying to advance on a would be wild pitch, saving White from an even worse ERA.
As for the Savant Data, White only averaged 90.8 mph on the fastball, down 2.9 mph from the yearly average. In fact, I'm not sure if his velocity has returned to what it was in 2022.
With the time ticking, he has to show something in his last rehab outing, or he's a serious DFA candidate.
Fitz Stadler returns from injury:
The last time the 26-year-old right-hander pitched was October 1st, 2021.
He struggled in his 0.2 innings of working, giving up two earned runs, while walking three and striking out two. However, a prospect struggling after a long layoff isn't too much of a concern (look at CJ Van Eyk's first start).
Stadler's fastball ranged anywhere from 93.5 mph to 97.6 mph with around 15 or so inches of vertical break. He paired that with a mid-80s cutter, which ranged anywhere from 85.4 mph to 88.4 mph.
He reached as far as Triple-A in 2021, so it wouldn't be too surprising if we see him reach that level as he works his way back from injury.
Pat Gallagher makes his pro debut:
The Blue Jays drafted the 22-year-old pitcher in the 11th round of the 2022 draft. He made his professional debut on May 16th, pitching to a line of
4 IP, 5 H, 4 ER, 0 BB, 4 K.
The changeup was his best pitch, as he generated five whiffs on 13 total strikes. His four seam fastball had three total swings, but generated two whiffs, while his curveball only generated one whiff on six total swings. His sinker had seven total swings, but no whiffs.
As for his stuff, he averaged 89.8 mph on the sinker and 89 mph on the fastball, although he touched 91.8 mph and 90.3 mph respectively on those pitches.
Not the greatest of professional debuts, but the four strikeouts are encouraging!
As always, you can follow me on Twitter and Instagram @Brennan_L_D.
---