Blue Jays Rehab Recap: Mitch White struggles, a prospect hurls a gem, and more!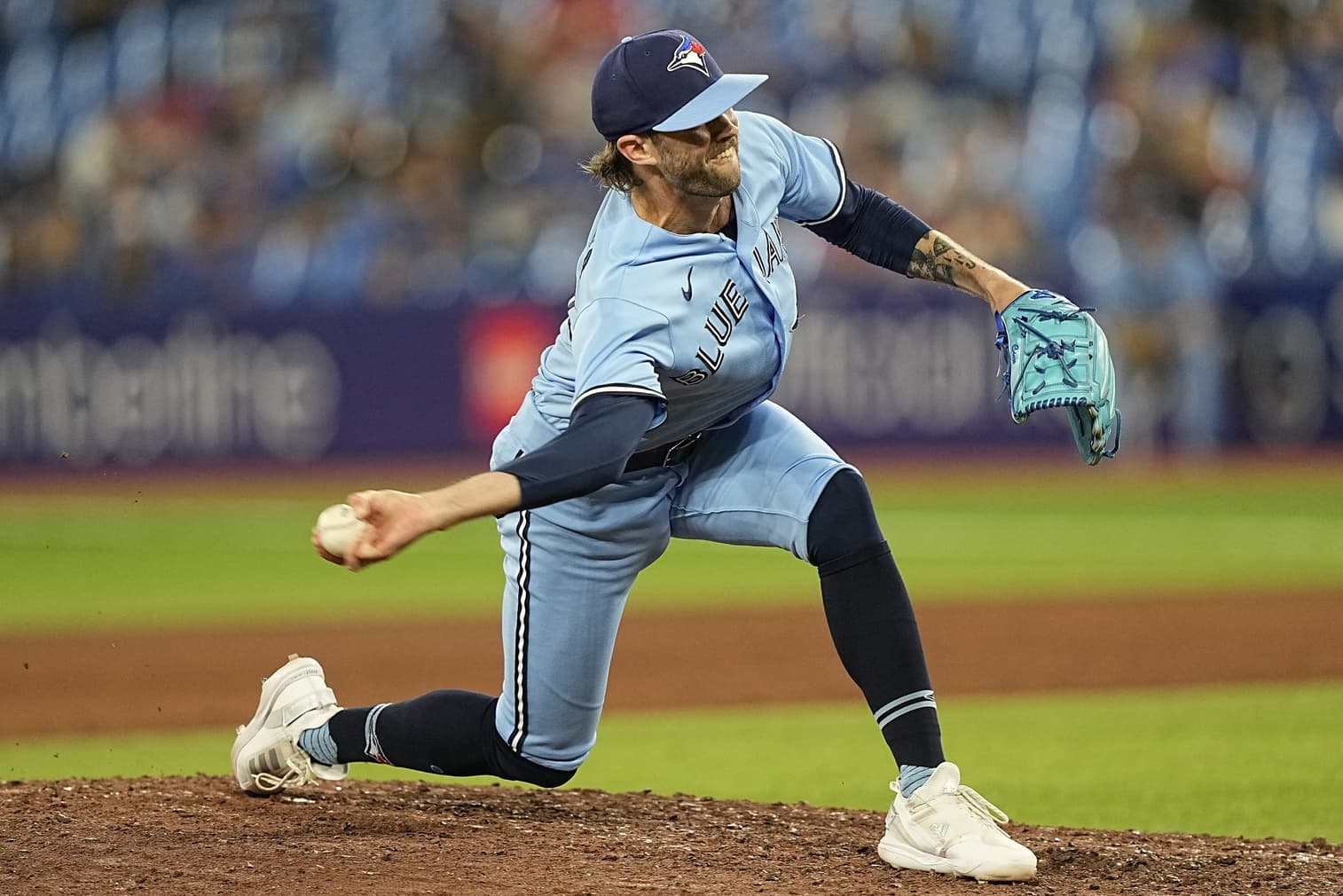 Photo credit:© John E. Sokolowski-USA TODAY Sports
Over the past few days in the minor leagues, there have been a few pitchers with rehab assignments.
In this article, we'll look at how big leaguers Adam Cimber and Mitch White did, along with CJ Van Eyk, who is returning from Tommy John surgery.
Adam Cimber's first rehab appearance:

As you likely know, the 32-year-old submarine pitcher made his first rehab appearance on May 11th. He finished with a line of
0.2 IP, 0 H, 0 ER, 1 BB, 1 K.
Recovering from a rhomboid injury, it's likely that Cimber was limited to 20 pitches, as he only threw 17 before getting the hook.
He threw 10 four-seam fastballs, averaging 86.3 mph and touching 87.3. Interestingly, this was actually 1.7 mph more than his yearly average in 2023. He also thre five slider, averaging 73.6 mph (0.7 mph below his yearly average).
Cimber also generated a single whiff on the fastball, finishing with a 13 whiff% on eight total swings. He got Ricardo Rosario to fly out to centre field (94.8 mph exit velocity). Before walking the next batter on nine pitches, and striking out the last batter he faced.
Overall, it was a fine appearance for Cimber. It's likely that he'll make a few more appearances on his rehab assignment, but I'd expect it to be with the Triple-A Buffalo Bisons.
Mitch White's fourth rehab appearance:
Sadly, Mitch White didn't have the greatest outing in his fourth appearance of the season. He finished with a line of
3 IP, 4 H, 4 ER, 4 BB, 2 K.
As you may recall, White hasn't had the most successful rehab assignment as it stands. Overall, he has a 7.45 ERA and a 7.11 FIP in 9.2 innings pitched with the Triple-A Buffalo Bisons. While his numbers were better in his Single-A appearance, 3.1 IP,  0 ERA and a 2.77 FIP, he didn't generate many whiffs against much younger batters.
Despite the four walks and four earned runs, White actually got some swings and misses in Friday's appearance. On his fastball, he had 15 total swings, four of which were whiffs. The Changeup got two whiffs on eight total swings, while the sweeper got one whiff on four total swings. The curveball got a swing, but no miss. Overall, he finished with a 25 whiff%, which is on the low side, but encouraging compared to his first two appearances.
As for his fastball velocity, it averaged 92.1 mph, down from his 2022 average of 93.7. In fact, his maximum velocity was only 0.1 mph faster than last seasons. Across the board, his velocity was down from the 2022 yearly average. His changeup was down 1 mph, his sweeper down 1.1 mph, and his curveball was down 4.4 mph.
The Blue Jays have until May 26th to make a decision on what to do with Mitch White. The 28-year-old may have many years of team control remaining, but he is out of options. They'll either have to designated someone for assignment or option someone to make room for the right-handed pitcher.
Still, a lot could happen over the next week and a bit. With that being said, White has to do better on these rehab assignments.
CJ Van Eyk's second rehab appearance:
Baseball Savant is a wonderful tool, but sometimes it messes up the pitches. According to the site, Van Eyk threw 37 curveballs, seven sliders, and four four-seam fastballs. The curveball apparently touched 94.1 mph, which… yeah.
I sorted pitches with vertical break. His curveball (which had 61 inches of vertical break in this game) was thrown 17 times on Saturday. His slider was thrown nine times, while his changeup was thrown six times. The fastball was actually thrown 16 times.
As for his whiff percentage on these pitches, he generated four swings and misses on 10 total swings on the fastball. For the changeup, he got two total swings and had 2 whiffs on it. His slider got seven total swings, generating four whiffs. While his curveball generated two swings and misses on 4 total swings. Overall, he had 12 swings and misses on 23 total swings (48 overall pitches)
As for his actual line, he finished the game with
4 IP, 1 H, 1 ER, 0 BB, 7 K.
In his first appearance, he generated only two whiffs, while posting a line of
3 IP, 2 H, 0 ER, 2 BB, 1 K.
Overall, it was a much better game for the 24-year-old.
All three of these pitchers should have at least one more outing on their rehab assignment, so look forward to the next rehab recap!
As always, you can follow me on Twitter and Instagram @Brennan_L_D.
---