Blue Jays require quick turnaround on winnable AL Central road trip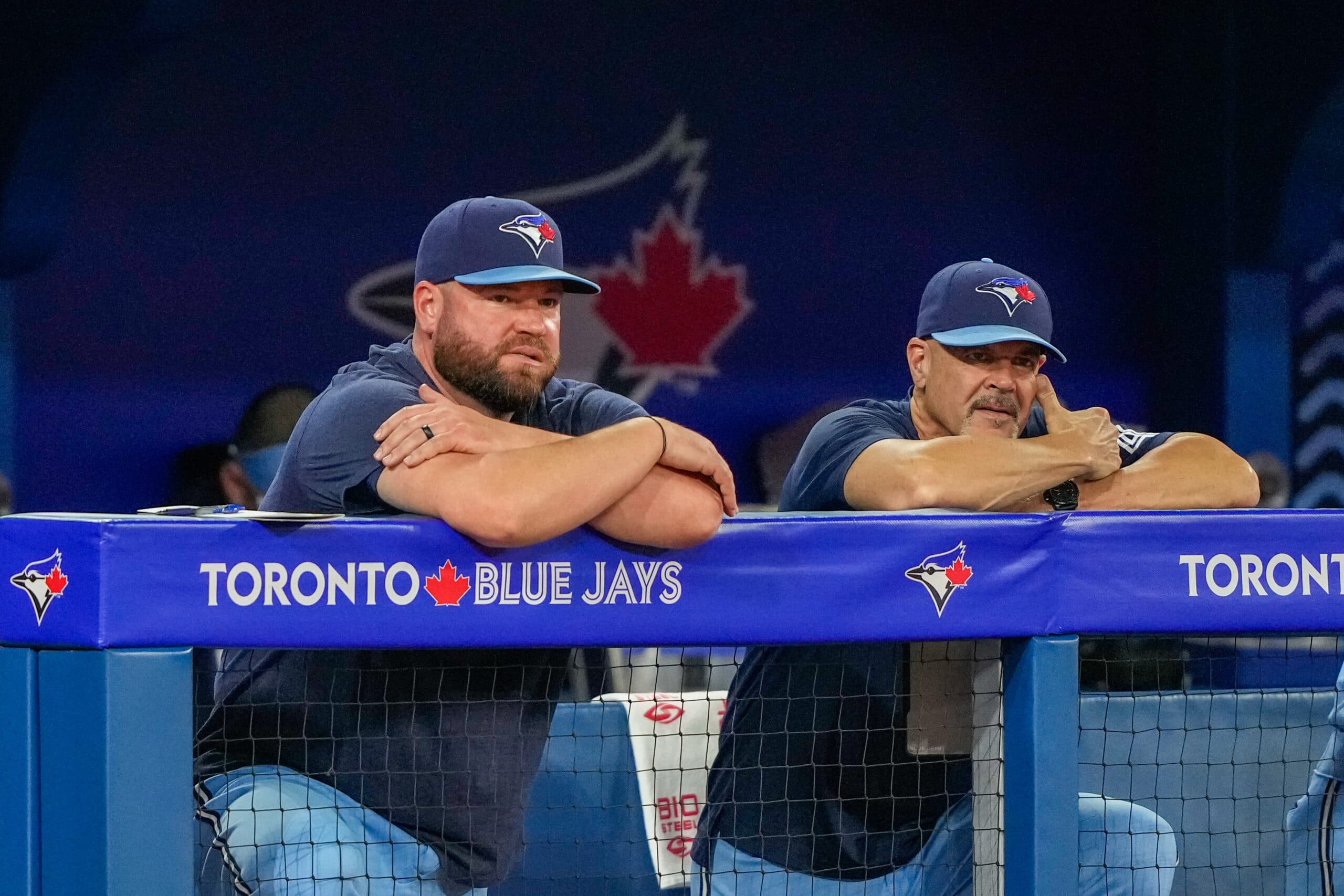 Photo credit:Kevin Sousa-USA TODAY Sports
The 2023 season has been filled with missed opportunities for the Toronto Blue Jays, who are 45-40 with just six games remaining – three versus the Chicago White Sox and three against the Detroit Tigers – before the All-Star break begins next Monday.
Heading into play on Tuesday, this franchise sits fourth in the AL East Division – a place it has held for much of this year – positioned behind the New York Yankees, Baltimore Orioles and Tampa Bay Rays. This team had aspirations of winning the division in 2023. But now, just past the halfway point, their only option appears to be through the wild card.
Toronto, coming off a disappointing 4-5 road trip a few weeks ago, was entering a quote-on-quote 15-game "soft spot" in its schedule, starting with a nine-game homestand against the Oakland Athletics, San Francisco Giants and Boston Red Sox. It was a prime opportunity to gain momentum and a bit of separation amongst a crowded AL playoff picture.
Despite losing the opener in consecutive series, which has become a trend recently, the Blue Jays handled their business by taking two of three versus the Athletics and Giants, outscoring their opponent 27-6 in those victories. That success, however, was quickly overshadowed by what transpired against the Red Sox this past weekend.
For an organization that has struggled mightily when facing its own division, it desperately needed to come away with a third straight series victory at home. But instead, they lost all three games and were held to three hits or less in two of those contests, dropping to 0-7 against Boston this season.
Credit: Kevin Sousa-USA TODAY Sports
That series sweep also put the Blue Jays at 7-20 versus AL East opponents – feeding into one of their season-long macro-level concerns. They will need to overcome those woes within the division at some point. Ideally, that comes during their two-plus week stretch in September when they end the regular season strictly facing division rivals.
In the meantime, they can't afford this latest missed opportunity to snowball into something worse. A solid baseline would've been to finish the unofficial first half 10-5, accounting for series victories in all five remaining bouts. After dropping three to Boston, who is now just two games behind Toronto, the club is 4-5 on this stretch ahead of a six-game road trip to Chicago and Detroit.
The urgency to finish strong was already inexplicably high, which has increased even further in recent days, placing a massive objective to capitalize on this winnable series against a pair of sub-.500 AL Central clubs.
To maximize their chances, the Blue Jays must play a clean brand of baseball. They failed to do so while facing the Red Sox, committing numerous mental mistakes in the field and on the bases, including a pair of baserunning blunders from Bo Bichette – one of which led to the tying run in Saturday's contest thrown out at home plate due to miscommunication with third base coach Luis Rivera.
Failing to execute the little things – a topic emphasized countless times throughout the organization heading into this season – is nothing new for this team, though, especially when it involves taking advantage of potential run-scoring opportunities.
On the surface, the Blue Jays feature an above-average offence, which
ranks seventh across the majors in wRC+ (107)
. But with runners in scoring position, their production – or lack thereof – sits near the bottom in wRC+ (90, tied for 24th), AVG (.241, 25th), OBP (.314, 27th) and SLG (.374, 27th). They are also tied for the sixth-highest strikeout rate (23.7 per cent).
This issue reared its ugly head yet again versus Boston over the weekend, as Toronto went 3-for-13 with RISP, producing just a trio of singles and leaving 14 runners on base. Fortunately, this lineup is set to face two of the worst starting pitching staffs – statistically speaking, at least – in baseball over these next six games.
The White Sox's rotation enters Tuesday's opener with the second-highest barrel rate against (10.3 per cent) in the majors, mainly due to Lucas Giolito's (10.3 per cent) and Lance Lynn's (10.9 per cent) career-high barrel rates, both of whom will face the Blue Jays in this series.
Giolito (1.45 HR/9) and Lynn (2.06, career-high) have also struggled with keeping balls in the yard, inflating Chicago's HR/9 to 1.49, the sixth-highest in the big leagues. But, as appealing as those metrics are, Toronto's offence must remain disciplined and work deep at-bats, as White Sox starters possess the second-highest walk rate (9.6 per cent).
That approach needs to be applied when facing Detroit's staff as well, whose starters haven't walked (7.3 per cent) as many batters but have recorded the fifth-worst ERA (4.91) and eighth-highest HR/9 (1.42).
As the Blue Jays send out Chris Bassitt, José Berríos and Yusei Kikuchi versus the White Sox, all three should have a chance to excel against an opposing lineup that's positioned 24th in wRC+ (90) and boasts the 11th-highest strikeout rate (23.2 per cent) and the second-lowest walk rate (6.8 per cent).
So, on paper, this shouldn't be a series where manager John Schneider should have to fret all that much over his bullpen usage. And that could prove beneficial in the Tigers series, as one of those games will have to be covered by a string of relievers.
The good news is, like Chicago, Detroit's offence is considered well below average (87 wRC+, tied for 28th) and strikes out at an alarming rate (23.6 per cent, tied for ninth-highest). Also, they are among the teams who've hit fewer home runs (80) than Toronto's 95 this season.
It is fair to assume anything worse than a 4-2 record on this road trip would be a disaster, and rightly so. The Blue Jays, despite their AL East woes, have beaten up the AL Central in 2023, tying with the Texas Rangers for the second-best record (11-5) versus the AL's worst division. By all accounts, they should be able to continue that dominance this week.
If they do, piling up a handful of wins couldn't come at a better time for this club, whose schedule becomes much tougher post-All-Star break, including matchups against the Arizona Diamondbacks (Lourdes Gurriel Jr.'s return to Toronto), San Diego Padres, Seattle Mariners, Los Angeles Dodgers and Angels to end the month.
There also isn't another "soft spot" in their schedule until the end of August, when they'll face the Washington Nationals, Colorado Rockies, Oakland Athletics and Kansas City Royals before ending the season on a gruelling stretch within the AL East, plus a series mixed in versus Texas.
As the Red Sox proved this past weekend, pockets like this can not be taken for granted. When there's a rare opportunity to win a series against a team beneath you, it's imperative to deliver on that expectation – a goal the Blue Jays must complete to round out the first half.
---