Blue Jays: Sem Robberse and Adam Kloffenstein are cruising in Double-A to start the season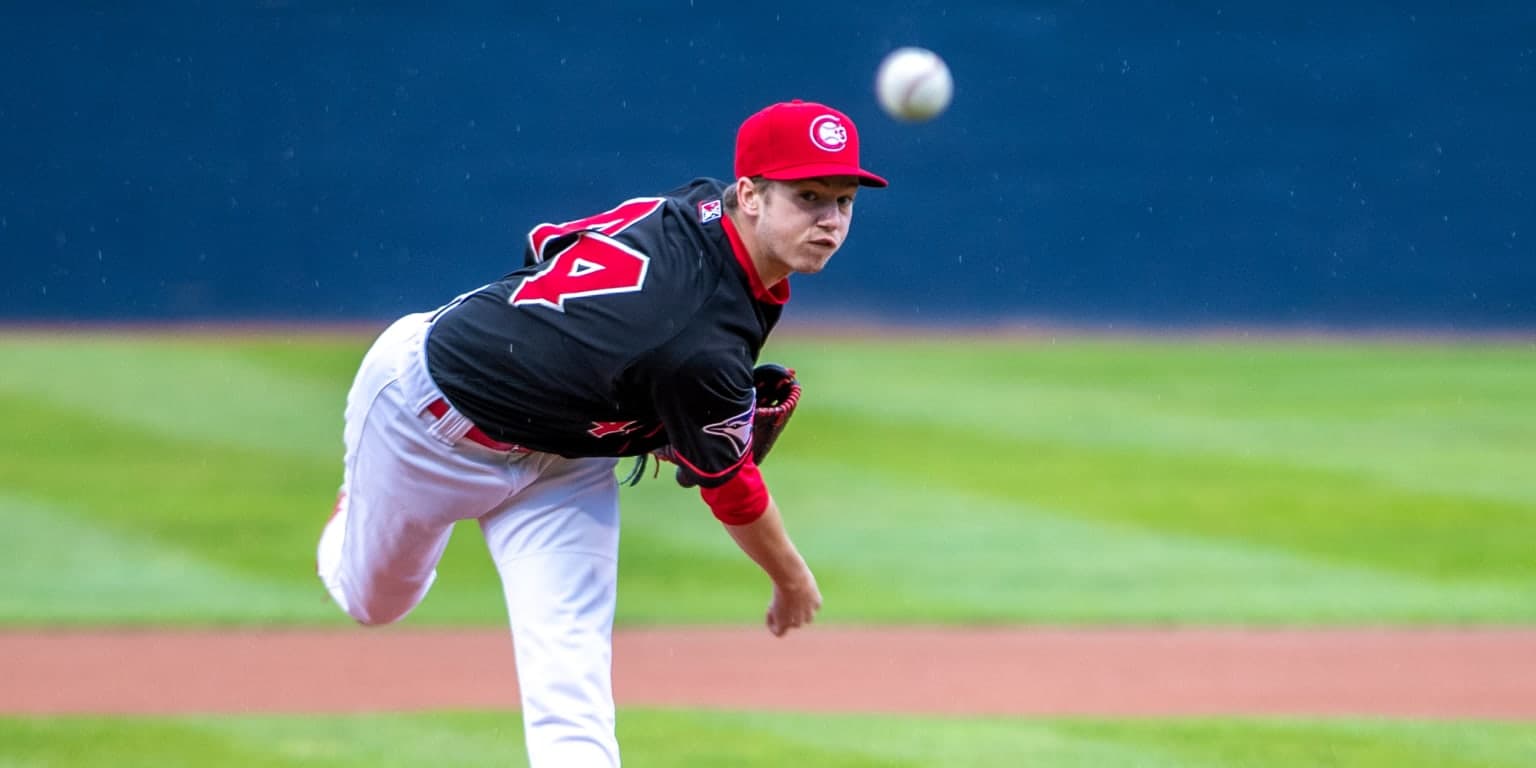 Looking at the Blue Jays top prospect list heading into the 2023 season, fans were keen on top arms in Ricky Tiedemann, Yosver Zuleta, and Brandon Barriera, who made his professional debut last week in Single-A. While those three dominate the rankings and gain most of the attention, there are two arms that are standing out in Double-A early this year,
Sem Robberse
and
Adam Kloffenstein
.
Born in Zeist, Netherlands, Robberse was
signed by the Jays
late into the 2018 international signing period, with the front office heading overseas and bringing both Robberse and Jiorgeney Casimiri into the organization during the scouting trip. At 17 years old, the right-hander debuted in Rookie League ball to finish out the 2019 season, appearing in five games and allowing just one earned run through 10 1/3 innings.
While he didn't pitch in 2020 because of the COVID-19 lockdown on Minor League baseball and stayed near the complex as he also could not travel back home, Robberse has spent the past two seasons getting innings under his belt and eventually cracked the Double-A rotation in the latter half of the 2022 season, making five starts with the Fisher Cats. Robberse would return to the Fisher Cats for the 2023 season and so far this year, the 6'1″ Netherlands product has been doing well, amassing a 5.5 H/9 compared to his 9.1 K/9 through six starts. He has gone at least 4.0 innings in every one of his starts and has allowed two earned runs or fewer in four of those starts, with the other two outings seeing Robberse get tagged for four runs in each of those contests.
Robberse and Kloffenstein are making waves in the Blue Jays farm system
Roughly 3.5 years younger than the league average at just 21 years old, Robberse has held opponents to a .175 batting average with a 1.011 WHIP while also hitting the mid-90s with his fastball on numerous occasions. His fastball combined with multiple offspeed offerings is not only getting opposing hitters to whiff on his pitches but also keeping the balls in the zone, owning a 3.6 BB/9 through 29 2/3 innings this year.
While he is likely still a few years away from knocking on the big league door, things are trending in the right direction for Robberse as he continues to climb the Minor League ladder in the Jays system and make a name for himself amongst the other top pitching prospects.
Back in the summer of 2018, the Blue Jays were on the clock and ready to make their first pick of the MLB Draft at 12th overall. The front office went with infielder Jordan Groshans, an off-the-board selection that played a role later in the draft when the Jays selected his teammate at Magnolia High School, right-hander Adam Kloffenstein. The Jays would
save roughly $800K
with Groshans and used some of those funds to deter Kloffenstein from heading to Texas Christian University, signing the high school senior for $2.45 million, roughly $1.8 million over slot value.
Similar to Robberse, Kloffenstein appeared in two Rookie League games following the draft and would move up to Low-A Vancouver the following campaign, where he would amass a 2.23 ERA through 13 starts. Unlike most of his teammates, Kloffenstein suited up in Independent Ball during the COVID lockdown to continue getting reps on the mound but has struggled over the past two seasons, seeing his ERA balloon above the 5.00 mark in each campaign.
In 2021, the 6'5″ righty spent all season with Vancouver and allowed 70 earned runs through 101 1/3 innings of work while struggling with his command, walking opponents at a 5.4 BB/9 clip to the tune of a 1.549 WHIP. The strikeouts were there (9.5 K/9) but he struggled to keep runs off the board, finishing the year with a 6.22 ERA. The 2022 campaign was also not kind to Kloffenstein once he was promoted to Double-A, with the Texas product sporting a 6.07 ERA through 19 outings with the Fisher Cats to go along with a 10.3 H/9 and walking batters at a 4.7 K/9 clip. With these rough campaigns, Kloffenstein saw his status as a top prospect fall off the board, as he is now unranked amongst the Jays farm system while ranking as high as eighth dating back to the 2019 MLB Pipeline listing.
2018 Third-Round Pick Doing Well to Begin the 2023 Season
Fast forward to today and Kloffenstein is making a strong case to be noticed in the Jays system, as the 22-year-old is throwing well in Double-A, allowing just one home run and seven earned through five starts while keeping the walks in check at a 3.6 BB/9. His last three starts have seen the former third-round pick go at least five-plus innings with six or more strikeouts in each contest and has allowed one earned run or fewer in four of those five starts this year, a great turnaround compared to his foray into Double-A that we saw last season.
It's easy to forget that Kloffenstein is currently heading into his fifth professional season and will be turning just 23 later this year, with still room to develop and polish his game. He is still years away from big league talk after scuffling the past two years but if he continues to limit the damage in Double-A, a promotion could be in mind later this season to test him at the next level with the Buffalo Bisons.
---