Blue Jays Top Prospects Countdown: Pitchers who didn't crack the Top 20
With the minor league season quickly approaching, it's time to look at the Blue Jays top 20 prospects, one by one. I can tell you right now that after all 22 articles are released, you will be shocked. There'll be a lot of names you didn't expect, but due to their 2021 performance, they deserved a spot.
However, the first two articles in the series will be focusing on the position players and pitchers that missed out. These players make this list for a variety of reasons, such as they aren't considered a prospect anymore, they're a new draftee or they're facing an injury to start the minor league season.
Here are 15 pitchers that missed the list worth keeping an eye on, starting from the Majors and working down to the Rookie Leagues…
Nate Pearson:
Due to the fact that he lost his rookie eligibility last season, Nate Pearson will not rank on the Top 20 list. This doesn't mean that the 25-year-old flamethrower doesn't have potential, as he pitched for a 2.84 ERA and 3.72 FIP in 12.2 innings out of the bullpen. Pearson also had an astronomical K/9 of 14.21, finishing with 20 strikeouts in that time frame.
The key to Pearson's development is that he stays healthy and limits the walks. Nate may never be a regular starter, but the sky's the limit for him to become an effective reliever.
2022 start: Blue Jays Bullpen
Bowden Francis:
Remember Rowdy Tellez? Well, the Jays traded the first baseman to the Milwaukee Brewers for a 25-year-old right handed pitcher named Bowden Francis. In 73 innings pitched for the Buffalo Bisons, the 6'4 pitcher had an ERA of 4.19, with a K/9 of 8.8. Those aren't remarkable numbers, but Francis could get his call up next season if injuries occur.
2022 start: Triple A rotation, 40 man roster.
Nick Fraze:
Nick Fraze was drafted in the 22nd round of the 2019 MLB draft and he was a shortlist for my Top 20 Blue Jays prospects. The then 23-year-old pitched fantastically for the Vancouver Canadians, posting a 2.14 ERA in 42 innings pitched. This was supplemented with a K/9 of 9.9 while only walking 2.1 BB/9.
The reason he doesn't make my list is because while he was solid in Double A, he didn't post the same numbers in his 19.2 innings pitched. After his promotion, he had a 4.58 ERA, a K/9 of 6.4 and a BB/9 of 2.7. With that said, these numbers aren't that bad and I've actually written an article about Nick Fraze.
Brandon Eisert:
The 24-year-old lefty was picked 537th overall in the 2019 draft and didn't get a chance to play in the 2020 season. Eisert, who is a relief pitcher, had a good first season as a pro. Starting the season in High A, he posted a 4.05 ERA in 46.2 innings pitched. Moreover, the then 23-year-old had a K/9 of 11.57 with a BB/9 of 3.09.
This earned him a promotion to Double A, where his numbers improved in the 13.2 innings pitched. His Double A ERA dropped to 2.63 (with a FIP of 1.47), while his BB/9 dropped to 1.32 and his K/9 stayed relatively the same at 11.20. It's a much smaller sample size, but he is a pitcher to keep an eye on.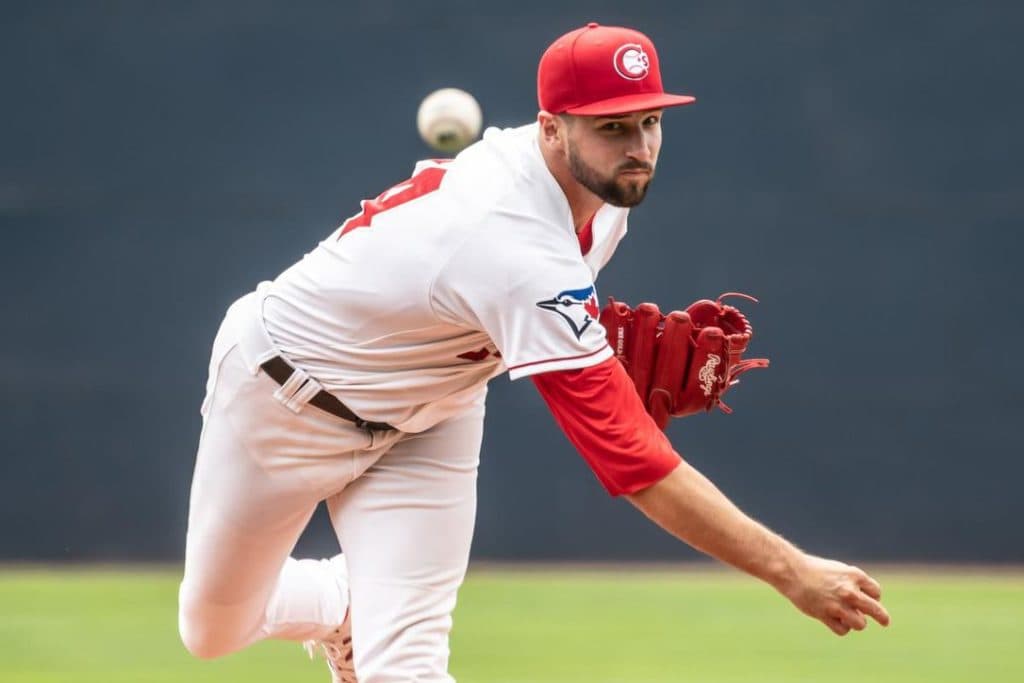 Adam Kloffenstein:
The 21-year-old right-hander may have more potential than those on the Top 20, however, results are arguably more important. Kloffenstein played 2021 in High A, posting a 6.22 ERA, 5.16 FIP and a BB/9 of 5.42 in 101.1 innings pitched. The potential is still there of course, but you're likely going to see him down on quite a few lists this upcoming season.
Here's to hoping he has a bounce-back performance.
CJ Van Eyk:
I didn't know this until the day I started writing this article, but CJ Van Eyk recently had Tommy John on his throwing arm in December.
This could explain his dismal 2021, where he pitched 80.1 innings and owned an ERA of 5.83 (FIP of 4.55). He did show glimpses of his promise though, as he had a K/9 of 11.20.
Here's to a quick recovery for the 23-year-old right hander.
Hayden Juenger:
Drafted in the sixth round of the 2021 draft, the 21-year-old right hander had a great start to his professional career. In High A, he pitched 20 innings and had an ERA of 2.70 and a FIP of 1.33. However, he also had a K/9 of 15.3 and had a BB/9 of 1.80. It's looking as if Juenger could be the steal of the draft if he continues this success in 2022.
Naswell Paulino:
I'm lucky enough to call Paulino a friend. I can rave all day about his character, like how he helps newcomers learn Spanish, an important language in Low A. However, he is also a damn good pitcher.
The left handed, 21-year-old was converted from an outfielder to a pitcher after the Jays signed him through the International Free Agency. In 2021, he pitched 96.2 innings, which is over 30 innings more than the next pitcher. On the team. He posted a 3.82 ERA in that time frame and had his highest career K/9 of 10.15.
The next step for Naswell is to decrease his BB/9 (5.31 in 2021), if he can do that, it's possible he could finish the season in New Hampshire.
Nick Frasso:
Much like fellow 2020 draftee CJ Van Eyk, Frasso also recently had Tommy John surgery done on his throwing arm.  Playing for Loyola Marymount University in 2020, he registered a 4.15 ERA with a K/9 of 11.4. Meaning that you can see what the Jays like in the pitcher.
However, the 23-year-old only pitched five innings in 2021 before being shut down in August. Here's to a speedy recovery
Irv Carter:
The 19-year-old right hander was selected in the fifth round in the 2021 MLB draft straight out of high school. To sign him, the Jays had to go overslot for that position, signing him to a bonus of $847,500 (the second most next to Gunnar Hoglund).
He hasn't made his professional debut yet, but keep an eye on him.
Ricky Tiedemann:
Much like Carter, the 19-year-old left hander has yet to make his professional debut. Tiedemann was chosen in the third round of the 2021 draft out of high school. He is another young pitcher to keep an eye on.
Chad Dallas:
The 21-year-old right hander has yet to make his professional debut, but unlike the two previous prospects, we have numbers to look at through Baseball Reference. Dallas pitched for Tennessee and in 2021, he pitched 103 innings with a 4.19 ERA. However, the most impressive stat he had was a low BB/9 rate of 1.7, while owning a high K/9 of 10.7
Unlike many of the Shapiro/Atkins era pitching draft picks, Dallas stands at only 5'11" (I say only, but I'm only 5'8.5). That doesn't stop Dallas from being able to hit 97 mph on his fastball.
Eric Pardinho:
After pitching three innings, the then 20-year-old was shut down for the season on July 8th. Pardinho, who is now 21, has only pitched 95.2 innings since 2018. In 2019, the young Brazilian was ranked as high as the Jays' 5th best prospect, just below Vladimir Guerrero Jr and Bo Bichette. However, the road back from Tommy John hasn't been kind to the young man.
He has loads of potential, so here's to hoping that the injury problems will be in his rearview mirror.
Keiner Leon:
The right handed 18-year-old had a good season in the Dominican Summer League, posting a 2.60 ERA with a K/9 of 10.13 in 34.2 innings pitched. Furthermore, the then 17-year-old's BB/9 wasn't that high either, at just 2.86. He, like the following pitchers, had solid seasons in the Rookie Leagues.
2022 start: Florida Complex League
Sergio Caruci:
2021 was Caruci's age 18 season and he posted solid numbers in the Dominican Summer League. The right hander had an ERA of 2.84 with a K/9 of 10.84 in 50.2 innings pitched.
2022 start: Florida Complex League
Conclusion:
Those were the 15 pitchers that I contemplated putting on the Top 20 list, but didn't make it. Quite a few of those pitchers could very well be on many lists in the upcoming years, hence why I wanted to shine a light on them now. Let me know if you think I missed any pitchers that you think should be on here (or on the Top 20 list).
Next up will be the 15 position players that just missed the Top 20 list and then we'll move to #20 on said list. So stay tuned!
As always, you can follow me on Twitter @Brennan_L_D. I'm pretty excited to write these articles and give you guys content for the upcoming weeks!