If Blue Jays trade Alejandro Kirk, targeting experienced catcher may prove beneficial
Photo credit:Nick Wosika-USA TODAY Sports
Amid another crucial off-season, the Toronto Blue Jays remain extremely deep at the catcher position and whenever this current lockout concludes, the front office could utilize some of that capital to address other glaring needs.
As currently constructed, four catchers (Danny Jansen, Reese McGuire, Alejandro Kirk, Gabriel Moreno) are featured on the Blue Jays' 40-man roster. Since Moreno is projected to be a future star, it'll be very important to make sure he's provided with a clear path to the majors.
But as of now, that doesn't quite exist inside this organization. In an effort to prevent any logjam from being created, management will likely need to subtract at least one – if not more – of Jansen, McGuire or Kirk in the near future.
Before the transaction freeze commenced, there was plenty of speculation about Toronto utilizing Kirk as a trade chip to acquire either starting pitching or an all-star infielder. Initially, it was believed that the Miami Marlins could serve as a solid trading partner, however, they ended up landing Jacob Stallings from the Pittsburgh Pirates – putting an end to any possible trade discussions.
While the Marlins are no longer in the market for a catcher, there are still a handful of teams that could meet that description before Opening Day, including the Cleveland Guardians. Assuming all-star Jose Ramirez remains available, there's a very strong possibility Kirk would be featured in most trade proposals heading the other way.
Though surrendering the 23-year-old backstop wouldn't be easy, from an overall standpoint, doing so might be the most effective way to dramatically improve the Blue Jays' roster without sacrificing several talented young prospects in the process.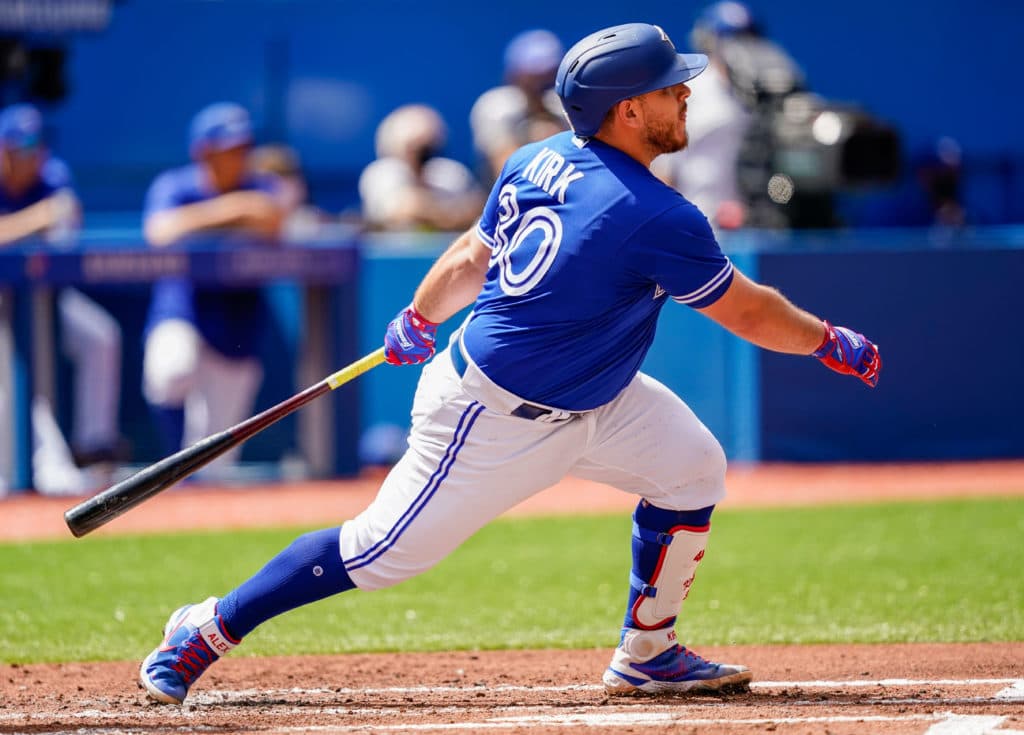 Credit: Kevin Sousa-USA TODAY Sports
Even if Ramirez proves too costly, which is entirely possible, the fact remains that Kirk would be considered a hot commodity if he were exposed to the trade market once a new CBA is signed. So at this point, it seems like it'll be a matter of when, not if, the offensive-first catcher is moved at some point this winter.
On the bright side, along with addressing a major need at the major league level, taking this approach would also break down the door for Moreno to compete for regular reps with the Blue Jays whenever he's ready.
In saying that, the 21-year-old phenom just reached triple-A last season, appearing in three games with the Buffalo Bisons. Despite being considered one of the best prospects in the sport, at this current moment, it'd likely be a very tall task to take over the starting role as early as the 2022 season.
Still, Moreno is undoubtedly Toronto's catcher of the future – his time as a full-time regular may just have to wait a little bit longer.
In the meantime, trading Kirk would leave Jansen and McGuire left standing to battle for the starting role this spring, although this duo would probably just end up splitting time as the club's No. 1 backstop. But for a franchise that's looking to qualify for the playoffs next season, would this be a productive catching tandem to open the year with?
Not likely, especially at this point of their respective professional careers.
Both of these catchers are set to enter their fifth seasons in the majors, but so far, neither of them has effectively taken the reins as an everyday player at this level. Ever since emerging onto the scene in 2018, they've each experienced offensive and defensive inconsistencies in some form or another, preventing them from serving as reliable contributors.
With Jansen in particular, the 26-year-old is widely regarded as the better catcher between the pair, however, he's yet to perform as anything more than a serviceable backup. Though his 2021 season was derailed by a nagging hamstring injury, which limited him to just 70 games, the right-hander couldn't overcome this narrative when he was healthy.
Over his 205 plate appearances, the 6'2″ catcher posted 11 home runs, 28 RBIs, a .250 ISO (career-best), a .233 BABIP, a 105 wRC+ score and slashed .223/.299/.473. Additionally, he also matched the highest fWAR rating of his career (1.4).
Given Jansen's strong relationships with Toronto's starting rotation, particularly with starter Hyun Jin Ryu, there's no question this team benefits from including him on its roster. As for McGuire, well, his career-best 1.3 fWAR rating from '21 probably won't help him avoid being designated for assignment for a second consecutive campaign, of course, only if that's needed.
Though this club could conceivably open next season with Jansen and McGuire as their only immediate options, based on each of their recent track records, it might be beneficial to explore free agency for a short-term solution. Granted, there aren't many quality options available on that front, although veteran Robinson Chirinos could be worth taking a flyer on.
Credit: Bill Streicher-USA TODAY Sports
Set to enter his age-38 season in '22, Chirinos is obviously nearing the end of his playing career and is likely only a few years away from hanging up his cleats for good. While his best days are behind him, the 6'1″ backstop appears to have some gas left in the tank, especially when taking into account his 2021 performance.
After signing a minors deal with the New York Yankees last off-season, the right-hander opened the season at triple-A Scranton/Wilkes-Barre, where he slashed an impressive .278/.422/.556 through 45 plate appearances.
Thanks to this offensive showing, the native of Venezuela earned the opportunity to represent his country as they attempted to qualify for the 2020 Olympics – which were rescheduled to '21. Afterwards, the veteran catcher decided to part ways with the Yankees in hopes of landing a major league contract, luckily, he caught on with the Chicago Cubs last July.
Signing a one-year, $1-million deal, Chirinos largely acted as the team's backup catcher and suited up in 45 games before season's end. During that time, the long-time Texas Ranger earned 112 plate appearances, registering 11 extra-base hits, 15 RBIs, a .227 ISO, a .304 BABIP, a 108 wRC+ score, a 0.5 fWAR rating and a .227/.324/.454 slashing line.
Expanding on his performance, the veteran backstop continued enjoying the majority of his success against left-handed pitchers last season, which is an aspect of his craft that hasn't faded with old age.
Since 2018, Chirinos has compiled 305 plate appearances against lefties, resulting in a .208 ISO, .316 BABIP, .357 wOBA, 17.0 per cent walk rate, 122 wRC+ score and a respectable .241/.377/.449 slashing line. Granted, he still featured a 28.2 per cent strikeout rate, still, all those swings and misses haven't dramatically impacted his overall production.
From a defensive standpoint, the former international free agent isn't the same defender that racked up 966.0 innings from behind the dish with the Houston Astros in '19. Having said that, his serviceable pitch-framing ability could still prove useful in a part-time role.
While Chirinos' pitch framing didn't play a factor in preventing runs last season, it did perform well in specific areas of the strike zone. Most notably, the aging backstop made the biggest impact when receiving pitches on the corners and below the zone, as displayed in the chart above.
Though Jansen and McGuire both excelled at framing pitches at the corners, as well, neither of them generated a strike rate as high as Chirinos did at the bottom of the zone.
Based on these percentages, there's a pretty strong chance Chirinos could provide the Blue Jays with some upside in the framing department next season, especially for those like Kevin Gausman and Ryu, who tend to attack the bottom half of the zone.
Not to mention, Chirinos has spent 10 seasons in the majors, including three separate post-season trips. Given that this organization is fairly young at the catcher position, having a veteran presence around the team, at the minimum, throughout spring training, could prove very beneficial.
This way, if Kirk does indeed begin the 2022 season elsewhere, Toronto would still feature some internal competition for those two catching spots in the majors. As most front offices would attest to, that's never a terrible thing to have, particularly at the backstop position.
Whether it's through a minors deal or on an inexpensive major league contract, bringing someone of Chirinos' stature aboard would mainly revolve around solidifying this team's depth behind the plate. If he doesn't work out, then management could simply wash its hands clean without stressing over any long-term ramifications.
Before too long, the hope will be to have Moreno assuming the starting catcher position for several years to come.