Blue Jays need Vladimir Guerrero Jr. to capitalize on run-scoring opportunites
Photo credit:Tommy Gilligan-USA TODAY Sports
The Toronto Blue Jays appear to be on the verge of another hot offensive stretch, but to sustain it, they'll need more contributions from Vladimir Guerrero Jr. the rest of the way.
Guerrero has endured an interesting season up to this point, to say the least. The 23-year-old phenom's results aren't where they were a year ago, however, he's remained one of the club's most impactful performers throughout what's been a rollercoaster type of campaign.
This season, Guerrero is hitting .279/.346/.489 with 27 home runs, 81 RBIs and a 137 wRC+ score. He leads all Blue Jays hitters in home runs, RBIs and wRC+ thus far, which is certainly a positive. But, considering that Toronto's young superstar slashed .311/.401/.601 with a career-best 166 wRC+ last season, there's no question he's capable of more.
Unfortunately, with less than 30 games remaining, everyone's still waiting for Vladdy's 2021 version to return.
For that to happen, the 6-foot-2 slugger must improve his performance while hitting with runners in scoring position (RISP), and that goes for the rest of the lineup, too. One of the recurring themes of this season has been Toronto's inconsistencies to score runners from second and third base, hindering the team's ability to perform up to its offensive potential.
There have been times when this hasn't been as much of an issue, however, those periods of success haven't lasted overly long. It's also an area where Guerrero has struggled almost all season and is a key reason for his production decline in 2022.
The two-time All-Star has posted four home runs, 48 RBIs, a 123 wRC+ and a .274/.371/.436 slash line across 140 plate appearances with RISP. He also owns a .162 ISO and .289 BABIP during these situations. Those are all fine results, although they aren't what baseball fans have come to expect from No. 27.
Last season, however, Guerrero slashed .315/.441/.608 with 11 round-trippers, 63 RBIs and a 173 wRC+ over 179 plate appearances with RISP. His ISO and BABIP were also much higher, sitting at .294 and .312, respectively.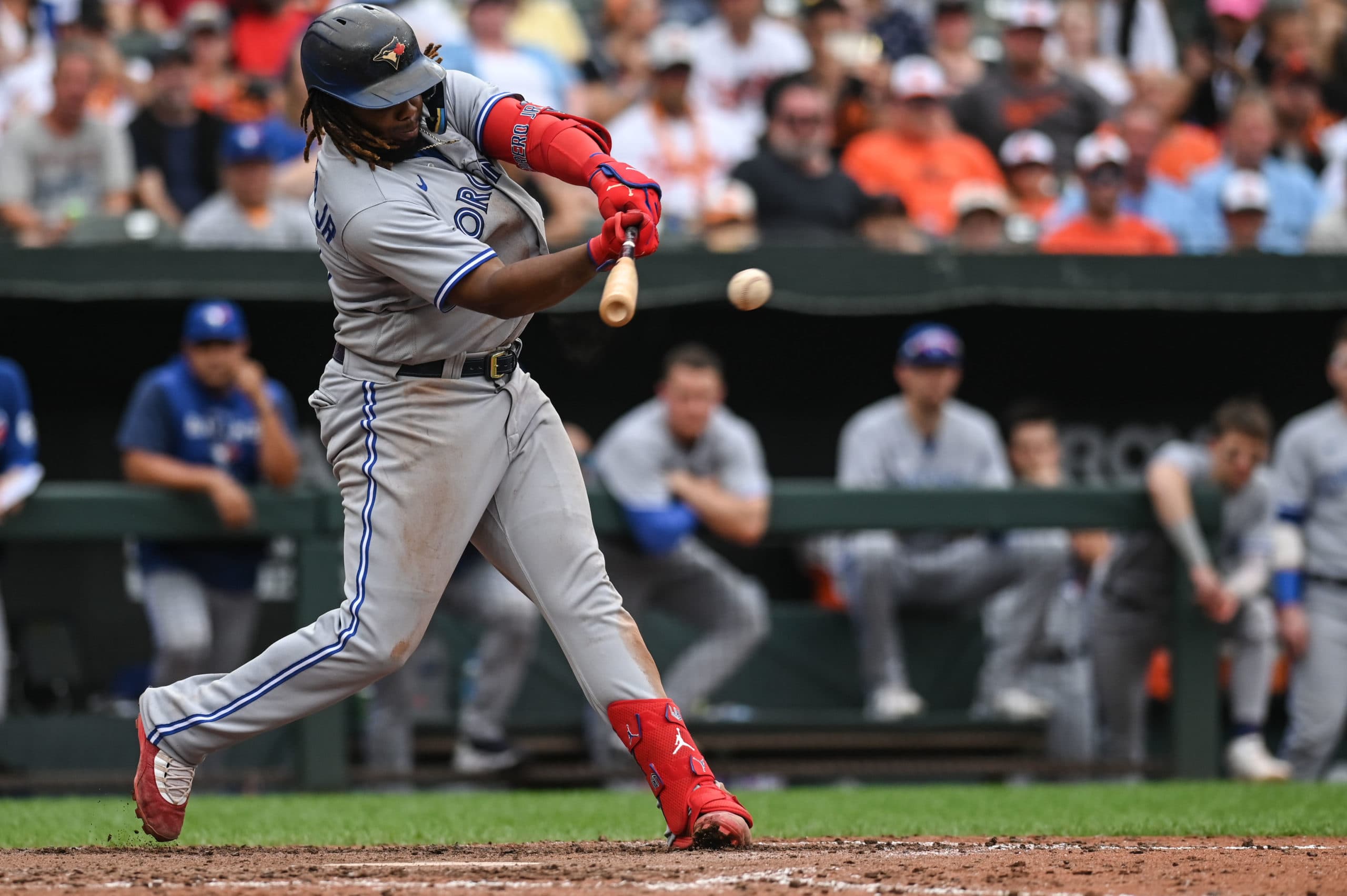 Credit: Tommy Gilligan-USA TODAY Sports
So what's changed for Guerrero this season, and how can he improve with runners on base? Well, one of the main factors that have led to his offensive woes has been his ground ball output – it's significantly higher than last season.
With RISP, the right-hander's ground-ball rate currently resides at 59.4 percent, an increase of 19.4 per cent from 2021. That ranks fifth-highest in the majors among qualified hitters, according to
FanGraphs
. It's also the second-highest percentage of his career during these run-scoring situations, second to his 66.0 percent in '20.
Ground balls have plagued Guerrero during other situations, too. Overall, the talented first baseman features a 51.0 percent GB rate and a 1.68 GB/FB ratio, both of which rank inside the top 15 in the majors. Those are two leaderboards you don't want to be near the top of, though.
Similar to the COVID-shortened 2020 campaign, the hard-hitting righty has been unable to keep batted balls off the ground this season, leading to several unproductive at-bats. His average launch angle, which improved to a career-best 9.4 degrees in '21, has dropped to just 4.7 degrees in '22, tied for fourth-lowest in the majors. That figure is even worse with RISP, declining from 11.4 degrees last season to -0.4 degrees this season.
Scoring runs is difficult when over half your batted balls are on the ground. And while Guerrero Jr. can improve in this regard by adjusting his swing path, he can also help himself by staying more disciplined at the plate.
Amid Toronto's season-long inconsistencies, Guerrero has often placed too much pressure on himself, trying to lead his club to victory with one game-changing swing. That has worked in the past, particularly last season, but that was before opposing pitchers discovered his weakness – ground balls.
Now, the 2021 Silver Slugger is being pitched much tougher, seeing far more pitches low in the strike zone and below it, as well. That is by design, of course, hoping that the young superstar will chase at bad pitches, which he's been willing to do, especially with runners on base.
As a result, Guerrero's chase rate – or outside-swing percentage, as FanGraphs refers to it – has climbed dramatically, rising from 24.5 percent in 2021 to 29.1 percent in '22. There has also been a correlation between his chase and GB rates, which have virtually flowed together in unison this season. The more he has chased outside the zone, the more ground balls he's registered.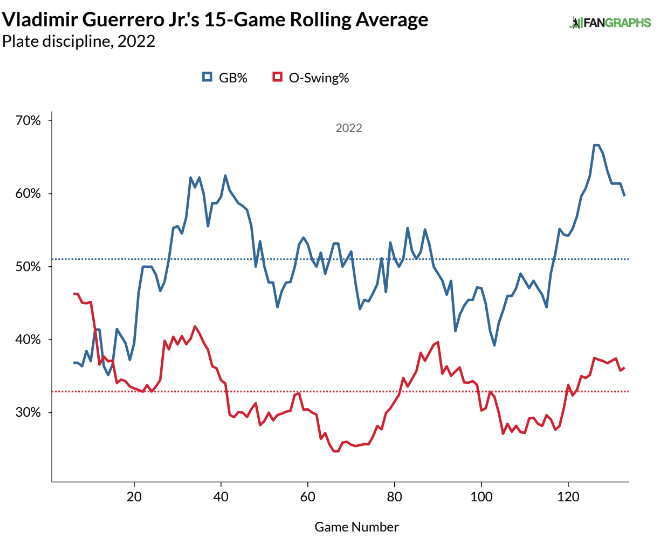 Being aggressive is part of what makes Guerrero so special. Without it, he undoubtedly wouldn't be the same generational player. Having said it, it's a trait that has gotten him into trouble more often than not lately, preventing him from driving in runs.
With Guerrero creating tons of ground balls, he's hit into the second-most double plays (22) in the majors thus far, according to
Baseball Savant
. What's worse is that seven of those double plays have occurred with RISP, tying him with four other hitters (Pete Alonso, Yordan Alvarez, Nick Castellanos, Willson Contreras) for fifth-most in that regard.
As a team, the Blue Jays have hit into 42 double plays on the season, with Vladdy accounting for 52.4 percent of them, tying the team for third-most among all 30 MLB franchises. That's less than ideal.
Guerrero needs to generate more fly balls to be at his best during the most crucial time of the baseball calendar. To accomplish that feat, however, it'll be just as vital for him to enjoy better quality at-bats where he isn't forcing too much in the batter's box. Instead, he must focus on making pitchers come to him, just as he did towards the beginning of the campaign.
That means being more patient at the plate and laying off pitches that are in the strike zone but aren't ones the Montreal, Quebec native can create damage against. It likely won't be that simple, obviously, though featuring that type of approach should lead to fewer ground balls and double plays in run-scoring opportunities.
If Guerrero catches fire down the stretch, similar to how Bo Bichette has, the Blue Jays may finally be able to string together consistent offence, achieving something that's eluded them all summer. And with 17 games remaining against the Baltimore Orioles and Tampa Bay Rays, a run like that couldn't come at a more opportune time.
It's a stretch that if runs smoothly, could position this team to overtake the Rays and Seattle Mariners for the top spot in the wild-card race, granting them home-field advantage in the opening round of the playoffs.
---