Blue Jays win the Series with a nail-biting 3-2 win over the Astros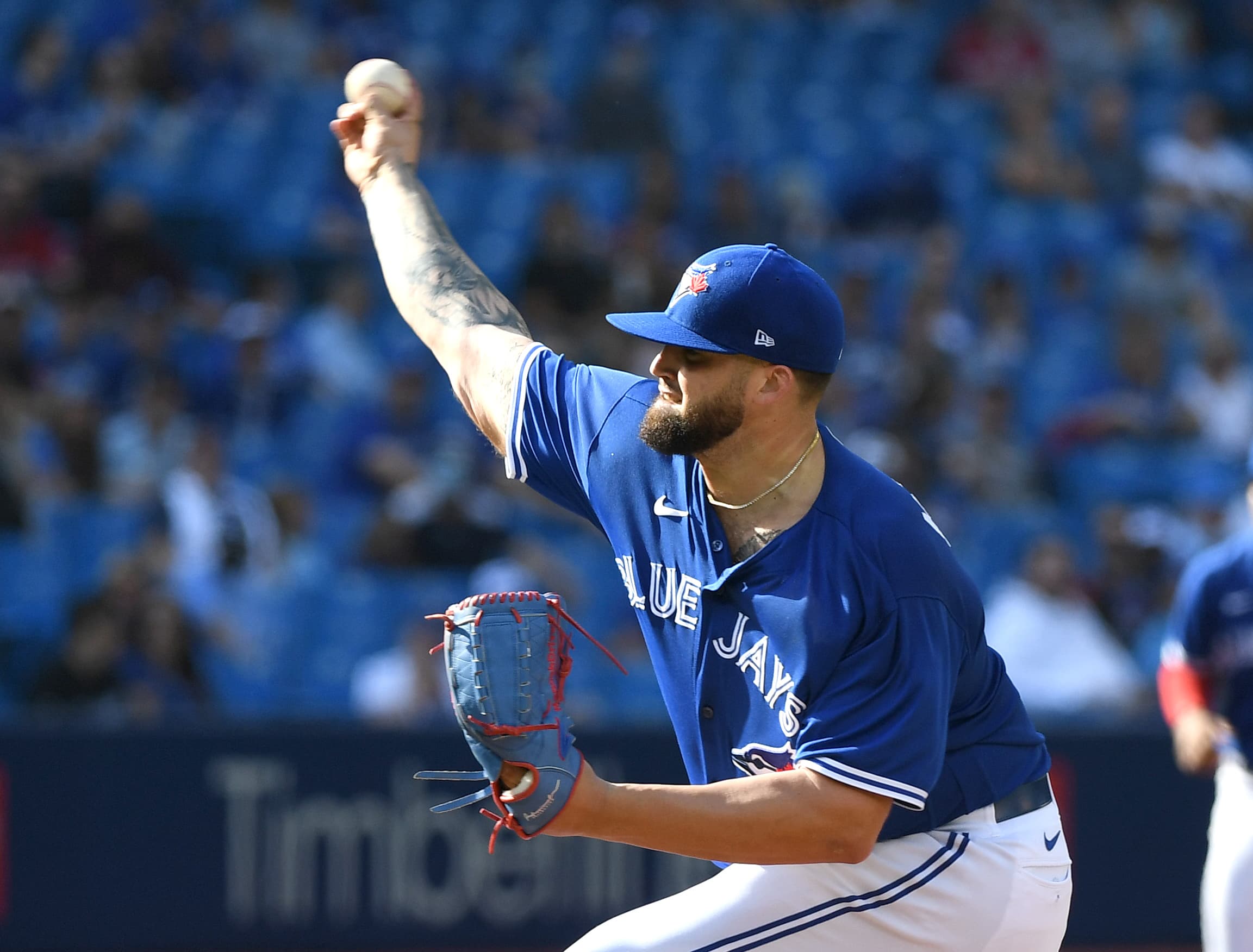 Photo credit:Dan Hamilton-USA TODAY Sports
The Blue Jays won 3-2 on Saturday afternoon, bringing their season record to 10-5
I actually started writing this article BEFORE the game ended, but Adam Cimber got it done. Furthermore, Alek Manoah pitched a great game, Espinal and Springer went deep.
Alek Manoah:
The 24-year-old righty absolutely bullied the Astros, pitching his third quality start of the season. He went
6 IP, 7 H, 2 ER, 0 BB, 5 K
and his ERA now sits at 2.00 for the season. Furthermore, this win is  the 11th straight win for the Jays that the Big Puma started.
According to the broadcast, he shook off the 2-seamer multiple times, as he may not have felt comfortable throwing it. However, his slider had fantastic movement which led to this great swing and miss for strike three.
He and Kevin Gausman are the aces of the Blue Jays. Hopefully Kikuchi can pick his game up tomorrow afternoon.
Santiago Espinal:
The everyday second basemen went deep for the second time in as many games.
Last season, he had two homers in 246 plate appearances. In just 52 plate appearances, he has matched his career high. Those extra 15 pounds of muscle is really doing the trick.
Just a side note, Espinal's Defensive Runs Saved at second base sits at +3, while his Outs Above Average sits at +2. This trade was a win for both the Red Sox and the Jays.
His dinger gave Alek Manoah the win.
Springer goes deep in his first plate appearance back in Houston:
In his return to Houston, Springer mashed a ball to right centre field, giving the Jays an early 1-0 lead. 
The Jays had an opportunity to tack on more runs in the first, but after a Chapman strikeout and Tapia fly out, the Jays were retired with only one hit until the sixth inning. It was nice to see Springer go deep against his former team though.
Bullpen:
It's not the old days anymore, meaning that after 95 pitches, Manoah did not appear in the seventh.
First up was David Phelps, who registered two strikeouts before walking the third batter he faced. 
Before Michael Brantley (who was 3-3 to this point) stepped up to the plate, Charlie Montoyo made the call to bring in Ryan Borucki. During the 2018, I really thought Borucki had the ceiling of a pitcher like Mark Buehrle, however, he struggled last season.
He only threw two pitches, but both clocked in at 97 mph and both two-seamers had some nasty movement that ran inside, which led to a weak ground out.
Next up was Yimi Garcia to face the top of the order. He struck out Alex Bregman and Yuli Gurriel, and got Yordan Alvarez to ground out weakly.
Adam Cimber got the save. It started sketchy as he allowed a bloop single to fall in. He went down 2-0 to Niko Goodrum, but fought back to strike him out. 
Next up was former Jay, Aledmys Diaz. The utility player absolutely smoked the ball at 100.4 mph, but it landed right in Vlad's glove, who promptly stepped on first base to end the game.
This was Cimber's third career save, but he looked quite good.
Thoughts:
Rejoice, Blue Jays fans. They are 10-5 and lead the American League in wins. So far, they've won four of their five series, and tied their four gamer with the Yankees. They have a chance to sweep the series against the Astros before returning home to face the Red Sox on Monday.
According to Rob Longley, Teoscar Hernadez has picked up the bat. Hopefully both he and Danny Jansen's obliques will heal quickly, as their bats are sorely missed.
Let's hope for the series sweep tomorrow!
As always, you can follow me on Twitter @Brennan_L_D. I have a few more articles in the works for tomorrow, so stay tuned!
---