Bo Bichette is heating up at the right time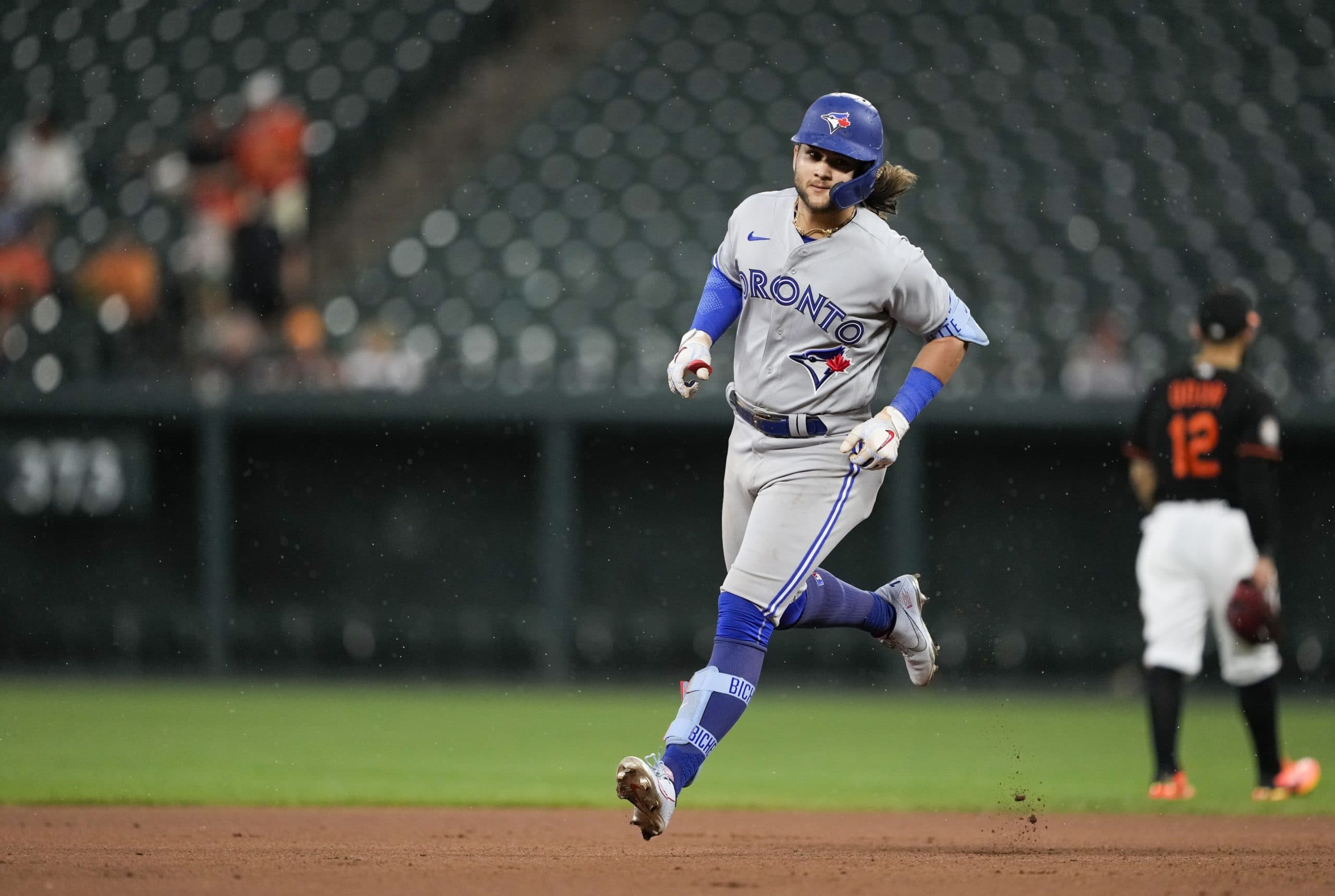 Photo credit:© Brent Skeen-USA TODAY Sports
After his outing yesterday, Ross Stripling told the media, "Good teams take care of business…we understand that we are the better team." Not only did the Blue Jays take care of business, but they were clearly the superior team during today's doubleheader sweep of the Baltimore Orioles. Today was the first time that Blue Jays won at Camden Yards this season, but it was very meaningful as Toronto is now 4.5 games up on Baltimore in the Wild Card standings.
A lot of credit deserves to go to John Schneider and the Blue Jays coaching staff, as making the second game of the Pirates series a bullpen/Yusei Kikuchi game allowed Toronto to start this series with Kevin Gausman and Jose Berrios. That plan came to fruition, as the performance of those two starters led the Blue Jays to todays sweep over their rivals in Baltimore.
Game 1
Before we even dive in to what the offense did – because seven runs was very good to see – I think it's worth leading off with Kevin Gausman. Gausman pitched 6 and 2/3 innings, allowing two runs on seven hits with no walks and six strikeouts, as Toronto won Game 1 by a score of 7-3.
Gausman started his month of September off with a dominant performance against his former team, and we even got to see Gausman chirp to the umpires, something that we haven't seen a lot of this season. In the bottom of the 4th, Gausman was called for a balk by second base umpire Jeff Nelson. Gausman approached Nelson, and immediately started to elevate the situation with a few expletives. Bo Bichette instantly charged from his position at short to restrain Gausman. Bichette's actions were quite literally game-saving, as maybe a couple more f-bombs from Gausman would've had him ejected. After things cooled off, Gausman stranded the runner on second by striking out the side.
After the game, Gausman said he believed that the balk call was premeditated, and that Nelson went into that game really wanting to make that call. There's some validity to that; it was only his fourth balk of his entire career, and Gausman's pitching motion was the exact same before and after the balk.
Now for the offense. Trailing 1-0 in the second inning, Matt Chapman led off with a double to left field that hit off the wall. Had the Orioles not renovated their stadium over the offseason, this ball would've been a home run. But, since Baltimore was really tired of losing games 22-7, they made some adjustments, and this ball wound up only being a double. Cavan Biggio singled in Chapman one batter later with an RBI to right field, and Toronto evened the game up.
With George Springer on first to lead off the 3rd inning, Bo Bichette singled to shallow center field. Springer ran the bases aggressively, as he took third to put runners on the corners with one out. Blue Jays fans were ready to punt their phones as far as they could as Alejandro Kirk grounded to shortstop, setting up a textbook double play. The Orioles got one out at second, but rookie Gunnar Henderson fumbled the transfer, allowing Kirk to reach and a run to score.
Henderson performed similar Trash Bird-like actions in the 5th inning, as he muffed a ground ball from Bo Bichette. Another elementary double play attempt to end the inning was extinguished, and a run would score to give Toronto a 3-1 lead.
Ryan Mountcastle hit an RBI double in the 7th inning to get a run back, but that was immediately nulled by Teoscar Hernandez, who hit his 20th home run of the season to set the score at 4-2.
Baltimore got another run back in the 8th inning with a home run from Anthony Santander, but the Blue Jays teed off for a three-run 9th. This mini-offensive outburst included four hits and two walks, as the "pass the baton" strategy helped expand the lead, and save a high-leverage bullpen arm from pitching the 9th.
Game 2
This game was literally all about Bo Bichette, who is making a case for AL Player of the Week (or an early case for Player of the Month). For the first time in his career, Bichette posted three home runs in one game to lead the Blue Jays to a 8-4 win.
The Orioles announced shortly before the second game that they would pitch a bullpen game, with a few bulk relievers going the majority of the game. The Blue Jays made sure to attack early off of Nick Vespi and Bruce Zimmerman, keeping the Orioles from using their high leverage arms with the game out of reach.
Bichette's first home run would be a 3-run bomb off of Vespi in the top of the 3rd, absolutely torching a slider 412 feet.
Toronto blew the game open in the 6th, as Bichette opened up with his second home run, a solo shot that pushed the score to 4-1. The bottom of the order provided a big boost in the inning as well, as a Cavan Biggio homer and a Jackie Bradley Jr. 2-run RBI ground rule double extended the lead to 7-1. Bradley's big hit was part of a 3-for-4 day with two doubles, and it also gave John Schneider more leeway to keep his high leverage bullpen arms well-rested with a larger lead.
Bichette's third home run was another solo homer in the 7th inning. What was maybe more impressive than Bo's three homer feat was that he hit home runs to left, right, and center. With his great start to September, he has already eclipsed his August home run and RBI totals.
Amidst the rollercoaster of a season for Jose Berrios, he reached another peak with his outing today. Berrios shook off a second inning homer from R*****d O**r to limit the Orioles over six-plus innings, allowing eight hits, two runs, two walks, and two strikeouts. While that may not be the most glamorous stat line to deem this a "peak outing", Berrios pitched the entirety of the 7th inning in the middle of steady rain. He had only allowed one run through his first six complete innings.
Blue Jays fans were also treated to a Julian Merryweather appearance, although he allowed a solo home run to Adley Rutschman with two outs in the 9th.
Stats to consider from the day
Bo Bichette in 2 games: 6-for-10, 3 HRs, 7 RBIs
Blue Jays SP Innings Pitched: 12 and 2/3
Blue Jays Relievers Innings Pitched: 5 and 1/3
Total Runs: Blue Jays – 15 vs. Orioles – 7
Blue Jays 2-out RBIs: 6
Writer's Note: After today's horrific events in Saskatchewan, my thoughts are with the families of the victims and everyone impacted. 
---