The Bo Bichette Redemption Tour continues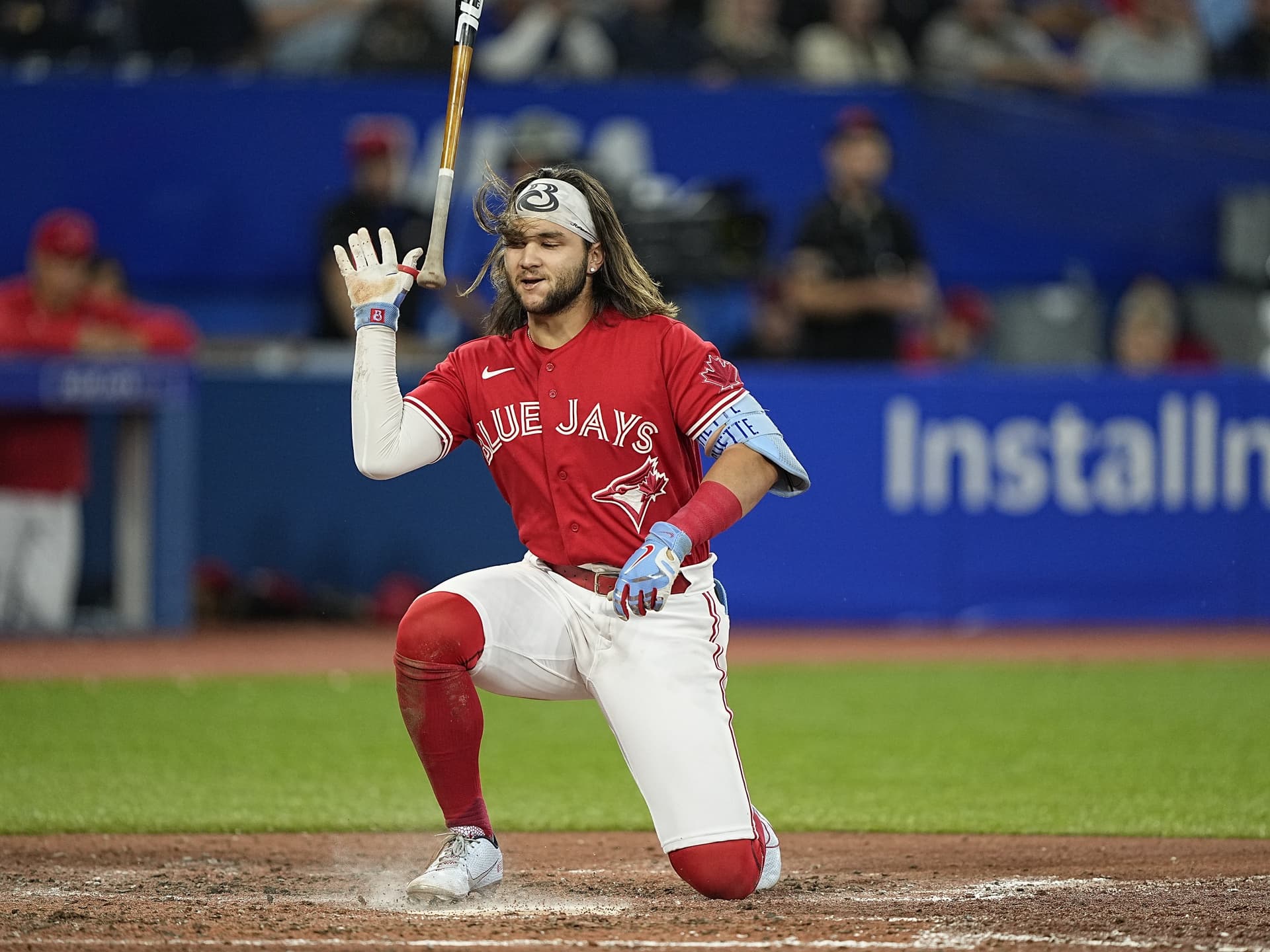 Photo credit:© John E. Sokolowski-USA TODAY Sports
In sports, it's very easy to hyperbolize and dramatize statements like "That guy carries the offense!" and "That's a one-man team!" For the Toronto Blue Jays right now, it is quite literally a one-man show on offense, as Bo Bichette once again carried the offense during a critical game in September for the Toronto Blue Jays. They defeated Tampa Bay 3-2 behind a gutsy two-run home run from Bichette to give the Blue Jays the lead in the bottom of the 8th.
Bichette's home run was off of Rays closer Jason Adam, who has been shoving for the Rays all year. Bo, last week's AL Player of the Week, battled amidst a seven-pitch at-bat against Adam, taking tough sliders and fouling off fastballs. On pitch number seven, Bichette pulled a slider over the left field fence for his 24th home run of the season. It was a little mind-boggling why the Rays even pitched to Bichette with an open base and considering how well he has been swinging the bat.
The homer was extremely reminiscent of Bichette's go-ahead home run late last year against the Yankees, taking a Clay Holmes sinker over the right field fence to lead Toronto to victory. Both home runs were in the bottom of the 8th, and both home runs got a classic call from Dan Shulman.
Bichette's home run was also meaningful due to what had happened in his previous at-bat, as Bo was hit by a pitch up near the face by Rays reliver Javy Guerra. Bichette, the hottest hitter in all of baseball right now, was reasonably frustrated, as he slammed his bat on the ground before making his way to first base. Getting some redemption his next time up was movie-like, and we should be thankful as Blue Jays fans that we get to witness and celebrate moments like these.
In the very next inning, Jose Berrios hit Francisco Mejia with a pitch on his back side, which provoked warnings to both benches. Although Berrios' actions were unintentional, it got the Rays bench chirping at Toronto's dugout. Sportsnet cameras showed Rays pitching coach Kyle Snyder shouting at John Schneider and Pete Walker. Nothing came of it, but it was really fun watching Schneider and Walker defend their guys and not taking any shit from the Rays. It also didn't make any sense; if the Rays really wanted to hit Toronto's best hitter, why would the Jays retaliate by hitting the Rays #8 hitter in Mejia?
Bichette's home run overshadowed a solid night from Berrios, who went 6 and 1/3 IP, allowing 6 H, 1 ER, 1 BB, and 4 K's. His fastball command was much better, getting multiple lefties to strike out looking by way of a sinker inside. He was tagged with a no decision, but we are continuing to see a better version of Berrios, one that we can trust down the stretch.
Both of Tampa Bay's runs came in the most "Rays" way ever: death by a thousand singles and making their opponent pay for their errors.
The Rays singled three times in the top of the 2nd, with the third and final one being an RBI single from Jonathan Aranda. It's only Aranda's 12th game of his young MLB career, and, you guessed it, Aranda is slugging .385 already, representing another Rays player who will be a menace against the Jays for years to come.
The other Tampa Bay run came in the top of the 6th, heavily aided by a throwing error from Danny Jansen. Randy Arozarena knocked a one out single to left field with one out, and stole second base one batter later. Jansen's attempt to throw Arozarena out sailed into center field, and Arozarena took third with ease. Manuel Margot grounded into a fielder's choice to score Arozarena from third, and the Rays took the lead.
The Blue Jays now leapfrog the Rays in the standings, and move into a tie for the first Wild Card spot with Seattle (for now). The Blue Jays will look to build on this momentum with a double header tomorrow, as Alek Manoah will start against Jeffrey Springs in Game 1. Unfortunately for the Rays, they will have to face Bo Bichette for two games in one day, as opposed to just one. Sucks for them!
---