Bo Bichette's defence isn't perfect, but it's raising fewer concerns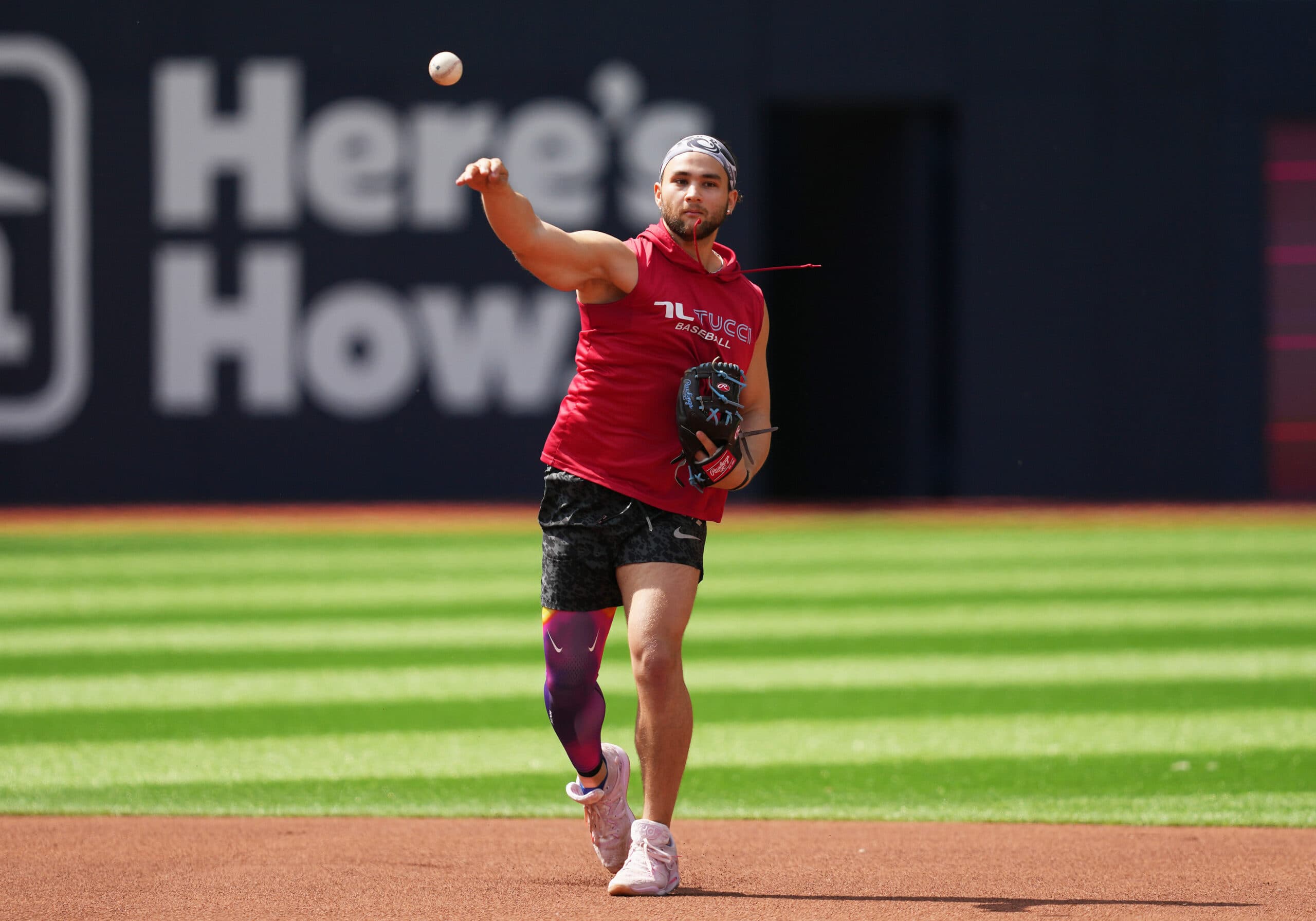 Photo credit:Nick Turchiaro-USA TODAY Sports
Bo Bichette has grown immensely since debuting as a rookie in July 2019, particularly at the plate, as he's positioned himself among the sport's elite hitters. But that is no surprise, especially given his offensive explosion toward the end of last season. What has stood out, though, is his defence at shortstop.
Defending has historically been Bichette's kryptonite throughout his professional career, although it has proven far less worrisome in his fifth season as a big-league performer. It's still nowhere close to award-winning calibre, at least not yet, but there have been some subtle improvements thus far.
The 25-year-old phenom has unsurprisingly played 40 of his 41 games at shortstop in 2023, compiling 350.2 innings on the left side of the infield. There, he has posted -1 Outs Above Average, placing in the
25th percentile of the majors
. His -2 Defensive Runs Saved are also tied for the second-fewest among major-league shortstops.
After reading that information, you probably thought, "Wait, those results aren't great." And you're right. Featuring a negative DRS and OAA isn't great. Both metrics, however, appear to be trending in a positive direction compared to his previous career results.
Last season was a struggle for Bichette, registering career worsts in OAA (-7, seventh percentile) and DRS (-16, fewest among MLB shortstops) across 1,374.1 innings. As a result, he entered the 2023 campaign with -9 DRS and -16 OAA over 3,224.1 career innings. His 57 career errors were also the second-most at his position since 2019, behind only Javier Báez (69).
Toronto's second-round selection from 2016 has committed just four errors this season, two fewer than he recorded at the 40-game point in 2022. And he finished with 23 errors that season, one shy of his career high.
So, by these standards, the Blue Jays shortstop has made a few positive strides with his defence over the first month-and-a-half of the schedule. But, of course, progress is not always linear. With that, we have seen the talented right-hander fumble a handful of routine plays early on – like his costly misplay in Philadelphia last week, for example.
The Blue Jays and Phillies should've been headed to an 11th inning during last Wednesday's series finale. But instead, after left-hander Tim Mayza impressively snagged a comebacker off Bryce Harper's bat and threw to second base to initiate an inning-ending double play, Bichette overthrew Vladimir Guerrero Jr. at first base, allowing the winning run to score.
Bichette's inexcusable misfires have become less frequent in 2023, though – and thank goodness for that. In fact, before that throwing error in Philadelphia, his OAA was positioned closer to the middle of the pack rather than the bottom third where it lies now. While his arm accuracy remains a work in progress, his defensive craft has quietly grown in other ways.
One area, in particular, where Bichette has witnessed progress revolves around his range, as his 1.3 Range Runs Above Average (RngR) currently sits fourth-highest among big-league shortstops. That has also improved his Ultimate Zone Rating (UZR) to 1.2, the fifth-highest at his position.
A season ago, meanwhile, the 2021 All-Star earned a miserable -4.8 RngR and -15.2 UZR, both of which scored worst among MLB shortstops.
How has Bichette made such a dramatic season-to-season improvement? The most notable change, by far, has been the -1 OAA he has generated while ranging in on balls. Again, that figure doesn't jump off the page, but it hovers much closer to the league-average line rather than being considerably beneath it.
When needed to charge in on grounders, Bichette has produced serviceable results regardless of his finishing position, as shown in the chart above. This hasn't always been the case historically, though, as he had struggled repeatedly to translate on-the-move plays into outs heading into this season.
Case in point, the second-generation superstar had posted -24 OAA on batted-ball events he had to range in on through his first four major league campaigns – tied for last in the majors with fellow shortstops Didi Gregorius and Isiah Kiner-Falefa.
Most of Bichette's woes transpired when finishing to his right, beginning his throws deep in the hole between third and second base. More often than not, he either committed an error or failed to record an out that most average defenders could.
Source: Baseball Savant
The key difference so far is Bichette has made fewer throwing attempts to first base from the infield's borderline on these types of plays, with most of his finishing positions located well on the dirt, keeping him nearby second base. And that has afforded the fifth-year infielder a shorter throwing distance across the diamond to Vladdy or Brandon Belt.
That may also help explain his arm strength's sudden drop, with its average velocity falling to a career-low 82.3 m.p.h., placing in the 36th percentile. It was never his strong suit anyway, but since he's making more throws closer to first base, perhaps he has intentionally taken a little off to minimize his previous overthrows.
It could also be a byproduct of his early-season sample size, as Bichette has made just 156 total throws so far after completing 740 in 2022 and 831 in '21. The right-hander's velocity is worth monitoring, though, as his hardest throw from this season was clocked at 86.3 m.p.h., down from last season's high of 91.
We have witnessed similar declines from Bichette before, which saw him average 83.8 m.p.h. and max out at 85.4 on throws during the COVID-shortened 2020 season, only for both figures to increase (85.8 average, 90.1 max) the following season. So perhaps this is nothing to overreact about.
Either way, the Blue Jays will happily accept Bichette's current version, given that his average defensive output no longer overshadows the incredible upside he brings as an offensive firepower.
---