Brandon Belt says "We need the fans to be loud" but fans aren't getting excited for Run Prevention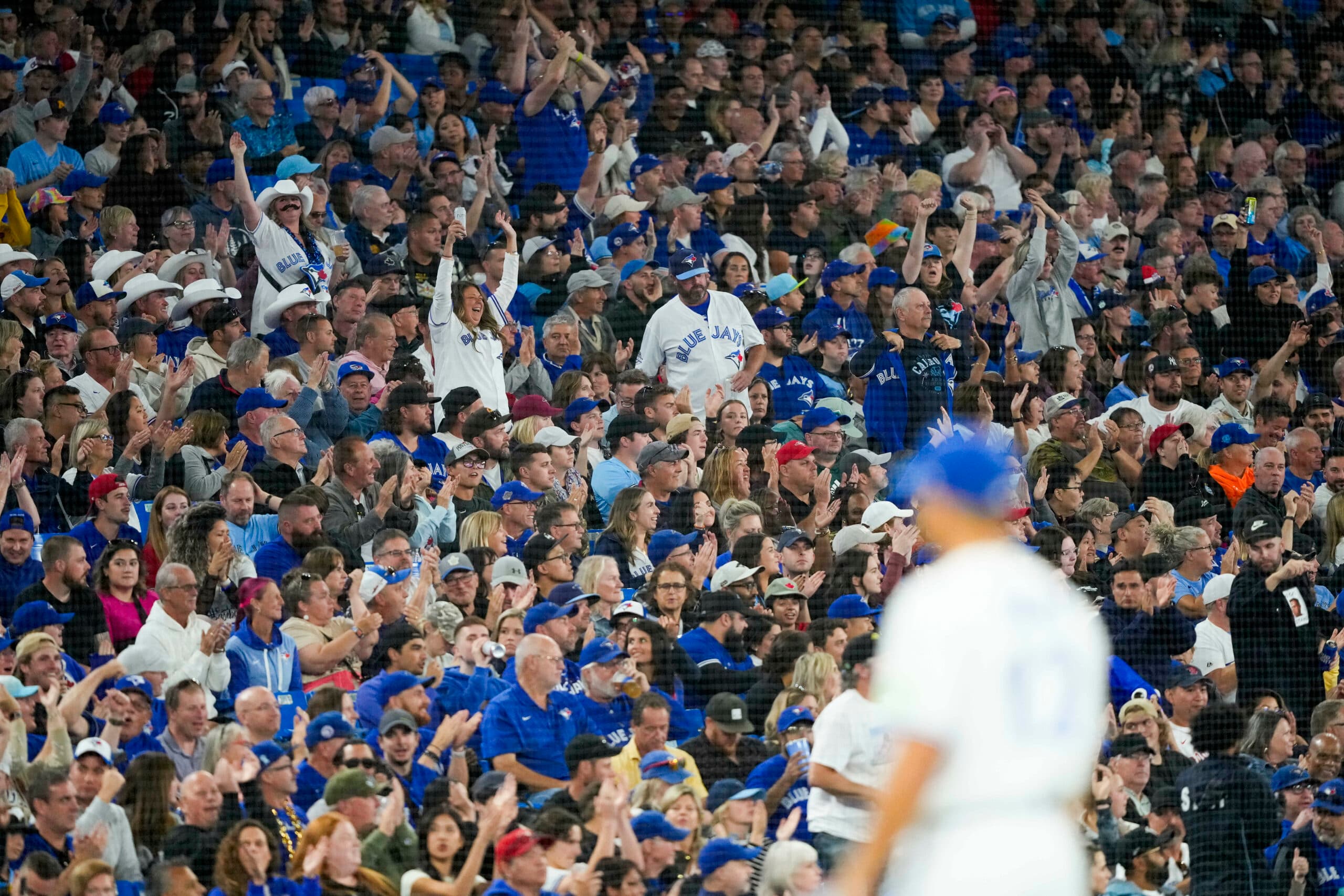 Photo credit:Kevin Sousa-USA TODAY Sports
EVERY-BODY-CLAP-YOUR-HANDS *clapclapclapclapclapclapclapclapclapclapclap*
If you're making the trip down to the Rogers Centre to watch the Toronto Blue Jays in their quest to secure a spot in next week's Wild Card Series, be ready to make some noise. The team is looking for some extra juice.
Brandon Belt, who recently returned from the Injured List with a lower-back issue, told Sportsnet's Hazel Mae on Wednesday: "We need the fans to be loud. These are important games for us."
The games are indeed important as the Blue Jays haven't clinched a post-season berth yet. Last night's loss to the Yankees coupled with the Mariners' win over the Astros has Toronto a game-and-a-half up on Houston and two games up on Seattle.
If the Blue Jays win three of their remaining five games, they're in. That seems easy enough for a team that just won seven of nine games against American League East opponents, but last night's series opener with New York wasn't overly inspiring.
The team came home with the momentum of series wins at Yankee Stadium and Tropicana Field but got completely shut down by Michael King, who didn't have the same sharp stuff that he had last week in New York. The Blue Jays mustered only three hits and couldn't cash in any of the six walks that they drew and ultimately lost 2-0.
Other than Vladimir Guerrero Jr.'s bases-loaded at-bat that resulted in a called strike three off the plate, there weren't many moments in Tuesday's game for fans to make noise.
It's usually pretty easy to brush these sorts of comments off but it's interesting given Toronto's puzzling home-and-away splits this season.
They have a .765 OPS on the road in 2023 and a paltry .717 OPS at the Rogers Centre, with a good chunk of that difference coming from their slugging percentage dropping from .431 to .395 at home. What they lose offensively they gain back with their pitching. The Blue Jays are allowing opponents to produce a .728 OPS against them on the road but they're nearly untouchable at home with a .687 opponent OPS.
Whether it's the newly renovated outfield wall or something to do with the LED lights or something completely different, The Dome is suddenly a pitcher-friendly park. It's so pitcher-friendly that the Blue Jays' team OPS+ at home is the lowest in a single season in team history, worse than any of their expansion years and any of their rebuilding years.
Ultimately, the Blue Jays have a 41-35 record at home so it's difficult to say this has been a problem for them, though the eye test is making things seem worse than they are.
Fans for years have been used to watching Blue Jays teams score a whole bunch of runs in a stadium known for dingers, so the shift to low-scoring games with a team focused on run prevention has been jarring. You need to have a lot of expensive drinks inside of you to get loud and excited about a 0-0 game in the eighth inning when your team has three hits.
Jokes aside, there's surely some validity to what Belt said about the crowd helping the team. The Blue Jays looked like zombies during those poorly-attended mid-week Texas games and they were completely different playing in front of a packed house against Boston on the weekend. At this stage of the marathon, you need whatever boost you can get.
That boost probably won't come during a mid-week slog but the fans will come through for the Blue Jays if they make it through next week's Wild Card series and they come back home looking like a contender. Fans will appreciate a Run Prevention team if they win in October. Until then, the golden standard will be the offensive juggernauts of the past.
---