Bullpen Bonanza: Sifting Through the Relief Corps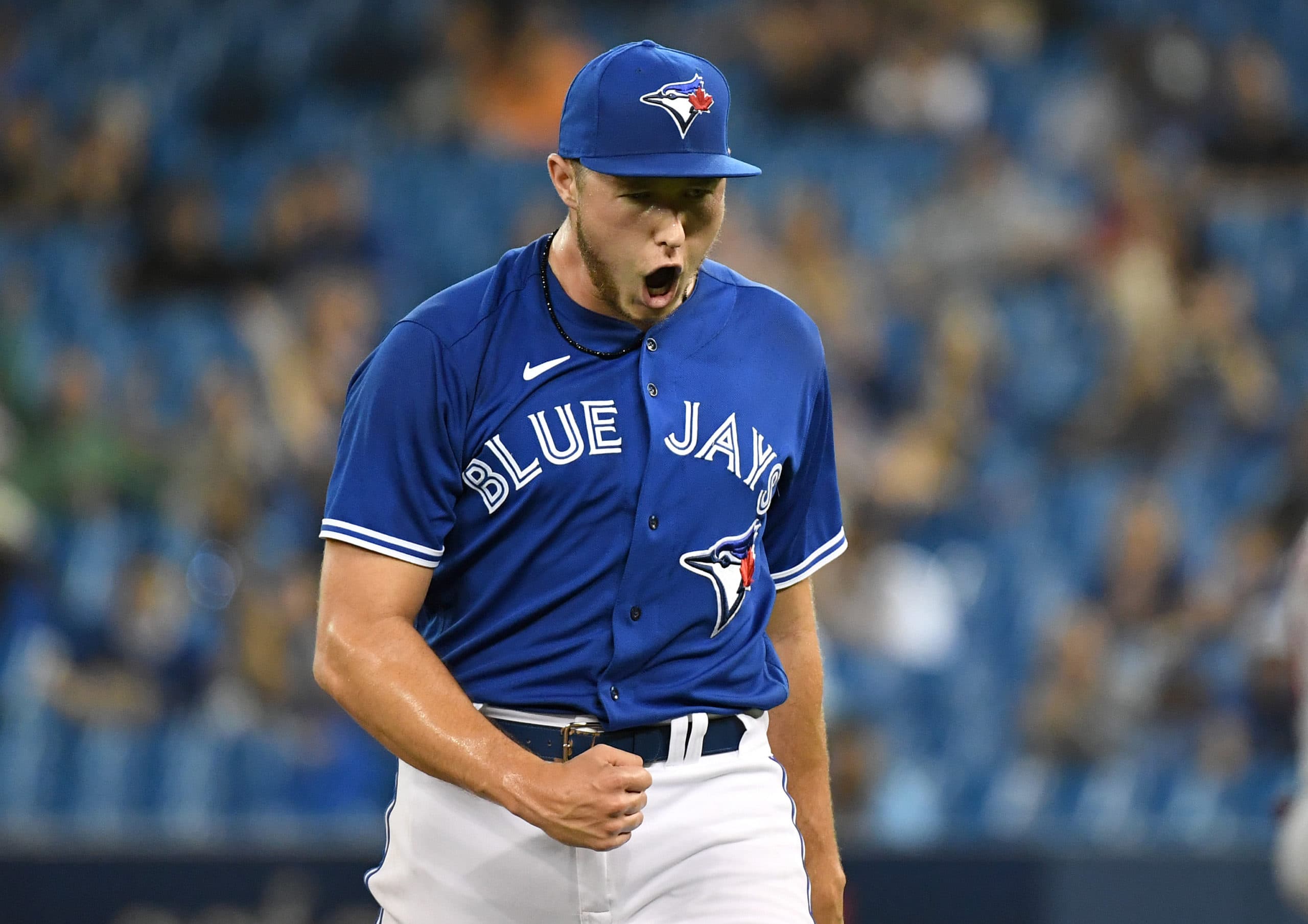 Photo credit:Dan Hamilton-USA TODAY Sports
By now we know, barring injury or trade, with near certainty who the eight pitchers in the Toronto Blue Jays' Opening Day bullpen will be.
That does involve a FEW assumptions (for example, assuming Yusei Kikuchi will begin as the fifth starter which has implications for Mitch White) but there's a pretty high probability we know how this is going to go. But no team uses only eight relievers over the course of a season, of course. In 2022 14 pitchers got at least 15 IPs out of the bullpen, and 10 others made a relief appearance. In 2021 it was 14 and 18 (!), in 2019 it was 17 and 10. So it behooves us to consider, as much as we can, what we can expect beyond opening day.
To begin with a few basic notes about those guys, Jordan Romano, Tim Mayza, Erik Swanson and Adam Cimber DO have options – they WON'T be used. Anthony Bass and Yimi Garcia are under contract and cannot be optioned, and Trevor Richards, along with Mitch White, are out of options. It seems to me that there's a non-zero possibility that Richards could be traded in a month or so if some of these other guys really force the issue, it's not their way to just ditch a guy who could bring them some return (Matt Gage notwithstanding) but his spot here is only secure insofar as he's in the organization at all. It's also worth taking a small second glance at White.
If you're looking only at the most surface numbers as a Blue Jay, in which he completely imploded down the stretch in 2022 you might be justified in saying "how is this guy assured of anything?" Well, for one thing, his FIP was 3.76 and he got a lot of bad breaks. That FIP is directly in line with his ERA and FIP in Los Angeles (3.70/.3.95) and this is RIGHT in line with his work in LA before 2022 (3.44/3.78). Ask yourself, which of these things is not like the others? There are marginal differences between his pre-trade '22 and his season in '21 – slightly higher on the slash lines, slightly lower K rate – but everything has a more or less normal variation. The only place statistically where there's a huge outlier is BABiP. In 2021, it was .258, before the trade last season it was .276 – and AFTER the trade it was .368! I'm prepared to argue that this will almost certainly regress toward the mean. Also, remember the lesson of Ross Stripling.
So beyond these first eight, the pitchers that are nominally first in line are those who are already on the 40-man roster. These include (relievers listed first) Nate Pearson, Zach Pop, Trent Thornton, Hagen Danner, Yosver Zulueta, Thomas Hatch, and Zach Thompson – and really Thompson isn't really relevant to our discussion since they will surely want him to stay built up for starter innings unless he completely falls apart. It's also worth noting that Zulueta comes with some caveats but I'll get back to that. Now you may be thinking "Thornton AGAIN?" but trust me, he wouldn't have taken up a roster spot all winter including landing a million-dollar salary if they thought he was trash. Hatch might be on the fringe of the 40-man roster but they kept him and let Gage go (I sure wouldn't have made that choice looking at stats) so again, they know something we don't. Let's did into these guys.
There's little need for me to go deep on Nate Pearson. If you're reading this you know the gory details and the shattered dreams of a front-of-the-rotation horse. Still, if healthy – yes I KNOW – if healthy he'd be the first or second guy you call when there's an inevitable opening in the major league 'pen. There's some interest in building him up to enough pitches to go once through an order if needed so if the call was early, maybe they step over him but he's the guy above all who'd break camp if Richards wasn't here or someone got hurt. The other guy in that top two is Zach Pop. I get the feeling that a lot of Jays fans don't fully appreciate what they have with this guy. He's only one month younger than Pearson and both have two option years left. He spent all of 2021 in the majors as a Rule 5 choice, having missed almost all of 2019 and all of 2020 coming off of Tommy John surgery. At that point, he had a total of 10.2 IP above A ball. His walk rate that year was a bit higher than you'd like, not unexpectedly, but he had a 3.77 FIP and a 4.12 ERA. In '22 he cut that walk rate from 4.0 per 9 to 0.9 per 9 and everything else but his strikeout rate got noticeably better. Quite possibly he's only scratched the surface of what he can do. Like Pearson, if there was any way for him to break camp with the Jays he would.
This brings us back to Trent Thornton. Jays fans love to dump on Thornton and I get it, he's not good – but he's not BAD either. You don't want to put him in even medium leverage and if you have to, your pen isn't good enough, but every team needs a guy who can haul these innings when you have to put SOMEONE out there and not be a disaster like, say, Thomas Pannone ended up. Remember, at best he's 10th in line and he'll be used that way if and when he shows up in Toronto. I might as well mention Thomas Hatch here as well, though I do NOT think he's the next man as things stand now, since he's the other reliever in this crowd with major league experience. Even though he was thought at the time to be a fairly promising prospect as a back-end starter, he was a bit of a revelation out of the major league pen in 2020. It was somewhat driven by a freakishly low BABiP (.231) but even so, his FIP was 4.14 which is fine for a guy who's nowhere near leverage. Since then he's accumulated 14 very not-good major league innings. He was fine in AAA in '21 but regressed last season, apparently keyed by a drop in strikeout rate. It's not impossible he could yet be a serviceable middle reliever (he's still just 28) but you dare not count on it.
Oct 22, 2022; Phoenix, Arizona, USA; Toronto Blue Jays pitcher Hagen Danner plays for the Salt River Rafters during an Arizona Fall League baseball game at Phoenix Municipal Stadium. Mandatory Credit: Mark J. Rebilas-USA TODAY Sports
The two pure prospects in this group share some commonalities and have a key difference. Danner, who began professional play as a catcher who, ultimately, couldn't hit is a pure reliever and he brings 100 MPH heat. In his first year in the new role (he'd pitched in high school and was a two-way prospect in the draft) he was golden, with a 2.02 ERA at Vancouver in 2021 featuring a 10.6 K/9 and a 0.93 WHIP. This earned him a spot on the 40-man lest he be selected in the Rule 5 Draft, which is not a thing you expect to happen to a guy with less than 36 professional IPs unless he's got a LOT of talent. Then he missed almost all of last year with injury, though he showed no sign of ill-effects in the AFL. He's got a power slider and a respectable curve and a lot of promise.
Zulueta has four quality pitches and can also touch 100 mph and the team would like to build him up as a starter for the time being, where his focus will be on refining command and control. but the talk of plugging him into the major league 'pen last August wasn't for nothing and most observers think he could look very good against MLB hitters in that role right now. Still, with them trying to keep the potential to start in order, my guess is that all other things being equal you'd see Danner in Toronto first – but I'm pretty sure both are ahead of Hatch in the pecking order. So to review the probable order of priority in this group:
Pearson/Pop
Thronton
Danner
Zulueta
Hatch
So now we're 14 deep just with guys who are already on the roster, and almost all of them guys you shouldn't dread seeing take the mound. But what else might be available?
Between results and buzz, that group seems to consist of Hayden Juenger, Adrian Hernandez, Jackson Rees, Brandon Eisert and maybe Bowden Francis. The first guy in line here is surely Juenger (I'm told it's pronounced "Yinger" no matter how much my brain keeps telling me "Younger") who was drafted in 2021 and has raced to AAA with essentially no speed bumps. Groomed to be a once-through-the-order option (we really need a cooler term for this than "bulk guy") and apart from a few more walks than you'd really like he's shown that ability. They seem to have time to let him polish a bit more but the odds are better than not that he pitches for the jays sometime this season. Hernandez, despite being an entirely different sort of pitcher, was tracking that way until late last summer when an injury threw things into some uncertainty. He has a pretty pedestrian fastball that can get up to 90 sometimes, but he has this incredible change with screwball action that generates a LOT of misses. Or, it does when his control is on. It wasn't at all after the injury. If he gets back to his game he can get outs in the majors, but he could just as easily fall apart.
The closer Jackson Rees gets to completing his climb the more you'll be reading about his pretty incredible story. Signed as an undrafted free agent by the Jays in 2018 as he was closing in on his 24th birthday, he would have been rightly dismissed as your basic roster-filler flyer who maybe had one interesting pitch or whatever. Which is how he pitched that year. But 2019, oh man, 2019. His 88 K and 15 BB in 61.2 innings pitched (40 hits allowed)  to go with a 0.73 ERA will turn some heads. 2020 would have been AA but…yeah. Then he lost almost all of 2021 to injury.
Finally, he crawled back through rehab to get to Buffalo in mid-August last year and got nine innings of mixed results. But the buzz is back and there are observers who think he'll jump back into the conversations about promotion this year if his health holds. He's got 102 professional innings but only 20 of those above A ball so he'll have to impress for some months before he's really a fully formed candidate for promotion but that he's there at all is pretty fascinating. Eisert, on the other hand, is not a "buzzy" guy. Scouts will note that he has a lot of pitchability and gets results but you don't hear a lot about his stuff.  Drafted in 2019 but didn't appear in a pro game until 2021, the lefty ran up the ladder with high K rates, good control and solid ERAs along the way. Last year in Buffalo he kept the K rate over 11 per 9, and the BB rate under 3/9, with a 3.41 ERA. He's just the kind of guy who catches my eye. But the last guy who caught my eye like this was Travis Bergen so… I dunno. I'm inclined to think there's at least a Tayler Saucedo profile in there. As for Francis, I lost a lot of faith in him last year and I'd be pretty shocked if he ends up being of any real importance with 18 (or more?) guys in front of him but some observers think he showed something as a pure reliever over the winter so maybe there's something I don't know.
Other names that might play into this if things break right for them include the Fernandez not-brothers (AFAIK) Junior and Julian – neither of who has shown any ability to find the plate regularly enough to be an effective major leaguer, and Big Ol' Boy Fitz Stadler. The 25-year-old is 6'9, 230 and was doing well in the strikeout department before missing all of 2022 with injury (TJ? Not sure) but he too had work to do on hitting the zone regularly and it's anyone's guess how he'll come off the injury. Also, dark horses to watch are LH Jimmy Burnette (the most surprising ST invite among the pitchers for me) who struck out 113 in 71 IP in his first full pro season, ending the year in AA, and RH Troy Watson who was an entirely nondescript starter in A ball in 2018-19, made one brief start in 2021 before heading to the surgeon for TJ and came back last year in late June apparently throwing serious gas out of the bullpen. He'll likely start the year in AA but if the reports of touching 100 are true, he could be the out-of-nowhere story at some point.
That's 24 names, and if you assume the off-roster guys live up to their potential enough to get promoted, there are only a few of these guys that will cause you profuse sweating just knowing they are on the roster. And I didn't even bring up Chad Green.
---