Chatting with Bowden Francis about being traded to the Blue Jays, Spring Training, and what's in store for 2023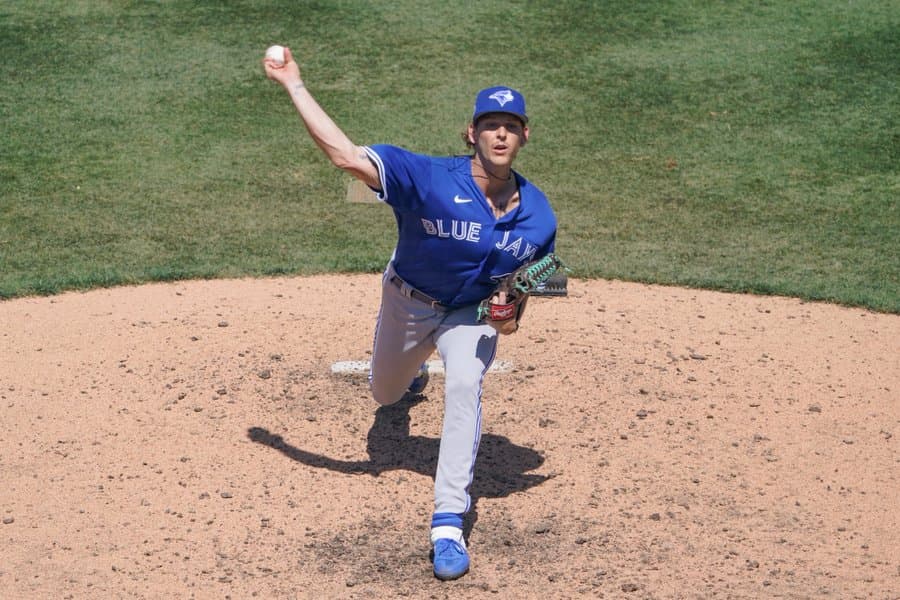 Photo credit:@BlueJays
Anytime a player hears their name called during the MLB Draft is a cause for celebration, but for the Francis family, the 2017 draft had a lot more meaning.
"It was an awesome experience to hear my name called," says Blue Jays right-hander
Bowden Francis
, who has been through the process before after being drafted by the Arizona Diamondbacks the year prior but returned to Chipola College for a sophomore campaign. "I felt like I had a really strong second season with Chipola and all the hard work I put in, it was amazing to hear my name called by the Brewers. It was also exciting to see my brother (Harrison) get drafted as well (Diamondbacks, fourth round), I was honestly more anxious for him than I was myself that day. It was a very special moment for my entire family and just a great experience for all the time and energy my parents put into furthering our baseball careers since we were little."
With the brothers both turning professional, Bowden was heading to the Brewers organization and worked his way up the Minor League ladder, making it to Triple-A in 2021. While he didn't get to pitch during the COVID Minor League shutdown, Francis made seven starts in Triple-A the following year and crafted a 9.1 K/9 through 38.2 innings.
Getting to Know Blue Jays Right-Hander Bowden Francis
This rise through the rankings caught the attention of other organizations, with the right-hander being traded to the Blue Jays alongside reliever Trevor Richards in exchange for slugger Rowdy Tellez.
"I really worked and dedicated a lot of time to getting better during the shutdown, the following year I started in Double-A and then progressed to Triple-A and then I was informed by my manager that I had been traded to the Blue Jays organization. It was cool to see that a team was interested in me, especially a team like the Jays. This whole experience was pretty new for me but from the outside looking in, I loved seeing how the Jays played, especially José Bautista because not only was he a Chipola alum but because he played with such a passion on the field. The players got to express themselves on the field in a good way and I really liked the way the Blue Jays operated."
Francis would finish the season in Buffalo, posting a 4.19 ERA through 14 outings and worked mostly out of the rotation. The Florida product would return to Buffalo to start the 2022 season and got the call to the big leagues in late April. He would make one relief appearance, taking over for Andrew Vasquez in the top of the ninth inning against the Boston Red Sox with one out. He allowed a double to Rob Refsynder but bounced back by striking out Kiké Hernández on a 92 MPH fastball and getting Jackie Bradley Jr. to ground out to first base.
Speaking on his debut, Francis was incredibly thankful for the opportunity, "It was very emotional; everyone has their 'why' on why they play the game, and when you hear you are going to the big leagues, I immediately thought of every coach, family member, who helped me along the way. My mom passed away when I was in high school and I really wanted to do this for her and it was a big reason behind how I went about my business on the field."
The right-hander would be optioned to Buffalo shortly after his outing and went through a transition of seeing increased reps in the bullpen versus being a starter in Triple-A, something Francis acknowledges took some getting used to.
"I went to Toronto and I competed, and once I went back to Buffalo, I had some rough outings. After being designated, things just started to click for me. I was starting to really hone in on my mechanics and really get back to who I am. It did take me a while to adjust to that type of role but I really focused on the mentality that I can pitch in any type of situation regardless of my role on the team."
Following the campaign, Francis took his talents down south to Puerto Rico and joined Criollos de Caguas for winter ball, getting some increased reps alongside former Bisons teammate José De León. "Puerto Rico was awesome. The atmosphere and clubhouse culture was fantastic to experience and I felt really comfortable on the mound and it was great to get some extra reps"
Fast forward to the final days of Spring Training, and Francis is one pitcher who really opened eyes these past few months with his work on the mound. Through six outings, the Chipola product allowed just eight hits and three earned runs through 13.0 innings, routinely hitting 92-94 MPH with his fastball with a low-70s curveball that generates tons of swing and miss, racking up 15 strikeouts. He threw 68.5% of his pitches for strikes and allowed just six walks all spring, keeping the ball around the plate and getting solid.
Francis Talks About his Goals for 2023
"My confidence was good after winter ball and I felt comfortable right from my first bullpen session. The veteran guys in the Jays clubhouse were great and welcoming, taking you under their wing even and making you feel like yourself and just creating a positive environment, which helped with my results on the field. I am really happy with how things turned out. My biggest goal in 2023 is that I want to commit and have the gas pedal down on each and every pitch and continue to stay aggressive with opposing hitters."
Considering how well his spring went, it wouldn't be a surprise if we see Francis with the Blue Jays sometime this season, especially if he can continue this strong trend in Triple-A.
---