Coming off miserable 2021, Michael Conforto could be a perfect match for Blue Jays
Photo credit:Rhona Wise-USA TODAY Sports
After winning the George Springer sweepstakes last off-season, the Toronto Blue Jays may find themselves in a similar position this winter where they possess a chance to dramatically improve their outfield through free agency.
But will the front office ultimately take that option whenever this current lockout ends? Only time will tell.
As currently constructed, Toronto's outfield at the major league level is set to feature Springer, Teoscar Hernandez, Lourdes Gurriel Jr. and Randal Grichuk next season. While that's a suitable group to open the year with, however, there's no question this organization could benefit from making an upgrade.
Looking to the free-agent market, outfielder Michael Conforto is someone who should immediately jump off the page, especially given his seven seasons of major league experience. Along with serving as a veteran presence, the 28-year-old would also check several boxes off on the Blue Jays' wish list, starting with his left-handedness.
It's no secret this organization needs a reliable left-handed hitter, and even though Conforto is nearing his age-30 season, inching closer to that threshold likely wouldn't prevent him from balancing out this team's offence in 2022.
Granted, the 6'1″ outfielder is coming off a very disappointing campaign with the New York Mets, where he slashed a .232/.344/.384 and posted a career-worst 0.8 fWAR rating over 479 plate appearances. Additionally, a strained hamstring forced him to miss just over a month from May to June, making his performance even more frustrating.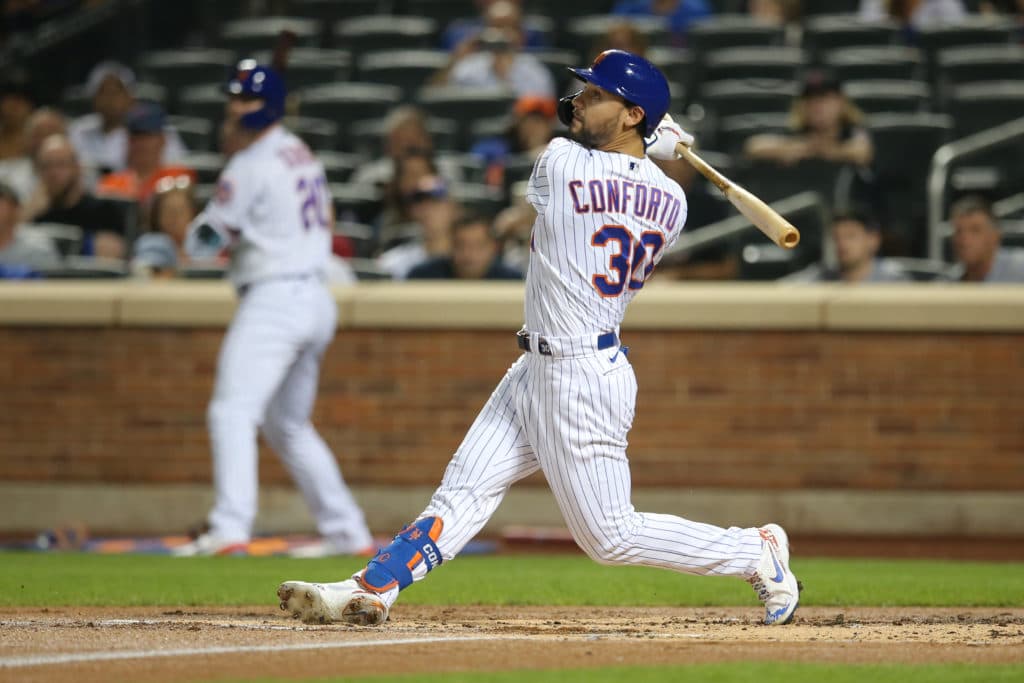 Credit: Brad Penner-USA TODAY Sports
Despite Conforto's concerning results from last season, the left-hander didn't perform nearly as poorly as his traditional metrics suggest, as his expected statistics proved to be far more forgiving.
Over his 125 games played, the 2017 National League All-Star finished with a .253 xAVG, .435 xSLG, .350 xwOBA and a .391 xwOBAcon.
Based on these results, there seems to be plenty of reason for optimism regarding a bounce-back performance from Conforto in 2022. If that proves to be the case, it's very possible he could act as one of the steals of the off-season, and everyone knows how much the Blue Jays enjoy capitalizing on those types of situations.
Paired with his encouraging expected metrics, the long-time Met had served as one of the top-performing outfielders in the majors prior to this past season, particularly from an offensive perspective.
From 2017-2020, Conforto registered the ninth-highest fWAR rating (13.3), the 12th-highest wRC+ score (133) and the 14th-most home runs (97) among all qualified outfielders in the majors, according to
FanGraphs.com
.
So while the Washington native only produced 14 home runs, 55 RBIs and a 106 wRC+ score in 2021, given his success from previous seasons, chances are he should be poised to outperform those totals moving forward. In turn, his 2021 showing could end up as more of an outlier performance rather than the beginning of any sort of decline.
Credit: Scott Taetsch-USA TODAY Sports
Along with Conforto's slugging results, he's also been known to reach base consistently in the past via walks, which would certainly be a welcomed addition to Toronto's line-up. Even in a year where most things pointed in the wrong direction, the veteran outfielder still made a positive contribution in this department last season.
Thanks to his impressive 12.3 per cent walk rate – his highest percentage since 2019 (13.0 per cent) – it finished in the 87th percentile among all qualified hitters, according to
BaseballSavant.com. 
Dating back a little further, his 13.0 per cent walk rate from the 2019 campaign ranked in the 91st percentile, making him one of the most effective batters in the majors at generating free passes during that season.
Making himself even more appealing, Conforto has rarely been subject to a concerning amount of strikeouts throughout his professional career and luckily, the 2021 season wasn't any different. In fact, he reached new levels of success involving his plate discipline in what was the most frustrating offensive showing of his extended tenure in Queens.
In spite of his slugging woes, the former first-round selection recorded the second-lowest strikeout (21.7 per cent) and whiff rates (23.3 per cent) of his career, along with a career-best 23.0 per cent chase rate.
For the most part, Conforto has enjoyed the majority of his success against right-handed pitchers – an area where the Blue Jays' offence has struggled in the past. While his career results took a minor hit last season, overall, they still remain the leading aspect of his offensive craft.
Ever since making his major league debut in 2015, "Scooter" owns 224 extra-base hits – including 105 home runs – 306 RBIs, a .237 ISO, a .302 BABIP, a .369 wOBA, a 13.2 per cent walk rate, a 22.2 per cent strikeout rate, a 136 wRC+ score and has slashed .265/.371/.502 over his 2,187 plate appearances against righties.
For anyone still worried about Conforto's ability to bounce back next season, one of the factors that should help him accomplish that feat is slightly adjusting where he's directing balls in play. For instance, rather than being a heavy pull-hitter – which plagued him at times last season – it'd be more beneficial to increase his usage of the opposite field.
Unlike in recent seasons, opposing teams shifted the Oregon State standout more than ever before in 2021, leading to significantly more outs that previously resulted in hits when directed towards the middle and right side of the diamond.
| | | |
| --- | --- | --- |
| | Shift (%) | wOBA – Shift |
| 2019 | 52.4 | .398 |
| 2020 | 50.6 | .430 |
| 2021 | 64.9 | .313 |
Since Conforto failed to adjust to this dramatic change, which saw his opposite-field percentage drop to 22. 4 per cent, there wasn't any motivation for the opposition to play him straight up rather than stacking three defenders on the right side.
But if he corrects that mistake next season, there's a pretty decent chance he'll face fewer shifts in future games, likely improving his ability to hit for extra bases. As a result, the veteran left should be capable of improving off his career-worst .153 ISO when he steps to the plate in 2022.
In addition to his offensive upside, acquiring Conforto could also improve Toronto's overall outfield defence, which finished tied for the fifth-worst OAA rating (-10) last season. By making this move, however, it'd require the coaching staff to reshuffle the corner outfield roles, likely shifting Hernandez over to left field on a full-time basis.
For Conforto, who earned a +1 OAA rating over his 956 1/3 innings in right field in 2021, he'd take over the everyday role in the right corner – making for a starting outfield consisting of Hernandez, Springer and Conforto. That'd be a pretty potent trio.
Unfortunately, for fans of Gurriel Jr. or Grichuk, one of them would probably end up as the odd man out in this equation. In an effort to avoid a log jam in the outfield, a trade involving either of these two outfielders could prove to be the most effective resolution.
Considering Gurriel Jr. is slated to earn a team-friendly $4.9 million in '22 and $5.8 million in '23, he'd definitely be the easier player to move between the two. Not to mention, the 28-year-old would probably fetch a solid return, too.
As for what type of deal Conforto could command, from Toronto's perspective, it'd make the most sense to offer him a multi-year contract that ideally runs through 2023. That way, they'd gain a significant amount of financial flexibility with Hyun Jin Ryu's and Grichuk's deals both set to expire after that season.
With that in mind, if the front office wanted to make a significant financial commitment during that ensuing off-season, they'd more than likely possess enough payroll space to do so.
So while a large portion of the fan base might be against this type of move, for a franchise that's looking to qualify for the playoffs in 2022, it may become a necessary transaction.