Comparing starting rotations in the American League East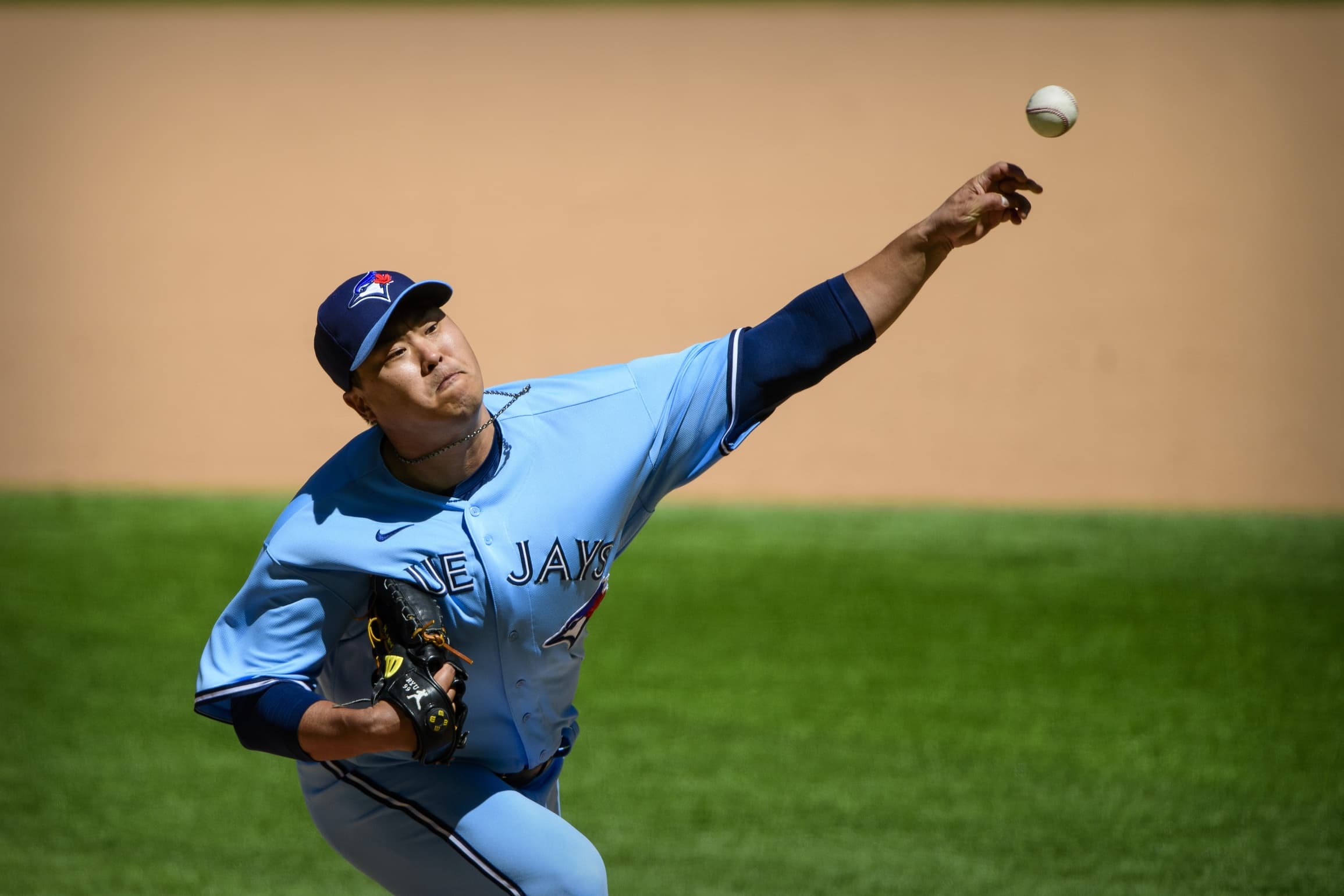 Photo credit:© Jerome Miron-USA TODAY Sports
Let's be real here, the lockout sucks. What else is there to do other than pray that the two sides can get together and figure it out?
Well for me, I can start a nice little debate about the best players in the American League East. We'll start with which AL East team has the best rotation.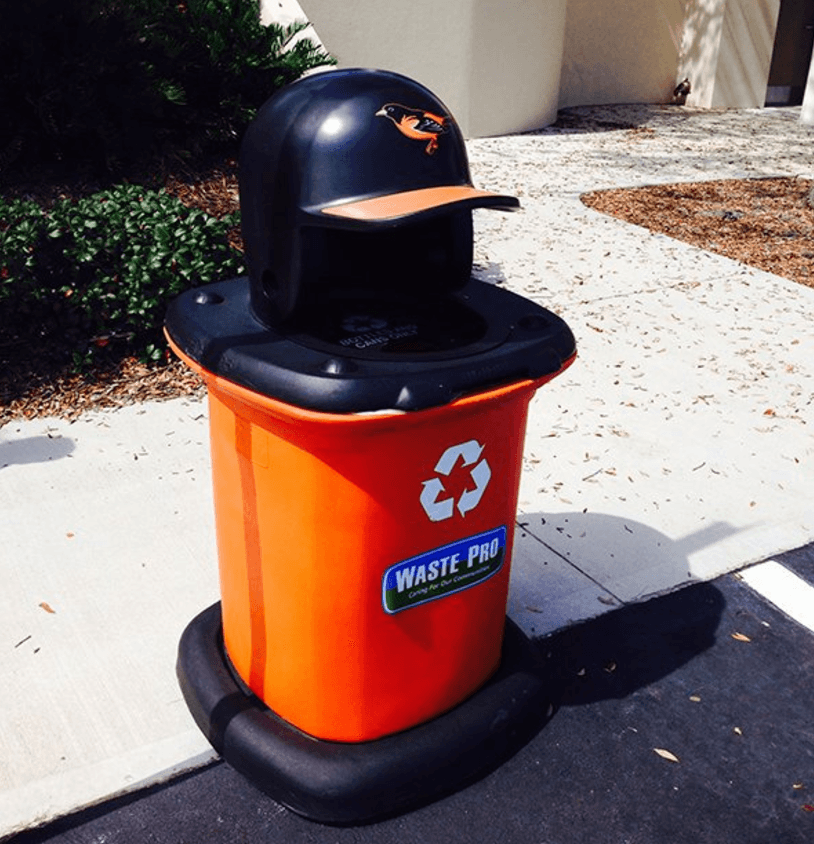 Baltimore Orioles:
The Baltimore Orioles are not good. The Bad Birds of the AL East finished the 2021 season with a record of 52-110, which landed them the first overall pick in the 2022 MLB draft. The team's one bright spot for starting pitching came by means of a starting pitcher named John Means (pun intended). 
The former 11th round pick pitched 146.2 innings and registered an ERA of 3.62 and an ERA+ of 126. Means also registered a FIP of 4.62, so his independent numbers are slightly worse. However, Means had a K/9 of 8.2 with a BB/9 of 1.6, which are solid numbers. The 28-year-old is under Oriole control until the end of the 2024 season.
The Orange Birds also signed 31-year-old Jordan Lyles to a one-year, 7 million dollar contract before the lockout. For the past two seasons, he played for the Texas Rangers and had an ERA of 7.02 in 2020 and 5.15 in 2021. The Orioles are hoping that he regains his 2018/2019 form where he posted a 4.11 ERA and a 4.15 ERA.
The Orioles have the second smallest payroll, with only $29,416,666 dedicated to the 2022 roster. They have the money to spend, but due to their rebuild, it's unlikely that they will add anyone of note.
Boston Red Sox:
From the second-lowest payroll to the sixth-highest payroll, the Boston Red Sox unsurprisingly have a better batch of starting pitchers than the O's.
The most notable of which is 32-year-old Chris Sale. The hard throwing lefty missed all of the 2020 season as well as the majority of the 2021 due to Tommy John Surgery. Despite that, he put up solid numbers in his 42.2 IP. His K/9 was below his career average, but he still registered a respectable 10.97. Furthermore, his BB/9 of 2.53 showed that he still had control. Sale's 4.40 ERA in the 2019 season was his worst to date, but it normalized to a good 3.16 in 2021. Furthermore, his FIP of 3.69 was solid, given the long layoff and the post spider tack ban.
The standout pitcher of the 2021 Boston Red Sox has to be Nathan Eovaldi. In 182.1 innings pitched, he registered an ERA of 3.75 and a FIP of 2.79, leading to an fWAR of 5.6. Eovaldi showed control as his BB/9 sat at a low 1.73 (up from 1.30 in 2020). It'll be interesting to see if he can match his 2021 stats in the upcoming season.
Lastly, before the lockdown began, the Boston Red Sox signed Canadian James Paxton. Unfortunately for him, in the past two seasons, injuries have kept him from pitching all but 21.2 innings. In the three seasons prior to 2020, he always had a K/9 higher than 10.32, including the 2018 and 2019 seasons where his K/9 was over 11. Furthermore, before 2020, he never finished with an ERA over 4. As it stands, his career ERA is 3.59 and his career FIP is 3.31. While he likely won't start the 2022 season, he'll be pitching in 2022.
Finishing up the pre-end-of-lockout-rotation, the team has Rich Hill, Michael Wacha and Nick Pivetta all under contract. However, the Red Sox may look to add better starting pitchers to fill that 4th and 5th spot in the rotation. If their starting pitchers remain healthy, watch out, they could be competing with the Jays for the best rotation.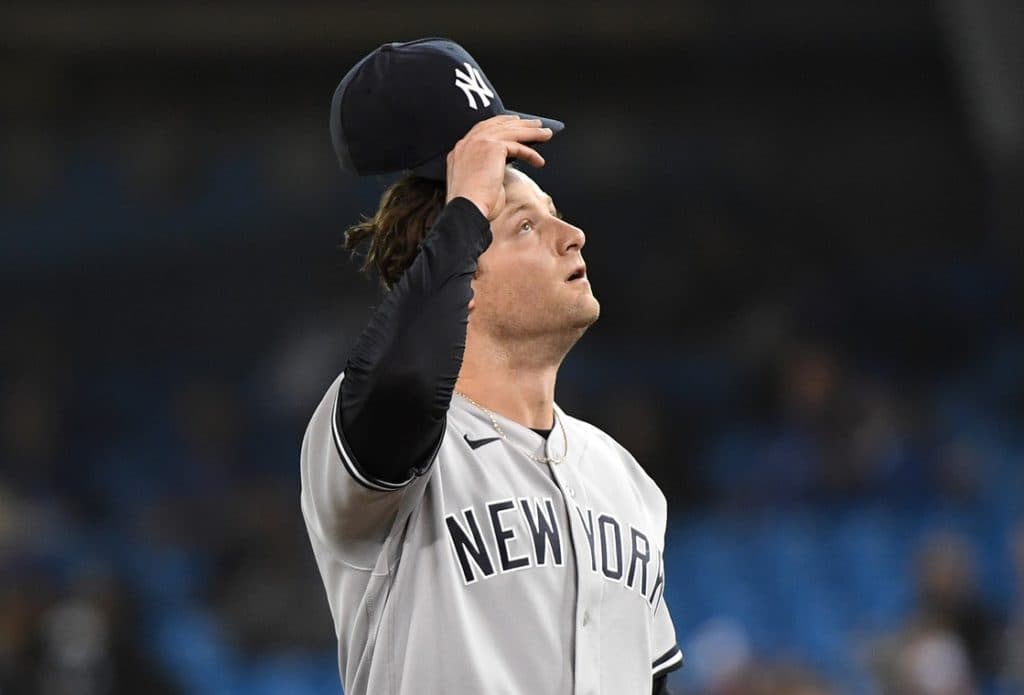 Sep 29, 2021; Toronto, Ontario, CAN; New York Yankees pitcher Gerrit Cole (45) reacts after giving up a double to Toronto Blue Jays shortstop Bo Bichette (not pictured) in the first inning at Rogers Centre. Mandatory Credit: Dan Hamilton-USA TODAY Sports
New York Yankees:
Before I dive deep into this, let's talk about Spider Tack. The foreign substance ban was one of the main talking points in the 2021 season. Toronto fan favourite Josh Donaldson accused Gerrit Cole, a Yankees pitcher, of using the substance. Cole all but admitted to using it a few days later. The MLB announced the ban would start to be enforced on June 21. Let's take a look at Gerrit Cole's pre and post-ban statistics.
Pre Ban:
Post Ban:
Will Cole adjust? It is to be foreseen.
Luis Severino returned and pitched out of the bullpen after missing the majority of the past 3 years. He looked good in his 6 innings pitched, as he didn't allow a run and struck out eight. If he returns to form pre-injury, that would be a huge boost to a Yankees squad that didn't have a great rotation last season.
Jordan Montogomery is another pitcher to keep an eye on. In 157.1 innings pitched, he posted a 3.83 ERA and 3.69 FIP for an fWAR of 3.3. If he matches last season, he could be a solid number 3 behind two aces. Filling out their rotation is POS Domingo German and Jameson Taillon.
Tampa Bay Rays:
Let's be honest here, despite the Rays payroll and the fact that on paper their rotation is nothing special, they're going to be an absolute pain in the ass for the AL East.
Unfortunately for the Rays, Tyler Glasnow will not return until the 2023 season due to Tommy John. Yes, he cheated with spider tack, but forcing players to adjust mid-season is what caused his injury.
What about the rest of their rotation? Well, they signed 35-year-old Corey Kluber, who has won a Cy Young award. The Rays have the ability to find hidden gems or turn players' careers around, so who knows what their plans are with Kluber.
Rookie 24-Year-Old Shane McClanahan pitched 123.1 innings in 2021 and posted an ERA of 3.43 and FIP of 3.31. He and Glasnow are the only 2022 Rays that didn't have an opener pitch before them.
The Rays also have the 19th best prospect in MLB who projects to be ready in 2022. Shane Baz is a 22-year-old right hander who dominated Triple A in 2021. He had a brief call-up at the end of the 2021 season pitching 13.1 innings. In that short amount of time, he had a K/9 of 12.15 and showed his control with a BB/9 of 2.03. His ERA was also 2.03.
With the Rays, you never know who they'll throw out there, but if all of the pitchers I mention perform well, you could see them dominate the AL East again.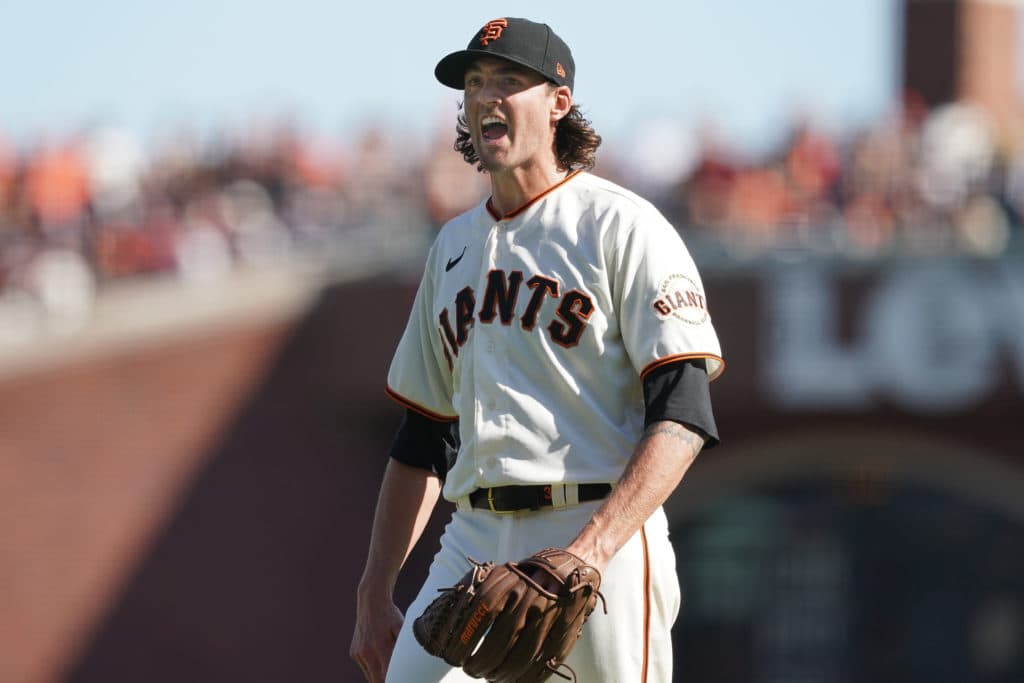 Credit: Darren Yamashita-USA TODAY Sports
Toronto Blue Jays:
Lastly, we have the beloved Toronto Blue Jays. Before the lockout, reigning AL CY Young winner was signed by the Seattle Mariners, resulting in the Blue Jays gaining a top 100 pick, as well as losing their ace. In response, they signed Kevin Gausman to a 5 year, 110 million dollar contract. 
Pitching for the Giants in 2021, Gausman posted a 2.81 ERA and a 3.00 FIP. He had a K/9 of 10.64 and a BB.9 of 2.34 in 192 innings pitched. Gausmen also had a solid GB% of 41.9%. In contrast, Ray had an ERA of 2.84, a 3.69 FIP (Gausman allows fewer home runs) , had a K/9 of 11.54 and a BB/9 of 2.42. Ray's GB% was also lower at 37.2%. The Jays essentially replaced their Cy Young winner with a pitcher who you could argue is better AND a high pick to replenish their prospect pool which was traded for this player:
Jose Berrios was acquired for two prospects, Simeon Woods Richardson and Austin Martin on July 30th. At first, I was less than pleased, but it didn't take long for me to realize how good Jose Berrios is. In 2021, Berrios pitched 192 innings and had an ERA of 3.52 and a FIP of 3.47. To date, this was his best season, but it is important to remember that Berrios will only be 28 in the 2022 season. His ERA jumped up a tenth with the Jays (from 3.48 to 3.58), however, his BB/9 dropped from 2.4 to 1.7 while his K/9 increased from 9.3 to 10. With Pete Walker guiding him, it is safe to presume that Jose Berrios will continue to get better.
Alek Manoah, born in 1998 (like myself) recently turned 24. While I was struggling to find a job and finishing college, Alek Manoah was pitching like a damn Cy Young calibre pitcher. It's important to remember that Manoah only pitched 35 innings in the minors between 2019 and 2021. As a 21-year-old in Low A, he registered a 2.65 ERA and 2.48 FIP in 17 IP. However, the K/9 of 14.29 was utterly insane.
Then Manoah one-upped that in his brief stint in Triple A, pitching 18 innings in three games, Alek owned a K/9 of 13.50, allowing a single run,
hitting more batters (4) than he walked (3)
and earning a call up even though he was projected to debut in 2022. Hell, I even gave him the nickname Manoahson as he uses the beanball to intimidate batters (probably), just like the great Bob Gibson. He then went on to dominate big league batters.
Alek pitched 111.2 innings in the big leagues in 2021 and had an ERA of 3.22. While his K/9 decreased to 10.24 and his BB/9 increased to 3.22, he is already showing signs of a potential AL Cy Young winner. He may regress, but Manoah has the confidence and work ethic to improve, so I'm expecting that.
The biggest question mark in the Blue Jays rotation is Hyun Jin Ryu. The South Korean lefty had a stellar first season for the Blue Jays, posting a 2.69 ERA and 3.01 FIP in 2020. In fact, before the Spider Tack ban, he pitched 83 innings and had an ERA of 3.25 and FIP of 4. Not as great as the previous season, but there was no reason to be concerned.
Following the ban of Spider Tack, his ERA ballooned to 5.56 in 81 innings pitched. However, one thing to note is that his FIP only jumped to 4.02, which can lead one to assume that defense played a factor in his poor second half. If Ryu can improve to where he was in 2020 and the first half of 2021, the Blue Jays by far have the best rotation in the AL East.
The fifth starter will be up for debate, it could either be Ross Stripling, who had turned his season around before an injury on the west coast road trip or Nate Pearson. Either way, the Blue Jays rotation may be the best in the MLB, period.
Sorry for the absence. A lot has happened since I last wrote an article and I'm trying to sort my life out. As always, follow me on twitter @Brennan_L_D.