Could Yusei Kikuchi's post-ASG dominance alter Blue Jays' playoff rotation plans?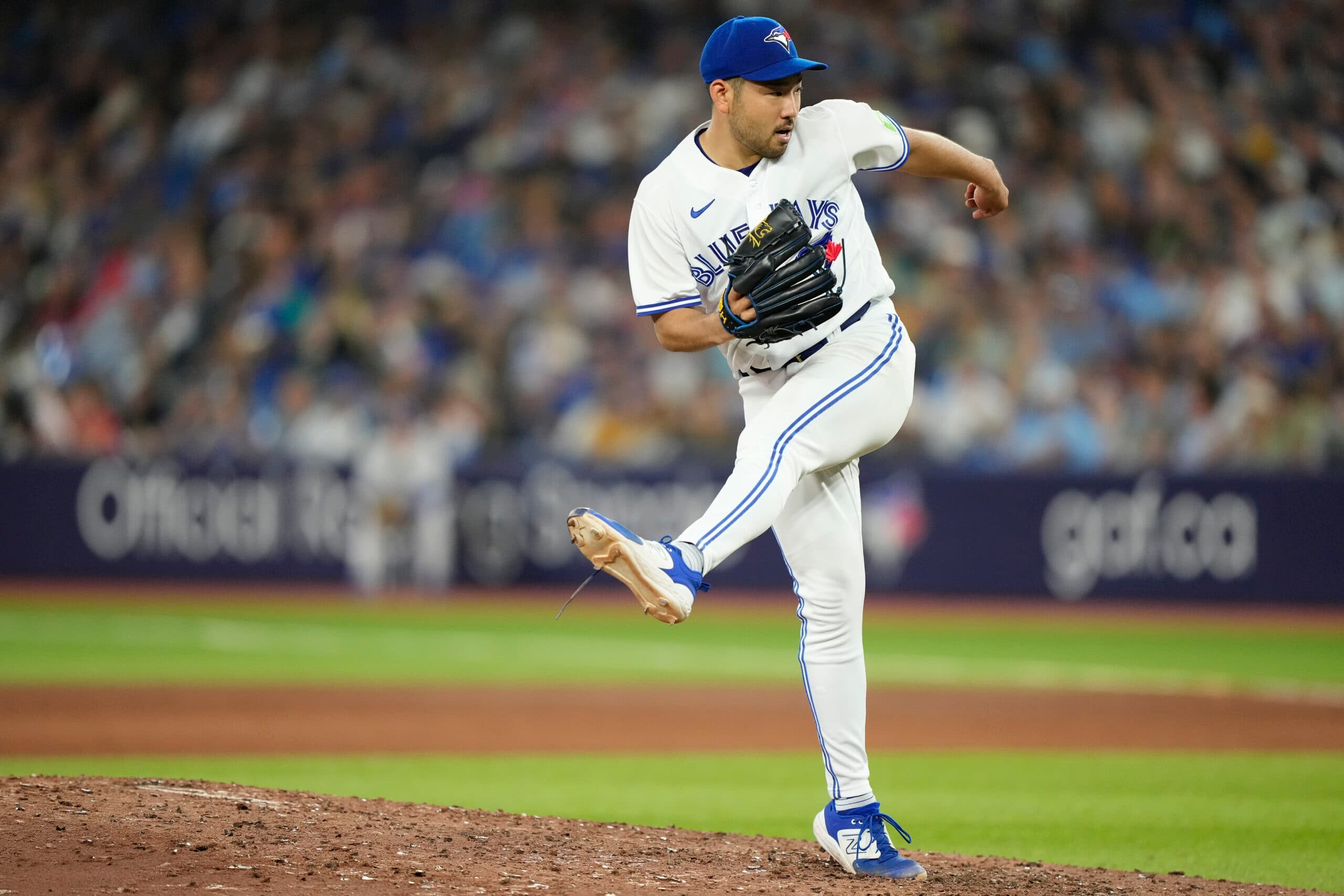 Photo credit:John E. Sokolowski-USA TODAY Sports
The Toronto Blue Jays are suddenly fully stocked on the pitching front at the big-league level – both in the starting rotation and bullpen. It's a luxury few others possess, especially when it involves featuring five reliable starters. But as everyone already knows, only four will likely be needed in the playoffs.
Shrinking from five to four starting pitchers should come easily for many of the eventual 12 playoff-clinching clubs. If the Blue Jays ultimately earn the opportunity to make that call, however, it may not prove as simple as it once did earlier this season. And that, of course, is the result of Yusei Kikuchi's bounce-back performance.
Kikuchi pitched horribly during his inaugural campaign, struggling to a 5.19 ERA and a 5.62 FIP over 20 starts (12 relief appearances) and 100.2 innings, worth a career-worst minus-0.7 fWAR. But following a winter of much-needed adjustments, the 32-year-old lefty has been a completely different story across the first five months of the 2023 season.
The 2021 All-Star has looked as dominant as he did in the first half of his final season with the Seattle Mariners, and then some, excelling to a 3.44 ERA and 4.35 FIP in 24 starts and 128.1 innings thus far. The walks have been down, as evidenced by his career-low 6.6 per cent rate, and he hasn't allowed outings to snowball if damage is sustained early on like he did a season ago.
A few concerning signs remained, particularly one that saw him tied with Lance Lynn for the most home runs surrendered (22) among big-league starters in the first half. In the weeks since the All-Star break, though, he has been one of baseball's most effective pitchers, as unbelievable as that may seem.
No other qualified major-league starter owns
a lower second-half ERA (1.29) than Kikuchi
, who'll take the bump at Camden Yards on Tuesday ahead of a pivotal start against the AL East-leading Baltimore Orioles. There, the veteran hurler will also be looking to improve his 2.15 FIP and 30 ERA-, which lead the majors as well.
Much of this success can be attributed to Kikuchi keeping balls in the yard, as he's the only one of 69 qualified starters to not allow a home run in six starts since the mid-summer classic. That, by all accounts, is astounding when you consider where he ranked in the first half.
On top of that, the hard-throwing lefty has been far more effective at limiting hard contact (28.6%) and barrels (2.2%) versus his first 18 starts, positioning him in the top five of the majors in both categories. In comparison, he placed in the bottom 15 regarding quality-of-contact at the All-Star break.
Amid this remarkable run, Kikuchi has been worth 1.4 fWAR, the second-highest in the sport behind only Milwakuee's Freddy Peralta (1.5). And here are some of the high-profile arms behind them: Sonny Gray (1.3), Zack Wheeler (1.3), George Kirby (1.2), Tyler Glasnow (1.1), Justin Verlander (1.0), Luis Castillo (1.0), Corbin Burnes (1.0) and Spencer Strider (1.0).
Kikuchi has also raised his fWAR rating on the season to a career-best 1.7, possibly allowing him to serve as a two-win pitcher for the first time since arriving from Japan in 2019. But there is still lots of baseball left on the calendar between now and Oct. 1.
That could be a blessing in disguise for the Blue Jays, who'd have to make a tough decision if the playoffs started sooner regarding the back end of a rotation that has suddenly become more competitive than likely anticipated.
Toronto's top three should remain unchanged: Kevin Gausman, José Berríos and Chris Bassitt – all probably in that exact order. The good news is only three starters are required in a best-of-three wild-card series. So there shouldn't be much stress there. But since the primary adjective is advancing deep into October, the internal debate surrounding the club's No. 4 rotation spot has likely already begun.
The simple solution would see Kikuchi return to the bullpen, where he found renewed success toward the end of last season and earned a role on the post-season roster. That'd allow Hyun Jin Ryu to remain as a starter and for his counterpart to provide length in relief if needed.
This is probably the preferred deployment based on the Blue Jays' current depth chart, which places Ryu one slot ahead of Kikuchi. Given how the Japanese hurler has excelled lately, it's worth wondering if continued dominance down the stretch would be enough of a sample size to warrant a starter's role in the playoffs.
It would likely complicate matters for Ryu, who has traditionally operated as a starter throughout his professional career – both in South Korea and North America – and isn't an ideal bullpen candidate due to the amount of preparation his body requires before each outing. Still, there is no denying Kikuchi's second-half surge has added another element to the equation.
As a result of the Blue Jays' elite reliever corps, whoever ultimately secures that final rotation spot will likely be able to hand things over to the bullpen following a second time through the lineup. Though, that is an aspect the former Mariner has been entrusted with over the last month, as four of his six longest starts of the season have come during his most recent appearances.
Ryu, meanwhile, has primarily been a twice-through-the-order pitcher over his first four starts off the 60-day IL. But his outings will likely stretch deeper as his stamina grows, especially since he's tossed 19.0 scoreless innings while holding the opposition to just four hits across his previous three games.
There is still an unknown factor with Ryu, whose average fastball velocity remains a tic slower than compared to pre-Tommy John surgery. As the resourceful lefty showed over the weekend in Cincinnati, pinpoint command can help cover up many of those stuff-related concerns, particularly when your curveball is darting horizontally like it was against the Reds.
This six-week sprint to the finish line should determine a number of factors for Toronto, with the franchise's playoff fate undoubtedly the most important one. Beyond that, it'll also give the coaching staff a better idea of where the complementary pieces of this roster fit best, most notably which pitcher is better positioned to be aligned behind the trio of Gausman-Berríos-Bassitt.
At the moment, Ryu appears better suited than Kikuchi for that role. That is simply the reality of the situation. For that to change, he will almost certainly have to continue dominating on the mound so that manager John Schneider has no choice but to award him a post-season start if the team advances past the wild-card round.
But Kikuchi has already been in a crucial position like this before. He had to out-pitch Alek Manoah – which wasn't a high standard, granted – to keep his starting role once Ryu returned from the IL. And did precisely that, forcing the club to introduce a temporary six-man rotation amid a stretch of 17 games in 17 days.
Conquering this next challenge will present new obstacles. That goes without saying. From what we've witnessed up to this point, though, he is well on his way to forcing the Blue Jays down a path that won't be easy to navigate.
---