Daulton Varsho's offensive results should receive considerable boost in 2023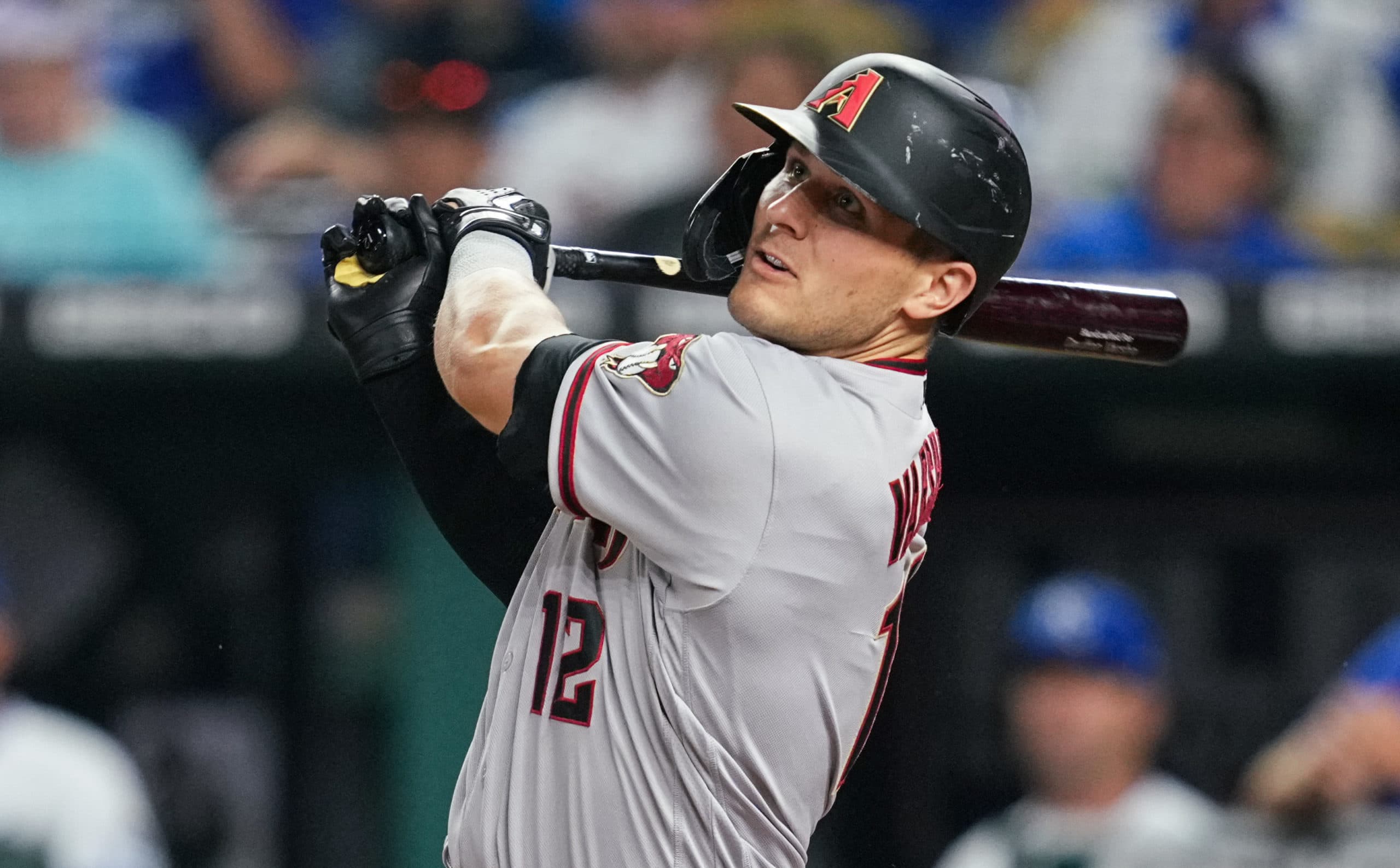 Photo credit:Jay Biggerstaff-USA TODAY Sports
The addition of Daulton Varsho will improve the Toronto Blue Jays' roster in numerous ways next season, with most of the fan base focusing on his elite defensive abilities, and rightly so. But while the former Arizona Diamondback should make a significant impact in the outfield, he also stands to do so at the plate.
And after enjoying a breakout performance last season, there's the potential for the 26-year-old – under team control through 2026 – to raise his ceiling to another level as he attempts to make a seamless transition with Canada's lone MLB franchise.
On the surface, Varsho's 2022 offensive results weren't eye-popping – aside from his career-best 27 home runs, .443 slugging percentage and .207 isolated power – as he struggled to a .235 batting average and a .302 on-base percentage across 151 games. The left-hander also posted a measly 106 wRC+, putting him six per cent above league average.
But, like with many traditional results, these don't tell you the whole story. They provide a small glimpse into Varsho's offensive skills, though to better understand his value, we must explore his biggest strength: hitting against right-handed pitchers.
As a lefty, the 5-foot-10 outfielder matches up exceptionally well versus righties, hitting .240/.317/.484 with 26 home runs, a .244 ISO, a .345 wOBA and a 121 wRC+ against them last season. And the Blue Jays are banking on him to repeat that success in 2023 and beyond.
Varsho does have a weak spot versus left-handers, featuring a career 66 wRC+ in those matchups. With his new team, however, he should be able to avoid facing lefties more often than not – assuming the front office acquires another outfielder, one who thrives in right-on-left showdowns – just as he did with the Diamondbacks during his final campaign with the franchise.
The second-round selection from 2017 logged 463 of his 592 plate appearances versus righties, good for 78.2 per cent, an increase of 6.8 per cent from 2021. And that total may continue to rise next season. If it does, the lefty slugger would be afforded additional opportunities in these favourable matchups, positioning him to improve his splits even further.
Banning defensive shifts is another reason Blue Jays fans should have high hopes for Varsho's arrival, a rule change that is expected to benefit left-handed hitters across baseball. With it, teams will no longer be permitted to position three defenders on either side of the infield or feature four players in the outfield (a 3-4 defence, in football terms). All infielders must also begin each play with both feet on the dirt, preventing them from being aligned just beyond the lip of the grass in the outfield (also known as strategic shifts).
With Varsho, in particular, over half of his batted balls were directed to the pull side in 2022 as he began tapping into his power to that section of the field. That led to his emergence as a reliable power-hitting threat, although it made him easier to defend as opposing teams knew precisely where to position their defenders.
Varsho's batted-ball distribution was split almost evenly regarding his ground-ball (40.4 per cent) and fly-ball rates (44.3 per cent), though he also finished with a career-worst 15.3 per cent line-drive rate. So he successfully kept balls off the ground, but he had to for any of his hits to fall as he was shifted the fourth-most (48.2 per cent) among qualified Diamondbacks hitters (min. 200 plate appearances).
The Marshfield, Wisconsin, native didn't encounter many four-man outfields, which was surprising. That would've likely changed next season against an analytically-driven team like the Tampa Bay Rays, though, if shifting hadn't become illegal.
But Varsho did lose several potential hits last season while facing three defenders on the right side of the infield during his at-bats with the bases empty. As a result, the talented lefty hit just .183/.183/.196 with a zero wRC+ over 153 plate appearances that ended via ground balls, making him virtually ineffective in these instances.
Overall, Varsho posted a .227 AVG, .388 SLG, .161 ISO and a .306 wOBA in 341 plate appearances versus traditional and strategic shifts in 2022. His underlying metrics weren't flattering, either, registering a .196 xAVG, a .345 xSLG and a .279 xwOBA.
As you can guess, the former top prospect was far more effective in non-shift situations, producing a .248 AVG, .239 xAVG, .518 SLG, .451 xSLG, .270 ISO, .347 wOBA and a .324 xwOBA over 250 plate appearances. And with defensive shifts becoming a thing of the past, limiting teams to standard defensive alignments, he stands to benefit significantly from this recent development.
Varsho likely isn't going to win any batting titles with shifts being removed from the sport, although it should improve his contact metrics, helping him raise his batting average closer to the .250 range, where he finished four points shy in 2021. It should also enhance his run-scoring ability, especially with a runner on third base with less than two outs.
Moving to the AL East Division also bodes well for Varsho, who spent his first three big-league seasons in the NL West's pitcher-friendly circuit. After calling Chase Field home since 2020, the newest Blue Jay is transitioning to much more hitter-friendly confines, which will likely do wonders for his home run total.
Of the 27 round-trippers Varsho hit last season, only 11 occurred at home. But had he played every game in Toronto,
Baseball Savant predicts
he would've blasted 29 fly balls over the outfield wall. As for the rest of the division, he had 29 expected home runs in Baltimore, 30 in Tampa Bay and 33 in New York – courtesy of the short porch in right.
Fenway Park is the only stadium where he was projected to hit fewer home runs (21) than his actual total, and that's because right field extends to 380 feet. Still, he undoubtedly would've increased his doubles and triples totals by playing in Boston.
Varsho lost plenty of potential home runs while playing with the Diamondbacks, though he did have 33 expected long balls in Arizona a season ago. The problem, however, was that he visited Oracle Park (17 xHRs), Petco Park (24 xHRs), Dodger Stadium (26 xHRs), Citi Field (24 xHRs), Busch Stadium (21 xHRs), Wrigley Field (22 xHRs) and PNC Park (23 xHRs). They're great for pitchers – and baseball fans alike – but not so much for hitters, particularly left-handers.
So by transitioning to the AL East, paired with his 10.2 per cent barrel rate that ranked in the 70th percentile, Varsho could surpass the 30-home-run threshold for the first time in his career next season. In turn, he'd become a much larger threat in the batter's box, increasing his offensive value and likely improving his fWAR rating after being worth 4.6 in 2022.
Turning the page from Teoscar Hernández and Lourdes Gurriel Jr. won't be easy for the fan base, and understandably so, as both players had been fan favourites for many seasons. But adding Varsho to the mix should help replace the output lost from that likeable duo, particularly from a slugging standpoint. And he also provides some much-needed offensive balance to the lineup.
That's not to suggest Hernández and Gurriel won't be missed because they obviously will be – both in the clubhouse and on the field. Replacing their high-energy personalities will be challenging, though perhaps that is a good thing. Toronto's front office believed its roster required a shake-up following a disappointing end to last season, and by inserting Varsho and Kevin Kiermaier in the outfield, they've reached that goal.
So while Varsho will have large shoes to fill, at least from much of the fan base's perspective, the left-hander is poised to enjoy a sensational inaugural campaign with the Blue Jays in 2023.
---