Davis Schneider deserves some love for the Rookie of the Year Award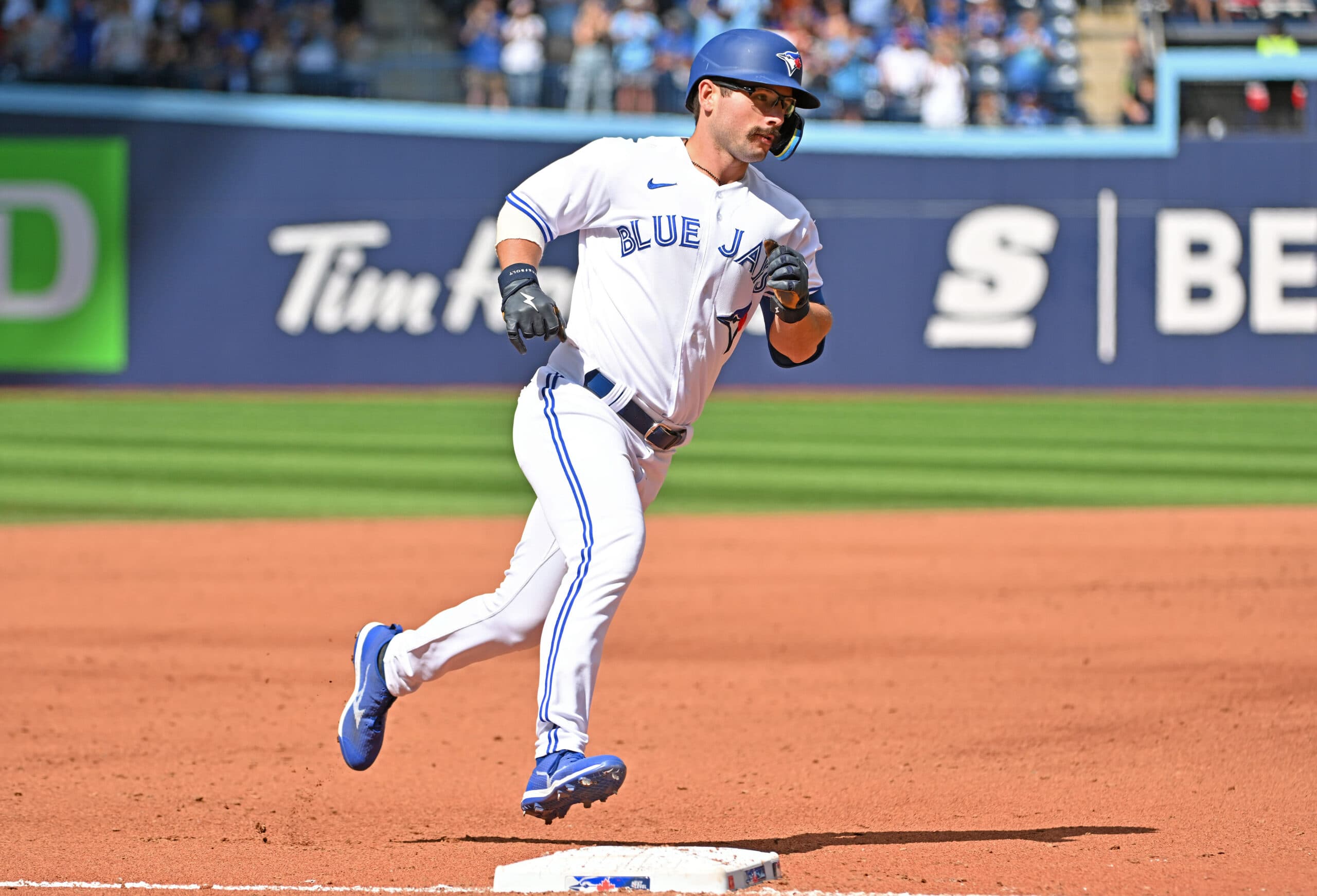 Photo credit:Dan Hamilton/USA Today
On the list of accolades that certain Blue Jays players could take home this year, who comes to mind?
Kevin Gausman will probably get some Cy Young votes, Daulton Varsho, Kevin Kiermaier, and Matt Chapman have a shot at winning a Gold Glove, and Jose Berrios or Yusei Kikuchi could have a say in the MLB Comeback Player of the Year award.
There are options for sure, but there's one guy who is applying pressure for some consideration for an award of his own.
Enter Davis Schneider, a 28th-round pick in 2017 who has finally found his way to the majors and has made his way to the epicentre of Toronto's offence. Ever since he homered during his first career at-bat in Fenway Park, he's proven to be an everyday player for the Blue Jays. His presence has also influenced everyday attire for some Blue Jays fans, as several fans have been seen rocking a mustache to Blue Jays games.
Through 21 games, Schneider is slashing .403/.535/.881 with a 1.415 OPS, 7 home runs, 19 RBIs, and 9 doubles. He doesn't seem to have a matchup preference, as he has posted exceptional numbers against both lefties and righties. Per Baseball Reference, Schneider is hitting .500 with RISP and two outs, .333 in high-leverage situations, and .500 when the Blue Jays are trailing. Those are statistical categories that the Blue Jays have struggled with this season immensely – who knew it'd be Schneider to be an answer to these problems? I'm not sure whether those numbers qualify for saving this team's season, but even if they don't, you could argue that Schneider has actually kept Toronto's offence alive this year.
Schneider has also shown tremendous plate discipline and has even proven he can adapt to pitcher's adjustments against him. For a few games, we thought his kryptonite was the high fastball, but that might be a thing of the past now.
With his above accomplishments, Schneider has earned himself a spot at the top of Toronto's order. It's hard to believe that there was a period of time in August (the 13th through the 25th) in which he only played in two of ten games, with one of those being a pinch-hit at-bat. Any game he did play featured immediate contributions to the team, so manager John Schneider (hopefully) won't make that mistake again. Whether it's been as big as hitting homers and driving in runs or as small as handling success well or being okay with the playing time he was given early on, he's been a professional through and through.
So, does he have a shot at winning American League Rookie of the Year? Let's start with who he is up against because it's a very solid class.
In the above graphic, SP Tanner Bibee (CLE), 1B Triston Casas (BOS), SS/3B Gunnar Henderson (BAL), CF Esteury Ruiz (OAK), and OF Masataka Yoshida (BOS) are all in the running. I honestly feel like SS Anthony Volpe (NYY), 3B Josh Jung (TEX), and C Yainer Diaz (HOU) should also be on that list given that some of their numbers exceed what the former five names have posted. There's also Royce Lewis and Edouard Julien of the Twins – ugh! Long story short, Schneider is up against a deep class of AL rookies.
The biggest disadvantage that Schneider has is that he doesn't have an entire season under his belt. Voters could very easily chalk this up to a "hot stretch" given that he has only played 21 games. It's a perfectly fair argument, especially with the likes of Henderson and Jung being in the heart of their respective team's playoff pushes (albeit Jung has been out since August 7th with a thumb injury).
That's not to say that limited plate appearances have kept a rightful Rookie of the Year from being named. Willie McCovey won the award in 1959 after seeing only 219 plate appearances. Ryan Howard (2005, 348), Bob Horner (1978, 359), and Yordan Alvarez (2019, 369) have also accomplished the feat while not playing a full season. Just for fun, if Schneider plays every game from here on out and has four plate appearances in all of them, he would have 170 total plate appearances for the season. That would shatter McCovey's mark for plate appearances while winning ROY. Schneider winning would also assume he kept up his torrid pace at the plate, which we all certainly hope he does. Furthermore, those 170 PAs wouldn't come close to what the aforementioned Casas, Jung, and others have posted during their rookie seasons.
Odds are Schneider won't win AL Rookie of the Year, but he at least deserves this conversation and he should wind up with some down-ballot votes. The Blue Jays wouldn't be where they're at today without him, and that should mean something.
---