Deadline Primer: Position Players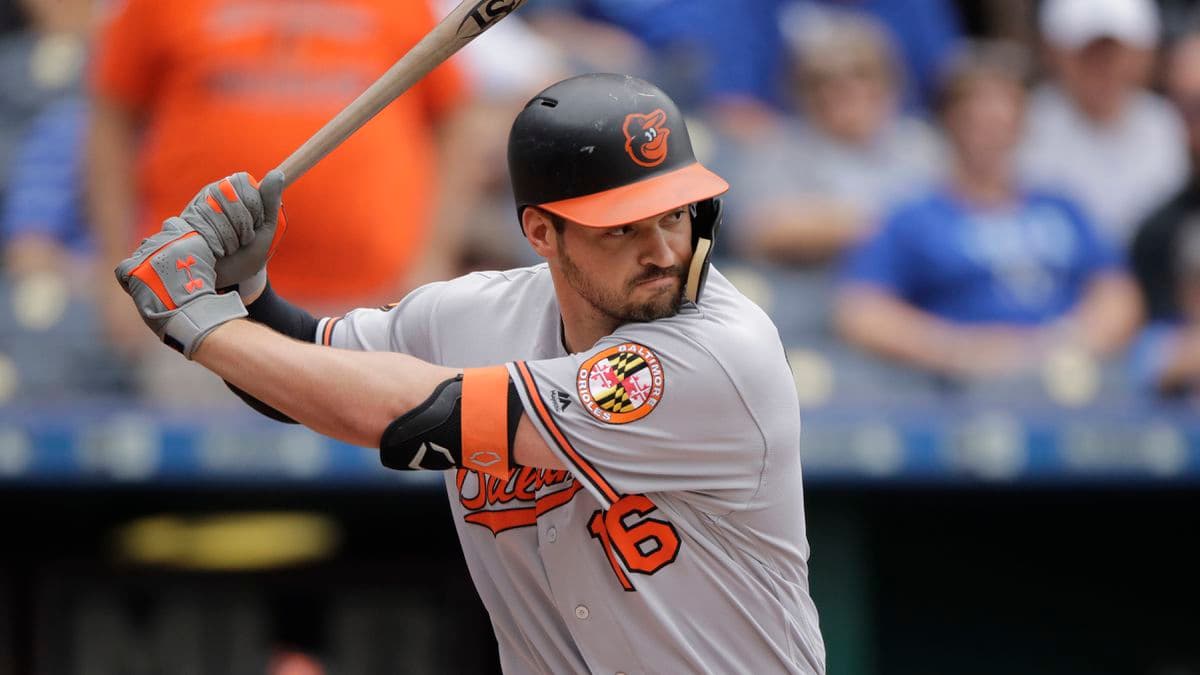 The Toronto Blue Jays boast one of the most fearsome offences in baseball. There aren't going to be many opportunities to upgrade that makes enough sense to give up assets, but for the fun of it, we'll look at some potential options for deadline targets in the field.
Reasonable Targets
Yan Gomes – C – Washington Nationals
Gomes made his major league debut with The Blue Jays in 2012 and was dealt to The Cleveland Indians for Esmil Rogers in one of the more scrutinized trades in recent memory. He's an above-average bat with great game calling and receiving skills, putting together in one package the things that the Jays currently have spread out across 3 catchers. The acquisition cost should be low enough, and the residual impact he could have on not only the club's offensive output, but the entire pitching staff could be well worth the loss of either, or maybe both of, Danny Jansen and Reese McGuire.
Trey Mancini  – OF/1B – Baltimore Orioles
The Blue Jays are loaded in the outfield with a rotation of four everyday guys patroling the grass, and another serviceable bat and glove in Corey Dickerson on the way. Mancini hasn't had a particularly strong year after missing the 2020 season battling cancer, but he's still a powerful presence in the lineup and forces opponents to change their game plan. He's also well respected in clubhouses around the league and would be a welcome addition to the team. He has one more year of team control but would require arbitration at the season's end.
Eduardo Escobar – 3B/SS/2B – Arizona Diamondbacks
Escobar is a versatile defender with a lot of pop. He's a switch hitter who's used to playing all over the infield from night to night. His strikeouts are up this year, but he's hitting the ball in the air more frequently and it's reflected by his 22 home runs this year. He's a free agent at the end of the season, so it would be a pure rental, offering the Blue Jays the flexibility to insert him into the lineup at advantageous moments, either against starters who surrender more fly balls, or in hitters parks, or by bringing him off the bench when you need a big hit.
The Long Shots
Tucker Barnhart – C – Cincinnati Reds
The Reds are still hanging on in the wild card race, so who knows if they'll even be willing to sell by the end of the month, but if they are Banhart could be an attractive piece for The Blue Jays. He's a throwback, on the defensive side of the ball, with great hands and a great mind for calling the game. He doesn't hit a ton, despite having one of the best seasons of his career so far in 2021. He only has 4 home runs and 94 OPS+. Where he really earns his money is by handling the staff and receiving the ball behind the plate, and in that respect, he's one of the best in the game, with two gold gloves under his belt. He has a team option for 2022 worth $7.5M.
Jacob Stallings – C – Pittsburgh Pirates
Stallings offers much of the same as Tucker Barnhart but maybe with a little better bat. He's also under team control until 2025 despite being 31 years old. He's got 8 home runs in a less hitter-friendly park and an OPS+ of 102, so he's not going to win a silver slugger anytime soon, but he can handle the ball and he can handle a pitching staff. The cost of acquiring him likely gets higher than it would with Barnhart, should The Reds decide to sell, because of the extra years, but it could be well worth it to have him around as a mentor for Alejandro Kirk and Gabriel Moreno.
Jonathan Schoop – 1B/2B – Detroit Tigers
Schoop is another familiar name to Blue Jays fans. He's a pure rental, and even though The Tigers aren't too far behind the Blue Jays, they've performed ahead of expectations, and I would assume they'll be looking to add as many assets as possible. Schoop is putting together another good year with above-average power and would give the Blue Jays another dangerous right-handed stick for opponents to have to navigate around. His strikeouts are down, and his walks are up which is contributing to a respectable 122 OPS+.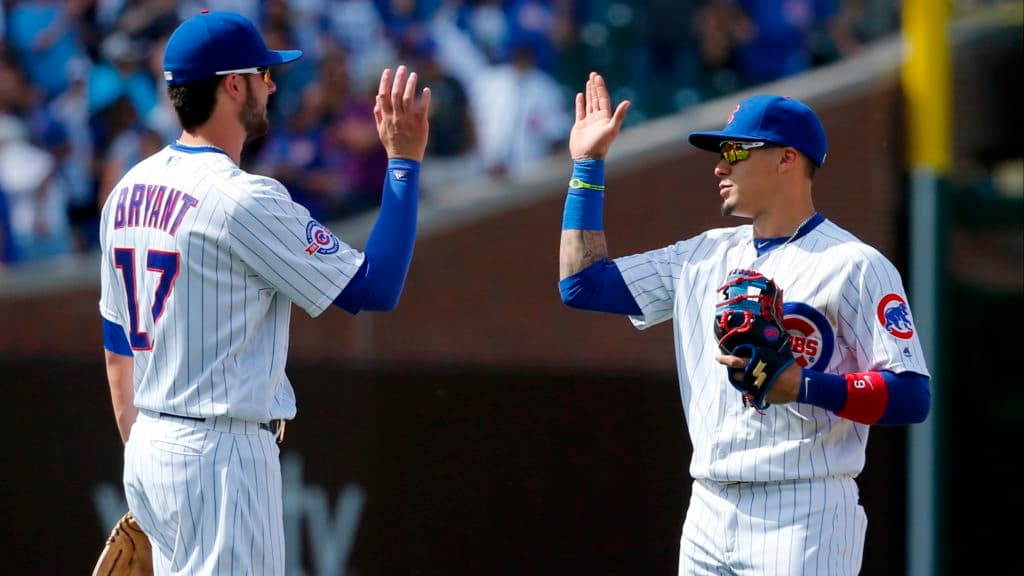 Chicago Cubs' Kris Bryant, left, and Javier Baez celebrate the Cubs' 7-2 win over the Los Angeles Dodgers after a baseball game Thursday, June 2, 2016, in Chicago. (AP Photo/Charles Rex Arbogast)
The Hail Marys
Kris Bryant – 3B/1B/OF – Chicago Cubs
The time for acquiring Bryant was likely in the offseason. He checked all the boxes for the Blue Jays, and it would be shocking to learn that they didn't at least investigate the possibility of acquiring him. Giving up assets for a few months of Bryant doesn't seem to make a lot of sense, but if they could talk him into signing an extension, it would surely make one of the best lineups in the majors into the alpha. The cost of acquiring Bryant would be astronomical but could be softened by adding in additional pieces from The Cubs, like Andrew Chafin, Dan Winkler or Kyle Hendricks.
Whit Merrifield – 2B/OF – Kansas City Royals
They don't make them like this anymore. Merrifield is right handed batter who puts the ball in play and lets his legs do the work. He leads the American League in stolen bases, a feat he would accomplish for the third time in his career if the trend continues, and leads the Royals in doubles. He's had a slightly harder time getting on base this season as he has in previous seasons, but not enough to be overly concerned about the remaining year plus a team option left on his contract. The Royals have admitted publically they're willing to move him, and any team should be able to find space for him on their club.
Nelson Cruz – DH – Minnesota Twins
Let me just say that if Cruz's name wasn't tied to the Blue Jays earlier in the season, I would have never included him here. There are too many good players who need to get into the line up every night, it doesn't seem as though they would be willing to give up the DH spot on an every day basis to anyone, even if that player is a future hall of famer who despite being old as dirt is still one of the best power hitters in the game. It's easy to let your imagination slide him in to the middle of the order behind Vlad Guerrero and watch him feast on fastballs for a few months, but logistically, I can't find the common sense in getting a deal done. George Springer isn't going to play the field every single night, and they're committed to getting Vlad off his feet for half the game at least once or twice a week.
Whoops! So much for this one. Those pesky goddamn Rays already acquired Cruz, which is very unfortunate because it means the Rays got better. This trade gives us some idea of what the market looks like, as Tampa paid their 10th and 17th ranked prospects to acquire Cruz.
More Names to Familiarize Yourself With
Mitch Garver(MIN), Adam Duvall(MIA), Max Stassi(LAA), Adam Frazier(PIT), Josh Harrison(WSH)