Depth contributions are keeping Blue Jays' offence afloat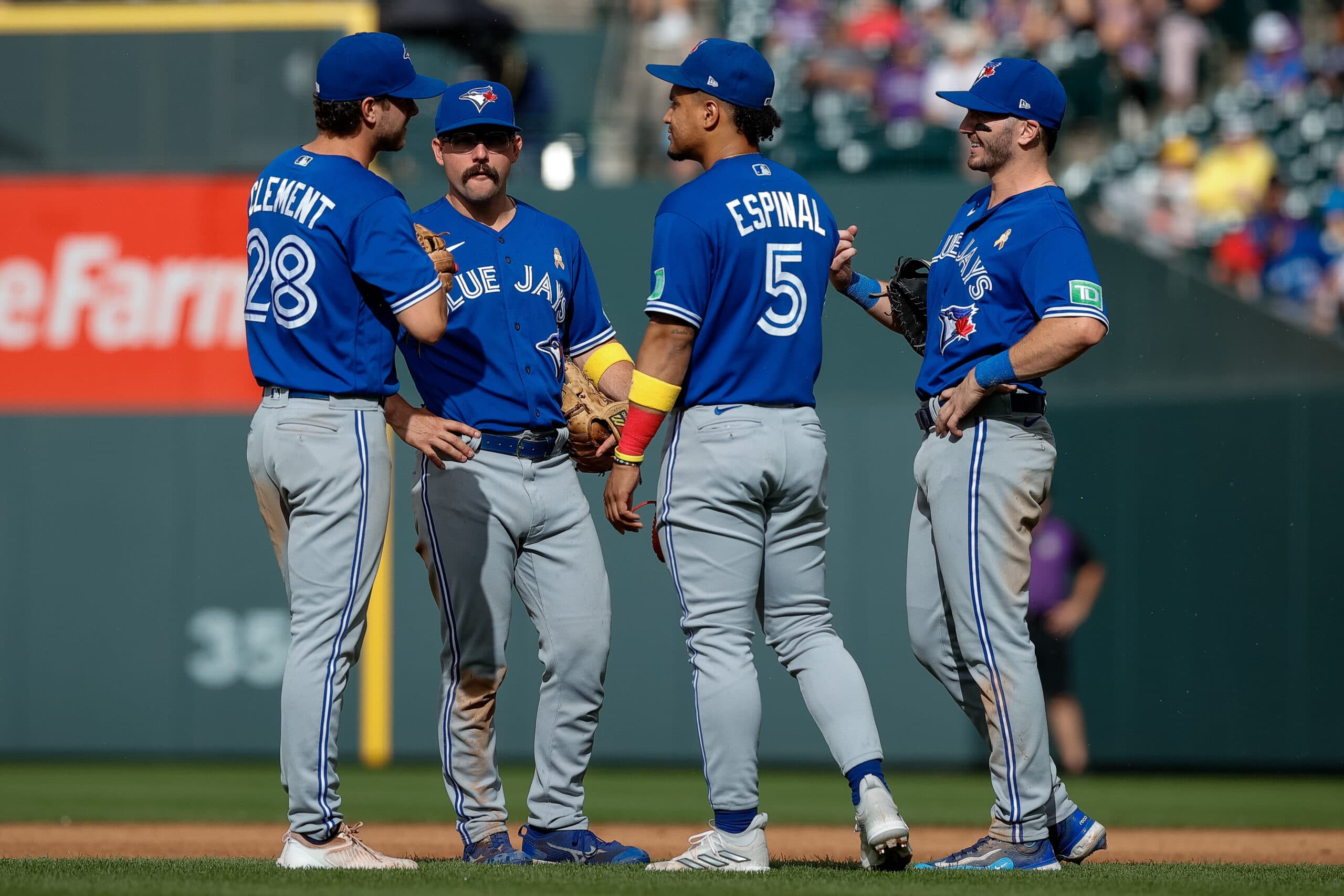 Photo credit:Isaiah J. Downing-USA TODAY Sports
Many were looking to the Toronto Blue Jays' big bats when Matt Chapman and Bo Bichette hit the 10-day IL last week. Instead, several key contributions around the edges of the roster have kept the offence churning in their absences.
Providing consistent run support has been a prominent talking point surrounding this team all season, and understandably so. It has proven to be among their biggest flaws, causing the pitching staff to carry the freight most nights. But lately, that hasn't been as much of a concern during this stretch against sub-.500 competition.
The Blue Jays played their first game without Chapman and Bichette during the second of three versus the Washington Nationals on Aug. 29. Since then, they are 4-2 and have scored five runs or more in five of those six contests. None of that, however, would've been possible if not for a trio of former Buffalo Bisons.
Davis Schneider, in particular, has served as the lightning rod for Toronto's offence in just 18 games since his explosive MLB debut at Fenway Park on Aug. 4. The 24-year-old
leads all qualified hitters (min. 50 plate appearances) on the roster
in fWAR (1.7), wRC+ (258), AVG (.390), OBP (.507), SLG (.831), wOBA (.543) and sits tied with Daulton Varsho for the most RBIs (17).
In addition, the rookie infielder trails only Brandon Belt – the club's self-proclaimed most valuable player – for top spot in both home runs (gap of one) and walk rate (gap of 1.5%) by a slim margin.
There was a period where finding consistent at-bats for Schneider was difficult, mainly because the Blue Jays didn't possess any obvious holes amongst their starting nine. But with Chapman and Bichette out, plenty of reps have been available for the 28th-round selection, who has primarily been deployed at third base – a position he hadn't played regularly since 2019.
That lack of familiarity has resulted in a few defensive miscues at the hot corner. It hasn't affected the right-hander's offensive production, though, as he's slashed .316/.480/.737 and holds the edge among his Blue Jays teammates in fWAR (0.5) over the previous six games.
Ernie Clement and Spencer Horwitz, the other two-thirds of that triple-A trio, aren't far behind Schneider in that regard, as they sit tied for second with Santiago Espinal and Alejandro Kirk at 0.3.
Horwitz arrived as one of Toronto's September 1st call-ups – along with reliever Chad Green – which marked his second major league stint of 2023. With Brandon Belt battling back tightness and a stomach bug, the 25-year-old lefty has already notched twice as many hits (four) than he did during his first appearance from the minors earlier this season.
Three of those knocks came during a critical 7-5 victory over the Colorado Rockies on Sunday, with the contact-oriented hitter blasting a no-doubter to right-centre for his first big-league home run. If that weren't enough, he also reached base three other times – two via singles and the other on a pivotal walk in the ninth inning – to help secure a much-needed series win at Coors Field.
As Toronto's road trip shifted to Oakland, Horwitz could only muster one hit in four at-bats on Labour Day Monday against the Athletics, but his double in extra innings cashed a sixth run that ultimately proved to be the game-winner.
While Clement hasn't enjoyed signature moments like that, the 27-year-old has filled in admirably at short for Bichette, going 11-for-26 (.423 AVG) in seven games since being recalled on Aug. 28. As part of that, he drove in three runs via a triple and solo home run during Toronto's 13-9 explosion in Colorado last Friday.
This minuscule sample size with Bichette on the IL has probably gone as well as the Blue Jays could've hoped, especially when you factor in the abysmal production they received during the All-Star shortstop's initial stint away from the club.
With Paul DeJong and Espinal holding down the fort, that duo nearly combined for an entire win below replacement level, as the former St. Louis Cardinals infielder was worth minus-0.9 fWAR in 13 games before being released by Toronto. But this time, the pairing of Clement and Mason McCoy has totalled a 0.3 combined rating at short heading into Tuesday's affair.
Much of the Blue Jays' run production has come from their triple-A quartet over the last week-plus, as crazy as that may sound. This team has scored 50 runs in seven games since Aug. 28 – almost 30 per cent of which have been via the group that includes Schneider (seven), Clement (four), Horwitz (two) and McCoy (one).
On top of that, Espinal and Cavan Biggio have also provided contributions in critical situations over this recent span, and none was more impactful than each of their performances in Monday's thriller at the Oakland Coliseum.
First, Espinal's pinch-hit double scored McCoy from second base to kick off the top half of the 10th inning. Then, after George Springer grounded out, Biggio smacked a liner into centre field to score his teammate for his second RBI of the contest while setting up Horwitz's eventual game-winning double.
Things haven't gone according to plan for Espinal following last year's All-Star campaign, offensively or defensively. But he has ignited at the right time, catching fire to lead all qualified Blue Jays hitters (min. 10 plate appearances) in AVG (.615), OBP (.615) and wRC+ (296) since Aug. 28.
It is an incredibly tiny sample size. There is no debating that. At the same time, though, this sudden uptick in results has certainly put Espinal in the conversation to earn regular playing time on the left side until Chapman and Bichette return, especially considering his prior experience at both third and short.
Given his track record against lefties, which includes a 115 wRC+, the right-hander will likely continue warranting reps in those matchups either as a starter or pinch-hitter. But Clement deserves his fair share of playing time, too. And the same goes for Schneider, Horwitz and Biggio.
In the absence of two middle-of-the-order hitters, manager John Schneider has prioritized offence over defence as of late, as evidenced by McCoy only logging one plate appearance in five games. Since that strategy has proven effective, it'll probably remain front and centre for the coaching staff regarding future lineup decisions.
Balancing between analytics and recent results could be Toronto's toughest challenge when determining who to start from this infield group. Take Monday's game, for example. Biggio started while Schneider came off the bench as a pinch-hitter, but both players enjoyed productive showings. Still, that decision faced heavy criticism at the time.
An internal competition has emerged on the left side of the Blue Jays' infield. Since many of these players feature defensive versatility – like Schneider, Biggio and Espinal – there are different ways to keep their presences in the lineup from game to game.
Those opportunities won't be available as often after Chapman and Bichette return from injury, which doesn't appear too far away. As such, this upcoming slate of games could help determine if an alteration to the pecking order will be required.
---