Digging into late-round pick Nick Fraze's strong season with Vancouver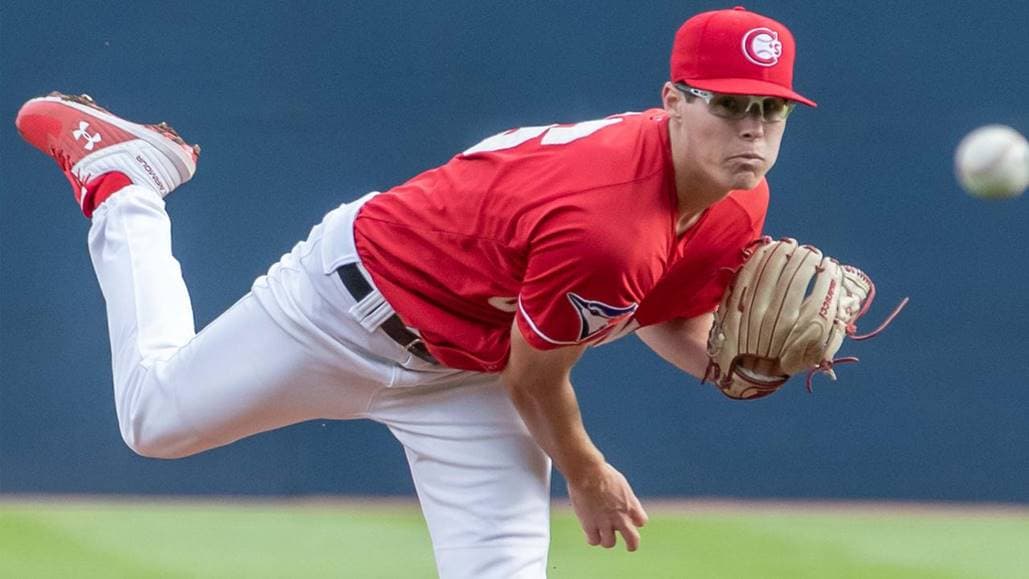 It's safe to say that most late round picks of the MLB draft don't make it to their respective team's top 30 prospects, much less make a name for themselves in the big leagues. Toronto Blue Jays' 22nd round pick from 2019, Nick Fraze, is well on his way to breaking into the former, with the potential to make the latter. We'll get to that, firstly, let's go over the history of 22nd round picks and their success in the big leagues.
If you were to give me a list of baseball players picked in the 22nd round since 1965, I can name you 1409 players. 114 of which played a game in the MLB and only 22 of those players have a Wins Above Replacement over 4. A player picked in the 22nd round has a 1.6% chance of becoming impactful.
Furthermore, there is a possibility that some of these players were drafted out of high school and decided to go to College to raise their stock, such as Aaron Nola, who was picked 7th overall three years later. The most notable of players who didn't get re-drafted are John Smoltz, who had a bWAR of 69, nice, Andy Piettitte, Jeff Fassero, Bill Lee, Dave Rozema, Jeff Nelson, Mikes Fiers and Jamie Garcia. 
The percentages aren't awful for Fraze, as nearly 50% of 22nd round picks are pitchers. Out of the 22 players picked in the 22nd round who had a bWAR of 4 or higher, 18 of them were pitchers. Since 1998 (the year I was born), only 5 pitchers picked in the 22nd round have registered a bWAR over 4.
Everything I just mentioned may make you believe that Nick Fraze at best is a long term project; however, if all my articles were around 300 words long, I'd be producing them every day. So let's talk about Nick Fraze.
With the 657 pick in the 2019 draft…
21-year-old Nicholas Fraze out of Texas State. In 252.1 IP in college, he posted a 4.17 ERA with a strikeout to walk ratio of 2.01. This included his age 20 season in 2018 where he posted a 2.97 ERA in 14 games. He pitched 78.2 innings with a strikeout to walk ratio of 2.73. This was by far his best season, and while his next season in college was his worst, his 2018 season gave the Jays enough optimism to pick him in the 22nd round.
If a college ERA of 4.17 doesn't jump out at you, then his first season of professional ball sure does. Fraze played for the short A team, situated in Vancouver at the time and in his 34 innings pitched, he had a 2.12 ERA striking out 27 while only walking 10. This was good enough for a 2.70 strikeout to walk ratio.
It is fair to see why he hadn't been noticed by scouts. He looked to be a decent minor leaguer with the potential to become a solid reliever.
Nick Fraze in 2021
Before creating my database of Blue Jays prospects, I hadn't heard of Fraze. I consider myself in touch with the players in the minor leagues, but up until that point, I hadn't noticed Fraze's potential. This potential was the reason he was recently promoted to Double AA from A+ ball. 
In his 42 innings pitched in High A, Fraze registered a 2.14 ERA along with a 4.60 strikeout to walk ratio. Before the trade deadline, I started my own top 30 prospects in the Blue Jays organization and upon seeing the fact he is striking out batters at a high rate (9.9 K/9) while walking them at a low rate (2.1 BB/9), I decided I would include him on my list.
On August 9th, Nick Fraze was promoted to Double A while Sem Robberse took Fraze's spot in the Vancouver rotation.
What about his grades?
I've covered quite a lot of prospects since I started writing for Blue Jays Nation and in those articles, I was able to give you grades on what they offer. For the longest time, there was no such luck as Fraze had very little information on the internet.
Searching Baseball America's draft database, there is no scouting report on the 23-year-old. He's also never been a top 30 prospect (yet), so Pipeline hasn't covered him. However, I wanted to know his arsenal, as well as the speed at which he throws his pitches at. I emailed a source and he was able to tell me that Fraze throws four different pitches, a four-seam fastball, a two-seam fastball, a slider and a change up.
The source went on to tell me that both of his fastballs reach the low 90s while his slider touches anywhere from the mid 80s to the high 80s and his changeup is in the low to mid 80s.
4-Seam Fastball: 55
2-Seam Fastball: 50
Slider: 60
Changeup: 50
I asked my source: "He's rather old for the league, do you think his domination comes from age or the fact his ability is that good?"
My source's response: "Both. College player with a pro season under his belt who is mature on the mound and takes control of games from the first pitch. He sets the tone. The way he mixes his two fastballs with the slider – especially to lefty bats – can make him unhittable, and when the change up is on he's even better. One of my favorite guys to watch."
You and I will be able to watch his first game on August 14th at 6pm EST.
Conclusion:
So what is Nick Fraze's ceiling? It's hard to say. While he has been dominant in his professional career, it's hard to know exactly how good he is until Jays fans are able to watch him in Double A. However, Fraze is showing signs of developing into a top 30 prospect for the Blue Jays and who knows how far he'll go?
He certainly has the potential to be a solid middle reliever; however, it's possible he develops into a solid starting pitching option.
Either way, I wrote this article because I want everyone to know the name of Nick Fraze because he could be the most interesting prospect in the Blue Jays organization.
As always, follow me on Twitter @Brennan_L_D. There'll be another prospect profile at some point in the future, I just have to figure out who.