Digging into Vladimir Guerrero Jr.'s potential arbitration case
Photo credit:Tommy Gilligan-USA TODAY Sports
Vladimir Guerrero Jr is eligible for arbitration again this offseason after reaching a one-year $7.5-million contract last winter.
The Blue Jays' most impactful player will command a hefty sum to be retained, however, a long-term deal this time around should be the main priority for the team. Guerrero Jr. has said that Toronto is the place he wants to be, but there is no indication he is willing to take a discount like other young players have when signing their long-term contracts.
So, the question is… What are the different perspectives and how much leverage do the team and the player have this time around?
Vladdy's Arbitration Case
Coming off one of the best years a young player can have, many were looking forward to seeing what else Vladdy could accomplish in 2022.
While he didn't produce at the same rate in 2022 as he did in 2021 when he finished second in AL MVP voting, he's still amongst one of the best at just 23 years old, and is arguably the most complete hitter under 25.
To get a sense of just how dominated Vladdy was in 2021, he led the league in HR, OBP, SLG, OPS, OPS+, and TB. Just an incredible season that, even if he never comes to lead all those categories again, has earned the respect of pitchers around the league, forcing them to pitch to him differently no matter how well he is doing.
Vlad's walks and strikeouts splits are pretty good for a power hitter. With a BB% of 8.2 and a low strike-out rate of 16.4 (K%), these are impressive numbers. Moreover, Vladdy is an impressive power hitter, he is in the 99th percentile of max exit velocity and 94th in hard-hit percentage. He was an All-Star for the second year in a row and the second time in his career.
Another positive development from Vladdy would be his defense.
Not enough has been said about the improvements he has made this year on that side of the diamond. This year, he ranked 12th of qualified first basemen in terms of defensive WAR, according to FanGraphs.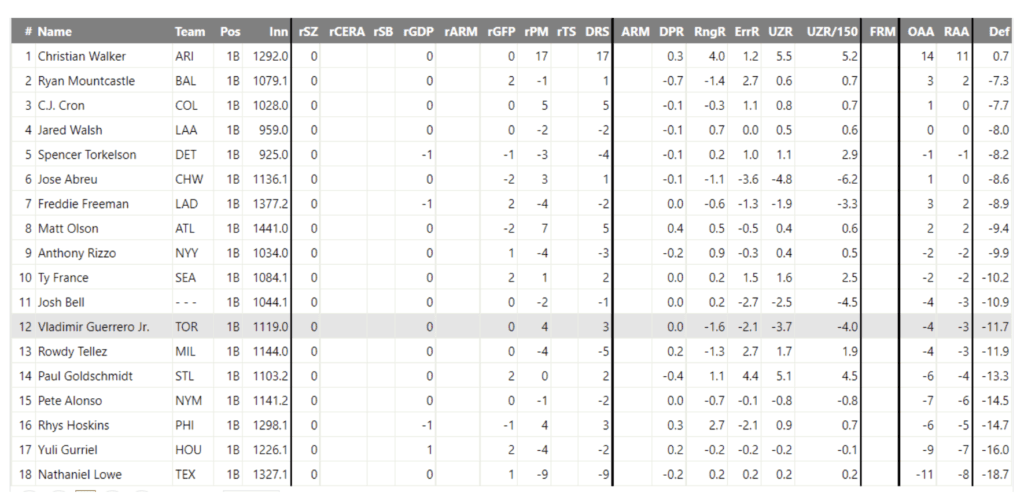 A question some might ask is why his value would nearly double even though he had a worse year in 2022? Arbitration takes multiple seasons all into account rather than just the player's most recent year.
More to this point, each year he does not sign a long-term contract, not only does Vladdy keep progressing and developing, but he also reaches one year closer to free agency.
And all baseball fans know that baseball players get paid handsomely once they reach the open market. Supply and demand would indicate that Vladdy is a premier first baseman who is valued highly throughout the league. A long-term contract is a must sooner rather than later.
Recently, we have seen young batters such as Wander Franco, Ronald Acuna, Fernando Tatis, and Julio Rodriguez get paid to varying pay scales. With three years (including this one) of arbitration eligibility, Vladdy will be eligible for free agency after the 2025 season. The contract for Vlad could vary depending on how they structured it. Could they go the J-Rod route and have tons of incentives? Do they go the Tatis route and have low AAV but a high overall salary?
The Front Office's Arbitration Case
Vladdy had a fantastic all-word 2021 season, he is the next great generational hitter… BUT! He had a 52% groundball rate in 2022.
While this is bad, Vladdy also got completely exposed in the playoffs. In the two playoff games the Jays played this year, he had a GB% of 85%. A lot of the pitches Vladdy typically ground out on are off-speed pitches.
What's more, in the second half of the season his GB% never got lower than 66% per month. For the team's best hitter to come up so poorly is incredibly disheartening. While the team can look past it, this must be a chip on Vladdy's shoulder.
Below is a picture courtesy of Baseball Savant of the strike zone catcher's perspective, where Vlad hit a ground ball the most…
And here is a picture of Vlad's ground balls during the playoffs…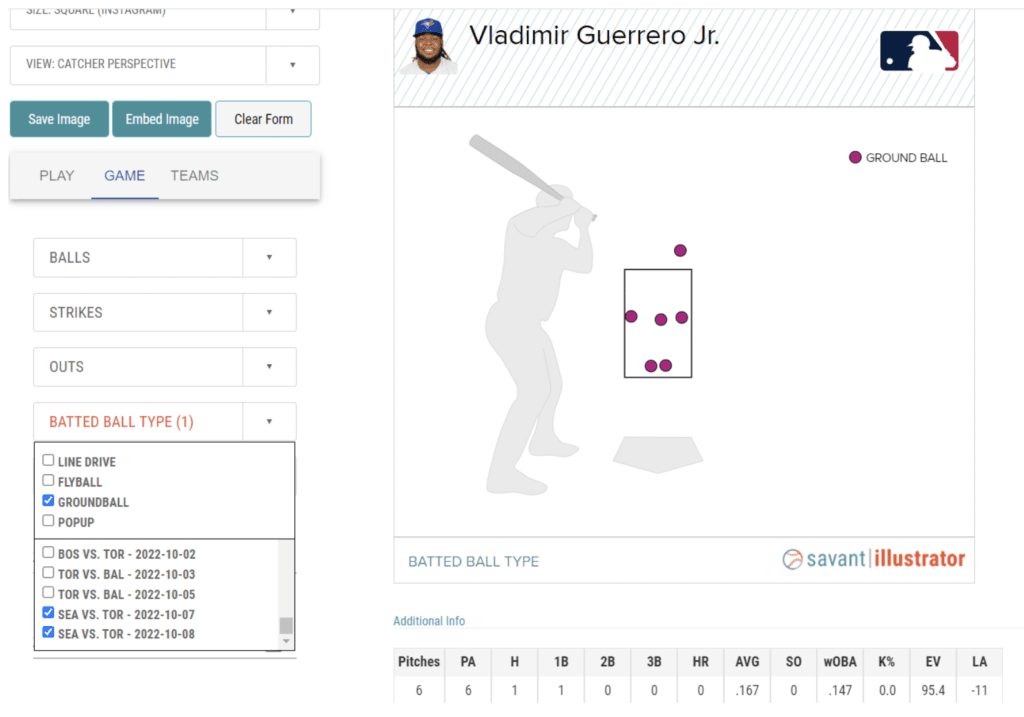 While every player has there kryptonite, our best hitter was absolutely exposed when it mattered most in the playoffs. Groundballs are the least productive way to generate offensive productivity, as you can see from this table created by Piper Slowinski of FanGraphs…

The average and wOBA are basically spot on, proving the analysis to be true. As mentioned, he struggled primarily on off-speed pitches, and his LA for those grounders was -18 this season.
From the perspective of the front office, there is no doubt we built our team around Vlad.
It's partially why we traded a beloved clubhouse piece in Rowdy Tellez for more playing time. While that was the right move for all parties, Vlad needs to prove he can adjust in the season and continue to work with coaches to fix an obvious hole in his game.
He didn't see an explosion of usage of off-speed pitches this year, but when he was behind in the count and hit a ground ball, it was on off-speed pitches at 75% of the time.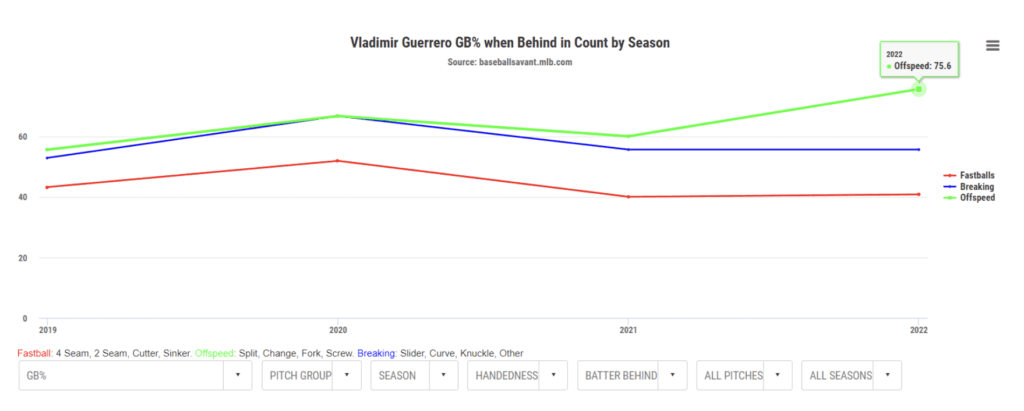 Conclusion
A long-term contract would be ideal for both sides. While I personally feel like the groundball situation will be a big nothing burger next season and we'll look back on it and laugh, one can't help but be a little bit afraid that Vladdy won't adjust to this clear problem, handicapping his future potential as a truly elite hitter.
The expected arbitration number for Vlad is expected to be somewhere in the $14 million range. If the team does not sign him to a long-term contract soon, the Jays will wind up having to compete in free agency with other teams in order to keep their franchise cornerstone around. The choice is clear.
---